Welcome to CMCA(UK)
Hello and welcome to the Winter 2019 CMCA(UK) newsletter. This quarterly newsletter provides a selection of the latest company news and achievements which we hope you will find of interest. If you would like to stay up to date with all CMCA(UK) related activities as they happen go to www.cmcauk.co.uk. You can also find us on Twitter and LinkedIn.
You can change your preferences or unsubscribe from this newsletter at any time by clicking UNSUBSCRIBE at the bottom of this email.
Head of UK National Codification Bureau (UKNCB) visits CMCA(UK) Head Office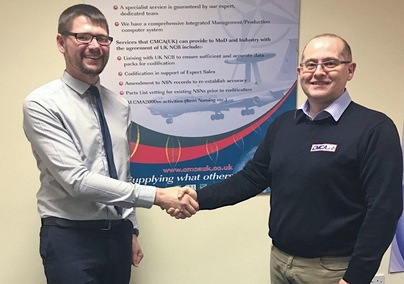 The UK National Codification Bureau (UKNCB) recently visited CMCA(UK)'s head office in Worcester to discuss the forward programme of codification activities following the award of a four year single-source contract in the last quarter of 2018.
CMCA(UK) is delighted to have been awarded the contract which will run until the end of September 2022, with an option for a further extension of two years.
The CMCA(UK) management team wish to extend a big thank you to all staff in our Worcester and Yate Codification departments for their high standard of work and professionalism which has been instrumental in securing the contract.
Pictured above is CMCA(UK)'s Managing Director, Darren Topley (right) with the Head of UKNCB, Richie Ireland, during the recent workshop.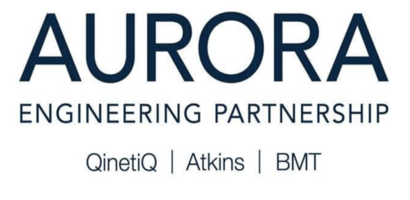 Some of our readers may be aware that the MOD Defence Equipment & Support (DE&S) organisation is currently going through a significant transformation programme. As part of the programme DE&S has created an Engineering Delivery Partnership (EDP) and recently appointed Aurora, a joint venture consisting of QinetiQ, Atkins and BMT, to deliver a number of key engineering outputs.
CMCA(UK) is delighted to report that we have been selected by the Aurora Engineering Partnership to participate in the provider network as a subject matter expert in Obsolescence Management and REACH Management.
Furthermore, we attended the initial Aurora Insight Day at Ashton Gate Stadium on 24thJanuary 2019 which proved to be an ideal opportunity both to network with other like-minded SMEs and to participate in a number of workshops focused on how best to ensure successful delivery of the EDP. We look forward to working closely with the Aurora team as part of the SME Provider Network to ensure that Obsolescence Management and REACH Management become core considerations on any new DE&S engineering programmes.
CMCA(UK) to exhibit and present at the IIOM International Conference in London, June 2019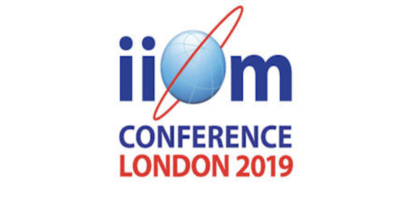 This year sees the third International Institute of Obsolescence Management International Conference, this time to be held in London, at the Copthorne Tara Hotel, Kensington. CMCA(UK) will be supporting the event by exhibiting, and the Head of our Obsolescence Management team, Chris Green, will be presenting two papers;
The first, in partnership with one of our customers, Safran Electrical & Power, which will explain how CMCA(UK) created a bespoke database and gathered all of the necessary data to enable Safran to meet their obligations with regard to the REACH legislation.

The second paper is based on a recent Case Study where CMCA(UK) were engaged by a completely commercial organisation to provide Obsolescence Management (OM) support, with a view to enabling them to provide market leading support to their customers, thus extending the life of their equipment. The benefits of carrying out a proactive OM strategy are well known and internationally accepted, however, due to the age of the equipment and the lack of source data, this was a particularly challenging and interesting piece of work.
In addition our Managing Director, Darren Topley, will be presenting a workshop case study on the subject of 'Obsolescence Management - Lessons Learnt during the Concept, Assessment and Demonstration Phases of the Project Lifecycle' which will highlight some of the Obsolescence Management planning issues that are commonly overlooked. The IIOM International Conference runs from 11th to 13th June 2019 and more details can be found here.
DPRTE 2019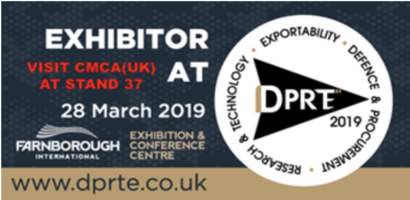 The exhibition team will soon take to the road once again, first stop, Farnborough International Exhibition and Conference Centre. The new home for the UK's leading Defence Procurement Supply Chain Event - DPRTE 2019.
The show offers a wonderful opportunity to engage with MoD staff, Prime Contractors and Industry professionals alike, through no fewer than 6 onsite networking and collaboration zones.
Keynote Speakers include, Stuart Andrew MP, Jim Carter MoD, Prof Trevor Taylor, Tracy Buckingham DIT DSO and Motivational Speaker, Ant Middleton, SAS: Who Dares Wins TV Show.
As regular participants to this annual, not to be missed event, CMCA (UK) will be present on Stand 37 to assist with any Procurement or NATO Codification queries you may have. Our stand this year will not only continue to emphasise our ability to provide assured true source items in support of the defence supply chain, but with the recent contract award confirming that CMCA(UK) will continue to be the only authorised Codification contractor to the MOD, we are delighted to be joined by delegates from the United Kingdom National Codification Bureau (UKNCB).
CIPS Success for Procurement Team
CMCA(UK) is proud to announce two further members of the Procurement Team have recently passed their CIPS examinations.
Tom Meacham originally joined the business through the CMCA(UK) Apprenticeship programme before accepting a permanent position as a Trainee Buyer. With the support of his colleagues in the Order Processing team, Tom has been enhancing his knowledge and understanding of all aspects of procurement whilst studying with the Chartered Institute of Procurement and Supply so that he can eventually progress to becoming a Member.
Aga Rudzinska joined the Procurement Account Management team in early 2018 as a Trainee, and with the support of Senior Account Manager's June Downes and Clare Morris has progressed to become an Account Manager. Aga has also been studying via the CIPS facility to gain awareness and understanding of Procurement needs and requirements which compliment her role.
We would like to take this opportunity to say well done to Tom and Aga, and thank you to all of the team who have encouraged and supported them.
May we take this opportunity to thank you for taking the time to read our newsletter. Please don't hesitate to contact us regarding any of our services or to see how we can help you. Contact our Business Development Manager Antony Elliott on; +44 (0)1905 458 307 or email

Antony.Elliott@cmcauk.co.uk

.
As mentioned in the last newsletter, CMCA(UK) plans to deliver our first training course as an endorsed IIOM trainer in 2019. Much work has already been completed and we are on track to submit our training material for assessment during April. As the IIOM International Conference is in June, we are planning to provide the first course in the Autumn. We welcome all enquiries from interested parties for more information to contact Chris Green, Head of Obsolescence Management Services.

COMPaSS Online Obsolescence Management tool launching

Our vision to offer customers the ability to view their BoMs online is now becoming a reality, with proof of concept and initial testing being successfully completed.

We are now currently working on the look-and-feel of the screens and interface and would like to thank our customers for their feedback and ideas so far. We are hopeful that this feature will be available during Q2/19 and would encourage any customers (new or existing) who are interested in this new feature, to contact us for more information. For details please contact Chris Green, Head of Obsolescence Management Services.

Unsure of your REACH obligations? Then this event could be just what you need. CMCA(UK) is delighted to be supporting REACHReady in their upcoming workshop 'Managing REACH for Suppliers of Articles' on 28th February in London.

CMCA(UK) to deliver Global Codification Training for third year

CMCA(UK) will be delivering the next International Codification training course between July 15th-19th in association with our partners ESG Elektoniksystem- und Logistik-GmbH. The training is conducted at ESG's head office in Furstenfeldbruck, near Munich Germany. Entitled 'The Practicalities of Codification', the course is designed to equip would-be Codifiers from across the globe with the practical knowledge that is essential to perform this skilled role.

The 5 day training concentrates on developing the core codification skills that are required for a Codifier to operate effectively within the NATO Codification System (NCS), delivered by CMCA(UK)'s Codification Director Gary Harman and ESG's Herbert Klein, who between them have nearly 50 years of codification experience.

If you or your business has a need for Codification training contact Head of Codification, Gary Harman for further information.

We're Recruiting

CMCA(UK) has ambitious growth plans for 2019 and beyond. In order to deliver on these aspirations we are looking to recruit an experienced Business Development professional to join our team as a Senior Business Development Manager.

The role will be based in our Worcester headquarters although the successful applicant will most likely be 'on the road' for much of the week! If you think you may have the skills and experience to undertake this role, or you might know somebody that fits the bill, then please take a click over to here to find out more.