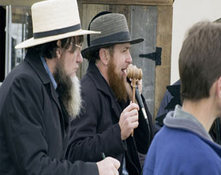 Annual Mud Sales have begun in Lancaster County Pennsylvania.  There is still time to make reservations.  You will not want to miss the experience if it is your first time.  The Amish host Mud Sales which are auctions that raise money for the local fire departments.  Each Mud Sale is unique and offer a variety of items, including, farm animals, antiques, tools, quilts, building materials and much more.  Also enjoy the local food vendors for an additional taste of Lancaster.  Make sure you bring your boots, because it can be very muddy.
Dwight Yoakam
Celtic Woman
Matthew West
Michael Bolton
The Oak Ridge Boys
The Man in Black
The Moody Blues
Parmalee
Three Dog Night
*************************
Squabbles
The Hallelujah Girls
Too Many Cooks
Over the River Through the Woods
*************************
Live Theater
There are so many selections of theaters in Lancaster County,  religous, comedy, drama, musicals, vocalists and more.  Moses will be performing through April 18, so there is still time to see this original production.  Don't forget our two Dinner Theaters, Dutch Apple and Rainbow.  American Music Theater has a line up of musicians each weekend and you won't want to miss Stitches our local Comedy Club.  Click on the links below for the most up to date information.
*************************

*************************
Dixie Swim Club
Funny Girl
Les Miserables
Oklahoma!
West Side Story
Church Basement Ladies
A Christmas Story
************************