It's Time for Timberdoodles! 
Photo by
Wikipedia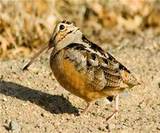 Shopping with Amazon.com?  Please use this link and Chesapeake Audubon will receive .5% of your total purchase amount!
Monday, March 13, 7-830PM, Flight of the Timberdoodle at Pickering Creek Audubon Center,  $5 per person
As winter breaks and spring begins to emerge the timberdoodle awakens. At dusk the male Woodcock spirals into the sky, creating a trilling sound with
its wings. Then he descends, fluttering, warbling and zigzagging back to the spot he began. This unusual mating ritual will take place in Pickering Creeks' warm season grass meadows provide ideal habitat for this annual late winter event.  Registration required by
Friday, March 17, 9-11AM, Bird Explorers for Teen with Patterson Park Audubon
Over 200 bird species have been to Patterson Park! Now teens can join Audubon as student scientists!  A teen expert will lead us as we collect data on urban bird species and share our findings with the greater scientific community. No experience necessary - we'll bring binoculars and teach you how to use the eBird app to collect data. Service learning hours for student 
scientists!
The bird walk will be followed by a
cookout and service learning project at the Living Classrooms Patterson Park Youth Sports & Education Center. 
Grades 6-12 ∙ Free!
Meet at the fountain in the northwest corner of Patterson Park, closest to the intersection of  E. Lombard St. and S. Patterson Park Ave.  Registration required by emailing

baltimore@audubon.org

or calling 410-558-2473.
Monday, March 20, 6-7PM, Welcome Spring! Campfire at Pickering Creek Audubon Center,  $5 per person

Ring in the first day of spring by learning about spring migrants and other harbingers of spring while sitting around a campfire, enjoying s'mores, and catching a ride on Pickering Creek's hay wagon!  Registration required
Looking Forward:
March 25 - Saturday Bird Walk at Patterson Park
March 29, Bird-Friendly Garden Design Workshop with Patterson Park Audubon
April 2 - Signs of Spring Walk at Patapsco State Park
April 3 - Intro to Bird Friendly Gardening Workshop with Patterson Park Audubon
April 6 - Audubon Wetlands Tour at Pickering Creek
April 8 - Photographing Nature at Cromwell Valley
April 10 - Tales & Trails for Tots at Pickering Creek
April 22 - Spaghetti Dinner - Travel to Cuba with Hugh Simmons
Volunteer  with Chesapeake Audubon!
Patterson Park Audubon 
Saturday, April 1, 9-1030AM, Habitat Garden Team. We are building bird habitat in Patterson Park and need your help! These native gardens provide food and homes for the park's wildlife, and learning spaces for students. Tools, gloves, water, and snacks provided. Service hours awarded to helpful students. No need to register. Meet at the wetland garden, uphill from the Boat Lake.  See their

volunteer page

for information.
Pickering Creek Audubon Center: 
Saturday, March 18, Pickering Trail Day.
  9AM-12PM,   Saturday Service Day. Volunteers of all ages are invited to assist with mulching and other trail maintenance.  Call 410-882-4903 to register.  More information can be found on their
volunteer page.
Be prepared for tick season with these tips. 

more
National Audubon's Open Letter to Scott Pruitt. 

more
One of the magical gifts of spring - the Dawn Chorus.   more
It's time to start tracking the Ruby-throated Hummingbird's migration. 

more