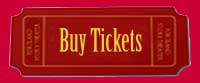 Tickets $15 in advance | $18 at the door | $5 Arts for All PDX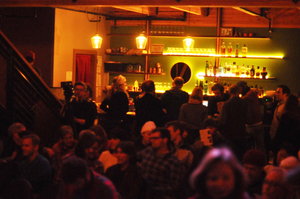 Treat yourself to an evening of live storytelling! There are
tickets to our Urban Tellers® show on February 3rd
, featuring five amazing storytellers who survived days and days of ice and snow to collaborate and craft some glorious stories for you; or tickets to Kiss and Tell our Valentine's show on February 10 and 11, which always delivers on the promise of a romantic evening.
Plus, we're delighted to be partnering with Travel Portland for a fabulous networking event 4-6 pm over at the
Fremont Theater
on Thursday, February 2. Swing by, we'd love to see you!
February 2 Networking Event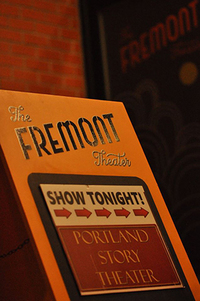 Network with Travel Portland partners at Fremont Theater, Portland Story Theater's new home in NE Portland's Alameda neighborhood. Portland Story Theater's vision to advance, inspire and expand our community narrative comes alive one story at a time at the Fremont Theater. Enjoy appetizers, no-host beverages and a tour of this beautiful event venue. Cost to attend: Partners and Narrative Network $10 in advance, $15 at the door, Non-partners $15 in advance, $20 at the door.
Note: Narrative Network, when you RSVP, enter Portland Story Theater.
February 3 Urban Tellers®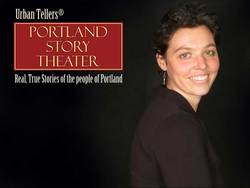 Experience the real, true stories of the people of Portland. Unscripted. Unafraid. 5 tellers. 12 minutes each. Go! This

Urban Tellers® features Lauren Gross (pictured), Maggie Bak, Kate Raphael, Cynthia Hofmann, and Ashley Kaiser. Hosted by Lynne Duddy and Lawrence Howard with music by Frank Engel, Alan Cook, and Dave Bamburger at 7 pm when the doors open.
Booze. Bites. Jazz. Stories.
February 10 and 11 Kiss and Tell for Valentine's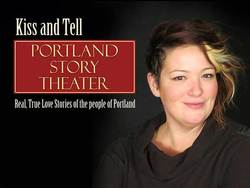 Portland Story Theater presents 2 nights of real, stories about love ... young love, old love, queer love, true love, and lovesick love, all woven together in an intimate evening of story theater. Music by the incomparable accordion virtuoso Eric Stern at 7pm when the doors open, Stories at 8pm with storytellers Amanda Trudell (pictured), Warren McPherson, Donna Zerner, Frank Engel and Stefanie Brown. Photo booth, Raffle Prizes -- including a very special raffle item! a $150 Gift Certificate to Verdigris Restaurant just in time for Valentine's dinner! -- and we'll have the ever-popular Love Note Lottery...
This Friday and Saturday!
Lawrence Howard, Armchair Adventurer
Nansen of the North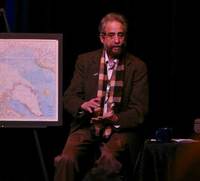 This show has been met with rave reviews! Bob Hicks of Oregon Arts Watch wrote a beautiful review, Fridtjof Nansen's Polar Express. Read it here. Audience member, Holly Wenger, told us, "I was completely engulfed by the story and mesmerized by Lawrence's spectacular delivery. Loved the historic photo montage to peruse pre- or post-show. Great evening. Go see this show!"
Recruiting for a Special Urban Tellers
®
Show
Portland Story Theater is producing a storytelling workshop and performance featuring the real, true stories of refugees and immigrants. The focus of the project is to humanize and build connection within our urban community.
Note

:
View our invitation to get complete details:
Portland Story Theater's 2016-2017 Season is generously supported by The McIvor Family Charitable Fund; Tonkon Torp; Diane Ponti and Ward Greene; Polk Family Charitable Fund; Dana and Steve Dennis; members of the Portland Story Theater Board, Founding Circle, and Narrative Network, and many other individual supporters, as well as by the Oregon Community Foundation; The Collins Foundation; James F. and Marion L. Miller Foundation; Meyer Memorial Trust; The Kinsman Foundation; The Autzen Foundation;
NW Natural Gas; and
The Oregon Cultural Trust. Thank you!
Photo Credits: Scott Bump: Fremont Theater, O'Dubhda: Portraits