ACT SCHOOLS ARE INVITED TO ENTER A TEAM IN THE FIRST CANBERRA
PHILOSOTHON
TO BE HELD AT RADFORD COLLEGE ON
WEDNESDAY MAY 8TH 5-8.45PM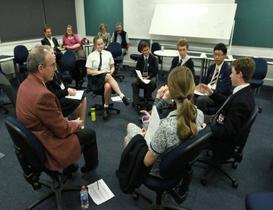 In conjunction with the Canberra Society of Philosophy for the Young (SOPHY) and Radford College

Who are the deep thinkers in your school? During the evening there will be four communities of inquiry. Each school enters a team of five students (One student from each year level (9-12 + a reserve). Registered schools will be provided with resource kits, one for the organising teacher and one for the students. There is a small fee $30 per student and this will cover some of the food costs. There is no charge for accompanying teachers.
Please note that if you are a Senior College or a school that only caters for students up to Year 10 you can still enter students.
(There are a maximum number of schools that can be involved so book your school in early)
Have you had feedback from other schools?
Teachers from all the schools that participated have provided positive feedback on the event. Many of the teachers facilitated a small group and the judges were also impressed by the students and their high standard of contribution.
What was a highlight at the Philosothon?
For me, the highlight was watching the students present to their peers, family and friends. Every student was encouraged to make a contribution and those who found it difficult to speak publicly were ably encouraged by the peers. Many of the students choose to participate over other events, e.g debating.
Was there anything that could be done better?
We have been unable to engage public schools in the program. This year, 2019, following last years success has enabled us to engage a rural public school and I am hoping to visit and support them to offer a team for this year.
What exactly did the funding contribute to?
The funding provided materials and food on the night and a contractor fee. This fee was spent on trying to engage schools in the event. The applicant, David Treanor, did not charge any fees from the grant. The money left over will be used for the 2019 event.
What is planned going forward?
We are in contact with schools in Term 1 and we hope to commence school based philosothon's in Term 2 and then the major event in Term 3.
How can we support you going forward?
I would be delighted for Matthew Wills to follow up with schools when he visits Tasmania mid year.
Any other comments which you might like passed onto the Templeton Trustees
I would like to extend my sincere thanks to the Trustees for their willingness to support the philosothon program. Tasmania is often overlooked when grants are allocated as we are a regional state with a small populations. Nevertheless, students are students with a real and deep desire to learn and explore issues and big questions. Sir John would have been delighted if he attended our event in 2018 and witnessed the students understanding and inquiry into the big questions we face in society today.
The ninth Australasian Philosothon will take place in Canberra this year. Radford College will host 20 teams from throughout Australasia for three days of intense philosophical exploration. This will take place between October 1st and October 3rd. Every Australasian state and territory (except for NT) will be represented.
---
In 2019 the following schools and universities will be hosting Philosothons;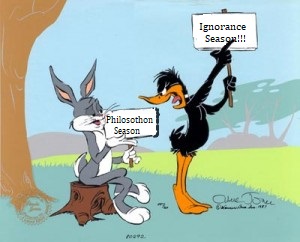 Western Australia

New South Wales
Victoria

Queensland
Nathan Pickles is the President of the Qld Association and can assist schools wanting to involve themselves in Philosothons; Contact:
npickels@hotmail.com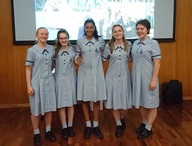 South Australia

Tasmania

New Zealand

United Kingdom
Click here if you are not currently registered and would like to participate in a Philosothon.

Click here if you would like to host a Philosothon.
---

Great opportunity to network with students across the country.
Anonymous Feedback from 2018 Australasian Philosothon
8. Congratulations to the following grant recipients
There are still more grants available so apply here:
Regional Philosothon Grant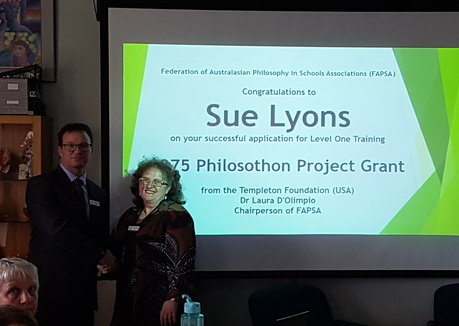 Newhaven College South East Gippsland Philosothon- Phillip Island- Victoria- Richard Prideaux
Waikato Diocesan School for Girls- Waikato Philosothon New Zealand-Mark Bellham
Kinross Wolaroi School Orange Philosothon New South Wales- Claudia McCalman
St Joseph's College Albany Philosothon Western Australia- Jane Bennett
Central West Leadership Academy Dubbo NSW Mandi Randell
Amanda Kelk- Budaberg Christian College Qld
Alison Freeman - Geographe Primary School WA
PhD Students Training Grants
Sydney University Jane Weiling Loo NSW
Monash University James McGuire Vic
Melbourne University Antonia Smyth Vic
Adelaide University - Timothy Nailer SA
Richard Phan University of Melbounre VIC
Carley Tonoli University of Melbourne VIC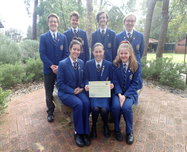 New Philosothons in cities

Guilford Young College - Tasmania- David Treanor
Radford College -Canberra Bill Weigall

Prince Alfred College-South Australia

Travel Subsidies

Nambucca Heads High School New South Wales- Amanda Taylor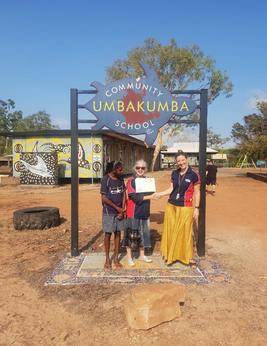 Alyarrandumanja Umbakumba School- NT Kaye Liedke
Alangula Area School Tiwi Islands NT -Jane Dwan
SOPHY - Australian Capital Territory- Bill Weigall
Bunbury Cathedral College WA- Jane Kirkham



Teacher training Subsidy



St Josephs College Albany Western Australia- Caroline Thompkin

Young High School New South Wales- Elizabeth Myburgh

St Josephs High School Albany Western Australia- Jane Bennett

Golden Grove High School South Australia- Sue Lyons

Georgiana Molloy Anglican School Western Australia- Bradley Taylor
Georgiana Molloy Anglican School Western Australia- Rachel Cook
Resource Development Grants
Over the next three
FAPSA will make available grants for schools and others to set up or participate in Philosothons. Studies have shown that students participating in a philosophical community of inquiry improve on a variety of academic and social measures. If you would like to make this available to your school community click one of the grant links or contact the Philosothon project office.
years

Students benefited from discussing philosophical issues with a wide range of students from different backgrounds to their own.
Anonymous Feedback from 2018 Australasian Philosothon
---
Contact: Project co-ordinator Mr Matthew Wills (e) matwills59@hotmail.com | Ph: +61 (0)400 029 660 | FAPSA Website: http://fapsa.org.au/ This project was made possible through the support of a grant from Templeton Religion Trust. The opinions expressed in this publication are those of the author(s) and do not necessarily reflect the views of Templeton Religion Trust.