WINTER WARMING!!!
We're experiencing somewhat of a growth spurt here at Mucho this month - well not literally (although we'll see after the winter months), but it seems our little family of artists have spent the summer working on releases and we now have an abundance of new tunes to tantalise your ears with.
To celebrate, we're offering you all a digital sampler, and it includes a couple of exclusives. Aside from some great radio singles from the likes of Hungry Kids of Hungary, Drawn from Bees, Dan Parsons and Tara Simmons, we're happy to offer you brand new material from Timothy Carroll, a preview of a sexy new Brisbane duo called Bonfire Nights and a special offering from My Own Pet Radio, the side-project for Ball Park Music's Sam Cromack. Add to this tracks from Rocketsmiths, The Boat People, Charlie Mayfair and The Medics. Woah! We'd love your feedback, favourite picks, etc -
holler@mucho-bravado.com
We hope they warm your cockles across the coming winter months. Enjoy!
< Click image to download sampler >
 
Tara Simmons
Dates galore
Rocketsmiths


The Underground Tour


The Medics


They love Brisbane!


Drawn from Bees
Buzzing off O/S...again


Edward Guglielmino


Heading south for winter dates
Timothy Carroll Farewell's Australia with new EP The Boat People Third album: Dear Darkly

 

WIN! WIN! WIN! Broken Bells We Have Feelings For...


Ball Park Music - 'iFly' video

 

 


What's on the Mucho Stereo:


PARADES - Foreign Tapes
DEAD LETTER CIRCUS - This Is The Warning
REBECCA BARNARD - Everlasting

AVI BUFFALO - Avi Buffalo
STONE TEMPLE PILOTS - Stone Temple Pilots
CLOUD CONTROL - Bliss Release
PRINCESS ONE POINT FIVE - What Doesn't Kill You
SALLY SELTMANN - Heart That's Pounding
THE DRUMS - The Drums
THE SOFT PACK - The Soft Pack
THE ROLLING STONES - Exile On Main Street
TEENAGE FANCLUB - Shadows
SEJA - We Have Secrets But Nobody Cares
MINUS THE BEAR - Omni
TARA SIMMONS

Having become known as somewhat of a studio fanatic,
it's no surprise that Tara Simmons is already back in the studio working on new material - this time for a yet to

be

titled side project. More details of this are to

be

unveiled in the coming months, but for now fans will have to

be

content with the announcement of a new remix-packed single

release

of 'All You Can' and a run of live dates.
Brisbanites can catch her every Friday this month at The Powerhouse - head there early for after work drinks as she hits the stage from 6-7pm. Tonight is the first of the performances and will see her give an intimate solo performance. Best of all it's FREE!

Sydney will

be

treated to a headline show with a rare full band appearance at Raval on June 24 where Tara will also

be

joined by Melbourne's Ainslie Wills and Sydney's own Emma Davis on the night. Tix are now available HERE.
ROCKETSMITHS
Rocketsmiths kicked over the NSW leg of The Underground Tour in fine style around Sydney last weekend, popping into FBi Radio to play their new single 'Underground' before a mega show at the Gaelic Theatre. Then it was back to Brissie in time to jump on the couch and catch their track 'The Boy Who Cried Misery' on Underbelly. Woah, what a week!
Last night they kicked off the QLD run of the tour with Melbourne-ites Red Ink, and are shaping up for a massive Queen's Birthday Eve show at Brisbane's The Troubadour, before stirring up Victorian's next week.

Check here for full tour details.

THE MEDICS
Far North Queensland natives The Medics have been so enamoured by the big city lights and the recent success of their This Boat We Call Love national EP tour, that they have up and left their hometown for the next few months to beg, borrow and sweet-talk their way onto couches all over Brisbane.
Kicking off a spate of shows in the Brisbane area and beyond over the coming months, the four-piece played to a packed Brisbane Powerhouse on Sunday, leaving quite the taste for further shows.
Woodford folk can catch them tonight at The Dreaming Festival, other up-coming shows include Ric's Bar in Brisbane on June 17 and an all-ages appearance at The Vibe in Jimboomba on June 25.
DRAWN FROM BEES
After having just touched down from Musexpo in L.A long enough to release their debut album Fear Not The Footsteps Of The Departed, Drawn from Bees buzzed off again to showcase performances in Hong Kong last week. They've just touched down in the UK for a bunch of sideshows before another Musexpo showcase. Here's a sample of the hi-jinks from the past week: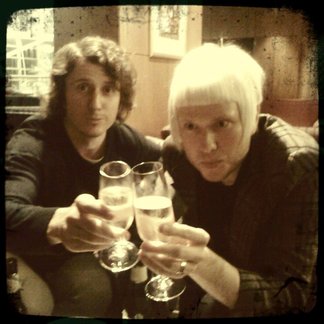 Frontman Dan James and drummer Matt Wedmaier
- cheers to the touring times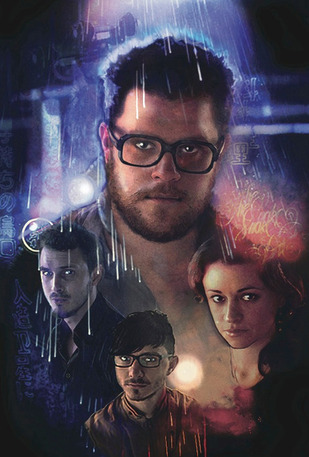 EDWARD GUGLIELMINO

Keeping himself busy with work on a brand new album and his local antics with controversial side-project, The Thin Kids, Ed G just doesn't stop! He's hitting the road again this weekend to visit the southern states where he'll play The Empress  in Melbourne on Saturday 12th and The Alley Cat in Hobart on Sunday 13th.

TIMOTHY CARROLL - FAREWELL TO BRISNEYLAND
Fans of finely crafted folk delights need to mark this one in the diary, for Brisbane's Timothy Carroll is relocating to Sweden, but he's leaving the gift of a brand new EP to keep you company in the meantime.


Launching The Deepest Dive on Thursday July 1 at The Old Museum in Brisbane, the evening will be a brilliant farewell for 2009's Q Song of the Year award winner who will perform with his full band, with The Melatonins opening the show.


Though folk-heads outside of Brisbane can still get a piece of the action by ordering The Deepest Dive online HERE.

Tickets for Carroll's farewell show are now available HERE. 
THE BOAT PEOPLE - DEAR DARKLY ALBUM RELEASE


Dear Darkly is the forthcoming third album from The Boat People. And yeah, everyone always says that their current release is their best ever – but just know, this truly is the finest and most diverse recorded offering from The Boat People to date.

Dear Darkly is the sound of a band no longer asking who they are, but simply being it. It shows confidence and clarity, draws from a far wider palette than before, though it still touches on the familiarity of themes of love, loss, escape and despair wrapped in the brand of indie-pop sensibility that has made The Boat People such enduring favourites.   

Featuring singles 'Echo Stick Guitars', 'Soporific' and 'Under The Ocean', Dear Darkly is released on July 2, a date which also kicks off a national tour. Check out the full tour dates here> www.myspace.com/theboatpeople


MUSIC COMP - WIN!
Broken Bells is the musical marriage of Danger Mouse, the man who had the bright idea of mashing Jay-Z with The Beatles (amongst other moments of creative brilliance) and The Shins' pensive frontman James Mercer. On paper it sounds like a musical disaster - on the stereo however is it a full pallet of sounds that benefit from the diverse backgrounds of both.

Thanks to our friends at Sony, we have five copies of Broken Bells self-titled album to give away. Just email us at holler@mucho-bravado.com with 'Broken Bells' in the subject line and tell us which two people you would like to see do a Broken Bells type collaboration? (hmm Scott Weiland vs Ladytron anyone?)

BALL PARK MUSIC - 'iFLY'
Okay, so of course we have feelings for this band, but really this is kinda the perfect Friday afternoon clip. Those who have a little pent-up frustration from the week that was can channel the good vibes as this chap finds a way to let it out. Ahhh... now where can we find some mint condition guitars to use as stress release? Click the image above to play!

MUCHO-BRAVADO
Find us creeping around at these places:
Ben Preece | ben@mucho-bravado.com

Angela Kohler | ange@mucho-bravado.com
Tyler McLoughlan | tyler@mucho-bravado.com