HAPPY CHRISTMAS FROM THE RAYGUN
BASE AWARDS 2020 OPEN FOR BUSINESS
NEW AWARDS ADDED TO EVENT
OFFICIAL FILM CHART UPDATE
SHADOW FALLS FOR SECOND SIGHT
SHAMELESS GOES ABOVE AND BEYOND
SUSPENDED SENTENCE FOR FRAUDSTER
THE YEAR'S BEST RELEASES?
TRAILERS OF THE WEEK
---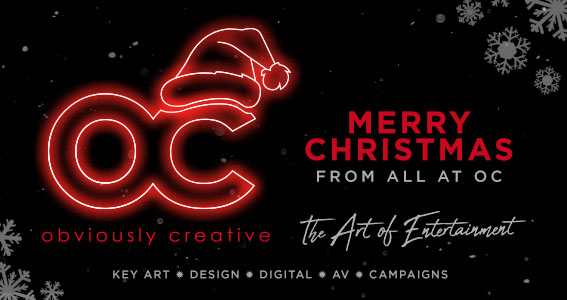 ---
If you can't read this newsletter or see the ads, please click here
It Was A Good Week For... Wishing all our Raygun readers a very happy Christmas and a prosperous new year, Thanks for all your support in 2019 and let's all continue to look for the positives in 2020…
It Was A Bad Week For… A sad farewell to a few people who are leaving the industry as consolidation continues. More on this in the new year…
New awards, new categories, a new venue and loads more new elements… BASE has this week opened the entries for its annual awards with a renewed vigour and changes that the organisation said reflected the "ever-evolving nature" of the home entertainment category. The 40th awards hosted by the trade body, due to take place on June 4 at their new home at London's famous Roundhouse in Camden, will have a refreshed awards line-up. New and tweaked categories will include an External Team of the Year gong (taking over from Supplier of the Year); while the Campaign of the Year for Non-Traditional Release takes over from Non-Theatrical to reflect the number of different release strategies used by canny distributors to bring their titles to market, taking in day and date, shortened theatrical windows and more. New categories include Campaign of the Year for Original Series, to reward TV shows in their first season, while Category Hero will recognise individuals who have gone above and beyond the call of duty in promoting home entertainment. BASE said they could come from "retailer or platform, in-house distribution or at an agency or supplier". The awards are also aiming to be the most sustainable ever, cutting down on printed material and waste and utilising a new paperless entry form system. Interested parties must express an intention to enter by Friday February 14, with completed entries due in by a final deadline of February 28. Entry forms can be downloaded from here.
Comment on the new-look awards came from BASE chief executive Liz Bales, who said: "As the highlight of the industry calendar for the past 39 years, the BASE team and I are excited to invite you to submit your entries to the 2020 BASE Awards, and join us in celebrating the year's achievements at our 40th anniversary festivities. The exceptional work produced by our brilliant industry is thanks to the passion and dedication of the individuals who work within it, as well as the consistently stellar content, both of which we are excited to celebrate with our new awards categories. We hope you are all poised to send in your entries - we can't wait to celebrate with you in style on June 4."
---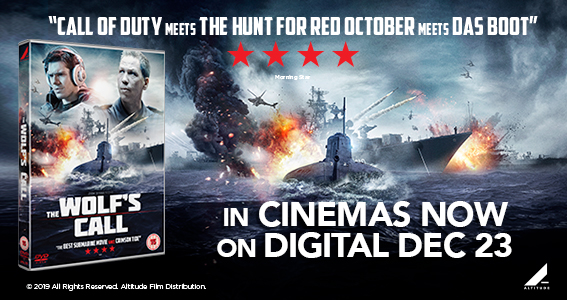 ---
Over to the Official Film Chart for a final update just before Christmas, and Quentin Tarantino's latest outing, the epic Once Upon A Time In Hollywood, assumes the number one position after its full physical release joining the digital exclusive. The title outdid the previous week's number one title, the latest Fast And Furious related outing, Hobbs & Shaw. The Jason Statham and Dwayne The Rock Johnson title slipped to number three, with The Lion King sandwiched between them. Highest new entry was Angel Has Fallen, the third in the ongoing Gerard Butler franchise that is establishing itself as one or rival the likes of Hobbs & Shaw (for more on the latest …Has Fallen title, see below). The only other new title in the top 10 is family fare in the shape of Dora And The Lost City Of Gold.
So on to Angel Has Fallen and Lionsgate has capped a year with an impressive run of home entertainment hits – taking in everything from John Wick 3 to Fighting With My Family and more – with the success of the third outing for Gerard Butler. Commenting on the success, Lionsgate's Olivia Dean said: "We're delighted with the performance of Angel Has Fallen which has enjoyed a fantastic start across all HE formats. Digitally, the film sold 26k units on its first day of release; holding its own against the likes of Logan and Into the Spider-Verse. Meanwhile on home entertainment, we're approaching 60k sales from the first three days, with a further 11k on the triple pack. We are thrilled and have high hopes for the film as we head into one of the busiest shopping weekends of the year. In terms of conversion, we're outpacing box office tentpoles Hobbs & Shaw and Mission Impossible: Fallout and we're looking forward to seeing where we land after Christmas."
One title that has made its mark over the past decade or so in home entertainment terms is Game Of Thrones, the fantasy series that has defined television for much of the decade. So, ahead of Christmas, we thought we'd get an update from HBO on the release. The company's Lindsay Seager said: ""Having seen substantial sales of nearly 150k units sold in the first two weeks of release, we are extremely happy with the performance so far. Our marketing activity has engaged and inspired fans to this point, and we're encouraged more Christmas shoppers will join us in our final watch in the coming weeks."
Last week we revealed Arrow's plans for a major theatrical release of classic words from bonkers surrealist director Alejandro Jodorowsky and the company has now revealed plans for the accompanying home entertainment release. It's a limited edition box set featuring three of the Chilean director's counter-culture classics, Fando y Lis, Holy Mountain and El Topo, presented alongside his new outing, Psychomagic. As with many of its releases, it's a genuine labour of love for Arrow. The company's Kevin Lambert said: "For our last wave of announcements for 2019 we saved something extremely special to end the year with a bang. We are incredibly proud to announce the release of Alejandro Jodorowsky's films Fando Y Lis, The Holy Mountain, and El Topo, along with his latest film Psychomagic. The release is the culmination of over three years' work encompassing beautiful brand new 4K restorations from the original camera negatives overseen by Alejandro himself, accompanied by a raft of extras including introductions by Jodorowsky, interviews, commentaries and a selection of short films and documentaries, all packed in a luxurious rigid case with an accompanying 80 page book with writing on all of the films. These cult masterpieces from the father of the midnight movie have never looked so good and we're so happy to finally be sharing these cult treasures with the world."
Independent label Second Sight continues to go from strength to strength, earning plaudits from collectors and film fans everywhere. And as well as working on a raft of classic horror and genre titles to add to its burgeoning catalogue of titles given special edition treatment to – Dawn Of The Dead, Martin, Magic and more are all due in 2020 – it is now carving out a new niche for itself. For much of the buzz currently surrounding `the label is its work in giving a similar kind of treatment to more recent horror, cult and genre fare. It earned plaudits for its recent work with titles such as Upgrade and Anna And The Apocalypse, treated with the kind of deference normally reserved for classic titles – recent films (the former was made in 2018, the latter a year before that) with a raft of special features, gorgeous packaging and more. The results have been impressive, not least in the fan reaction, and has seen Second Sight adding another string to its bow. Expect to see more of this in 2020 – next in line and announced this week was Under The Shadow, from Iranian director Babak Anvari, hailed by critic Mark Kermode as his best film of 2016 ("Thoughtful, provocative and increasingly scary fare… succeeds equally as feminist fable, fractured family drama and full-on fright-fest") and hailed by others as the best horror fo the decade, it's released on February 10 as a limited edition boxset complete with extras. Second Sight's Chris Holden said: "With VOD becoming the focus for many distributors we saw an opportunity to start picking up physical rights on more recent productions. We have traditionally been associated with older library titles but for us this is a natural progression in a changing market. The titles we are picking up would always fit in the Second Sight catalogue but we'd usually be acquiring them some years down the line. We are now looking to explore titles that have had earned instant cult status with releases such as Upgrade and Anna and the Apocalypse and have a lot more planned for the new year."
Another specialist label, the excellent Shameless, is also gearing up for a major new release of some classic horror in the shape of one of our favourites, classic gore horror The Beyond. The title is due on January 13 and, after exhaustive research and painstaking work, the title is almost ready for release. It comes in a new 2k scan and restoration after much detective work and also offers up arguably the definitive version of the release. The company's Garwin Spencer-Davison said: "For the first time ever The Beyond is presented with four different versions of the (famous) prologue, seamlessly branched on this Blu-ray: The now accepted standard sepia; the original colour camera footage; the B&W version; a new fourth-way: presented as an homage to director Lucio Fulci and Director of Photography, DOP Sergio Salvati. For this new alternative prologue version, for the first time ever, Shameless has used the restored colour camera footage as a base on which a new golden toning was applied in reference to known considerations from DOP Salvati. All other sepia tints were monochrome. The result of applying tone over the newly rediscovered and restored colour footage is that the reds of the gore are now strikingly visible and all the light sources such as the torches and car headlights are much more luminous - generally enhancing a painterly chiaroscuro never presented before." More on this in the new year ahead of the release…
---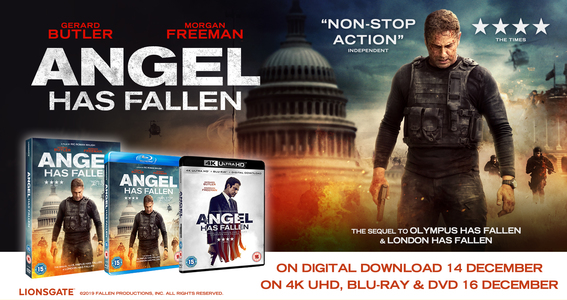 ---
We reported on dodgy subscription salesman Steven Underwood, also known as Steven Isaac, who faced two charged under Copyright, Designs and Patent Act and Fraud Act relating to selling subscriptions to pay TV services without any money going to the services, rights-holders or content owners a few weeks He admitted the charges, which deprived broadcasters and other parties of some £400,000, and was this week sentenced to 12 months in prison, suspended for two years. He was also given a rehabilitation activity requirement and confiscation order. After the sentencing at Truro magistrates' court, Paul Masters, Cornwall Council's strategic director for neighbourhoods, adds: "Stealing intellectual property or copyright is as serious as other more tangible thefts. Our Trading Standards officers will always seek to protect Cornwall's consumers from being duped by copyright fraud. Only buy streaming services from a trusted source."
Acquisition news and MUBI continues to be busy once more, picking up another title for airing on its UK and US curated subscription video on demand service. The latest title that will join its roster, appearing for the requisite 30 day's on the service from May is State Funeral. This ambitious documentary looks at the death of Soviet dictator Stalin through found footage of the state funeral that followed his death in 1953. MUBI founder Efe Cakarel said: "We are delighted to be working with Sergei Loznitsa again. Having premiered his 2015 documentary The Event and showed a large retrospective of his work in 2017 on the platform, we are extremely proud to be bringing his latest film to MUBI next year. State Funeral sheds stark new light on Russia's past and present and brilliantly brings those in power to account with a razor sharp gaze and wit." Director Sergei Loznitsa added: "The death of Stalin meant the death of an epoch. Without even realising this, millions of people, mourning the Leader in March 1953, were also living through a life-changing experience in their own private histories. It is crucial for me to bring the spectator inside this experience not as an impartial observer of a historical event or an admirer of rare archival footage, but as a participant and a witness of a grandiose, terrifying and grotesque spectacle, revealing the essence of a tyrannical regime. I see this film as a visual study of the nature of Stalin's personality cult and an attempt to deconstruct the ritual, which formed the foundation of the bloody regime. It is unthinkable that today, in Moscow circa 2019, 66 years after Stalin's death, thousands of people gather at his tomb on March 5, in order to lay flowers and mourn his death. I believe it's my duty as a filmmaker to employ the power of documentary image to appeal to the minds of my contemporaries, and to seek truth."
News from the BFI, and Ben Roberts has been appointed as chief executive at the organisation, with a remit to oversee the BFI at a time of "seismic" change in the industry. As well as effectively looking after the strategic and cultural direction of the BFI, Roberts will also champion film and film culture in the UK, spanning everything from education through to working with filmmakers and more. Roberts has worked across most aspects of the industry, from starting as an Usher through to distributors Metrodome and Universal, sales company Protagonist and latterly at the BFI. Commenting on the appointment, BFI Chair Josh Berger said "I'm absolutely thrilled to appoint Ben Roberts, on behalf of the BFI Board, as the BFI's new Chief Executive. Ben is a rare talent, with broad experience and understanding of the complexities of our screen industries; from the cultural landscape and developing new voices to growing UK independent film; from the challenges facing the UK film industry to what drives the UK's success as a global destination for filmmakers. Ben is a passionate advocate for inclusion and has already done much to steer our industry towards better representation and accessibility. Going forward, the BFI has an important role in shaping the exciting cultural and commercial opportunities presented by the broader screen industries and Ben is the person to lead this. I want to thank Amanda Nevill for her brilliant 17 years transforming the BFI into the great organisation it has become and I'm delighted to find someone who can build on Amanda's incredible legacy and take us to even greater heights in the future." Culture Secretary Nicky Morgan said: "Ben Roberts will do an incredible job as the BFI's new Chief Executive, building on the fantastic achievements of Amanda Nevill, and will continue to take the organisation from strength to strength. I look forward to working with him to ensure the ongoing success of the British film industry, with a renewed focus on skills, diversity and inclusion." Ben Roberts, Chief Executive, BFI said "I'm eternally grateful to Amanda for bringing me into the BFI, and to Josh and the board for supporting my vision for its future. Film is egalitarian, and I want everyone to see the BFI as their home, to see themselves in our programmes, and feel welcome in our industry. We need all the diversity of voice, thought and talent to maximise the potential of the UK's growing screen industries. My 22 year old self used the BFI library to help me find my first job in film, and so my 44 year old self is immensely proud to lead our brilliant teams through this next chapter."
We'll end with one of our favourite things of each and every year, the poll conducted by Sight & Sound magazine outlining the best home entertainment releases of the year, as chosen by assorted industry insiders and critics. Sure, we don't always agree with it, and we are a tad miffed that, despite the fact that in the current print issue the number of home entertainment ads outweigh anything else, it has been pulled from the physical magazine, but it's still a great snapshot of where the industry is at. As Second Run DVD's Chris Barwick, someone who often contributes to The Raygun noted: "Another exceptional year. The home video Blu-ray collector's market just goes from strength to strength. It's impossible to keep up with the barrage of amazing titles coming from UK, European and US labels." You can see it here.
One more thing: why not fill in our annual survey looking at the best and worst of the year just gone, as well as looking ahead to the next year. Here are the all important questions – answer them and send via email to tim@theraygun.co.uk
Favourite three releases of the year:
Biggest challenge in 2020:
What I'm most looking forward to in 2020:
---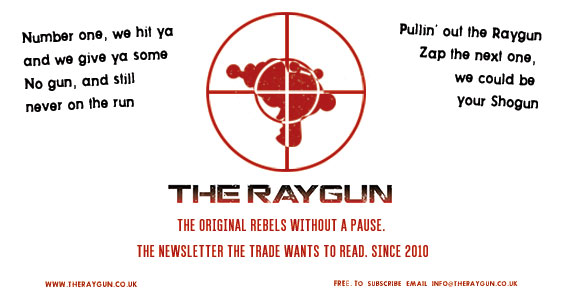 ---
David Benioff and DB Weiss, the pair behind the biggest television phenomenon of this century thus far, game Of Thrones, have been busy since the series they oversaw ended. They've been working on their own Star Wars project – and then subsequently left that – as well as signing up with Netflix in a major deal. Now the duo are said to be working an a film about HP Lovecraft. Essentially, according to the US trades, the project will imagine what if the noted horror writer's creations didn't come form him twisted mind, but were, in fact, real…
More from the US trades and Deadline is reporting that Universal is aiming to get a Lego Christmas present… of, er, Legotners movie. Seems as if other studios are trying to snag a deal with the toy giant, whose previous films have been made in partnership with Warner/. An announcement, Deadline noted, is due next year as to where the next raft of Lego films will click into place…
Reboot news of the week – expect the Dirty Dozen to return in a new project from director David Ayer, who has been brought in by Warner to work on the project. His involvement is given an ironic twist due to the fact that the film follows a band of ruthless criminals who are sent on a suicide mission to kill top Nazis during the Second World War – literally, a film about a suicide squad – while Ayer's CV of course includes, er, Suicide Squad…
"Don't try to understand it, feel it…"
You're on The Raygun newsletter mailing list, which has been running for eight years, because you requested it, have been recommended to us or sent us emails. You can unsubscribe at any time, if you're daft, using the link elsewhere or by emailing as below. But of course, you don't want to do that, do you? We don't share your information with anyone else, we don't like cookies and we're the good guys. We care because you do…
To subscribe to The Raygun newsletter, please email
info@theraygun.co.uk
with subscribe in the subject matter
To unsubscribe, email

info@theraygun.co.uk

with unsubscribe in the subject
For editorial or advertising queries, contact

tim@theraygun.co.uk