Welcome to the third RopeMarks newsletter. We will briefly describe what we have been up to since our last newsletter and about interesting upcoming events where you can meet, greet and talk to us.
We would like to thank you all for the feedback we received on our previous newsletter, it's good to hear you appreciate this initiative.
Directly jump to: Media, Photoshoots, Events, Shows, Workshops, Parties, Schedule, Our previous newsletters.
---
Fijne Vrienden, a Dutch television program, is going live for the first time, on YouTube and the Ziggo channel. RopeMarks, with the aid of the Dutch spark plug "spring", was invited to participate in this premiere edition and to proudly be an extreme good friend of the television show!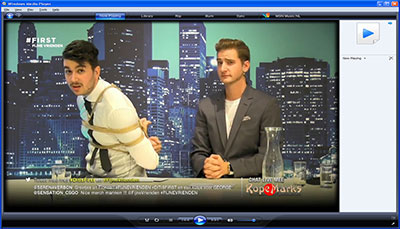 Watch it here http://www.ropemarks.com/media/television
---
Wasteland, the voodoo edition has an enormous videowall of approximatly 19m and we are a part of that. We got to do voodoo bondage (which, accoording to some of my students is what I do all the time) on a number of beautiful models. Below you can see a few stills of our participation. The entire video will be online here when it becomes available in a more managable format (not the 19m version).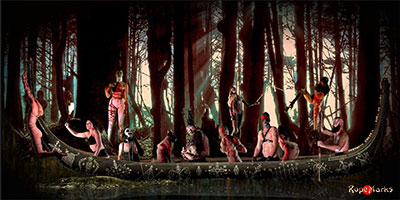 m: Nereida, DutchBlueBird and Spring | http://www.wilhelmusvlug.nl | http://www.wasteland.nl | http://www.RopeMarks.com
---
We´ve been invited to the BoundCon event, new style. For 14 years the BoundCon has been organised as the biggest bondage and fetish event, worldwide, with 5000+ visitors over the course of 3 or 4 days. In addition to this humongeous bondage-extravaganza the organisation tried something new, the BoundCon Munich Rope Weekend, and succeeded. An intimate weekend, radiating the BoundCon atmosphere, of 500+ visitors with bondage, bondage and bondage. Yours truly, flanked by Australian hottie Cobie, provided workshops and custom photoshoots.
This is just touching upon al the wonderful things that happened, the amazing people and friends we've met and the fun the was had. A full blog will be written about this event, keep an eye on Blog RopeMarks.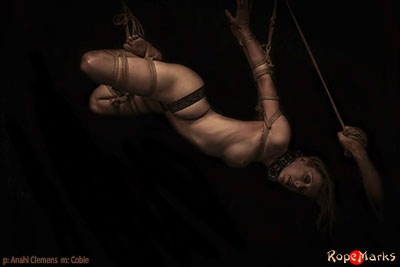 A truly awesome shot taken during a custom photoshoot by Anahi Clemens, m: Cobie, r: RopeMarks
http://www.boundcon.com | http://www.uniquerope.com | http://www.RopeMarks.com
---
For a sold-out Wasteland we cooperated with Dutch designer Dennis Diem to perform the openings act for a close to 5000-headed audience. The lucky girl being sacrificed to the voodoo priest was the drop dead gorgeous Iris Profiel.
Images and video of this show will be online soon, for now, here is a quick still from the act.
http://www.wasteland.nl | http://www.dennisdiem.nl | http://www.RopeMarks.com
---
If you are interested to learn and understand the noble art of kinbaku, we are your man! Visit this link for all the information about our teaching
To participate in one of our upcoming workshops or masterclasses, visit this link for an overview of our planned events
http://www.RopeMarks.com/ryu/events
---
Party-wise we attended the wildest party on earth: Wasteland. Unfortunatly there are no photos suitable for public distribution that we can show you here. For now you just have to take our word for it, Wasteland never fails to live up its reputation...
http://www.wasteland.nl | http://www.RopeMarks.com
---
The best place to know where we are and what we are up to is our online schedule. We try to keep it as up to date as possible
http://www.RopeMarks.com/schedule
If you run into us, come and say hi, if the opportunity is there, offer us a drink and chat :)
---
Thank you for reading all the way to the end.
Until next time,
Bob / RopeMarks
Family
RopeMarks.com | ClubRopeMarks.com | ShopRopeMarks.com | BlogRopeMarks.com | RubberRestrained.com | ClubRubberRestrained.com
Do you have feedback? Want to contact us?