In This Issue:
Huntsville Loses A Class Act - Clair L. Baur
The next town council meeting is scheduled for April 30, 2009.  Two public hearings are on the agenda
The town clean up is scheduled for Saturday, May 16th.  Be sure to mark the date on your calendar.

Planning Commission meeting Thursday... There is a full agenda for tonights planning commission meeting.
When: Thursday, April 23, 2009 @ 7 PM
Where:  Huntsville Town Hall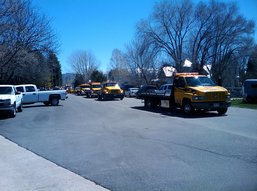 Huntsville Loses a Class Act, Neighbor and Friend - Clair Baur:
Residents of Huntsville lost a great friend and neighbor Friday with the untimely passing of Clair Baur.  Clair leaves behind his lovely wife Cleo and daughter Tiffany Bowen (John), both of Huntsville, along with several other children and grandchildren, many of whom are former Huntsville residents.

Clair had a jovial demeanor and an infectious personality.  You only had to meet Clair once and you were his friend forever.  Always upbeat, Clair would always focus the conversation away from Clair and onto you.  He always related stories of a good friend who shared a similar profession and truly cared more about others than himself.

Clair was successful not only in business, but as a father, grandfather, spouse, employer and so much more.  He was extremely generous, always the first to donate to various fundraisers and charities, and he enjoyed anonymous acts of kindness and generosity.  During his funeral, a lofty comparison was made be tween Clair and Larry H. Miller, and Clair fit those prominent shoes well.

Although very successful, he treated everyone as an equal, from the Hispanic speaking lot boy to the CEO of a large bank.  Clair practiced humility daily and enjoyed being just one of the boys.

Clair and Cleo's home was always at the top of the Trick or Treat list of local ghouls and goblins as Clair and Cleo always had a stack of $2 bills to distribute to the local kids.

Clair practiced forgiveness.  One of his sons told the story of a conversation in which the son told Clair of a recent business dealing that left the son feeling wronged.  Clair's sage response was, "I have had many dealings like that, but none that I can remember."
Behind every good man is a good woman, and Clair's wife Cleo is tops.  During the peak of her grieving, she shielded the sympathy away from herself and onto others, even insisting that she was going to help care for a terminally ill neighbor.  The afternoon of funeral, she held true to that compassion by visiting the neighbor and delivering one of Clair's beautiful floral bouquets.
Perhaps Clair's highest hon or is that he was highly respected by not only his local
competitors,
but owners of towing and Body shop businesses nationwide.  Five minutes into his funeral at 11:05 AM MDT,
all
AAA (American Automobile Association) tow truck and rescue vehicle drivers in the Western U.S. turned off their cell phones for a moment of silence in honor of this great man.  Following the service, Clair took his final Wrecker ride as a 50+ Wrecker convoy escorted Clair past his Huntsville home and to his final resting place at the Huntsville Cemetery.
Thanks for being our neighbor and friend Clair.  We will miss you!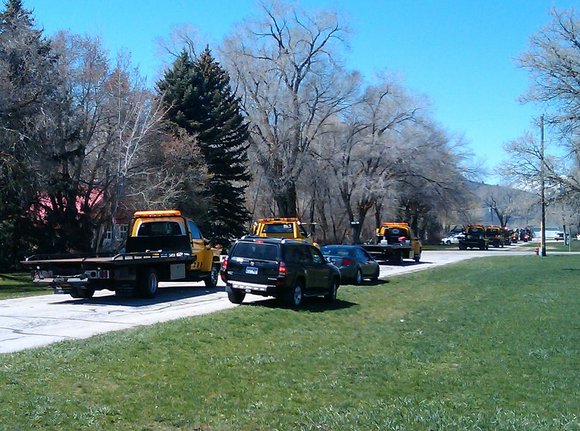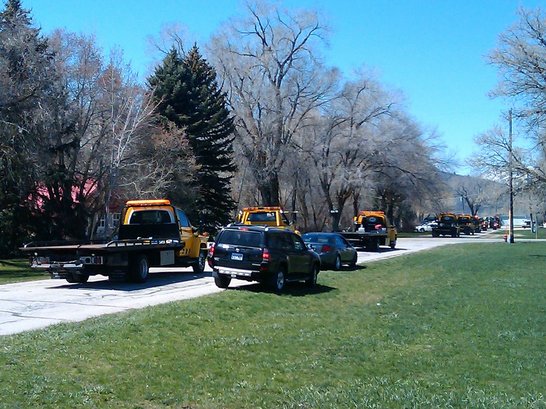 Huntsville Landfill (Green Waste Disposal Facility) To Be Open This Saturday:
Mark your calendars... In light of the recent good weather, the Landfill will be open this Saturday from 10 am until 2 pm.  It will reopen on Saturday, May 2, 2009 and the regular schedule will resume.
Be sure to buy a dump pass at the town hall, or they will be available at the landfill for $20.
As always, the landfill is only for residents of Huntsville Town, and drivers licenses will be checked to ensure compliance.
Richard L. Sorensen
Huntsville Town Council