If Charlie Meadows and Mrs. B Had a Baby,
Would it run for Mayor of Oklahoma City?
There is an old saying that politics is Hollywood for ugly people and how true that was last week when a scandal erupted over former Oklahoma City Mayor Kirk Humphreys' scomments over white flight at his former high school, Putman City High.
It seems that Humphreys was on KFOR-TV's Flashpoint when he got diarrhea of the mouth and blurted out his true thoughts:
"When I went on the school board 30… 25 years ago… a little over… we were, probably the best school district in the state. We just happened to have the best gene pool. But that gene pool keeps moving out. It's moved to Edmond, it's now moved to Deer Creek, and ya know, they'll keep runnin' as long as they can buy green fields and gasoline for their car."
One national commentator did the work to make it clear what Humphreys was speaking about:
1990 Census 2010 Census
79.2% white 62.7% white
10.5% African American 15.1% African American
3.6% Latino 17.2% Latino
The commentator also pointed out that Humphreys was a graduate of OU in 1972 and sits on the Board of Regents for OU. Linking David Boren's recent comments over the racist chants at that fraternity to Humphreys' ill considered comments led the commentator to paint all of Oklahoma with a broad brush:
"What former Mayor Humphreys is saying is white people are smarter than black people and Latinos, and white flight to the suburbs has hurt the schools in Oklahoma City."
How cute to see fellow progressives turning on Oklahoma City RINOs like Humphreys and OU President David Boren. Just goes to show you that bending over backward to appease liberals and bringing them into your camp to attack conservatives is never a good idea because if you pick up a snake, it will bite you.
And who is Mrs. B, the imagined mother of Kirk Humphreys? Beauton Gilbow was the 79 year old house mother of the SAE fraternity who expressed shock and outrage after the racist bus video surfaced only to have her own racist video released a few hours later showing her allegedly chanting the n word to a rap song. Hmm, old Charlie spoke about what a wild child he was in his younger days….. do ya think?
But here is our take on all of this. People should have the right to be bigots and even assh….. uh, David Praters. That is why the freedom of speech is all important, so that we can know the inner thoughts and motivations of folks like Charlie Meadows. Beauton Gilbow, and Kirk Humphreys. Let them crow and act better than the rest of us if that is what churns their butter.
.
Good News on the American Indian Cultural Center
Even the RINOs Have Seen the Light
Conservative Leaning Speaker Jeff Hickman Helps Hold the Line
Send the man an emai and thank him for doing the right thing against so much opposition jwhickman@okhouse.gov
A sense of despair has settled over efforts to open the American Indian Cultural Center and Museum…… That was the headline of the Oklahoman story over recent efforts to pump more tax payer dollars into that bottomless pit called the AICCM. This boondoggle was hatched by the Oklahoma City Chamber of Commerce and the State Chamber of Commerce. The idea was let the good old boys buy up cheap land in the blighted area then use the bought and paid for legislators to put up a nearly two hundred million dollar tourist attraction to drive the worthless land prices sky high.
After spending 91 million and facing a growing groundswell of opposition, the House of Representatives led by Speaker Jeff Hickman allowed funding to die for the AICCM last year, and a wise decision that was given the current budget hole. Hickman realized that there simply was no support other than the Chambers of Commerce, that even the Indian tribes didn't want the foolish thing, and that it was wise to cut state taxpayer loses. Hickman was even more courageous as RINO Governor Mary Fallin and the Senate supported throwing more money down the rat hole.
But this story in the Daily Disappointment, as the Oklahoma is commonly called, was interesting because the story quoted Oklahoma City Mayor Mick Cornet saying:
"When they didn't fund it last year, I gave up. They've just lost interest," "I don't believe the state's going to fulfill its obligations," he said. "It's the same prediction I've been making since May, and I still believe that."
Consultants, no doubt well paid by the AICCM and wanting the gravy train to continue, have postulated that the museum would become "would be a national and international draw, and an economic catalyst for the city." Right…..Everyone wants to vacation in Oklahoma City on their summer vacation, after all, the weather is so pleasant then. And the tribes don't want the money pit drawing tourists away from their own cultural centers or from their casinos.
Work on the white elephant ceased a couple of years ago when they ran out of cash and the state continues to spend a million and a half a year to keep the Authority going and secure the unfinished buildings. But even Cornett has read the writing on the wall when he commented"
"Our dollars would be the last dollars in, not the next dollars in,"
.Senate leaders are saying that Oklahoma City ought to consider taking back the land but completing the boondoggle isn't going to happen as even the savvy businessmen that pushed the boondoggle know that it will never be able to pay back its mortgage.
OCPAC of course gave up the fight against the AICCM several years back when Charlie Meadows decided the fight was hopeless. Of course the general public and the Sooner Tea Party kept up the pressure and Speaker Jeff Hickman wisely realized that there was nothing in any of this for the rest of the state so why put his team through a meat grinder for no gain? OCPAC of course actually called legislators trying to defeat Hickman in the Speaker's race in early 2014 so once again we saw the formerly powerful group grinding the gears in opposition to consrevative values.
.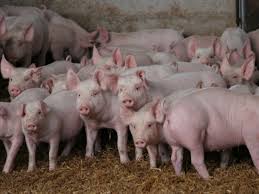 Pay Cuts For The Little Piggys?
By Ms PM
Why are Oklahoma legislators some of the highest paid part timers in the nation? The pocket pickers make more than double the regional average.
Their favorite sing along song about "Oklahoma's Poor People" gets a little off key in this case when it provides a way of putting more money in the Little Piggy's pockets.
State Rep. Jason Murphey, R-Guthrie continues with his yearly donation from his legislative salary in the amount of $8,241.92 to make the point. Other than his point of believing the piggy's make too much money, we believe most of them would serve us better if turned into bacon bits.
Murphey said "in order to reform government, we must cut wasteful state government spending." He continues to sponsors legislation each session and we ask what happens to his legislation?
Representative Murphey donates the inflated portion of his taxpayer funded paycheck to the Crossroads Clinic in the Guthrie area. Noble actions to bring awareness to a bloated state government but in the end taxpayers are in a roundabout way funding the donation.
A far better way to demand that legislatures stop spending your money would be to insist Murphey's legislation is passed. We wonder what would happen if the taxpayers of Oklahoma were to make it a mission with their "pens and a phone." A few visits to their legislature's offices just might offer up a solution. The face to face question might be, "why do you believe you are entitled to be overly compensated with my money?"
This article brings the waste up front and personal. There are approximately 149 legislators in Oklahoma. If you multiply that by what Murphey donates to charity the waste is approximately $1,228,046.08. The approximate population in Oklahoma is 3,751,351. The cost for every person living in Oklahoma is $.33. This doesn't seem like much does it until you look at the big picture. This is how government nickels and dimes the citizens into oblivion. What are you going to do?
2013 Senate members and House Members
Please copy the block of emails for your contact list so you are able to email all of them and help to inform and educate them before the new sessions begin. Use Bcc to send dozens of email with one email from you to them. This will look like you send each one of them a personal email with only their email showing as the recipient. Please mention the Sooner TeaParty in your emails so they will have a healthy respest for what we do.
Here are the updated individual House members email addresses in three blocks of Thirty- four each and updated senate emal addresses in one block
.
Rem
ember to strip the unsubscribe link before forwarding this newsletter to prevent someone from taking you off our list! Use our forward this email link at the top owf the newsletter to prevent being accidently unsubscribed.
Money is always needed for printing costs, postage, sign materials, and robo call costs. We are tightfisted; we will spend your hard earned money wisely and frugally as we do our very best to clean up Oklahoma politicians so we can begin to clean up our country.
You can donate by sending a check to Sooner Tea party, 358 North Rockwell Ave, Oklahoma City, OK, 73127 or visit Soonerteaparty.org and use the Paypal donation button.