Action alert: End the U.S. Army's prosecution of Lt. Ehren Watada!
Justice Department can say no to Army's legal appeal that keeps resister in Army nearly 3 years after taking stand; "Dear Solicitor General: Tell the Army to drop the appeal"
Cliff Cornell sentenced to 12 months
Iraq War resister denied sanctuary in Canada; convicted of desertion at Ft. Stewart, Georgia. Action alert: Please ask Commanding Officer to reduce Cliff's sentence.
"Long time passing: Mothers speak out..."
Courage to Resist co-founder and military mom Susan Galleymore now on tour in support of her new book.
---
End the U.S. Army's prosecution of Lt. Ehren Watada!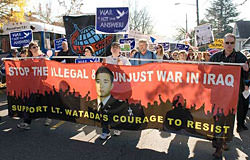 By the Ad Hoc Campaign to Free Ehren Watada. April 27, 2009
In June 2006, U.S. Army 1st Lt. Ehren Watada refused orders to Iraq on the grounds that the war was illegal and immoral. His court martial in February 2007 ended in an Army-contrived mistrial. In October 2007, the Army attempt to have a second court martial was stopped by a Federal judge who ruled that a second court martial would be double jeopardy. But the Army has not allowed Lt. Watada to leave military service. Instead, they have notified the U.S. Court of Appeals, Ninth Circuit of their plans to appeal the double jeopardy ruling. The Army has also threatened to revive old charges stemming from Lt. Watada's speech in Seattle to the 2006 convention of Veterans For Peace.
Justice Department to decide if Army will appeal double jeopardy ruling
The U.S. Solicitor General's office in the Department of Justice will soon decide whether the Army can go ahead with its plans to appeal Federal Court rulings in Lt. Watada's favor.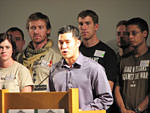 An campaign of public pressure is being called by Lt. Watada's supporters in the peace movement. The ad hoc campaign is being spearheaded by two Vietnam War resisters, Mike Wong and Gerry Condon, who are active members of Veterans for Peace in San Francisco and Seattle. The Call to Action is being issued in the name of Asian Americans for Peace and Justice, formerly the Watada Support Committee, in the San Francisco Bay Area, and Project Safe Haven, a war resister support group.
If we all act quickly, we can flood the Solicitor General's office with hundreds of phone calls, letters and emails, which could tip the balance in Ehren Watada's favor.
Solicitor General Elena Kagan, 202-514-2201
Deputy Solicitor General Neal Katyal, 202-514-2206
---
Cliff Cornell sentenced to 12 months for desertion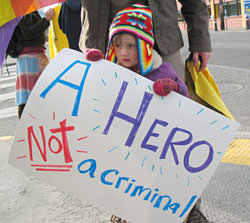 By Friends of Cliff Cornell. Updated May 1, 2009
Action alert: Request that Cliff's sentence be reduced
Your letter to the Commander of Fort Stewart, Georgia requesting that Cliff's prison sentence be reduced is urgently requested. Learn how...
The U.S. Army convicted Specialist Clifford Cornell of desertion yesterday at a brief courts martial at Ft. Stewart, Georgia. He was sentenced to 12 months in a military jail, although he is currently being held at the Liberty County jail in Hinesville. The military judge, Col. Tara Osborn, also ordered Cliff's rank be reduced to private and for him to receive a bad conduct discharge.
Cliff, 28, surrendered himself to authorities at Fort Stewart, Georgia on February 17, after being denied refugee status in Canada. The Arkansas native left Fort Stewart four years ago, when his artillery unit was ordered to Iraq. According to family and friends, Cornell did not want to kill civilians, and said that Army trainers told him he must shoot any Iraqi who came near his vehicle.
Read more...
---
Long time passing:
Mothers speak out about war and terror
By Courage to Resist and Susan Galleymore. April 29, 2009
Courage to Resist co-founder Susan Galleymore made international headlines by taking the extraordinary and even dangerous step of traveling to Iraq to visit her US Army son stationed on a military base in the so-called Sunni Triangle, north of Baghdad. She is now on tour to promote her new book "Long Time Passing: Mothers Speak Out About War and Terror".
What Susan found in Iraq – the horrors of war which was at once heartbreaking and compelling - challenged her to continue her journey interviewing mothers in war zones including Iraq, Israel and the West Bank, Lebanon, Syria, Afghanistan and the US. These powerful first-person stories offer dramatic insight into the impact of war on mothers, families, communities, and cultures around-the-world.
Upcoming events include:
May 1, Tacoma, WA 1st United Methodist Church
May 2, Lakewood, WA: Coffee Strong
May 3, Santa Monica, CA: - Arlington West - noon
May 3, Los Angeles, CA: AFSC - LA - 2:30pm
May 5, Washington, D.C.: Busboys and Poets
May 6, Philadelphia, PA: Green St. Friends Meeting House
May 7, New York City, NY: AFSC - NY
May 8, Boston, MA: Beacon Hill Friends House
May 10, Northampton, MA: Northampton Center for the Arts