IN THIS ISSUE:

---
Sponsors this week:
The Carpenter Shop
358 North Rockwell
OKC, Ok
405-942-2644
The Carpenter Shop is a full line cabinet and countertop shop that travels all over the state building dream kitchens for discerning customers
okcgunshow.com
okcgs.com
Claude Hall has always take care of the Tea Party and the Ron Paul activist community at his gun shows.
His next OKC dates are:
May 19th - 20th,
July 14 - 15th,
Oct 6 - 7th
Nov 17 - 18th
Dec 15 - 16

This guy is a Noble Oklahoma based company that has great prices on electronics of all types and inexpensive toner and ink for your printer.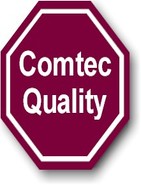 Comtec provides residential and commercial security systems in Oklahoma.
There is only one thing you really need to know about Comtec's quality and pricing, they do not require a contract for their services.
Customers are free to walk away if their service isn't top quality.
Rodent ResistantChicken Feeders!
$50 + Shipping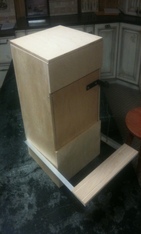 Advertise Your Business, Event, Or Service Here!
$25.00 per week, tens of thousands of Oklahoman
impressions every newsletter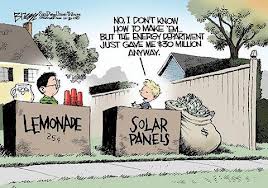 Another Story about Wasting Taxpayer Time and Money and the Frustration Caused By Out Of Control Government Meddling
By MS PM
This is a story that actually began about ten years ago when I moved to Oklahoma even though I didn't know it at the time. I transferred my sales tax permit from out of state to be able to sell my little trinkets here in Oklahoma and submit the sales tax
payment to the Oklahoma Tax Commission. About two years ago there were circumstances and I terminated my permit. Once moving from Norman and getting settled a few months back I was able to apply for another permit.
It began with a trip to Oklahoma City where I found out the rules had changed. The new requirement was filing monthly sales tax returns online along with setting up the payment to the tax commission with a debit transaction from a checking account. Well folks…that ain't happening and after voicing my main objection that "nobody gets into my checking account to take money out" the woman said that I could say I didn't have access to a computer and have it mailed to me like the previous eight years or so. I had thought, okay, a done deal…but not so fast.
Within the week I received a letter contesting my request. At this time I had not signed the "lie" about not having internet access, it had appeared to be a simple request, but no, I had to submit the signed "lie." I called the number on the letter and it took about four hours to get to speak with someone, the recording said "high call volume, try your call later."
Later speaking with a real person, I went over my trip into the city with my objection and the reason for not allowing the tax commission into my checking account, and that is when I found out the payment could be put on a credit card. That I could do, but talking further and asking more questions, I was told there would be a credit card fee that I would have to pay. Here we go again, and when I had the objection of it costing me more money to make the tax commission's job easier I wasn't going to sign up for that either. The woman was very patient and listened to my reasons and about how Oklahoma's websites had been compromised a while back with taxpayer information. I asked why some of the people processing applications didn't know to give out all the pertinent information especially if it will cost the applicant more money. I questioned the "discount" if you send your sales tax on time and asked why the tax commission didn't do away with that and instead pay the cost for people paying with a credit card. After all, your return is supposed to be submitted on time, and asked why OTC is rewarding people for processing their paperwork on time the way they are supposed to anyway. You never get discounts for paying your mortgage on time; you get a bad credit score for being late. Well, I guess it worked; miraculously I will be mailed a sales tax return each month and will be able to send them a check.
But…it didn't stop there. I came home last week to find a business card stuffed in my door. It read, "Oklahoma Tax Commission, revenue compliance officer, compliance division." She had my name on it and "call me." Oh my…what have I done now? I called the pager number and left my number but didn't get a call back. I called OTC, got the same "high call volume, try your call later" recording, and I did, many times to no avail. The compliance officer did eventually call me and this is what I found out.
I asked why she didn't call before making the trip to my home; I'm north of Shawnee, that's a lot of fuel, a lot of time, and a lot of taxpayer money being spent to run around Oklahoma only to leave a business card if people aren't home. I asked what she needed and she said, "I wanted to check to see if you had any questions." I asked her, "don't people have enough sense to pick up the phone and call the tax commission with their questions?" Being the un-trusting sole that I am, I can't help but believe there was more to the visit than a Q & A session. The only answer was there were other people in the area she had to visit so it wasn't a wasted trip. I said that in all the years of having a sales tax permit this was the first time I ever had a visit for questions. I asked how long these visits had been in effect and according to her it was long before I got my first permit. I asked why I had not gotten a previous visit and she said that sometimes the state didn't have the money. I clarified that statement saying the state never had the money other than taking it from taxpayers and shoving it into the account called "let's drive around Oklahoma and make surprise visits to see if permit holders are home and have any questions that they actually could get answered by a phone call, if OTC were able to answer the phone when people called in." Wow, I do wonder if I will get another visit. I pity the fool.
But it doesn't stop there…I got a returned call from the original person I had left a message with right after all this sales tax permit stupidity started. I let her know that I had already been contacted and hopefully all was okay for now. I asked why it took so long for her return call, it had been two weeks and she said, "I just got the message today." Hmmm. She looked at my account and asked if I had gotten my May sales tax return yet. No I hadn't, so I asked what needed to be done on my part. I let her know that I had informed another person that there were no sales in May and was told that would be okay even if I didn't get a return in the mail to fill out. She said I needed to access the .gov website and print off a form and mail it in. So, I asked, if I can print the form why does OTC mail them? I also asked, if all of this were to be set up online, couldn't I print off the form and mail it in anyway? Would OTC return my check because it wasn't processed online with a checking account debit? The answer was no, they would accept it.
This is where it stops…for now. Yep, it's easy for our government to waste our money. This whole ordeal is something that should be a simple process. When you have people making the rules that know jack squat about what is really going on, this is what you get. Is there still anyone out there that believes their government knows what the hell they're doing?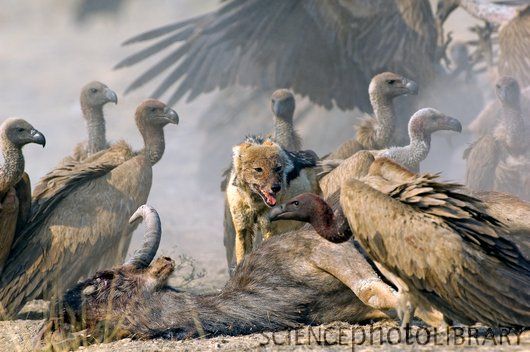 Washington Trained Politicians Own the Senate
By the Watchman
The decision to cover the senators that voted for SB 640, the Obama Care bill, is beginning to shed some light on to how much Washing ton D.C. corruption has filtered its way down to the Oklahoma State Capital. To date in our series we have completed seven reports on legislators. Six of them have been on senators. We were shocked to find that one third (1/3) of those senators, including the senator we will report on today, have been trained by the RINO Republican in the senate, Tom Coburn. Both of these state senators learned their lessons well.
Today we are taking a look at Senator Josh Brecheen. This is a freshman senator, who works as a motivational speaker in between sessions. We began our investigation by going to
www.ok.gov
to look at his brag sheet. Here, once again, we find a man with no ties to any of the armed forces sitting on the Senate committee for Veterans and Military Affairs. We ask simply how in the hell do these people have any idea as to what our veterans have gone through? What qualifies them to sit on this committee? This is beginning to look like President Pro Tem Brian Bingman doesn't respect what these men and women have been through. Surely he can find enough veterans in the senate to fill the positions. You can see the senators brag sheet here.
We next did a simple google search of Senator Brecheen. One of the first things we found was his campaign web site. You can find it here
.
There is nothing remarkable about this site. It stresses the conservative values he wants to bring to the senate. It stresses the Christian upbringing and belief. But it makes you wonder why he voted yes to bringing Obama Care to Oklahoma?
Most of what we found on Google was not very flattering about the Senator. We must admit we kept the best they had to say and threw out the worst. We even threw out what can only be described as sexist remarks made in the Lost Ogle column towards the Senators wife. Here are two examples of the best things they had to say about him.
Oklahoma Gazette Letters to the Editor: A bone to pick with Sen. Josh Brecheen
and this
Oklahoma State Senator Josh Brecheen wants to cram his religion down the throats of all the little children in the OK state. –
. We here will never hold an individual's religion against them.
We next did a criminal background check on the Senator. He is a very, almost squeaky clean individual. He had 2 traffic tickets while attending college. One was dismissed, and one he paid a fine on. You can see them here.
We next went to
www.votesmart.org
to see what information was available there. We went to the Special interest group page to see how they rated him. We didn't expect to find much as he is still a freshman Senator. Here is what we found.
2011 Research Institute for Economic Development Position on Pro-Business Policy 95%
For a Rancher, you would expect this to be a lot lower. The higher the score, the lower his concern for the consumer.
2010 NRA A
We next went to
www.followthemoney.org
to look at is campaign finances. We were disappointed in what we found. Sure it listed at lot of money. It also listed a few of the smaller donations from the smaller corporations that belong to the Oklahoma State Chamber of Commerce, but it didn't tell the complete story. We knew we had to dig deeper.
We next took a look at his voting record on bills that mattered to Oklahomans. Here is what we found.
HB 1397 Transvestite Birth Certificate Bill, Voted Yea-Liberal
HB2171 Obama Highway Bill, Voted Yea-Liberal
HB 1953 Governors Quick Action Fund, Slush Fund, Voted Yea-Liberal
HB 2131 Soft on Crime Voted Yea-Liberal
SB 154 21st Century Quality Jobs Act Voted Yea Liberal
Yep, this guy is a Tom Coburn conservative. Go around during the election cycle claiming to be a conservative and get up in front of the podium and shout out the virtue of being a liberal almost sixty two percent (62%) of the time. Dr. Tom sure did train you well.
We next went to
www.ok.gov/ethicscommission
to look a little deeper into his campaign finances.
The Senator had one particular quarter where he had an exceptionally good fund raising total. In that total for individuals, was out of state money. We won't list the names, but will list the city and states and the amounts below. This is just a small fraction of the over twenty six thousand dollars ($26,000.00) raised that quarter.
Aug. 27, 2010 Gainesville, Tx. $ 150.00
Sep. 28, 2010 Dallas, Tx. $1,000.00
Sep. 28, 2010 Jonesborough, Tn. $ 150.00
Oct. 06, 2010 Prospect, Ky. $4,500.00
Oct. 09, 2010 McKinney, Tx. $ 100.00
Oct. 14, 2010 Pittsburg, Ks. $ 350.00
Now if you add it all up, that's almost twenty percent (20%) of what was raised from private individuals during the final quarter of the campaign. That's a lot of out of state influence on our state. But wait until you see the corporate donations.
Oct. 25, 2010 Central Oklahoma Business Alliance $1,000.00
Oct. 29, 2010 BOLD PAC $1,500.00
The Central Oklahoma Business Alliance is affiliated with the Oklahoma State Chamber of Commerce. It funnels Chamber money to candidates. BOLD PAC is a committee for Hispanic Causes. Additionally there are many medical association PACs that donated to his campaign. This would account for his voting yea on the Obama care bills that came up in the Senate this year.
The pattern of accepting corporate donations has continued. Here are just a few examples from 2011.
Jan. 05, 2011 American Electric Power Co. Columbus, Oh. $ 500.00
Jan. 12, 2011 AT&T Oklahoma PAC $ 350.00
Feb. 03, 2011 Oklahoma Medical PAC $1,000.00
Nov. 21, 2011 Wal-Mart Stores, Bentonville, Ark $ 250.00
Dec. 07, 2011 Spectra Energy, Houston, Tx. $ 250.00
The list just keeps going. The last report was filed covering the quarter ending March 31, 2013.
This man may well be a gifted motivational speaker, but he's also a gifted blow hard. His voting record has proven that he is a RINO Republican who cannot be trusted to live up to conservative principals. Another example of his failure to live up to conservative principals is his acceptance of out of state funds to pay for his campaign. If he believed in himself and his message, than he should have believed in his in state donors.
Perhaps the most troubling aspect of it all was that he worked for a Republican Senator and saw the fight against Obama care in Washington D.C. and in this great state, and yet put his blinders on and voted for his slave masters at the Oklahoma State Chamber of Commerce to try and get Obama care implemented in this state again. How dare he go against the will of We the People.
It's time to end this nightmare in the Oklahoma State Senate. It's time to find someone to represent this district not on behalf of the Oklahoma State Chamber of Commerce, but on behalf of the constituents of the district. Don't fall for his practiced speeches; remember it's what he does for a living. Be bold and make him answer your questions.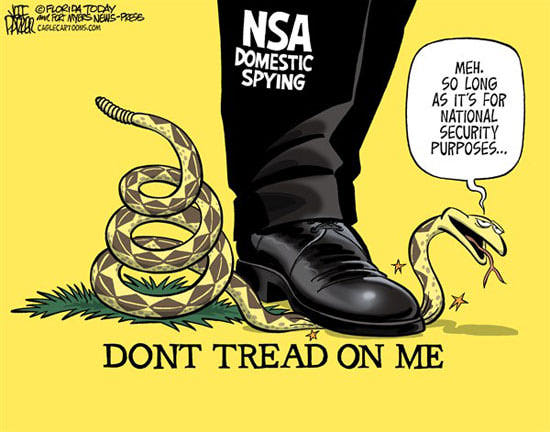 Coburn Defends Surveillance
By Ms PM
The right of the people to be secure in their persons, houses, papers, and effects, against unreasonable searches and seizures, shall not be violated, and no warrants shall issue, but upon probable cause, supported by oath or affirmation, and particularly describing the place to be searched, and the persons or things to be seized.
Benjamin Franklin once said; those who would give up essential liberty to purchase a little temporary safety deserve neither liberty nor safety.
In this article Senator Coburn attempts to justify his reasoning behind a poor excuse for allowing the federal government the authority to go against the Constitutional rights of every American citizen in the hope of a false sense of security.
Being a member of the Senate Intelligence Committee it could be concluded that your actions are not the least bit intelligent when you grandstand your belief that the government should be trusted with private and daily communication from us all. Your words in the belief that these programs collecting phone and internet data are legal, it would be an interesting debate on your interpretation of the fourth amendment.
Coburn also said, "Americans would be proud and amazed by the work being done by the NSA and would have no concerns that their civil liberties were being violated." This brings up a few questions. Is it totally implausible to suggest citizens have justifiable reasons for not trusting government programs? One example is the IRS scandal. What say you Senator when Tea Party groups and conservatives are harassed, targeted and denied regular treatment simply because of their political beliefs? What is it about you that believe it appropriate for the government to brush off this wrong doing and down play what actually happened? Do you actually believe we should play along and question nothing simply because you say we should be proud? Please clarify this proud feeling as we have been lied to, given false information and have had information withheld simply because government SOB's have the power at hand. Government has done little to produce a well-being in the eyes and hearts of citizens.
Personal experience with the IRS amounted to a one hour hold, being transferred to three different departments and not being able to get a question answered because not one person knew the correct department to connect me with. These people are put in control of our healthcare appointed and run by government. Your stance on trust is no less than appalling.
You have clearly blown your credibility on this issue. When does government not over step its boundary? When does government not strive to continue a trek of bigger is better, becoming all too powerful?
Something else that has become troublesome is the Boston bomber situation. Our security administration chose to ignore warnings handed over to the U.S. Isn't this the same government that believes they have to snoop on its citizens to catch terrorists? Senator, you also believe that intelligence committees "conduct rigorous oversight of the nation's spy work to ensure it's done within the parameters of the law." For someone that carries a copy of the Constitution and quotes from it regularly, we must wonder if you skipped over the fourth amendment. If no one protects the Bill Of Rights more than you do, as stated in the article, we conclude that every citizen is in serious trouble.
The phone companies were given immunity against prosecution for turning over phone records to the government about five years ago. I personally did a story on this a while back. If this intrusion is found to be unconstitutional then why were they granted immunity? Could a possible answer be that the almighty government strong armed these companies and the only way they would comply was to give them immunity? Did they have insight of knowing there would be lawsuits?
We get to Bengazi where FBI Director Robert Mueller defended the lack of investigation for two weeks because of security issues. Senator Coburn, can you answer this question? When safety was an issue for the investigation to find out what happened, why was the request for more security before our people were murdered in a terrorist attack denied? This attack has led to a cover up because of the incompetency of the federal government. Just how do you justify standing in front of the American people saying we need to trust government decisions?
Senator, you go on to say that Senator Rand Paul is "spouting nothing but lies." Senator Paul may have a little more on the ball than your rose colored glasses can allow you to see. It is feasible to conclude that when you point the finger at Senator Paul you have three fingers coming back to you, and you Senator, very well could be the one "spouting nothing but lies."
Watching an interview with two former NSA employees was interesting because of a program they had developed which was far less expensive than what the government wants to indulge its citizens to procure. Their claim was to have been able to prevent the 9/11 attack. Rather than having data from everyone, the program would focus on those suspects that are known to harm America. It is a known fact that building a huge facility that houses the data in Utah, along with funding the operation and its employees, will add to the size of an ever increasing federal government.
We will never know if the other program would have worked and led to believe that if the federal government "says its so," it must be the truth, or if nothing is said it's because we do not need to know about it. As long as we have the Senator Coburn's in our government representing us, each and every citizen of not only Oklahoma, but the United States as well, will be led down a path paved with powerful intentions. Intrusions on liberty and freedom this nation was founded on will continue to be the new America our Founders bravely fought to protect us from. The end result will be a hell much hotter than the summers here in Oklahoma.We personally hold you responsible for your help in destroying the greatest nation on earth!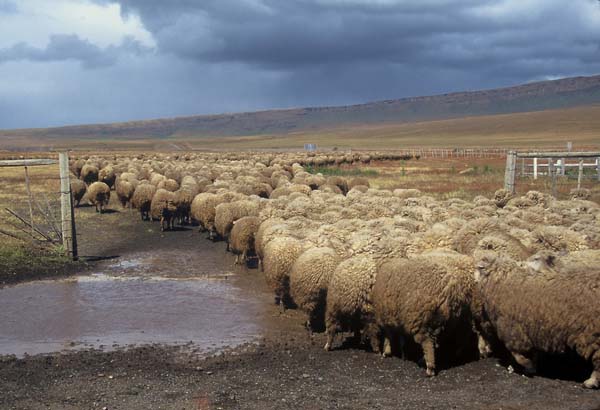 Whatever Happened to the Citizen Politician?
By the Watchman
We present to you today a perfect example of why the State of Oklahoma implemented term limits for our legislators. We are discussing a lifelong politician and political operative Senator Greg Treat of Oklahoma City. He has done nothing but work in politics since his Junior year in College at the University of Oklahoma. Can we trust a man whose entire life has been nothing but politics? We'll explore his record and find out.
We started our investigation by going to Senator Treat's brag sheet at
www.ok.gov
. Unlike most brag sheets, his contained a lot of information. You can see his brag sheet here.
He got his first taste in politics in 1999 when he won the Cortez A. M. Ewing Fellowship Award which allowed him to intern for any member of Congress or Federal Agency in Washington D.C. He went to work for then Representative Dr. Coburn.
We found that he was more open about his background than most Senators. He's still in his freshman term, maybe that explains it. We know he worked for then Minority Leader Fred Morgan. He left that post to work for then Lt. Governor Mary Fallin. He also went back to work as regional director for Senator Coburn's successful U.S. Senate campaign. After the election, he worked for the Senator as a field representative and state government liaison.
Here is where his brag sheet takes a turn. He claims that in 2010 he was placed in charge of the 2010 Victory Program. He claims that he helped to register over 28,000 new Republican voters. Now it seems to me that a former State GOP Chairmen, Matt Pinnell, claimed the same thing. It leads to a little bit of a credibility gap.
It never fails to amaze us that the elected members of our state government seem to feel that the way to shrink the size of government is to grow the size of government. Such is the case in Senate bill 1008. This bill, which you can read here,
is designed to shrink the size of government by creating a board to decide which functions of state government to privatize. What is wrong with the cabinet doing a study within their own departments and coming up with a solution. What is wrong with having the committee that Representative Jason Murphy sits in having a look at the situation and making recommendations. He has managed to save the state millions over the last few years. Why is growing the government always the first thing these people think of?
Senator Treat also authored a bill, Senate Bill 598, that sought to amend the state Constitution in a way that would have had the positions of Insurance Commissioner, Superintendent of Public Education and Labor Commissioner appointed by the Governor instead of elected by the citizens of the state. You can read the bill here
. There was no explanation to the people as to how this would benefit them. These are not conservative values.
We next went to
www.ok.com/ethicscommission
and looked at his campaign finances. We were already aware of the fact that Senator Treat won a special election to replace Lt. Governor Todd Lamb who had just won election to that post.
Some of the corporate and union donors to his campaign to fill the seat vacated by Lt. Governor Lamb are listed below.
Feb. 04, 2011 Oklahoma Public Employees PAC $ 750.00
Jan. 28, 2011 ITC Holdings PAC, Lansing, Michigan $ 300.00
Jan. 20, 2011 Cox Communications PAC $ 500.00
Sep. 01, 2011 Astella Us Llc PAC, Deerfield, Ill $ 250.00
You'll notice we indicated two out of state companies listed. There are more. The first, ITC Holdings PAC, is the largest electrical transmission grid in the country. They are looking to expand. It wouldn't hurt to have a little help in the state senate. You can see the information on the company here
. The second company is a front group for a Japanese owned Pharmacuetical company. You can read their information here
. Why is the ethics commission allowing foreign money into local campaigns?
We did find that Senator Treat is pro-life. He called upon the U.S. Supreme Court to hear a case along with seventy eight (78) other Oklahoma lawmakers. You can read more about the story here.
We next went to
www.votesmart.org
to see what information was available there. His biography page indicated that he was a former member of the Veterans and Military Affairs Committee. We have to wonder why. This man has absolutely no military background indicated anywhere in his background
We then took a look at the interest group ratings. We didn't really expect to find much here due to his short tenure in office. We were not surprised. Here is what we found.
2011 Research Institute for Economic Development Position on Pro-Business Policy 88%
2012 Oklahoma Sierra Club 33%
2012 NRA Candidate Position on Gun Rights 92%
As you can tell by the high score in RIED, he is very much in line with what the Oklahoma State Chamber of Commerce agenda wants.
We next went tot
www.followthemoney.org
to see what they had on his campaign finances. Here is some of what we found.
Greater Oklahoma City Chamber of Commerce $1,000.00
International Paper $1,000.00
JP Morgan Chase & Co $ 500.00
Oklahoma Public Employees Association (Union) $1,500.00
That's just a sample. It goes on and on. There's enough there to make you wonder where his allegiance lies. Does he support his constituents, or the special interest who seem to finance his campaign? That is for you to decide.
We must admit, this man hasn't even indicated what he does for a living between legislative sessions. He's not trained for anything but politics. He's never done anything but worked in politics. It would be interesting to know what he does between sessions.
What we have here folks is an Oklahoma State Senator with questionable loyalties. A man that has been well schooled in the methods of politics, a man that knows nothing but politics and is not the citizen politician that this state needs. It's time to replace him with a citizen politician that will serve the people, not the slave masters of the Oklahoma State Chamber of Commerce.
2013 Senate members and House Members
Please copy the block of emails for your contact list so you are able to email all of them and help to inform and educate them before the new sessions begin. Use Bcc to send dozens of email with one email from you to them. This will look like you send each one of them a personal email with only their email showing as the recipient. Please mention the Sooner TeaParty in your emails so they will have a healthy respest for what we do.
Here are the updated House members email addresses in three blocks of Thirty- four each and updated senate emal addresses in one block
.
Rem
ember to strip the unsubscribe link before forwarding this newsletter to prevent someone from taking you off our list! Use our forward this email link at the top of the newsletter to prevent being accidently unsubscribed.
Money is always needed for printing costs, postage, sign materials, and robo call costs. We are tightfisted; we will spend your hard earned money wisely and frugally as we do our very best to clean up Oklahoma politicians so we can begin to clean up our country.
You can donate by sending a check to Sooner Tea party, 358 North Rockwell Ave, Oklahoma City, OK, 73127 or visit Soonerteaparty.org and use the Paypal donation button.