GROCERS' FAVE SUNDAY PAPER SHUTTERS…
DIGITAL TO GROW, SAYS REPORT
THOR HAMMERS HOME PRE-ORDERS
BRIGHTSPARK UPS THE COUNT
STAND-UP STARS HIT THE PANEL SHOWS…
KALEIDOSCOPE OFFERS DIFFERENT CONTENT
HMV APPOINTS NEW COMMERCIAL DIRECTOR…
…AS THREE MORE JOIN TRUST
NEW PR CHIEF AT METRODOME
RELEASE OF THE WEEK – WASTED ON THE YOUNG
---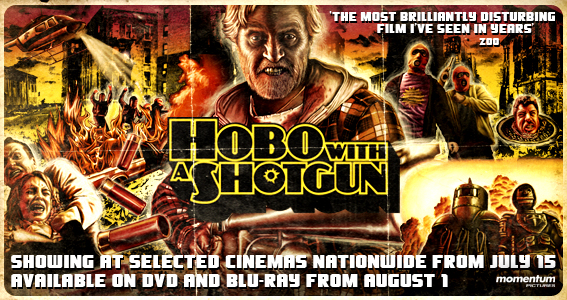 ---
It Was A Good Week For..
.

Anuvahood, helped off to a nice start thanks in part to its UK tour…
I
t Was A Bad Week For…
Anyone who'd booked an ad in Sunday's News Of The World for a Monday release…
So there we were, writing a whole story about the hot topic of the week, the News Of The World and the whole hacking scandal, how, if any way, it could impact our business and what relevance it had and, well, then News International surprised everyone by closing the thing. We used to like it for two main reasons – its excellent DVD coverage, both in the paper itself and its Fabulous magazine, as well as the fact that, ignoring the rights and wrongs of what the newspaper did, big supermarket adverts on a Sunday, highlighting Monday's releases, especially when it came to a blockbuster release, were part and parcel of the News Of The World. We at The Raygun would pore over its pages, not just to read the mucky stuff, but to check adverts from the grocers announcing their pricing for the week ahead. Before, say, The King's Speech, it was the guaranteed way of finding out what the price was going to be. HMV aside, it was the one that most of the grocers went in…
Right, on to the main industry stories of the week, and it was with interest that we noted some new figures unveiled by Futuresource Consulting. There are grounds for both joy and concern within the figures revealed by the company on the back of its recent entertainment summit. It suggests that while decline is "apparent" in the industry, packaged video will "continue to produce significant revenues in the coming years. It says that by 2014 consumer spend on digital content across video, gaming and music will reach $52 billion, accounting for almost half of total spend. Digital and packaged media spend in three years will total $112 billion. Packaged video spend in 2010 was $42 billion worldwide, in three years time that figure will be $33 billion, 72 per cent of total consumer spend. Retail, rather than rental, will continue to dominate. Futuresource senior analyst Mai Hoang said: "2014 will see sell through account for 70 per cent of total physical video spend, of which Blu-ray contributes over 50 per cent, compared to just 13 per cent in 2010. Globally, DVD and Blu-ray rental is still significant, although popularity varies greatly between territories - in Japan, rental accounts for over half of total spend while in the European markets, rental barely accounts for 10 per cent share." Blu-ray growth will not alone be enough to compensate for DVD's decline, growth will come from digital, but the challenges of competition from other online content, especially free video (iPlayer, youtube and the likes), and illegal consumption needed to be faced. Hoang added that bridges needed to be built between the digital and physical worlds, through bundling, experimentation with release windows and downloadable content. Hoang concluded: "For digital, the online user experience needs to be as seamless and enjoyable as possible for the video industry to maximise the future opportunities and make this revenue stream really perform."
---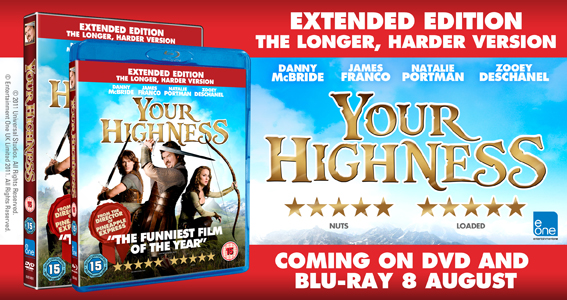 ---
Last week we trailed Paramount's Q4 line-up, and stay tuned for a special, one-off edition of The Raygun newsletter next week for full details on the major's weighty line-up for the autumn. But it's also worth noting that, outside of Q4, at the end of September, it has one of the year's best reviewed superhero films so far, Thor, due out. It'll be the studio's first 3D Blu-ray and, as the company's Barney Hands said: "We've got incredible bonus material on the Blu-ray about the creation process for this incredible movie." What's more, the company is smartly using the September 26 release date as a launchpad for pre-orders of its next Marvel-related comic book release, Captain America, which has yet to open theatrically. As we've said, keep an eye out for our Paramount special coming soon…
It's been a busy week for events and the likes, with The Raygun out and about and, more importantly, one or two distributors taking to the streets.
We'll start in chronological order, and throughout the week we have been following, via Twitter and the likes, the exploits of staffers from Revolver and the team from Anuvahood, touring the country as part of the launch for the hugely successful urban comedy. We've reported on it previously, but the bus headed off from Revolver's offices, stopping off at LOVEFiLM's west London HQ (see here for some footage, although the bus is far cleaner than we anticipated and we didn't spot any Rizlas at all), before heading off to Derby, Milton Keynes, Manchester nd back to London. As you can see from the footage, the bus was the equivalent of having a giant billboard touring the country, drivers on the M1, M6 and elsewhere can't have failed to notice the title was out on DVD and Blu-ray. The near week long tour was as close to a rock n roll event as you can get. Revolver's Jon Sadler, on the bus for much of the time, said: "It was an ambitious undertaking but we pulled it off, not only advertising the release wherever we went, but also selling lots of copies along the way – our thanks to The Trafford Centre, Adsa and HMV staff who brilliantly hosted all of our events."
While they were touring the country, The Raygun and a lot of familiar faces were off to east London's trendy XOYO venue for the premiere of Hobo With A Shotgun, the superlative 80s straight to rental pastiche starring Rutger Hauer. Put on by the Midnight Movies team, in conjunction with Momentum which is releasing the film for a limited run at cinemas, ahead of its home entertainment bow on August 1. And what an event it was. The Internet has been humming with positive feedback for the inspired event since it took place, creating great word of mouth for Momentum's release. And with director Jason Eisener in the UK - and completing a day's worth of press activity, including plenty of interviews held back for the release – the company got its money's worth. Midnight Movies has made a great job of decking out the venue too, with people turning up fancy dress and all manner of entertainment. And as we staggered out into the Shoreditch night, the party was still going strong, with DJs after the film and subsequent Q&A. Momentum's Adam Eldrett said: " Jason also completed a day of press, which combined with what we secured with Rutger Hauer last month, will give us a strong press push ahead of our theatrical release on July 15 and DVD and Blu-ray from August 1. By selling tickets for the premiere we ensured a genre fan heavy crowd of fans positively chomping at the bit to see Hobo With a Shotgun. I may well be biased but I have to say the atmosphere was probably better than any premiere I have ever been to. There was a great vibe throughout the night and I think it is becoming clear the UK fans are taking our Hobo to their hearts."
---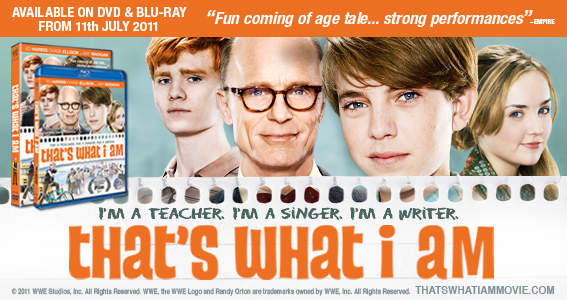 ---
We've just sifting through some pictures up on our website of the event, joining a number of things that have gone up this week, including a look at this year's Edinburgh International Film Festival and the increasing number of DVD-friendly launches there, with loads more to come, including, at last, our mammoth 20 years of Manga feature. We update every day, check back to see as and when it goes up…
Meanwhile, down the road from XOYO, a rather more sedate premiere was taking place at the Rich Mix cinema in Bethnal Green, as Dogwoof launched its latest documentary, Bobby Fischer Against The World. In a unique event, it saw British grandmaster Nigel Short take on 20 players simultaneously in 20 separate games. His opponents ranged from former world snooker champ Steve Davis to a group of keen chess players from Hackney schools. Dogwoof is planning a similar participation event for the chess doc's September DVD release. It comes as Dogwoof enjoys its best ever year in terms of home entertainment sales, with its policy of releasing documentary only releases paying dividends as it becomes a recognised brand. Dogwoof's Terry Stevens said: "We've had great success this year, seeing a 156 per cent increase in year-on-year sales. This has been achieved through consolidation of our brand, effective marketing along with audience profiling and outreach. We've got great hopes for the rest of the year with Bobby Fischer, Countdown to Zero and a host of other great titles lined up." Next releases from the company include graffiti doc Bomb It on July 25 and Countdown To Zero on August 15.
While we're on the subject, another documentary that we enjoyed recently was Donor Unknown, due from Brightspark next week (July 11). The title has already earned plenty of coverage on its brief theatrical release recently, thanks to a real-life story of a man who unwittingly fathered scores of children as a sperm donor, and the kids who then got together to meet their "real" dad. It's a fascinating true tale and one of the better docs we've seen this year. Brightspark's Lisa Gordon said: "Brightspark is pleased and proud to have acquired Donor Unknown. I myself have been tracking it since it was pitched at the last BritDoc to be held at Keble College and I have recently been to two sell-out cinema screenings. For me, Donor Unknown hits all the right emotional notes – it's funny and touching as well as seriously thought-provoking. It is yet another illustration of our essential inter-connectedness as humans. I think that's the very best that non-fiction film can aspire to."
---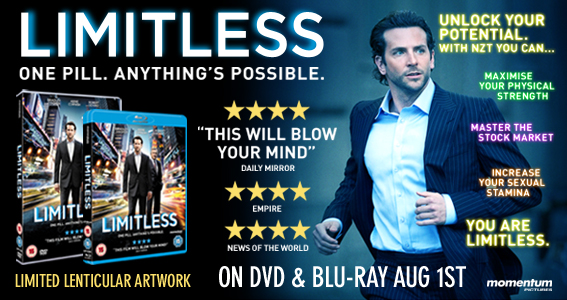 ---
Is it just us, or do forthcoming 4DVD stand-up stars Micky Flanagan and Sarah Millican seem to be everywhere at the minute? In recent weeks we've seen both or either of them on The Apprentice You're Fired, The Marriage Ref, King Of…, Wall Of Fame, Mock The Week, The One Show, Loose Women… The list is seemingly never-ending. Flanagan is also set to appear on Epic Win, a forthcoming panel show launching on BBC1 later this summer. What's more, 4DVD is also working hard to get them further appearances closer to the release of their respective stand-up DVD debuts in Q4. As 4DVD's Karla Berry said: "We have also secured both comedians on Graham Norton and The One Show for launch as well as many other high profile guest slots such as Have I Got News For You, Never Mind the Buzzcocks and so on. We have high hopes for both artists who are both on the brink of superstardom and they are both committed to promoting their DVDs from now until the end of the year." If you want further proof of Flanagan's rising star, take a look his forthcoming West End shows; the run at the Garrick has, said Nimax Theatres, sold out quicker than any other stand-up for four years.
It's going to be a busy few weeks for another indie, Kaleidoscope, as the company releases a couple of limited theatrical titles that will be big DVD and Blu-ray releases come November. Next week sees it airing, for one night only, Midnight Tango, Kaleidoscope's latest "alternative content theatrical event". Featuring Strictly Come Dancing stars Vincent and Flavia, the has been touring around the UK and will have played to 200,000 by the end of July, The one night only screening will air at around 129 cinemas. Then, on July 22, it has a theatrical release across 40 screens for its big budget natural history title from BBC Earth, One Life. As Kaleidoscope's Adam Sergeant noted: "Voiced by Daniel Craig, with an accessible narrative all the family will enjoy, One Life has a U cert and will offer a point of difference for families during the blockbuster season of Harry Potter, Cars 2 and so on."
Some recruitment news now, and HMV has followed the news that Gary Warren is leaving HMV after 25 years by announcing that Michael Neil has been appointed as commercial director. He joins the UK & Ireland board after previously having worked at as commercial director at Waterstone's and, before that, at book wholesalers and retailers such as Bertrams and WHSmith. He'll over see the 55-strong department that takes in visual, under Rudy Osorio, games, music and technology. HMV ceo Simon Fox welcomed the appointment and paid tribute to the departing Warren, saying: " Michael brings with him a wealth of commercial insight and retail experience gained across a number of senior positions, and I am delighted to welcome him to HMV at this pivotal time as we continue our transformation into a broad-based entertainment brand. I would also like to take this opportunity to thank Gary for his outstanding contribution to HMV across many parts of its business during his twenty-five years with the Group, and to wish him the very best for the future."
---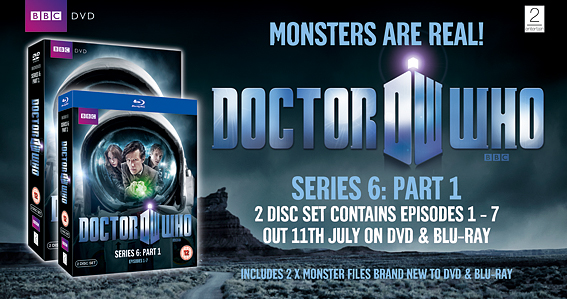 ---
Also on the appointment front, albeit at the company rather than individual level, as the Industry Trust For IP Awareness this week a welcomed three new members to its board. Digital creative and PR agency Think Jam, Sony DADC and entertainment data company West10 have all joined the broad-based coalition of companies that make up the Trust. The organisation's director general Liz Bales said: " We're delighted that Think Jam, Sony DADC and West10 have come on board as members of the Trust. It's an encouraging sign that companies from the wider film, TV and video community are recognising the pressing need to address copyright infringement and the vital role consumer education plays alongside enforcement measures. We know from our research that people are far more inclined to pay for content if they understand they have a stake in it. We also know that the majority are willing to pay if we can address the reasons cited for engaging in piracy – cost, convenience and confusion and demonstrate the value and quality offered by official sources. I look forward to tapping into our new members' expertise to drive down copyright infringement and boost appetite for official content."
Last appointment news of the week, and Metrodome has appinted former Icon PR specialist Chris Lawrance as head of publicity. Among the girst titles he will work on are Resistance, starring Andrea Riseborough and Michael Sheen as well as The Monk, starring Vincent Cassell. He'll report to head of distribution Jezz Vernon, who said: "We're delighted to welcome Chris to the team, his wealth of experience is going to be a great asset to the company."
And lo, it came to pass that The Raygun and our junior correspondent went to the premiere of the final Harry Potter film, Deathly Hallows Part 2. Now, we've been to a few events in our time, but never one on this kind of scale. A truly unbelievable event, as the red carpet ran from Trafalgar Square to Leicester Square. We got to meet (stalk) the likes of Rupert Grint and others, bask in the adulation of screaming hordes in and around the West End and, finally, to see the film, which is, by our reckoning, the best of the lot. What's more, with the DVD and Blu-ray out in Q4, as well as the endless box set possibilities, this really is perfect timing…
"I must remember to take the TV cameras with me the next time I go to see Tesco or Sainsbury's, as it seemed to help secure an audience of at least three buyers and the setting of a large meeting room suite that I have never been invited to before. Based on my recent visits to the nation's retail nerve centres, I count myself lucky to get anything more than a 20-minute slot with a maximum of one buyer, usually sitting in reception or their canteen. I do hope that the budding apprentices do not think their treatment is usual store policy." The Secret Marketer on Marketing Week magazine's website, talking about The Apprentice biscuit task recently, that raised a lot of eyebrows among NAMs in our business…
Teen and young adult films are increasingly moving towards subject matter that is oh-so-timely, taking in the worlds of social media, texting and all that stuff that young people seem to spend so much of their time doing these days. One film that fits the zeitgeist perfectly is Wasted On The Young, a film based around a group of disaffected youths living in a world where there are seemingly no adults (they rarely appear in the film). As Momentum's Clare Dundrow said: "Wasted on the Young is a dark, compelling teen thriller - a real edge of the seat watch that twists, turns and shocks." Needless to say, with a title such as this, social media and online are crucial elements of the campaign." As Dundrow said: "Given the nature of the film, and our 15-24 year old target audience, we're focusing soley online to push our release messages. Facebook and Twitter will form the backbone of the campaign along with banners and skyscrapers advertising and seeding the trailer on Total Film, Nuts, Den of Geek and NME. QR codes will enable DVD buyers to view the trailer independently and we'll have postings on film blogs within the likes of Virgin Media, MSN and Yahoo."
---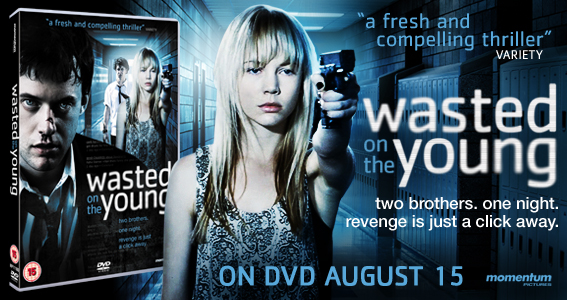 ---
It was all about Transformers: Dark Of The Moon at UK cinemas, as the film took some £10.7 million in its opening weekend, making it the second biggest debut of the year. Bridesmaids has now taken nearly £8 million at UK cinemas, while Larry Crowne took nearly £350,000 at UK cinemas.
Our favourite news of the week comes from Universal, where the company is behind a feature based on Asteroids, a classic old school video game. And to direct it, the studio is said to have approached Roland Emmerich, who knows a think or two about explosions and destroying worlds, after his star turns at the helm of the likes of Independence Day and 2012.
Sequel news of the week, and as the latest Pirates Of The Caribbean film On Stranger Tides eases past the $1 billion mark at the global box office, it is believed that Johnny Depp is close to inking a deal to star in the fifth movie outing. He's currently said to be looking at a draft for a script from producer Jerry Bruckheimer…
We can't go a week without something from the Judd Apatow and Seth Rogen axis and here's two for the price of one. Megan Fox is said to be in talks with Apatow to star in the Knocked Up spinoff starring Paul Rudd and Leslie Mann. Next up from Seth Rogen, meanwhile, is working with the team who worked with him on Pineapple Express, Superbad and The Green Hornet, on Jamaica, a comedy based on collaborator Will Reiser's trip to Jamaica as a teenager to visit his gran.
So, this week, we've mainly been following the News Of The World saga, as well as adding the odd tweet from the Harry Potter premiere and also looking at @Cineworld sticking up for its strict windows policy… Follow us on www.twitter.com/theraygun
This is just too weird for words, but if she hates it, we'll like it…
Some more Red Band business for Horrible Bosses…
Yeah, we know it's wrong, but it's kind of fascinating, no? (Yours, someone in the "liberal media"…)
To unsubscribe, email
info@theraygun.co.uk
with unsubscribe in the subject
For editorial or advertising queries, contact
tim@theraygun.co.uk