Greetings & Blessings to all,
This is not our regular newsletter. We needed to let you know that we are changing web site servers in the next day or so. Our new host said the transfer would take just several hours to complete.
What this means is that if you go up on the site during the transfer, it may appear that we are down. But we are hoping that since it isn't supposed to take very long, you may not notice any interruption. Fingers crossed that is the case.
In the meantime, Herself is taking some much needed time away, but we are hoping to have our usual musings and meanderings in your email box before the month is out.
Meanwhile, we hope our readers in the northern hemisphere are enjoying a safe and happy summer and that the winter for those of you in the southern half of our world isn't too bad.
Slan agus beannacht,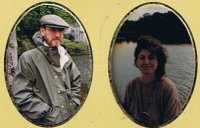 Bridget & Russ
Get down on your knees and be thankful you are still on your feet!
PS: We couldn't leave you without at least one ad from a sponsor - it will help pay our new web site "rent"...
Back to school is right around the corner
We have a link in the right margin of our home page for all the supplies your student might need - from kindergarten to college! Just look for this illustration - and many thanks in advance if you order anything!