June 17th 2016 newsletter
One Down, Four Issues to go
The first issue of the 2016 Oklahoma Guardian Volume one has been completed and is ready for distribution. It is going to a sprawling district so under half of the primary voters will get a magazine but that ought to be enough to win the election and if not, the incumbent isn't going to be voting like he did this year. Inside the magazine there is a story on the incumbent House member and the Senator from that area, a story on the turnpike system scam, education funding, the state of Obama Care and the Medicaid expansion attempt, a story exposing the corrupt David Prater as he will one day make a run for A.G., the entire 2016 Oklahoma RINO Index is printed out, a story on the billion dollars in tax and fee increases, a story on the state questions that will likely make the ballot, a story on the U.S. Congressional race in that district, a story on Civil Asset Forfeiture, and a story on getting involved. This is far more than exposing the voting record of the legislatures, it is a full education of how the Republican Party has failed to make the politicians follow their Party Platform.
People that are willing to actually volunteer are few, most prefer to run their mouths on Facebook or put their faith in a magic bullet approach where a constitutionally minded sheriff or a convention of the states might cure all of our ills and all of these plans have one thing in common; they aren't required to do anything. Some hide behind the fig leaf of "education" and claim they are busy educating others by passing around chain emails or writing for a blog. Dreams of influence and "glory" are the goals, always thinking they know better while fostering the balkanization of the grassroots. It reminds me of Germany during the Great Depression, thirty different political parties and the factions within those parties, and eventually things got so bad that Hitler was able to seize power. Many talk quite a good game, how they are going to fight the storm troopers that will come to seize their weapons or stored supplies… right, they won't do anything other than spout off online and we are to believe that someday they are going to stand up to an well armed government? Idiots…. When you ask if it is not better to work using politics to prevent such scenarios from ever occurring you are regaled with all the excuses in the book, that politics is useless, they are afraid to stand up against a politician, there is no end to the excuses really.
But, the few that do volunteer are enough. It is enjoyable really as there is no better therapy than working to smack an arrogant whore of a politician up side of this political head with the unvarnished truth. Yes the media are biased and they know who pay for the advertising that pays for the TV and newspapers and it isn't the middle class or working class. So the effect of a magazine telling the truth being spread around to the voters is terrifying for both the local newspapers and radio stations and for the corrupt politicians facing the voters on June 28th.
Our goal of hitting five House Districts for the primary election is on track but we need more volunteers to feed paper into the printer, assemble the pages and fold it. No skills are needed to run the printer and you can work anytime between 9 am and 9 pm. The print room is air conditioned so it isn't arduous work. If you aren't close enough to Oklahoma City to actually help you can do internet based work like sorting out excel address lists or helping with the Facebook element of the campaign. There is truly something that everyone can do to help.
To volunteer just reply to this newsletter and we will get in touch. You are needed and if you don't step up you don't get to complain about how bad it gets next session. If you don't have time send money using this email address as the PayPal payment address. This is a magazine, not a PAC so your donations are private.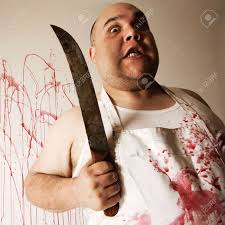 John Whetsel, the Butcher of Oklahoma County
Earlier this week we received a notification from the Robingroom.com, a judicial rating website where ratings and complains are turned in against judges. We follow the Judge Roy Elliot, the corrupt judge that has allowed so much corruption to be swept under the rug including the persecution of our own Sooner Tea Party leader on false blackmail and computer crime charges.
Someone had put up a comment about an inmate in Oklahoma County Sheriff John Whetsel's jail that had a medical condition for which the guy was on some expensive antibiotics. Sounded like a guy with a history of problems with the law but even accused criminals don't deserve to face amputation of limbs while awaiting trial.
The guy had apparently fled from he cops, was arrested and booked into the OK County Jail. There he repeatedly stated that he was on medication and the guy's family also called in with the same information but the delivery and use of the medication was denied.
At some point the prisoner was taken in front of Judge Ray Elliot, with a leg turning black form infection, and Elliot allegedly refused bail or to order medical treatment due to the guy running from the cops at some point previously. The man was facing the almost certain loss of one of his legs and rotten limbs are amputated for a reason; to prevent the amputation of the other limbs as the poison spreads.
A rare and unfortunate thing you say? Back in 2009 Tulsa attorney Clark Brewster won a 2.7 million dollar settlement at federal court after a Creek County los both legs due to a two week jail stay. Russell Mounger lost both legs after blood clots led to infection and the refusal of jail employees to provide medical care. Russell Mounger had been arrested on drug and gun charges and had bonded out then returned to jail after missing a payment to his bondsman.
Thirteen days later he was nearly dead, disorientated and languishing in jail while infection built up in his legs. He had and knee surgery a few days before being arrested on the drug charges. His mother had been calling every day asking about his condition and was told he was fine until November 5th when she was told he had been punched and kicked in an altercation and would see the nurse the next day. Several days later he was so sick that had to be carried into the jail visiting room to visit with his mother because he couldn't walk. The mother called the nurse and was told that "He was faking it."
The mother spent days calling the sheriff, D.A., jail inspectors, and the Health Department but no one would listen. On November 12th she received a phone call from a hospital warning her to come immediately and that the 36 year old inmate was probably going to die. His feet were black from gangrene, his temperature was only 84 degrees, dangerously low blood pressure, and he was bleeding from all orfices. The only chance for him was to amputate both legs. The jail admitted to placing Russell in a restraint chair for "bizarre" behavior and and that they left him in the restraints too long, potentially causing the blood clots.
.But heck, that was way up North near Tulsa, our jailers don't do that, right? Oklahoma County Jail has a medical clinic that we all pay for. Well meet Tommy Lee Davis who Sheriff John Whetsel allowed to nearly die of gangrene. Davis was another bad guy and is serving time in prison after pleading guilty to drug and firearm charges. Davis complained of severe stomach pain during his time in the Oklahoma County jail and was denied medical care for days. He was discovered huddled in a corner of his cell after jailers showed up to break up an altercation. OU Medical Center doctors found Davis had perforated intestines that had leaked infection throughout his body and he cause was delayed medical care from the jail.
A series of amputations over about a month slowly carved Davis's limbs from his body. First it was his right leg below he knee. Hen four fingers on his right hand, then five fingers on his left hand, and then his left foot. Like the Creek County case, there was a mother hat was constantly calling and asking questions. Blood was finally drawn for testing but jail officers lost the sample and when it was found it was too old for testing. When the jailers finally found him huddled in a corner the gangrene had spread and infected all his finges and toes. Davis is sued the jail, the County, and Whetsel and while the County Commissioners have talked about the case we were unable locate the outcome of the case.
But these recent cases, just an anomaly someone might say. Well meet Randi Gill, one of the few that work or have ever worked there that has a conscience and morals. Randi says it best with this post on Reddit:
"I've been told many times that I'm either the stupidest woman alive or the bravest... if the truth were told to everyone, then the sheriff would be looking at a federal indictment for abuse, mistreatment, negligence and murder, and he'd go away (along with his cronies) for a long, long time."
Another quote:
"There are some people who really support me, but I'm the only former employee of the sheriff's office (to my knowledge) that has got on the stand against the sheriff since the 1970's. " And another "Anyone that I approached to speak out gave me the same excuses They say one of the following "I'll lose my job. I'd love to help you, but I've got bills to pay." OR "If I help you they'll blackmail me to death." or "They'll do to me what they've done to you."'
Randi took a video of a triple amputee that was being beaten with a mop handle. Yes, no typo, a triple amputee, stripped naked and beaten for his refusal to cooperate. Here in Randi's own words is what happened:
"He wasn't cowering, he was a triple amputee who was being beaten after being beat with a mop handle and stripped naked. The video shows the officer dumping him out of his wheelchair, and the officers crowded around are laughing and joking about it. They always laughed while they beat people. I still find that to be one of the most disturbing parts of that place. They laughed while they beat people... I mean, who does that?"
Randi was fired after she reported the fellow workers beating the wheelchair bound triple amputee, use pepper spray on his face, and try to cover up the incident. Her job was to monitor the surveillance cameras in the jail according to a lawsuit filed back sometimes around 2005. Six sheriff deputies were fired three days after the incident but the Oklahoma County D.A. office refused to file charges.
Those fired were: Lt. Billy Huff, 27; Sgt. John Stimson, 28; Sgt. Chris Smith, 31; Officer Jonathan Whyatt, 24; Officer Stephen Clymer, 21; Officer James Nicolle, 26.
At the time Whetsel maintained that the incident wasn't a beating but employees acting improperly but Whetsel refused to release a copy of the incident. Randi had been on duty around 9 pm when a lieutenant and a sergeant came into thee surveillance center to rewind one of the camera taps and view the incident. She watched the tape along with the other officers and reported an old man in a wheelchair and a deputy dumping him from the chair and beating the old man with a mop handle. Many officers stood by watching including a sergeant who laughed and walked away. After the beating another officer sprayed the old man in the face with pepper spray. One of the officers involved attempted to erase the tape and told underlings what to write in their reports.
Whetsel's version was that Marvin Oldcrow Jr was booked in for being drunk and was covered in "bodily fluids". Now think about that, sitting in a wheel chair, no access to a rest room which is commonly reported at the jail, so he probably did piss on his self while drunk or during the beating. The spokesperson for Whetsel claimed that you can't see striking but "mopping" and "trying to pull off his clothes without touching the biohazard." Really? A mop works better than a water hose? Anyone ever seen anyone "mop" another human being?
Oldcrow had been booked into the jail a total of 54 times for drunkenness so the cops ought to have known how to handle the guy. The Sheriff's office claimed Oldcrow tried to spit on someone… right, after being dumped out of a wheelchair, beaten with a mop handle, clothing stripped off, you think someone isn't going to try to spit at you? And of course rather than release the video to prove their version of the events Whetsel made sure that video never made it to the news media.
.Whetsel's office admitted that the employees tried to cover things up. Whetsel denied that Randi Gill was fired for reporting the incident but was fired for stealing checks from the mailroom. In fact, another woman that worked in the mailroom had confessed to those thefts and provided her bank statements to Whetsel to show how much was stolen and when. Randi didn't have access to that department around the time that the theft occurred.
The RobingRoom.com report disappeared a few days after it was posted. Perhaps the inmate was threatened by the judge or by Whetsel or his staff? Perhaps the guy's lawyer asked for it to be taken down to prevent retaliation by the judge. Perhaps the guy received the needed medical attention or perhaps he is dead or missing limbs like the others that have walked that path.
Whetsel surely is proud of his actions on this case. I wonder what the settlement is going to be this time? Justice isn't a criminal winning millions of tax dollars in a court settlement; justice would be Sheriff John Whetsel being arrested on corruption charges, rotting away in his own jail, and losing limbs to withheld medical care.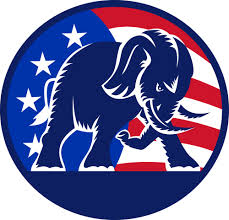 4th US District Candidate Forum
Congressman Tom Cole, the incumbent, so far has failed to respond, but both of his Republican opponents, Dr James Taylor, and Shawn Roberts, have indicated that they will be available to participate. Sponsored by the South Oklahoma City Republican Club, the event will be at the Southwest OKC Library at 2201 SW 134th St in OKC on Tue, June 21st, a week before all the regular primaries.
Doors open at 6:30, and the forum is scheduled to start at 7, and will last until 8 PM, mingling time afterward until 8:30. We're looking very forward to asking candidates questions and letting the audience do so as well. Attendees will be encouraged to ask questions on 3 X 5 cards, and the South Oklahoma City Republican Club (SOCRC) will ask its own questions only if there is time after all non-duplicate questions are answered by the audience.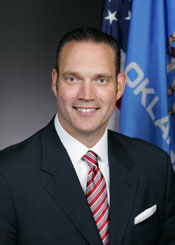 The Next Speaker is a Disaster for the State
By the Watchman
It appears that the Oklahoma State Chamber of Commerce has made a strong move to regain control of the Oklahoma House of Representatives. Instead of following normal procedure and waiting until after the elections in November, they found it imperative to elect a speaker designate in early May. This same individual made an attempt to become speaker last year, but was shot down when this publication brought out concerns over shady donors and questionable trips made on his plane and where the money came from for those trips. Those questions haven't gone away.
The individual we're talking about is Representative Charles McCall. The first article of interest we found was this
Al Gerhart: Charles McCall's Speaker Campaign Implodes Over Fears of Junkets and Questionable Donors
. This is the article that led us to research exactly what went on during the Caucus meeting that got the Representative elected. In addition it raises a question of ethics. Although it will be voted on again after the election, the newly elected Republican members will be intimidated by the sheer fact that this man had been elected speaker designate by the previous caucus.
It is evident that he prefers his privacy. There was very little information available on his brag sheet. It doesn't have any family information or even educational information on it. It did list the bills he submitted this year and last. We just happened to go through them and only two of them were signed into law. Both of them happened to be tax increases. Just think of what we are in for with him as the Speaker of the House. He'll tax everything and everyone except those businesses that make up the Oklahoma State Chamber of Commerce.
The next article of interest we found was this
House Republicans elect Atoka banker Charles McCall as speaker designate - Tulsa World: News
. This is a basic announcement of Mr. McCall being elected as the Speaker designate. We find it disturbing that the paper and reporter never bothered to research the individual and find out why he failed to make the grade earlier. In addition to that there is no mention of the fact that the only two bills he did get passed into law this year were tax increases. We must ask how that benefits the citizens of his district.
The next item of interest we found was this
Charles McCall - Ballotpedia
. This is where we begin to get an idea of the man himself. We can see his educational background. We also see that he served as Mayor of Atoka from 2005 until 2012. It also tells us some of the bills he tried to have passed this year. He proposed a State Constitutional Amendment that would have allowed public funds for sectarian and religious purposes. This is a crystal clear violation of separation of church and state. It failed in committee.
He proposed deleting any reference to the Self Defense Act; deleting administrative penalty for certain prohibited act; and an effective date. This died in Conference Committee. The very idea that he would propose legislation that would endanger the lives of the citizens of Oklahoma is beyond preposterous.
We don't know why, but in a year that the state was looking to close a $1.3 billion dollar shortfall in our budget, he proposed to give a tax credit back to the Game and Fish Wildlife Diversity Fund.
The next item of interest we found was this
Caucus selects McCall as Speaker of the House | Examiner Enterprise
. We have mentioned earlier that they had chosen a Speaker designate. Here is one of the first announcements. This time the Oklahoma State Chamber of Commerce and Representative McCall weren't about to take any chances. They held the election early to ensure that the man they wanted to steer the House for the next two years worked for them and did what they said. Now it's up to you the voting public to break the stranglehold they are trying to place on the citizens by breaking the back of this monopoly they have.
The next article of interest we found was this
Charles A. McCall - Oklahoma Legislature - Open States
. This is an incomplete record of Mr. McCall's political activities. A good example of this would be that it only includes his estimated campaign finances for his 2012 campaign, yet right at the top of the news section is the announcement of his election as speaker designate. In other words he is spoon feeding the information to these people that he feels they need to know and nothing more. It gives the impression that he doesn't believe in an open government.
We next went to
www.votesmart.org
to see what information they had available on Mr. McCall. We first went to his Biography page here
Charles McCall's Biography - The Voter's Self Defense System - Vote Smart
. This is where we finally get a look at what else is behind the man. We found out that he's married with children. He's a licensed Nursing Home Administrator and received his degree from the School of Banking from the University of Colorado in 2000. Perhaps the biggest reason this man should never have been elected to office much less the position as Speaker designate is he is a former Board Member of the Oklahoma State Chamber of Commerce. Folks he will not work for you as the Speaker of the House. He will push the State Chambers agenda through the House.
Just to verify that he was not a current board member of the Oklahoma State Chamber of Commerce we went to this site
Board of Directors | Oklahoma State Chamber
. This is a current roster of the board members for the State Chamber of Commerce.
The next item of interest we found was this
Charles McCall's Voting Records - The Voter's Self Defense System - Vote Smart
. Even this report needs to be updated. It only covers up to bills voted on through the 10
th
of March this year. One of the bills he and many of his fellow legislators voted in favor of would have denied the citizens of Oklahoma their Constitutional Right to keep and bear arms. From our point of view those legislators who feel that way are welcome to move out of state any time they want. They have no right to force their liberal agenda on the rest of us.
Abortion
2012 Oklahomans for Life 100%
There have been no reports submitted since then.
Agriculture and Food
2015 Oklahoma Farm Bureau Federation 100%
2013 Oklahoma Farm Bureau Federation 100%
Business and Consumers
2014 Research Institute for Economic Development 84%
2014 Oklahoma National Fed. Of Independent Business 100%
2014 American Conservative Union 75%
2013 Oklahoma Conservative PAC 70%
What these scores indicate is that on any vote he makes he is going to favor the business and corporation side over those of the individual citizens of Oklahoma. That falls far short of meeting the standards we expect in Oklahoma.
Fiscally Conservative
2014 Sooner Tea Party 35%
2013 Sooner Tea Party 16%
These figures here indicate the true nature of his politics. He's a tax and spend liberal who will never follow the party platform of lower taxes and smaller government. We refer to these types of Republicans as undocumented Democrats. We can almost guarantee you that he will campaign as a Conservative this fall.
We next went to the campaign finance report section to see what was available. We were shocked to find that there were absolutely no financial records on file for this individual. It made us wonder if this had something to do with questionable donations mentioned in an earlier report. We did take the steps necessary to correct this situation by obtaining and submitting a copy of his campaign financial reports to this organization.
We next went to the 2015 campaign finance reports here
guardian.ok.gov/PublicSite/Reports/FetchReportToPDF.aspx
. This report only covers the fourth quarter of the 2015 fiscal year. The first quarter of the fiscal year 2016 has yet to be filed. Seems like a man that can't get the reporting system down and is in fact three months late on it, has no business even considering accepting the position as speaker. Maybe he feels he's above the law. We will say that there were numerous individual donors listed in this report. Oddly there seem to be several with connections to the same organizations. There are a lot of Political Action Committees that were associated with medical organizations. This may have had something to do with the push again this year for the state to implement Obamcare. When are these legislators going to come to realize that when the people say no they mean no.
Even going into the guardian system failed to provide enough information on his campaign finances to make an accurate assessment of his campaign finances. We next went to
www.ok.gov/ethicscommission
to see what he had on file for his previous years. Here are a few items of what we found.
May 31, 2012 Greater OKC Chamber PAC $500.00
June 19, 2012 Chesapeake Oklahoma PAC $1000.00
It just goes on and on. There are multiple union, PACs and other special interest groups all the way through the first report to the report on the 4th quarter of the 2016 campaign season.
We next looked at all the individual donations. Some of those donations just barely fall under the maximum contribution they can give under that law. One of the items we noticed were loans made by him to his campaign. They were properly entered into the record; however we were unable to find any record of those loans being paid off. In as long as we've been doing this, we've never seen this before. We believe that this changes the status of the loans from an actual loan to a contribution. This is something that the State Ethics Commission should investigate. If these are in fact considered contributions, then he has far exceeded the maximum allowed according to state campaign laws.
He's also indicated that he received numerous donations from out of state. This is an instate election. Why does he need out of state contributors. It's like he really doesn't care where the money comes from.
Once again he is running unopposed for re-election. Since he is the President of the bank that covers that area we can't help but wonder if that has something to do with nobody being willing to run against him. Could he be holding a loan or a mortgage over their heads to keep them from running? Something just isn't right there.
In closing we must say that there is one chance left to prevent this man from becoming the next Speaker of the House. That will occur in November after the elections. Unless the citizens of Oklahoma want to live with a continuing stream of tax increases and fee increases they will ensure that their Representative votes no in November for this man to become the next speaker of the House. We the People of Oklahoma cannot tolerate and endless stream of tax increases while some companies in the state continue to collect almost $2 billion dollars a year in tax credits. The stranglehold that the Oklahoma State Chamber of Commerce has on both chambers of the legislature and on the state of Oklahoma. This is a fair warning to all those that support Mr. McCall in November. We will find out who you are and you will be watched and reported on by this organization. You will soon find yourself a pariah in your own home towns.