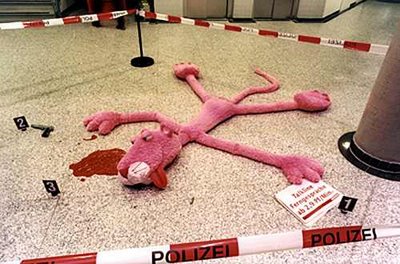 Ewwwwww! Pervert!
The Oklahoman was on the forefront of journalistic expose's last week when one of their own reporters was nabbed taking photographs up underage girl's skirts. According to a Lost Ogle.com story Oklahoman reporter Zeke Campfield was caught red handed by witnesses at the Cox Convention Center during a Moore High School graduation event. Moore had consolidated three high school graduations at the Cox Center due to the tornado damage.
Then the plot thickened in another article by theLostOgle.com
when it came out that Nathaniel "Zeke" Campfield had a previous arrest in Montana after being caught coming out of a woman's home with a pair of Pink Panther thong underwear. It seems that old Zeke was on a one man panty raid.
The OKC police report states that Zeke Campfield had targeted teenage girls between 13 and 21 years of age, bumping into them as he was taking pictures up under their dresses. When confronted by a witness, Campfield allegedly showed the person a picture of tornado damage in Moore but later when the police nabbed him the memory card from the camera had disappeared. Experts are quoted as saying that particular camera will not take pictures or show previously recorded pictures without a memory card in place. Campfield allegedly claimed that he had forgotten the memory card at home.
After being accused by witnesses, Campfield allegedly tried to leave the Cox Convention Center but was detained by several citizens until police arrived.
The Oklahoman's involvement in the affair is uncertain. Campfield was reported to state that he was on assignment from the Oklahoman to cover the event, corroborated by police in their police report. But later in a story on the online Oklahoman the paper denied that Campfield had been assigned to cover the event. They issued a statement claiming surprise and said they would allow the court system to do its job before finalizing a response. In another interview the Oklahoman claimed that Campfield had been put on leave.
Reports on the Lost Ogle website claim that the Oklahoman had previously been aware of similar inappropriate behavior where Campfield was photographing at another event.
The previous arrest was for burglary in 2003 after being caught breaking into a woman's apartment. Campfield was working as an intern in Missoula Montana at the local newspaper. Various news reports state that Campfield received a deferred three year sentence that was expunged after completing the three year probation.
The Oklahoma eventually reported the story after the incident was reported on Fox News and spattered on web pages around the world, claiming that Campfield had been arrested for assault and battery after bumping into a young woman or brushing against her four times. Three other young women were mentioned as complaining that Campfield had bumped into them and "inappropriate" pictures were mentioned but not a single word was mentioned about the up skirt photographs that Campfield was alleged to have taken.
While the Oklahoman was claiming that Campfield has not been on assignment since the alleged incident and is currently on leave, his Oklahoman web page was up and running.
A News 9 report confirmed that the Oklahoman had initially claimed that Campfield was doing a report for the newspaper and that the camera wouldn't work without a memory card.
Ironically Campfield was the reporter that covered the initial Eli Jarjoura story where the Oklahoma County reserve deputy had been called into question for infiltrating the Oklahoma County Sheriff Department. Campfield made quite a fuss over Eli Jarjoura's daughters being named in one of the links that the Sooner Tea Party used in the original Jarjoura article claiming that someone might target the young women after learning their names. It appears that Jarjoura himself or one of his fellow deputies might have created the online post where the four young girl's names had appeared after Jarjoura named four donated vehicles after them.
The truly strange thing about all of this is that surely Mr. Campfield has a fetish for women's underwear but one wonders why these sorts can't get their jollies off the internet instead of risking all to obtain pictures of skid marks and spots. The word is that no charges have been filed at this date and given the close relationship between the Oklahoman and District Attorney David Prater there might not ever be any charges filed.
But really Zeke, this is the kind of behavior we expect from people like Senator Clark Jolley, Senator Harry Coates, or Senator Cliff Brannon. Of course they don't actually do the snapshots or steal the panties themselves unless a House bill author wanders into one of their committees with a conservative bill.
=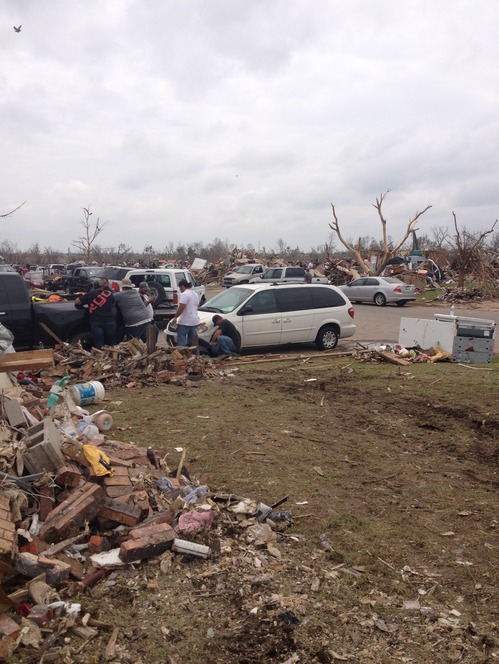 Moore Tornado Cleanup Effort Winds Down
Members of the Sooner Tea Party spent much of the last few weeks out at Moore helping with the cleanup after the F5 tornado ripped through the area. Last Sunday we were honored to help out with the OU charter bus that came out to help. After leading the bus into the damage zone and hauling tools and equipment for them, we left a few members working the site while we hauled food and supplies to the area.

Three of our volunteers received a treat after Coach Stoops noticed their Sooner Tea Party T shirts and remarked on how hard the young men were working. The father and two boys were offered a personal tour of OU stadium the next morning by Stoops.
The Obama visit was quite an obstruction to the cleanup effort. SW 4th street was fairly clear up until around noon when security efforts started strangling the area. What was a ten minute trip stretched into an hour and a half thanks to Mr. Obama's meddling.
Later in the week skid steer front end loaders began appearing and the work pace picked up quite a bit. One loader came all the way from Kansas City and there was a report of two loaders coming in all the way from South Carolina. After Memorial Day we were fairly inundated with rakes and shovels as well as other supplies. Storing things became a problem; one semi load of food had to be sent to my shop for storage until the distribution chain is able to distribute the goods.
The Friday night tornado scare didn't help things. At one point Channel 9 was reporting three tornadoes on the ground between I-40 and I-240 along with power flashes from exploding transformers or high lines colliding. The exodus of people was incredible, thousands and thousands of vehicles clogged the roads leading South and East as people fled in terror. 95% of the drivers behaved well; the other five percent were running down the shoulders of the road and even in the ditches trying to get to an exit off the interstate. Gas stations were choked with cars trying to get fuel while the winds drove the rain sideways and shook cars.
The National Weather Service said that five tornadoes struck the Oklahoma City Metro area that night but the damage appears to have been light. Much of the Southside area power was out Friday night and Saturday morning but it appears that the only fatalities were out West by El Reno.
The streams of cars fleeing the city were quite sobering to those that are preppers, people that prepare for disasters or civil disturbances. You can't have witnessed the situation without understanding that had it been a real disaster many of those in the cars wouldn't have gotten far. The lesson learned would have been to leave very early at the first sign of trouble or to shelter in place.
The last few days there have been far fewer people out working in the disaster zone as heavy equipment takes over much of the debris removal. There are still groups of volunteers from all over the country helping out but it is becoming harder to find the property owners to get permission to help. Many slabs are already cleaned off with the debris stacked near the curb and the homes that haven't been cleared yet aren't likely to have salvageable items after several rains. Some of the supply depots are already making plans to begin winding down operations as the immediate needs have largely been satisfied. The mobile food kitchens are also delivering far fewer meals as the ranks of volunteers thin out and tornado victims resume their lives.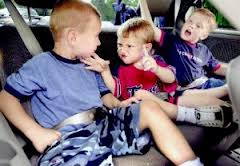 When a Politician Tells You Something,
Ask Yourself What is in it for Him
A few weeks ago we sent out an email to the House and Senate reminding them that the Sooner Tea Party would not appreciate either the American Indian Cultural Center or the Tulsa POPS museum getting funded. As always, the Senate leadership and a few rogue House leaders tried to sneak millions of dollars in corporate welfare past in the last few days and as always we were on their backs the second we heard about the attempt. The fear was that while many of the conservatives were out in the tornado zone helping cut red tape and procure supplies for the victims, the two corporate welfare projects might just get sneaked through and passed with a handful of votes.
Here is what we sent out to the House and Senate:
Boys and Girls,
This effort to fund the American Indian Cultural Center and the Tulsa POP museum is ill advised. Should these issues pass there will be political repercussions for those that vote for them. State troopers don't get a pay raise, prison guards don't get a pay raise, yet some idiot thinks they can pass these boondoggle projects and not suffer political consequences?
Those of you that are old enough will remember when Dad or Mom would stop the car and make you cut your own switch. Well pass either of these bills and that is exactly what you will have done, provide the political switch that will leave your rear end smarting.
Now settle down back there and don't make me stop the car.
Al
The email got their attention and both bills died in the final days but one or two of the miscreants didn't appreciate their hands getting slapped. Representative Steve Martin of Bartlesville, one of the worst RINOs in the state had a few words to say about being treated like a child:
From: Steve Martin
Subject: RE: Children, don't make me come back there
To:2 "'al@thecarpentershop.net'"
Date: Tuesday, May 21, 2013, 2:17 PM
Al,
As they say, even a broken clock is correct twice a day. I happen to agree with you on the inappropriateness of the last minute effort put forth to fund the two cultural centers. In fact, I probably agree with you about twice a day.
Having said that, the tone of the email to which I am responding leads me to believe that you are totally unaware of how irrelevant you have become. When the Tea Party movement came forth due to the impending passage of Obama Care you wrapped yourself in the mantle and immediately assumed a status you never earned. When you started accusing life long conservative Republicans of being "Rinos" you got our attention, because we had never before been so accused.
But even before you became an indicted felon we became used to your antics and you lost your shock effect. And after we saw that you have no ability to affect the outcome of any election, we just didn't care anymore.
I used to have a Yorkshire Terrier who thought she was a Pit Bull Dog. She would hurl her four pound frame into any fight with the intention of doing bodily harm. Since she was harmless, we didn't take her true intentions into consideration. We just thought she was cute.
The bad news is that you are, like that Yorky, quite harmless.
The good news is that you get cuter every day.
Rep. Steve Martin
We replied of course and pointed out where Representative Martin was more than a little confused.
Hi Steve,
Well thank you for not supporting the two cultural centers. And I am assuming that means you won't be voting for the funding either? With you RINOs it pays to ask you know.
Oh forgive the tone of that email. Sometimes it gets frustrating riding herd on you guys when it is like a car load of unruly children in the back of a station wagon. Reason and logic doesn't seem to get through to you guys so I treat you like a typical three year old to get your attention.
Now about that "accusing lifelong conservative Republicans" of being RINOs.... are you referring to the 56 Republicans that we had to beat the political snot out of in 2011 to get you guys to vote down the Obama Care/Fallin Care Health Insurance Exchanges? The ones that we robo called from early February till the end of March? Those Republicans Steve? If you recall only a handful, of Democrats seven wasn't it, voted for the Obama Care/Fallin Care Health Insurance Exchange and sixteen refused to vote and walked the vote.
Now since you yourself have indicated that the Tea Party was indeed formed over the impending Obama Care law I am having trouble figuring out why the liberal Republicans that we went after were confused. Don't you think it is kind of natural Steve for a group to go after the politicians that were trying to implement Obama Care in Oklahoma?
And indicted felon? Indicted is reserved for those cases where a grand jury finds cause to prefer charges. In this case a lone county prosecutor is doing the dirty work for the RINOs. But you know Steve, you guys only attack the people you fear so I take it as a compliment. Prater won't win, he can't, the law is on our side. All he did was inject himself and the Senate into a public relations meat grinder and don't forget we get to subpoena people! Do you think old Cliff is going to squirm explaining why he refused to hear a bill on an issue that the Oklahoma GOP Party Platform supports? Is he going to squirm when explaining how the Republican National Congress did a resolution in January against Agenda 21 and how he called the issue "fringe"?
You do realize, don't you Steve, that if you don't follow the Republican Party Platform then you are truly a Republican In Name Only, a RINO?
Now about this influencing election thing. You might want to talk with Glen Bud Smithson down in Sallisaw. Call early, I hear he is feeling no pain shortly after lunch these days. He was a buddy of yours wasn't he? And how about chatting with John Sullivan up in Tulsa? Didn't we help whip his t and put Bridenstine in? Oh, who was your old buddy that we helped move into retirement here in Oklahoma County? Oh, yeah, Guy Liebman, the former state rep replaced by the guy that we endorsed and covered his district with newspapers. And you know Steve, we gave up on doing a 2012 RINO Index on the House because, well, you guys were just too afraid to vote against a good bill in 2012. Wasn't it you that authored a watered down Open Carry bill after fighting tooth and nail the previous years to kill the Open Carry bills? Were you worried about your re election or something?
Here is the deal Steve. We have never had the goal of replacing all of you guys. Our goal was and is to make you vote right. And golly gee, didn't your guy lose the Speaker Designate election in October 2010? And didn't our guy get elected? And Steve, didn't most of our legislation clear the House this year?
Now the dog reference, that is nice. I'm glad you have a dog, at least something might look up to you, just don't use any of our newspapers for potty training cause you never know, that dog might be able to read Steve. Wouldn't want your little dog pissing in your shoes every chance it got.
But Steve, let's get serious for a minute here. I want you to stop calling me cute, okay? I didn't know that you leaned that way frankly and even if you consider it a compliment most heterosexual men would find it more than a bit creepy. Be nice Steve, be nice.
And finally Steve, while I appreciate the nice email you sent don't you think it is a bit obvious that if the Sooner Tea Party was irrelevant you wouldn't need to write a silly email? I suppose we will find out just how relevant we are if the funding attempt falls through, won't we? You do remember that we killed it last year with a single email and handed your buddies at the State Chamber a pretty good butt whipping. What was it they were telling the Senators? That they were going to change the way they gave out money next year?
Take care,
Al
Politicians will say anything to you to get you to back off. When they tell you something always ask what is in it for them if you believe what they say. In this particular case Rep. Martin saw the funding support die when that email went out. He wasn't happy so he lashed out. That is o.k., we aren't making friends, we are making politicians do the right thing.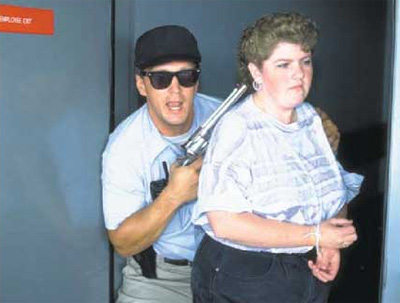 Disabled Veterans Held Hostage by
the Senate and State Chamber of Commerce
By the Watchman
Last week we ran the story about HB 1942 and those responsible for the denial of a treatment that would have been state revenue neutral and have been a dramatic step forward in the ability to return our Veterans suffering from Traumatic Brain Injuries and Post Traumatic Stress Disorder to a normal work and family lives as well as a potential to decrease the staggering suicide rate of Veterans in today's society.
Two Senators controlled the fate of this bill. Senators Clark Jolley and Senator Frank Simpson, (CWO, USN, Ret.) For those not in the know, the abbreviations after Senator Simpson's name stands for Chief Warrant Officer, United States Navy, Retired. What in the hell is the matter with you Frank. Have you forgotten what it's like for servicemen and women? You are a disgrace to the uniform. You rank right up there with Democratic Congressman Murtha.
HB 1942, unlike so many other bills, was well researched and well documented and was no doubt an effective treatment for PTSD and TBI. Neither injury is new to the military services, but has been experienced and highlighted more with the conflicts in Iraq and Afghanistan. You can read the entire 44 page bill here. . Here are some of the supporting documents to the bill that we published last week:
House Talking Points on HB 1942
Dr. Raskob letter supporting research and results
Israeli report on using hyperbaric treatment for brain injuries
This bill passed the House with a final vote of 97-0-4. You can see all of the House votes here. House Votes. Unfortunately the Senate votes are secret since they decided not to post them. They did however post the committee votes. That is where the problems arose. It went through two committees in the Senate and one committee report was prepared, though never submitted for the House, because no agreement could be reached. Here is the prepared House agreement.
Here is the Senate Appropriations Committee Report.
Here is the Senate Veterans and Military Affairs Committee Report.
What you need to look for in the two Senate Committee reports is near the bottom where Senators Jolley and Simpson each recommended that the Senate pass the bill, but "Strike the Enacting Clause." Why was this done? It gives them the cover to say they passed the bill, but it would never allow the program to go into effect. It gives them political cover along with all of their Senate buddies. The fact that this bill got to a Conference Committee indicates that the bill did in fact pass the Senate. It was done this way, because the House refused to hear legislation funding the Tulsa POP Center, and the Oklahoma City Native American Cultural Center. Both projects that would have taxed all Oklahomans, and benefitted those cities only. The House made the right Conservative move, and the Senate decided to punish those who are in desperate need of this medical need.
Senator Jolley has been the subject of articles in this newsletter before so it is no surprise that the Oklahoma State Chamber of Commerce has bought both Senator Jolley and Senator Simpson but let's remove all doubt by exposing their campaign contributors. If the Oklahoma State Senate and the Oklahoma State Chamber of Commerce desire to declare war on our disabled Veterans, I am sure that they have awakened a sleeping giant in this state, and the war will not be an easy one for the Senate.
We began our research with Senator Clark Jolley by going to his brag sheet at www.ok.gov. After this we went to the Ethics Commission web site to look at his campaign finances. We paid particular attention to his corporate donations during his 2012 campaign season. Here is some of what we found.
June 8, 2012 Retired Educators Fund $1,000.00
May 29, 2012 American Electric Power Pac, Columbus, Oh $1,000.00
May 24, 2012 Center for Legislative Excellence $2,000.00
It should be noted that the Center for Legislative Excellence is a lobbying group for the City of Tulsa. It actively advocates for legislation that benefits the city of Tulsa. Naturally they would want help from Oklahoma City are legislators. You can get more information about the group and their donors here. Center for Legislative Excellence - Political 527 Group, Center for Legislative Excellence
Jun 19, 2012 Greater OKC Chamber PAC $2,500.00
Jun 18, 2012 Johnson & Johnson PAC $1,000.00
Jun 15, 2012 Center for Legislative Excellence (again) $3,000.00
Total for Center for Legislative Excellence $5,000.00
Jun 14, 2012 Oklahoma City Business Council $5,000.00
It should be noted that the Oklahoma City Business Council is associated with the Greater Oklahoma City Chamber of Commerce.
The list goes on and on. His campaign was financed by a lot of shady political action committees attached to city lobbying groups for the city of Tulsa and Oklahoma City. The City of Oklahoma City was pushing the legislature for the funds to complete the Native American Heritage Center, and the City of Tulsa was pushing for the funds for the Tulsa POP Museum. The House didn't take up the issues. So to punish the House Senator Jolley decided to punish the Veterans by denying funding for their much needed treatment. That's pretty sorry for a guy that never bothered to put a uniform on. There are no other words for it but cowardly and self-serving.
We would also like to know what gives a freshman Senator from Ardmore the seniority to sit as vice-chair of the Veterans and Armed Services Committee. Surely Senator Bingman has sense than to assign a rookie senator to that post.
But Senator Simpson turned out to be a fast learner. He learned the game of corrupt politicians about half way through his first term. His campaign cost him almost $237,000.00 in 2010. Was it worth the cost of your reputation Senator?
In your case Senator Simpson, we can even tell when the corruption began. Your campaign was devoid of corporate or PAC donations until this one.
Aug 09, 2010 Center for Legislative Excellence $5,000.00
We will mention again that the Center for Legislative Excellence is a lobbying group for the City of Tulsa that advocates for legislation that benefits the city of Tulsa.
After that, the donations just seemed to pour in. For example there are these.
Aug 23, 2010 Chesapeake Oklahoma PAC $5,000.00
Sep 16, 2010 OG&E PAC $500.00
Oct 08, 2010 Mazzaei For State Senate 2004 $250.00
Oct 17, 2010 Greater Okc Legislative Council $4,000.00
These are just a few of the many donations but they raise serious questions. Why was a Senate candidate from Ardmore accepting money from an organization in Oklahoma City that dealt with legislation primarily dealing with legislation that affected Oklahoma City? Why was Simpson accepting so many donations from groups associated with the Oklahoma State Chamber of Commerce? Finally, what promises did he make to these groups?
As stated earlier, he kept his campaign open for donations even as of today. As he incurred substantial campaign debt, it's understandable. I mean as of March 31, 2013 he only had a little over $1.200.00 in his campaign fund. Again though, corporations have been donating to him. Did you ever wonder why they keep trying to pass some form of Obama Care in the Senate? Let me show you why.
Jan 25, 2011 Oklahoma Medical PAC $1,000.00
Jan 25, 2011 Oklahoma Osteopathic PAC $250.00
Feb 04, 2011 Oklahoma Hospital PAC $300.00
That's on top of the donations made in 2010. It just keeps going on and on. There is no limit to the corruption in this man's politics. He's not representing the constituents of his district; he's representing the constituents of Oklahoma City and Tulsa, while simultaneously putting trying to put his own constituents further into debt. Nancy Pelosi and Harry Reid would be proud of him, if he were a Democrat.
There is a third party to blame for this total lack of disregard for those who have protected our freedom. That is the Senate President pro-tem Brian Bingman. He has indicated his support for the two projects in Oklahoma City and Tulsa in the past. It is his lack of leadership that has allowed petty regional politics to override the needs of the defenders of our great nation and state to punish the other side of the legislature for their not wanting to fall in line with the slave masters of the Senate, the Oklahoma State Chamber of Commerce. It is plain that the moral compass of the Senate must change and that change must come from the top. Senator Bingman you may have the legal authority to lead, but you have lost the moral authority to lead the Senate.
There is also a fourth party to blame for this total disregard and disrespect for those that have paid the price of serving our country. That is the Oklahoma State Chamber of Commerce themselves. The idea that they would endorse an action like this towards the very men and women who have fought and sacrificed to give them the very right to even exist is repulsive. How dare they? They had a chance to help make this state, the Great State of Oklahoma, a leader in the treatment of PTSD and TMI, only to shoot it down for two tourist attractions. They have no morals about them.
We know this bill had bi-partisan support in the House and the Senate, but because the Oklahoma State Chamber didn't get their way about two corporate welfare tourist attractions that would have benefitted only two cities, they had to punish the Veterans that needed the help. This is a blight on the Oklahoma State Senate and on the State of Oklahoma itself. Senator Jolley is term limited. We say good riddance to bad trash. Senator Simpson is in his first term. May it be his only term.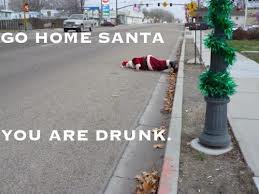 OMG! Charlie Meadows Believes the
Boy Scouts is a Gay Organization!
Lordy, lordy, lordy. Old Charlie went off the tracks last week with a tirade about the influence of gays on the Boy Scouts. He did so by posting sections of a book called the Pink Swastika
co authored by a guy named Scott Lively and at the end of the quote Charlie indicated his agreement with one minor exception.
Now we aren't happy with the Boy Scouts decision to allow gay boys to become scouts but good lord, no one has ever made the claim that the Scout organization was gay. Charlie's article claimed that the Boy Scouts had its roots in a German homosexual group called Wander Vogel (Wandering Birds). The co author of the book claimed that Hitler used the homosexual group as the basis of his Nazi party and even co opted the "Heil" salute and much of their "vocabulary".
It kind of went downhill from that point as evidenced by the following quote taken from Charlie's OCPAC email:
"Though largely neglected by historians, Hans Blueher was enormously important to Nazi culture. In Germany's National Vice, German Jewish writer Samuel Igra reports that in the Third Reich "Blueher…[was] adopted by the Nazis as an apostle of social reform. And one of his disciples, Professor Alfred Bauemier…[became] Director of the Political Institute at the University of Berlin" (Igra:75). Writing before the collapse of the Third Reich, he adds that "[Blueher's teaching] has been systematically inculcated by the Nazi Press, especially Himmler's official organ, Das Schwarze Korps, and has been adopted in practice as the basis of Germen social organization. The Nazi elite are being rought up in segregated male communities called Ordensburgen. These are to replace the family as the groundwork on which the state is to rest" (Igra:87). "
Uhmmmmm, Charlie? Remember the thing with the pink triangles and the concentration camps? Didn't we learn that Hitler pretty much made soap out of the homosexuals along with a few Jews? Being facetious here, it was a lot of Jews.

The article finally gets around to mentioning Lord Baden Powell who actually started the scouting movement according to what they taught us in Scouts back in the seventies. But somewhere between whacking on the Catholic Church and the Boy Scouts the rambling article pretty much leaves you more confused than informed.
At the end of the quoted material the only disagreement that Charlie Meadows called out was that he believed that the Catholic Church hasn't restored itself to biblical principles. The Morman Church felt Charlie's lash as well, when Charlie claimed that the Mormons were, pardon the pun, behind the decision to allow gays into the Boy Scouts. And add a dash of polygamy of course, what good is a bigot if he can't dig up a century old tradition to whack a group that doesn't walk the "Charlie line".


Now we have always been clear on our stand on the gay issues; they deserve to be left alone to live their pitiful lives, that is what freedom is about, but they don't get special rights just because they are perverted sexually. They aren't "normal" and they can't convince themselves much less the rest of society that they are normal. But they ought to be left alone in peace.
Next week Charlie has promised more ranting from the Pink Swastika.

Oh boy, can't wait….Just don't sneak up behind me Charlie and your time would be better spent trying to keep Brian Bingman and Dewey Bartlett away from the pre op transsexuals, okay?


2013 Senate members and House Members
Please copy the block of emails for your contact list so you are able to email all of them and help to inform and educate them before the new sessions begin. Use Bcc to send dozens of email with one email from you to them. This will look like you send each one of them a personal email with only their email showing as the recipient. Please mention the Sooner TeaParty in your emails so they will have a healthy respest for what we do.
Here are the updated House members email addresses in three blocks of Thirty- four each and updated senate emal addresses in one block
.
Rem
ember to strip the unsubscribe link before forwarding this newsletter to prevent someone from taking you off our list! Use our forward this email link at the top of the newsletter to prevent being accidently unsubscribed.
Money is always needed for printing costs, postage, sign materials, and robo call costs. We are tightfisted; we will spend your hard earned money wisely and frugally as we do our very best to clean up Oklahoma politicians so we can begin to clean up our country.
You can donate by sending a check to Sooner Tea party, 358 North Rockwell Ave, Oklahoma City, OK, 73127 or visit Soonerteaparty.org and use the Paypal donation button.