Native Plant Conservation Campaign News: Research confirms that green spaces and natural areas are good for our health!
March 26, 2019
We have yet another reason to advocate for conservation and restoration of native plant communities and for establishment of native plant
communities within cities.
Studies have found that growing up around natural areas and green spaces significantly lowers mortality rates and protects against mental illness.
A 2016 Harvard School of Public Health study
found that living among green spaces and natural areas reduces mortality. Researchers looked at more than 100,000 women participating in a nursing industry survey. During an eight-year study period, there were fewer deaths among women who lived in the greenest surroundings—their mortality rate was 12% lower than those living in homes in the least green areas. Mortality rate is a measure of the number of deaths in a particular population for a specific period of time
The authors speculated that improved mental health and air quality contributed to the findings.
Mental Health
A new study
from Aarhus University, Denmark, published in February 2019, used satellite data to map the green spaces around the childhood homes of more than one million Danes. They reported that children who grow up with greener surroundings have up to 55% less risk of developing various mental disorders later in life.
The authors pointed out that this knowledge has important implications for sustainable urban planning. Not least because a larger and larger proportion of the world's population lives in cities.
"The coupling between mental health and access to green space in your local area is something that should be considered even more in urban planning to ensure greener and healthier cities and improve mental health of urban residents in the future," said co-author Professor Jens-Christian Svenning from the Department of Bioscience, Aarhus University.
An earlier study
, published last year, examined teen depression with similar but less dramatic results. Harvard School Of Public Health researchers studied more than 9,000 teenagers who were participating in a broder study on health issues. They also used satellite imagery to map the teens proximity to green spaces. They found that teens living near the highest-quality green space were 11% less likely to be depressed than their peers who lived around the least amounts of lush greenery. The link between green space and lower odds of being depressed was strongest among middle schoolers.
All three studies controlled for factors such as socio-economic status which also influences health.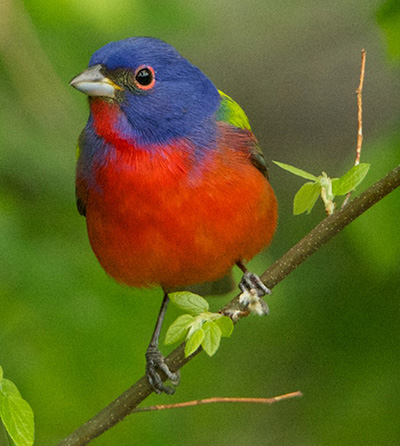 NOTE: Locally adapted native plants require less water, chemical inputs, and maintenance than non native plants when used to expand green areas in cities. They also support local birds, pollinators and wildlife!
Photos (c) Doug Tallamy