Welcome to CMCA(UK)
Welcome to the CMCA(UK) Autumn Company Newsletter. Read on to find out more about what the CMCA(UK) team has been up to over the past few months...
CMCA(UK) Signs Memorandum of Understanding with Malaysian Heavyweight to Develop and Deliver an Operational Savings Programme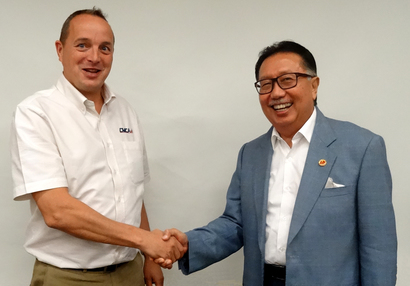 CMCA(UK)'s Managing Director, Rob Crawford with MFDM Holdings' Group Executive Chairman, Dato Sri Mahamad Fathil.
CMCA(UK) is delighted to announce details of a strategic business partnership in the Far East which brings with it exciting new opportunities for the company, our staff and our growth aspirations.
On 9th October 2014 CMCA(UK) signed a Memorandum of Understanding (MoU) with MFDM Holdings Sdn Bhd in Malaysia

that will lead to the creation of a Joint Venture designed to integrate many of CMCA(UK)'s core services into an 'in-country' through life support solution. The Joint Venture is to be established under the umbrella of a 'Malaysian Operational Expenditure Reduction Team', or MOERT for short, which will create the framework for exporting various CMCA(UK) skill-sets and elements of our Quality, Business Management, Codification, Procurement and Obsolescence Management processes. The overriding goal of the MOERT JV is to deliver substantial through life support savings for both MFDM Holdings and the Malaysian Government.
The MOERT initiative presents CMCA(UK) with a fantastic opportunity to increase its global footprint and international presence whilst creating some great career opportunities for our dedicated workforce.
Contact Darren Topley, CMCA(UK)'s Obsolescence Strategy Advisor for more information on +44 (0)1905 458307.
CMCA(UK) Apprenticeship Scheme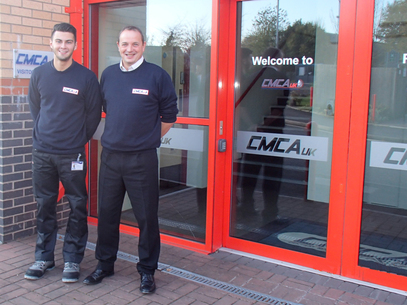 Managing Director, Rob Crawford with CMCA(UK)'s Apprentice Oliver Jethwa.
CMCA(UK) is pleased to announce further development within the company with the introduction of our apprenticeship scheme. The scheme has been brought in to invest and develop in future employee's, adding value to the business whilst supporting the local economy. "We believe a fresh perspective, new ideas and developing skills are extremely valuable to a growing business such as CMCA(UK)" comments Kevin Buck, CMCA(UK) Business Support Manager.
The scheme will see one apprentice spend time in all business units within CMCA(UK) absorbing everything there is to know about Obsolescence Management, Procurement, Codification, Long Term Storage, Business Support and Marketing, learning the ways of CMCA(UK) and adding to our skilled workforce in the hope that they will choose to climb the CMCA(UK) career ladder. Rob Crawford, CMCA(UK) Managing Director commented: "We are really excited about the opportunity of recruiting young people within our organisation, making the scheme a success to enable us to recruit Apprentices year on year."
CMCA(UK) is delighted to announce Oliver Jethwa as our first CMCA(UK) apprentice. Oliver has a college background in engineering electronics and looked into apprenticeships as an alternative to university. Oliver attends college one day a week to complete a level four HNC alongside gaining on-the-job skills. Speaking of the opportunity Oliver comments, "I know that this is a great opportunity for me and it's great to be part of such a good organisation. I hope that in the future I further my skills and climb the career ladder within CMCA(UK)".
Long Term Store Success Continues
CMCA(UK)'s Long Term Storage capability continues to attract new customers. In fact we hope to have three new customers by the end of November. Of particular importance to us is that they are all from different industries; one from Oil and Gas, one from Defence and one from Aerospace. The one common denominator for all of these companies is that they have to support equipment for a long period, that is known to stretch much further than individual component's life cycles. Obsolescence Services Manager Chris Green commented "For these customers, and many others, the opportunity to avoid a costly redesign, by buying the components today, putting them into long term storage, ready for use tomorrow, is an excellent spend-to-save obsolescence mitigation strategy. It may not be the ideal solution for all companies with contracts to support equipment for extended periods, but for many it is an option that is handy to have up their sleeve. It can also be a way of removing components from normal storage, perhaps in cold, damp warehouse type conditions, and getting them processed and visually inspected and repackaged into a nitrogen rich atmosphere. This offers two secondary benefits, a) the parts are moved away from normal stores where they may be used in error despite being ring fenced for a particular customer or project and b) we are able to flag up any anomalies with the parts in terms of quantities and their condition."
CMCA(UK) at CMSE 2014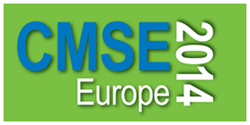 CMCA(UK) were one of ten industry specialists to exhibit at the CMSE (Component for Military and Space Electronics) Europe event which is the premier conference on the engineering, design and use of COTS electronics in military and space systems.
Antony Elliott, our Business Development Manager manned the CMCA(UK) stand and was on hand to answer questions relating to the range of services we offer. From Component Monitoring, Health Checks and Procurement Services, to Long Term Nitrogen Storage and NATO Codification.
The networking dinner presented a great opportunity to meet, mix with and share experiences with new and old friends alike.
May we take this opportunity to thank you for your time and for reading our newsletter, Please don't hesitate to contact us regarding any of our services or to see how we can help you. Contact our Business Development Manager Antony Elliott on;
Due to increasing business opportunities, we have identified the need for additional staff to join our company. CMCA(UK) is a dynamic, innovative and pro-active company looking for a Codifier/ Trainee Codifier within our Codification department. For further information regarding all career opportunities at CMCA(UK) please visit our website.

The Great CMCA(UK) Bake Off for Macmillan

Last month marked the very first CMCA(UK) Bake Off, in aid of Macmillan Cancer Support in alliance with the World's Biggest Coffee Morning. Last year the Macmillan Coffee Morning event raised £20 million so this year we decided to get involved and give staff the chance to show off their baking talents. Over the course of three days staff brought in their show stopping creations and had eager buyers queuing up daily to try the delicious offerings, once the Bake Off moderators had judged each entry.
Staff managed to raise an impressive amount for the fantastic cause that is Macmillan and had joint first winners from our Codification and Procurement departments.

We'd like to thank all the staff and bakers at CMCA(UK) for their generosity and support, next year we aim to raise even more.

Darren Murton, one of CMCA(UK)'s dedicated Codifier's is looking forward to more England recognition for his golfing efforts after earning national honours despite only having the use of one arm.

Darren, whose right arm was paralysed in a motorcycle accident nearly 15 years ago, recently returned from playing for the England Disabled Golf Team against Scotland Disabled in the Auld Enemies Cup. The experience has given him a taste for such competitions and he is hoping it won't be the last time he proudly competes for our country, "It was amazing. I couldn't believe it, they called me out of the blue. There was no way I could pass it up. It was brilliant. I have never felt the nerves of a big event on the first tee so it was pretty crazy. I hope to play as many events as I can coming up and get called up again."

Click to read the latest CMCAUK) News >>