BREXIT BRIEFING OUTLINES ISSUES
TARIFFS COULD HIT PHYSICAL MEDIA…
…DEGE LOOKS AT KEY BREXIT PROBLEMS
TRAILERS OF THE WEEK
---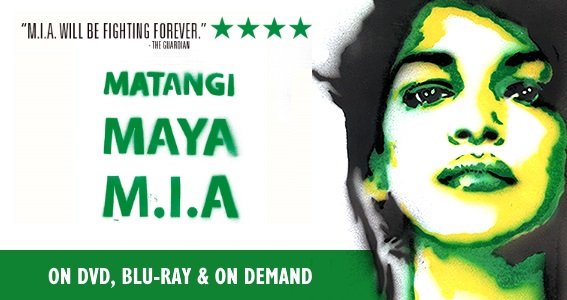 ---
If you can't read this newsletter or see the ads, please click here. We've been away for a few days for half term, hence the late running…
It was a good week for… Looks like 2018 could be a record year for cinemas in the UK…
It was a bad week for… Brexit looms large on the horizon…
Even if you're suffering from Brexit fatigue – and it's striking us all down following endless, uninterrupted television and newspaper coverage – the ongoing uncertainty still means there are plenty of unknown factors as to how exactly the UK's withdrawal from the EU, when and if it happens, will affect the industry. The DEGE has been attempting to provide some clarity and reasoned thinking on the matter, and hosted a briefing day for those in the industry. Among the speakers at the event, were BASE and DEGE lobbying consultant and political expert Lavinia Carey, alongside Ted Shapiro, partner at Wiggin LLP, Brussels, John McVay, CEO of Producers Alliance for Cinema & TV and Charlotte Lund Thomsen, Legal Counsel and head of the International Video Federation. They outlined some of the problems that could be faced, ones that will potentially be exacerbated if the UK leaves without any kind of deal. Restrictions on movement of goods, labour and capital is the first issue: delays in getting discs from manufacturers in mainland Europe, notably Poland, could cause problems, while freelancers, staff and even talent on press junkets and the likes could face issues. Getting revenues back on deals and other licensing issues could also be a factor. As Carey said: "Some distributors are planning much further ahead on Q1/Q2/Q3 releases to get assets to replicators where longer lead-times are possible."
But it doesn't end there either. As the briefing heard, WTO rules in event of a no-deal could mean tariffs applied to goods, including physical media, although it is hoped these will apply purely to the value of the disc, not the contents. There would be portability issues with content too, for people travelling from the UK to Europe. And there are further issues with the international exhaustion of IP rights, as Carey explained: "A rights owner's exclusive right to sell something expires once it's put on the market anywhere in the world, under international exhaustion. At the moment we have EU exhaustion for physical goods, which means selling a title in the UK only allows the buyer to re-sell in the EU (subject, of course, to classification regulations), not outside. National exhaustion applies to digital copies and is even more critical to prevent regional or international exhaustion of copyright, being a potential source for piracy. The British government has stated that it intends to continue to recognise EEA exhaustion after March 2019 in a 'no deal' scenario. Distributors will not be able to object to parallel imports of goods from EEA countries into the UK if they comply with statutory BBFC classification requirements." Further problems could occur between enforcement agencies in different territories, as Carey added: "With a 'no deal' Brexit, hundreds of treaties that currently apply, including those covering copyright and enforcement, would need to be re-negotiated and that would take years."
And if that wasn't enough, there's also the knock-on problems that Brexit could cause, such as the economic impact. Carey said: "The threat of a hard Brexit is already being felt in our economy and the high street is showing signs that the recovery from the last recession is slowing down. The worry is that the economic impact will be felt even more if we don't have a two year transition period in which to negotiate our future trading arrangements with the EU." It's not all bad news though. The UK's position as a creative force is not necessarily threatened. Carey said: "John McVay reported that British film and TV producers are currently enjoying a boom in commissions from overseas, and while the Brexit threats are worrying, his members are benefiting from the excellent global creative reputation the UK has for TV and film making which audiences enjoy world-wide."
---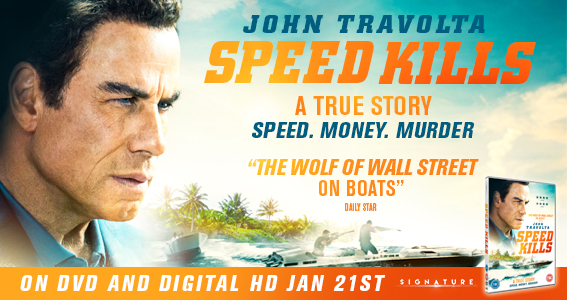 ---
As you may have noted from some of our editorial here recently, it's looking busy for Q1 in 2019, with a raft of strong titles due in stores during the first three months of the new year, with some of this year's biggest box office hits due on home entertainment formats, as the likes of Bohemian Rhapsody, Venom, A Star Is Born and the latest Fantastic Beasts instalment, The Crimes Of Grindelwald, all arrive. And there's breadth too, with grown-up films, such as Overlord, Halloween and Arrow's Climax, nestling alongside Disney's The Nutcracker, the second Goosebumps and The Grinch. There's strong TV fare too, adding further breadth, and strong home entertainment product such as Robin Hood landing as well. The strength is shown in the latest quarterly trailer put together by BASE (you can see it here https://youtu.be/NXuqNCxsUrw). As ever, the initiative sees the specially created message given out to key websites as well as being used in store. Commenting on how the concept is progressing, BASE's PR and social media executive Andy Neilson said: "We're extremely happy with the on-going success of the quarterly trailer, which showcases the most exciting content coming to home entertainment across the next three months. Building on the strength of previous trailers we're pleased to announce that Sainsbury's will once again be screening this across 160 stores nationwide, supplemented by Morrisons, HMV, BT Store, Amazon UK & Google Play Store all sharing with their teams internally and planning to share socially throughout the next few months. Backed by a healthy press launch (with highlights this time including Yahoo, Digital Spy & Den Of Geek), it's been our strongest launch to date. With future trailers planned for the rest of 2019, I'd encourage all BASE members to proactively feed in future titles they'd like to promote."
Interesting to note too, that the slate for 2019 home entertainment releases is being boosted by a raft of strong theatrical releases, with, as well as those named above, more due later in the year. And, according to industry experts and The Guardian this week, admissions at UK cinemas will hit a high not seen for almost 50 years, before the advent of the concept of home video, let alone home entertainment. The record admissions, currently sitting at 160 million for the year to the end of November, with only a further 16 million needed to break the 1971 record. And that is a figure which, thanks to the raft of strong titles, out this month, not least the likes of the new Into The Spider-Verse Spider-man film, alongside the likes of the Mary Poppins sequel and Bumblebee, should be easily manageable. UK Cinema Association chief executive Phil Clapp told The Guardian: "It will take something really unexpected, something pretty incredible, not to get to there now. It looks like being record admissions, and box office, for modern times. A broad range of films and genres are doing extremely well. The notion [that] it is only superhero films driving the box office is disproved by the numbers. The Guardian itself noted further, giving more cause for optimism: "

Last year four films broke £40m at the British box office – Star Wars: The Last Jedi, Beauty and the Beast, Dunkirk and Despicable Me 3. This year eight films have done so to date – Avengers: Infinity War, Mamma Mia 2, Incredibles 2, Black Panther, Bohemian Rhapsody, Jurassic World: Fallen Kingdom, Peter Rabbit and The Greatest Showman. And there is a good chance that by the end of the year Fantastic Beasts: The Crimes of Grindelwald, Mary Poppins Returns and Aquaman will have joined them."
Chart news and the Abba musical sequel Mamma Mia: Here We Go Again is still topping the Official Film Chart taking in both physical and digital sales. Ant-Man And The Wasp rises one place to two as DVD and Blu-ray sales joined downloads, a similar boost to that enjoyed by Hotel Transylvania 3: Summer Vacation up to five. Sandwiched between those in the top five are Mission: Impossible – Fallout and the perennial favourite The Greatest Showman. The Meg enters at number six on the back of its exclusive digital window sales. Elf and The Grinch are still flying the flag for seasonal favourites. The latest chart trailer previews The Spy Who Dumped Me and can be seen here.
---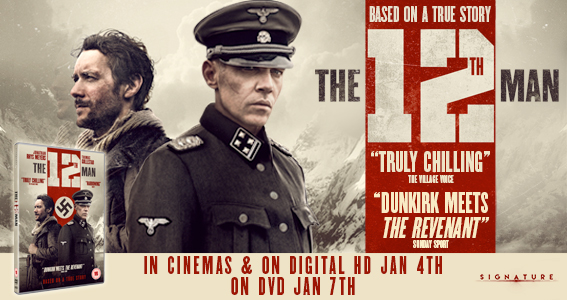 ---
To the Imax at Leicester Square in the heart of London's West End for a special 30 minute preview of the forthcoming Fox blockbuster Alita: Battle Angel. Our correspondent from kidzcoolit.com Nick Gibbs-McNeil was there alongside his junior reporters from the site and gave it the all-important seal of approval. The film is due at cinemas in February ahead of an eventual home entertainment bow and, according to those that know, it's going to be a biggie. "We really enjoyed the footage," Gibbs-McNeil said. "The film looks action-packed and very cool. It's Pinocchio meets The Matrix done in the style of director Robert Rodriguez and producer James Cameron. The characters seem very likeable and the 3D special effects are beautifully crafted, it looked amazing on the IMAX 3D. It's visually stunning." The director alongside co-producer Jon Landau were both on hand to help promote the release, more on this here and on kidzcoolit.com in the new year…
To the BFI IMAX on the Southbank on a Sunday morning for a special screening of the much-talked about and very visible Bumblebee, the latest Transformers film and one that adds a new dimension to the popular franchise. The film takes the concept back to its roots, charting the arrival of the titular character on planet Earth. Set in the 1980s, complete with a spot-on soundtrack of classics from the decade, it stars, among others, John Cena, and contains not just the kind of special effects that have made the brand's name, but also has a warm heart and plenty of humour alongside the action. Our junior correspondents rated it as a winner and, given the impressive PR and marketing support behind the title, it should give a new lease of life to Transformers at cinemas this week. And given its home entertainment success throughout the years, physical and digital sales will be strong when it arrives some time next year.
---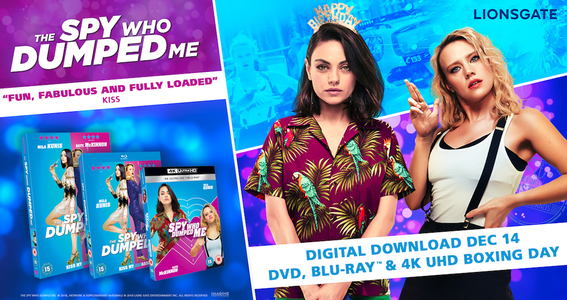 ---
"It's very easy for people to see things now. When we made When A Stranger Calls, there was no way we had any idea that movies could be seen outside of a theatre or network television. We knew what video tapes were, but that was it. Now there's DVDs and computers and you can stream things, almost any movie. It has this life." So said director Fred Walton, the man behind the seminal slasher film that inspired a whole host of knock-offs, including the homage in the first scene of horror satire Scream, in an interview with The Raygun's Tim Murray for FrightFest's website. The reason? Walton was discussing the film and its history on the eve of the Monday December 17 release of When A Stranger Calls, getting the full Blu-ray treatment from the Second Sight label. The sumptuously packaged title comes in a gorgeous matt effect box, complete with the film and its sequel, When A Stranger Calls Back, as well as the soundtrack on CD, a reversible poster featuring Second Sight's newly commissioned artwork as well as the original imagery, and a booklet containing features and essays looking at the film. It's another fine release from the label and, as the company's Chris Holden said: "We're very pleased with the final package that was put together for this one. It's one that grew during production with new additions being made during the process. Fans were really keen to see the sequel added which we secured, there was the last minute opportunity to interview Carol Kane and probably the one that had fans most excited was the discovery and inclusion of Fred's original short film The Sitter, which we had scanned and restored." You can see the feature here.
Some intriguing news from boutique label Shameless Films, one of the finest indies and a label that has been at the forefront of the movement to give respectful and worthy releases to classic horror and genre fare in recent years. Its packaging has long referenced video nasties and the heyday of video and, in 2019, it is taking that a step further. For after its groundbreaking Yell'o packaging, which branded all its titles in lurid, bright boxes and sleeves, it is now launching Shameless Yell'o VHS branded boxes. They will mimic classic VHS touches and the look of the era. As its announcement stated: "As originally featured in our evocative home video tapes-inspired outings, the new Shameless Yell'o® VHS branded boxes will be peppered with epoch-evoking stickers - which Shameless collectors will know - such as Please Be Kind & Rewind and other (we hope) smile-inducing touches in the same ilk, harking back to all our early video days. There'll be more nostalgic yet tongue-in-cheek stuff which we'll uncover little by little and we hope fans will enjoy discovering the surprises both on and inside the packaging." You can see it here, and the imprint is now inviting its fanbase to suggest the titles it wants to see released in the new-look style. Commenting on the initiative, Shameless' Project Manager Mauricio said: "Shameless were doing this 'VHS' look early on in the decade.. Over seven years ago Shameless introduced a novel look with some of its packaging design to celebrate those early purveyors of home video joy, the VHS! we released a number of boxsets on the domestic video theme: with Slasher Nasties made to look like a VHS, then a Betamax tape (remember those?!) containing a Sexploitation set and even a Video 2000 with the Shameless Pop Erotica set. In 2019, Shameless returns to its celebration of the Video Home System, now with a closer physical reality provided by new packaging technologies which accurately mimic the VHS tape: look out for our Yell'o VHS branded boxes!"
---
---
It was a big week for Studiocanal on the trailer front, with the company unveiling not one but two trailers for family friendly features due at cinemas and on to home entertainment in 2019. And one of those, in the shape of the new Shaun The Sheep film, will provide plenty of drafting opportunities on its high profile theatrical release. The Aardman-produced franchise is returning next year in what promises to be a "close encounter of the herd kind" in, to give it its full title, A Shaun The Sheep Movie: Farmageddon. The trailer is here, while the film opens in October 2019. Given the success of the first film – $100 million plus and counting at cinemas worldwide – and the wealth of other Shaun-related titles Studiocanal has in its catalogue, expect to see customers flocking to stores in the autumn next year. And the company has also revealed a new potential franchise too, in the shape of toy to film property Playmobil: The Movie, which opens at films in August next year and boasts a wealth of vocal talent behind its animation wizardry. Commenting on the new and returning franchises, Studiocanal's Studiocanal's Olivia Dean said: "We're delighted to be bringing two fantastic family releases to audiences next year. Shaun the Sheep is a household favourite and his latest adventure promises to be as baaa-rilliant and hilarious as ever. Playmobil: The Movie will take audiences on an epic journey through a world where anything can happen, in the first-ever feature film inspired by the beloved, award-winning brand. Following one girl's journey to find her brother, Playmobil is a fast, funny and exciting adventure that will appeal to kids and parents alike."
Worlds away from the gentle world of Shaun the Sheep and pals, Boxing Day sees Studiocanal giving a home entertainment release to Yardie, set in the ghettos of Kingston, Jamaica, and the tough streets of Hackney, east London, during the 1970s and 80s. It's the directorial debut of Hackney-born Idris Elba, based on the must-read book. Its theatrical release earlier in 2018 earned it plenty of coverage and Studiocanal is aiming for big things with the release. Commenting on the title, the company's Olivia Dean said: "Following a sizzling box office run earlier this summer, Idris Elba's directorial debut Yardie is set for release on digital download on Christmas Eve, followed by DVD and Blu-ray on Boxing Day. The film follows the story of D, who teeters between a path of redemption or revenge for his brother's murder. Set between 70s Kingston, Jamaica and 80s Hackney, Yardie is striking and immersive with an epic soundtrack. We've achieved great set up for the product which includes deleted scenes, featurettes and interviews with talking heads from across the worlds of reggae, soul and hip-hop. The artwork is bold and vibrant to really stand out both on shelf and on services. HMV will also enjoy an exclusive selection of art cards and are supporting with off-shelf space on release. Our media campaign is strong with a sports TV package showcasing the captivating AV and heavy online investment across key search, social and commanding display formats. We've been lucky to have support from key talent Aml Ameen and Shantol Jackson across PR and social, as well as Island Records who have released the official soundtrack – all of which will create some great word of mouth in the lead up to release."
---
---
Good to see our old pal and industry stalwart Chris Warrington adding another string to his bow after being appointed executive partner at Creative Partnership as part of an expansion at the film marketing agency. Warrington, who boasts experience at both major and indie distributors, in both film and home entertainment sectors, and on both distributor and agency side, has most recently been at Trafalgar Releasing following a lengthy stint at Icon. He will take over the running of the London office as md Michelle Gardiner heads to the LA operation where she will take the reins as executive vice president as part of the expansion of its US office. Gardiner said: "The aim of this new leadership structure is to strengthen our client offering and reinforce the connection between our international presences on both sides of the Atlantic. With these two contact points we're able to offer a more transparent chain of brand and creative custody for clients, deliver them more integrated global campaigns, protect their valuable assets and drive their businesses. This is an exciting time of change for Creative Partnership and I'm delighted to be based stateside and to continue to work closely with creative director Mia Matson, Chris and our LA team to deliver exceptional creative." "I've been a great admirer of Creative Partnership for many years, ever since being awestruck by their iconic designs for Reservoir Dogs! The legacy of the agency's work speaks for itself and with Michelle and Mia's direction, the CP team has created campaigns that capture the essence of a story and what attracts an audience to it," said Warrington. "So as an admirer and former distributor and client of CP, it's a thrilling opportunity to work with such a talented team to add further value for clients to ensure their stories stand out and engage audiences in this constantly evolving marketplace." Kate Turnbull, Group ceo at parent AKA, added: "Michelle has been key to Creative Partnership's success since taking over in 2015. And Chris' extensive experience in distribution will bring a fresh perspective to the agency. This new structure will help Creative Partnership deliver the best possible results to clients and we're very excited about both of them continuing to build on the agency's success."
As regular readers know, boutique labels are thriving on both sides of the Atlantic, showing there is a thirst for Blu-ray releases of catalogue titles and more obscure films. And now Wired magazine has caught on to the trend, with a major feature looking at the phenomenon. This is the kind of money can't buy PR our business needs, showing the wealth of choice on offer and the importance of physical media. As the feature noted: "Some are drawn to Blu-ray because of the unsatisfying video quality of streaming films; for others, it's the sheer joy of tactile pop-culture paraphernalia, as some small-label discs come with elaborate packaging and hours of extras. 'Customers want to see these movies on their shelves,' says Jesse Nelson, owner of Diabolik, an online store that's been trafficking in rare and specialty movies since 2003. 'They want to post pictures of them on Instagram sorted by director or label: 'Look at all these great titles I have.' But one of the main driving forces behind the Blu-ray renaissance is the simple fact that the mainstreamers—which include everyone from Netflix to Amazon Prime to Apple—all have sizeable gaps in their movie libraries. Those limitations have become painfully clear in the last year, as some film lovers looked around and noticed that many of their favourite movies, whether vintage releases or even semi-recent blockbusters like True Lies, were nearly impossible to find in digital form." You can read the full feature here.
Rather grimmer reading came from a new report which suggested that while piracy and illegal downloading doesn't impact box office that much, DVD and Blu-ray sales are the ones most hit by snide behaviour. Revenues can be hit by as much as $500,000 per film when piracy occurs, much of this hitting physical sales. Early, camcordered copies of films online can help word of mouth, but it's the later, higher quality illegal downloads that really hit DVD sales according to the report, Quantifying the Heterogeneous Effects of Piracy on the Demand for Movies. Author Zhuang Lui said: "File sharing reduces the total revenue of the motion picture industry from the box office by $ 231 million in total or 2.71 per cent of the current box office in the US for my sample of 40 weeks in 2015. Unlike the box office, in the home-video market, DVD revenue decreases by a surprising 36 per cent due to piracy. There's some benefit from piracy, the word-of-mouth from piracy actually contribute to a total of $68.7 million to the industry box office and DVD revenue."
Just time to invite you to contribute to our 2018 survey for the newsletter and our website. All you need to d is answer the following questions and drop them on an email to tim@theraygun.co.uk. The more the merrier…
Favourite three releases of the year:
Biggest challenge in 2019:
What I'm most looking forward to in 2019:
---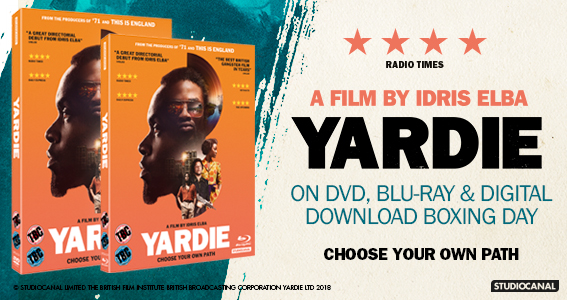 ---
"I've done some tests on Braindead (aka Dead Alive), where we took the 16mm negative and put it through our restoration pipeline — and shit, it looks fantastic! I'm pretty keen to actually just get them back out there again. That's sort of my plan for now: to do a nice little box set — the early years! The naughty years! The mixes on those films were pretty much all stereo in those days, so we're going to get the old soundtracks out and do a 5.1 mix. I've always had video diaries being shot. So I've got about an hour or two of us shooting Bad Taste, seven or eight hours of us shooting Meet the Feebles, 50 to 60 hours of us filming Braindead, and at least 70 hours of us doing Heavenly Creatures. And it's not just people talking to camera. It's actually a guy on the set filming us making the film. So there's some pretty interesting stuff there and none of it has ever been out."
Peter Jackson, revealing he's working on special Blu-ray editions of his earliest films…
In news you probably thought that was happening anyway this week, it looks like the Doctor Strange sequel has got the greenlight. It's been confirmed that Scott Derrickson will be in the director's chair for the second film featuring the Marvel Comics wizard. Both Benedict Cumberbatch and his namesake Benedict Wing are in board too, with filming likely to take place in 2020 for a theatrical bow the following year.
We've been raving about The Guilty, the claustrophobic Danish thriller put forward as the country 's 2019 Oscar entry, since we saw it at LFF earlier this year. And now, as many pundits had suggested, the big budget Hollywood remake is in the way. The news has emerged just in time for Signature's q1 home entertainment now for the cracking film too. The new version will be produced by, and star, Jake Gyllenhaal.
News of the new Pixar film, as more details emerged this week if a previously untitled film from the animation behemoth. Onward is the creation of Dan Scanlon, the man behind Monsters University, and looks at a fantasy world populated by elves and their ilk, many of whom have stopped using magic. Voice talents will include Chris Pratt, Julia Louis-Dreyfus, Octavia Spencer and Tom Holland. It's due at cinemas in 2020…
All-star action from Netflix…
If Superman wasn't a nice lad…
"They're everywhere… Battling for dominance…"
Some seasonal Lego goodness…
You're on The Raygun newsletter mailing list, which has been running for eight years, because you requested it, have been recommended to us or sent us emails. You can unsubscribe at any time, if you're daft, using the link elsewhere or by emailing as below. But of course, you don't want to do that, do you? We don't share your information with anyone else, we don't like cookies and we're the good guys. We care because you do…
To subscribe to The Raygun newsletter, please email
info@theraygun.co.uk
with subscribe in the subject matter
To unsubscribe, email

info@theraygun.co.uk

with unsubscribe in the subject
For editorial or advertising queries, contact

tim@theraygun.co.uk