September 19th Newsletter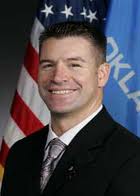 John Bennett Fundraiser Notes
The fundraiser for Representative John Bennett September 15th was well attended and a rousing success. Speakers included David Tackett of Oklahomans For Liberty, Bill Broker of the Sequoyah County Sooner Tea Party, myself, and of course RepresentativeJohn Bennett. The Sequoyah County chapter had a good membership turnout as well as locals attending a Tea Party event for the first time. The Sequoyah County GOP Chairwoman Mary Ann Cosner helped make the event a success as did many local businesses that donated food items or silent auction items.
Representative Bennett told a great story of life at the Capitol. During the debate on Representative Bennett's Open Carry bill, our old friend Representative Don Armes came over and told Bennett that he was supporting the Open Carry bill, that his constituents overwhelmingly supported Open Carry. Bennett thanked Don Armes and Armes went back to his seat. A while later they had a vote on the bill and Bennett noticed that Don Armes had voted
against
the Open Carry bill. Eventually Armes came back over to talk and Bennett asked why he had voted against the Open Carry bill. Armes kind of muttered a bit, saying "Well, you know how it is, sometimes you have to survive. " Then said "You will get this someday." Bennett just nodded his head, but as Don Armes turned to leave Bennett said "Wait a minute Don. You dropped something." Armes turned around, looked around the floor and asked "What was it?" Bennett said "Your spine."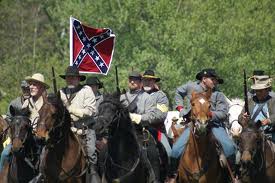 Sequoyah County Chapter Sooner Tea Party Leader Announces Bid For Second Congressional Seat
Sooner Tea Party Sequoyah County leader Bill Broker announced Thursday night that he would be seeking the Democratic nomination for the old Boren Congressional seat in the Second District. Bill is retired from working for the Federal government in law enforcement and with security overseas at various State Department postings. Bill is an avid historian and Civil War historical reenactment buff.
Sooner Tea Party core leadership discussed endorsing Bill Broker and decided that it is crucial to bring constitutional minded Democrats into the Tea party and that supporting Bill Broker was a step that needed to happen. Advocates of good government should not care what party affiliation a candidate carries as long as they are solid constitutionalists committed to smaller government, drastic cuts in Federal spending, and the restoration of our constitutional rights.
The Republican Party has benefited from the Tea Party support while doing little here in Oklahoma to advance our causes at the State Capital. Indeed Republican leadership seems hell bent on stopping any Tea Party or Constitutional legislation, even that pushed by long time Republican legislators. Perhaps seeing Constitutional Democrats garnering support will remind them that we do have a choice. I had a county GOP head once tell me that they didn't worry about the Tea Party support because "Where else would they go?" I told them in no uncertain terms that we did have a choice; we could always work against them if we were taken for granted.
The majority of Tea Party volunteers like me still support the GOP while pressing for reform within the GOP itself but our patience is wearing thin after this last legislative session filled with dirty tricks and the GOP habit of disenfranchising voters by muzzling their representatives.
Whether or not Bill Broker can generate enough financial support to win the Democratic primary is unknown but at this time no other Democrat has filed for the seat. Regardless of Bill's success in the primary or even in the General election should he make it that far, he will win just by influencing the conversation and the debates during the race. Bill is going to run to win though and the moment might be ripe to retake the Democratic Party back from the far left. Don't forget that the Democrats stood with us on the Discharge Petition for HR 1004. We go forward with care and both eyes open but we do go forward.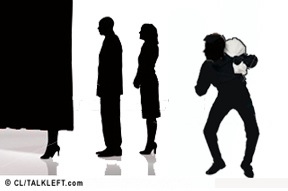 Rep Gary Banz Wants To Decrease
Representative Government
Rep. Banz is the Chairman of the Rules Committee and is using his power to push one of the State Chamber's projects under the guise of "cutting spending". Right now we have 101 Representatives and 48 Senators but Representative Banz wants to eliminate 10 of the Representatives and 3 of the Senators.
HJR 1021, (
read the bill here
) which wasn't heard in the 2011 session, all the sudden is now being heard in the middle of September, presumably so that they can sneak this under the radar during next session. This bill is bad because once it becomes law guess who chooses which Representatives to eliminate? That is right, House leadership!
What better way to get rid of troublesome constitutional and liberty minded elected officials than to just eliminate their districts?
Speaker Steele should be ashamed of this State Chamber of Commerce project to strip representative government from hundreds of thousands of people in the state. We all know that the large districts become, the more liberal they are and the harder it is to remove a bad politician.
There is a meeting on Turesday September 20th, at 1pm at room 432A at the State Capitol Building to set the process in motion to weaken representative government. We need your help to protect our conservative legislators from simply being written off the map.
Be sure to call your State Representative and tell them that HJR 1021 is undemocratic and bad for Oklahoma
Representative Dan Sullivan Linked
To Mortgage Fraud
You will have an urge to take a shower
If you have followed the Sooner Tea Party newsletters the last few months you have learned about our investigation of Representative Sullivan for a variety of possible criminal/civil offenses including life insurance fraud, disability insurance fraud, embezzlement of frozen marital assets during a divorce, along with the abuse and infidelity to his wife of 23 years.
One certainly can't say that Representative Sullivan isn't an overachiever once we add mortgage fraud to the list of charges. Representative Sullivan seems determined to be the Bernie Madoff of Oklahoma.
On November 18th 2004 Representative Dan Sullivan signed a purchase contract on a condo in Oklahoma. The cost of the condo was listed as $182,000.00. Now some might say Mrs. Sullivan was lucky to have a husband that would buy a second home, but how many husbands out there would do this and forge his wife's signature on the purchase contract?
A few weeks after the purchase of the condo, in January of2005, Representative Dan Sullivan took out a mortgage (Arvest Bank loan #1950799) on the condo in Oklahoma City in order to secure a line of credit for $125,000.00. Let's use the two documents to compare the signatures of Mrs. Sullivan.
Forged Janet Sullivan Signature below Authentic Janet Sullivan Signature below
When you compare the
real estate purchase agreement
with the
original mortgage signed Jan 27thth
of 2005, the signature of Janet K Sullivan on the real estate contract is obviously a forgery. The" J" is different, the "a" is different, and the "t" is different in the word "Janet" alone. The initial "K" is radically different. The last name "Sullivan" is also radically different in just about every letter but it closely follows the style of Representative Sullivan's signature right above the forged signature of Janet Sullivan. Look at the style and location of the dot in the "I" in both signatures. Also compare the authentic signature of Mrs. Sullivan on the
Consent Decree
many years later, the signatures match.
And it turns out that Mrs. Sullivan was in California the day of the real estate contract signing!
Okay, this is obvious, Representative Sullivan was buying a "love nest" for his sexual conquests at the Capitol, using family money of course, but this must have strained his finances even more if he had to turn around and hock the condo a few weeks later. Mrs. Sullivan was required to co sign her name to the mortgage, making herself liable for Representative Sullivan's love nest debts even though the condo purchase was a surprise to her. At least Representative Sullivan put Mrs. Sullivan's name on the
warranty deed
that was filed in Jan of 2005. Then again, that wasn't too smart as it came back to haunt him.
But in the summer of2007, the evidence of Representative Dan Sullivan's infidelity had become too great to ignore, so Mrs. Sullivan finally confronted Representative Sullivan. Despite Representative Sullivan's cheating and lying, Mrs. Sullivan was determined to save her marriage so the couple started attending marriage counseling sessions and Representative Sullivan received a much needed psychological review at a renowned mental health center in Tulsa. Sadly the counseling didn't work and Mrs. Sullivan filed for divorce in October of 2007.
Included in the divorce filing was an automatic order that froze all assets belonging to family. Representative Sullivan was ordered to continue making all payments on mortgages, cars, insurance policies, and to keep the bills paid in general while not depleting bank accounts or incurring new debt against the assets of the family.
But less than three months passed before Representative Sullivan was violating the court order not to incur debt. On January 9th of 2008, just a few months after the divorce was filed, Representative Sullivan had Mrs. Sullivan's credit ran on an application for a new loan!
We have an email from Kim Scrivner, Private Banking Manager who is also a Senior V.P. at Arvest Bank at Arvest Private Banking in Tulsa.
Kim writes:
Just wanted to let you know Janet called and was wondering why we pulled her credit and (sic) we explained it was to renew the loan we have on your condo. She said "hell would freeze over before she'd sign anything".
We do have the renewal approved and it matures 1/28. So when you get back in town just let me know and we'll proceed with the loan papers."
It was obvious that Kim at Arvest got an earful from Mrs. Sullivan about the divorce and for trying to remortgage the condo but it is also obvious that Kim was going to take care of Representative Dan Sullivan, who after all was one of the big dogs at the Capitol. I suppose Representative Sullivan figured he could just forge Mrs. Sullivan's name like he did on the Real Estate Contract…
So in light that Kim already knew of the divorce, what happened next is amazing. Kim Wood- Scrivner, V.P. of Arvest Private Banking of Tulsa, issues a
new
mortgage on the existing marital property in violation of the Tulsa County Court judge's orders.
Now keep in mind that the original mortgage was not granted for the purchase of the condo, the mortgage was taken out on the condo to provide Representative Sullivan a $125,000.00 line of credit so he could pay his bills. Arvest bank shows that the original mortgage (Arvest #1950799) was paid off on Jan 23
rd
of 2008. This
email from Arvest
shows that despite knowing of Mrs. Sullivan's being a co owner of the property, they placed a
new
lien on the property without her consent or knowledge. That is flat out illegal under Oklahoma law!
The email contradicts itself, it says:
"…as soon as we get some evidence that your name is no longer on the property (deed), we will redo Dan's loan along with the new mortgage to get your name off it since you no longer have any rights in the property. He wanted me to stress to you, as I mentioned yesterday, that you have no legal obligation to repay the note in any way."
On May 5th of 2011, an inquiry to Arvest Loan Note Inquiry Records Department showed zero renewals and zero extensions made on Arvest loan #1950799. That coupled with Arvest Bank's employee's emails proves that despite knowing that the property and mortgage was frozen by divorce court order, Arvest Bank conspired with Representative Dan Sullivan to file a new lien on the marital property and increase the debt against the property.
Pretty troubling, isn't it? A state Representative conspiring with a large bank to violate court orders and to encumber a property without legal notice or permission from one of the co owners of the property. And they admit they knew Mrs. Sullivan was refusing to go along.
Remember a few weeks ago when we talked of the 34 counts of Contempt filed by Representative Sullivan against his wife during the divorce? One of those Contempt charges was for refusing to borrow more money on the condo. Imagine that your wife or husband started cheating on you, then after the divorce was filed they tried to get a court to threaten you with jail time to force you to co sign a mortgage incurring more debt.
But we aren't done yet… Bernie Madoff, I mean Representative Sullivan had more tricks up his sleeve.
Around the end of July in 2010, Mrs. Sullivan received two letters in the mail addressed to Mr. and Mrs. Sullivan. As she had not changed her name, and the letter was addressed to her, she opened the letters. They turned out to be credit scores for Representative Dan Sullivan and his new wife, Melanie Pouncey.
From looking at the credit scores and the timing of the reports, Representative Sullivan applied for a home loan and got turned down. A few days later he asked his new wife, who had much better credit than Representative Sullivan had, to co sign.
Representative Sullivan's credit scores were as low as the 650 range due to "derogatory public record or collection filed", "credit limits is too high on revolving loans", "number of accounts with delinquencies", "amount owed on revolving accounts is too high" and "number of inquiries adversely affected the score" but Pouncey's credit scores were as high as 800!
They were turned down for the loan but the loan application brought up a major problem; the credit scores from their loan application listed Mrs. Sullivan's home address not the address where Representative Sullivan and Pouncey lived. The type of loan that they were applying for required that the homeowner occupy the home at the time of loan, it was a refinance, so Representative Sullivan couldn't qualify for the home until he got his first wife evicted.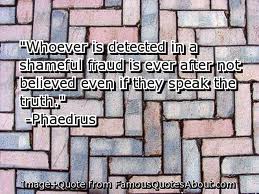 Mrs. Sullivan then filed a
Fraud Alert notice
with Arvest bank over the improper use of her address for the loan application. Bankers prefer that people live in the home they are mortgaging because they are less likely to default on the loan. In return, they give lower rates to owner occupied homes.
Representative Sullivan was trying to defraud the bank and to do so he needed to kick his former wife out of her home.
Looking through all the documents on this Arvest loan issue brings up many questions :
1. If the purchase price was $182,000.00, where did the money come from to purchase the condo if Representative Sullivan was as broke as other documents claim?
2. Did Arvest Bank officials or employees donate to Representative Sullivan's campaigns?
3. Was Arvest Bank conspiring with Representative Sullivan to break banking laws or to break their own internal rules and procedures?
4. Was this entire transaction some twisted method for Arvest to bypass campaign finance and reporting laws?
5. Was a home equity line of credit used to finance the new purchase of the OKC condo? Home Equity loans require some equity as the down payment. It seems obvious that Rep Sulivan was trying to refinance the condo, to purchase Mrs. Sullivan's half. Otherwise he would have asked the court to order the refinancing.
6. What was the hurry to buy the condo when Representative Sullivan was already over extended in 2005?
7. Why was the co owner of the Tulsa condo not on the new 2008 revolving line of credit since the condo was used as collateral?
8. Why was the co owner not notified of the new lien by Arvest?
We have more than established that Representative Dan Sullivan is not above forging signatures, lying on financial applications, lying during police questioning, or lying on the witness stand. Heck, he is a politician after all. But what is more important than Representative Sullivan's poor character is those that enabled him to pull his stunts.
Next week we are going to try to answer some of those questions and probe the political connections of one or more of the judges that were responsible for this divorce case.
Is there evidence of judicial corruption in this case?
Did Representative Sullivan's position as Chairman of the Judicial Committee allow him to evade the law and punish his former wife?
Is there a history of women in Tulsa getting evicted from their homes, the ex husband moving in, then the home languishing on the market for many, many years in effect tying up the women's equity in the home?
Gerrymandering In Cleveland County?
A few weeks ago we were approached by a GOP official in Cleveland County and asked to investigate an instance of alleged gerrymandering in the County Commissioner districts. While I am no fan of the father of Commissioner Rod Cleveland, Rod himself seems to have learned from his father's political antics. Indeed, we reported Rod standing up and voting for the public good on a controversial issue at the state GOP convention this year. It takes courage to stand against the GOP establishment, it should be rewarded, but then again right is right and corruption deserves to be rooted out regardless of whoever brings it to our attention.
From our investigation it looks like one of the Republican County Commisioners conspired with one of the other County Commissioners to carve a hefty chunk of Republican votes our of Commissioner Rod Cleveland's district, leaving Rod with far fewer Republican voters than he had before. Why would two Republican Commissioners conspire to weaken a third Commissioner's chances of winning the next election?
And as County Comissioners take care of county roads, why would one want to smear a district all over the place, making it more difficult and time consuming to maintain roads and other County services? These guys have to haul material and machinery to do their work, it is kind of like the old joke about the Polish guy painting stripes on the highway. The first day he did great, but each new day the number of feet painted was reduced. When asked why, he said "Well, I keep getting further and further from the paint can."
Here is a map of the changes rammed through over Commissioner Rod Cleveland's objections: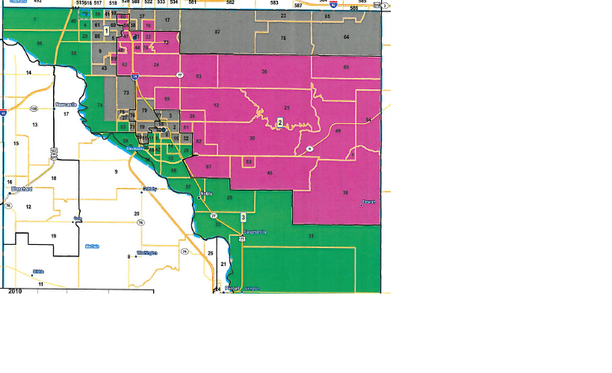 That grey territory on the map is now Commissioner Rod Cleveland's new district and it is a winding, chopped up mess! Imagine keeping the boundaries straight, showing county employees where to start and end their road work, or just finding out what district you live in!
Here is a link to the previoius Cleveland County Commissioner district map. All that was required was to move around 10,000 population into another district but they took the chance to gerrymander the district. When questioned at a public meeting, Commissioner George Skinner refused to answer the question in public. His phone numbers are 366-0282 office and his home is 794-6098.

Call him at home.

Commissioner Skinner has flown the coop too, supposedly went on "vacation" so he could avoid the questions till October 1rst when the changes become irreversable.