A Message from the Executive Director
Welcome to the Summer edition of our MCC Newsletter.  Please come and enjoy our farmers market at its new location – Park Street & Seymour Ave. - 3:00-7:00 pm.  The vendors tell me that your support is very much appreciated.  I have been very busy preparing for another event that you will appreciate.  It's all about food and entertainment for families, especially the kids.  Please watch for the details in the near future.  Enjoy the summer!
Thank You!
9th Annual Mundelein Fine Arts Festival – September 2019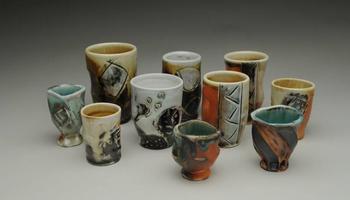 The Mundelein Fine Arts Festival
is a popular juried art festival that showcases the talents of 40+ fine artists and craftspeople working in a variety of media. 
The two-day event will be held from 10 am to 5 pm on Saturday, September 7 and Sunday, September 8, 2019,
Kracklauer Park in downtown Mundelein (100 N. Seymour Ave.). Mark your calendar and make plans to attend. 
The festival features talented artists, local musicians and tasty food. The Fine Arts Festival will also highlight artwork by select students from Carmel Catholic and Mundelein High Schools.  A committee of skilled judges will award cash prizes for Best of Show and Best in each of 6 Categories. The Kirk Players will award a $500 Emerging Artist Award.  There will be Purchase Awards sponsored by local businesses, and the Village of Mundelein.  Mundelein High School will receive scholarship money to award to students pursuing art in college.

The Art Festival is a partnership between Mundelein Community Connection and the Mundelein Park District.  Our Mission is to support the arts, provide scholarship money to deserving art students at Carmel Catholic and Mundelein High School, and bring more attention to Mundelein as an excellent place to live, work and relax.
Around Town (Community News)
Mundelein Heritage Museum Reopening
The Mundelein Heritage Museum has long been a landmark in the Village. Once a freight station on the Soo Line Railroad RR, it was located along the railroad tracks between Rt. 176 and Park Street. The building, built in 1926, was moved to its current location on Noel Drive through a public/private initiative and converted into a museum. The building and the artifacts in the collection are owned by the Mundelein Park District. 
For over 30 years the museum was operated by the Fort Hill Historical Society.  It has been closed for over a year, following the death of the Society's long-time leader and guiding inspiration, Dottie Watson.  The collection features a wide array of objects depicting daily life in the early days of Mundelein.  There is also an extensive collection of photographs, books, and written materials about the families, schools, churches, businesses and historic events that have occurred in the Mundelein/Fremont area.  
In February of this year, the Mundelein Village Board created a Historical Commission to find ways to best preserve and sustain the Village's rich history.  The Commission will make its report to the Board in August.  "The Museum is sure to be a key component in the Commission's report", said Commission Chairman Mike Flynn.
The Commission is in the process of organizing the museum's archival materials, cataloging the collection, preparing a collection management policy, re-envisioning the displays, and making plans to re-open the museum to the general public and school groups.  "There is no date set for the grand re-opening, but hopefully it will be open before the end of the year", Flynn said.    
Mundelein Community Connection looks forward to working with the Historical Commission and the Park District, and supporting their work to preserve and promote Mundelein History.  For information about the Museum contact Mike Flynn at
mflynn@email.mundelein.org
.
Welcome to Two New Downtown Businesses
MCC would like to welcome two new businesses that will be opening soon in Downtown Mundelein. Although new, both businesses have long connection to the Mundelein business community. 
First is the "Caboose" Restaurant, a popular breakfast and lunch spot with a train motif on East Hawley Street.  Long-time owners, Brian Carmen and Ted Banick have remodeled and rebranded the trackside restaurant. It will re-open soon as Teddy O'Brien's a lunch/dinner sports bar.  Carmody and Banick also own and operate Teddy O'Brien's in Highwood
The second, new business is Nana's Rum Cakes, owed by Mundelein residents John and Elaine Markeli.  The Markeli's are planning to open their new store later this year on East Hawley Street in the space once occupied by Karina's Bakery.  Nana's has been renting commercial kitchen space to bake their popular rum cakes.  Nana's Rum Cakes are sold at farmer's markets around the County (including the Mundelein Market on Fridays).  The East Hawley location will be a commercial bakery and retail store.    
Lots Going On in Mundelein this Summer

Here is a quick look at some of many exciting events that are still to come this summer. For full list, and more information on events happening in Mundelein visit
www.mundelein.org
and click on the Community Calendar. The calendar provides a complete view of major events sponsored by the Village, the Park District, the Fremont and Cook Libraries, as well as Mundelein Community Connection and other non-profit organizations.
Summer Concerts: Sundays, thru August 18th, 5 pm to 6:30 pm, Kracklauer Park.  Listen to a wide variety of excellent music in a beautiful setting. 
"Park on Park" Classic Car Nights:  2nd Wednesday August and September; 5 pm to 9 pm. Park and Seymour Streets Downtown.
Farmers Market:  Fridays, thru September 27th,  3 pm to 7 pm, Park Street Downtown. 
Class in the Grass:  Exercise in Kracklauer Park, Hosted by Mundelein Park District, 14 years and older, 6:15 pm to 7:15 pm.
Go Mundelein Walk: August 1st, 6pm to 7pm, Community Park. Hosted by Mundelein Park District.
National Night Out:  August 6th, 7 pm to 10:30 pm; Kracklauer Park, featuring a family outdoor movie. Hosted by Mundelein Police Department.
Fire Department Open House:  September 15th, 10 am to 1 pm.  Midlothian Fire Station, hosted by Mundelein Fire Department.
Mundelein Arts Festival:  September 7 and 8; Kracklauer Park.
Concert in the Park Restaurant Partners

Mundelein Community Connection has partnered with eight downtown restaurants to offer food specials - take-out or dine-in - on concert nights.  Each participating restaurant will offer a "Concert Special."  To get the special, just mention that you will be attending the concert and you would like the "take-out special;" or, if you would like to eat following the concert, ask for the "dine-in concert special".  Please contact the restaurant in advance for the type of special being offered.  Picnicking and listening to live music is a great way to enjoy a nice summer evening.
Participating restaurants are Azteca, Teddy O-Brien's, Emil's, Jake Moran's, Luke's of Mundelein, Taco and Burrito Express, Park Street Restaurant and Tina G's.  The summer concert series is brought sponsored by the Village of Mundelein and the Mundelein Park District.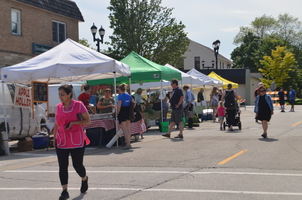 Come visit our new location on Park Street between Highway 45 and Seymour. You can stroll along Park Street with vendors on both sides of the street while enjoying an alcoholic beverage from Tina G's or Park Street restaurants. Many of your favorites are back again this year: Tony Cannoli, Nana's Rum Cakes, Dave's Sharpening, The Bike Attic, Carla's Snack Attack, Lakebilly Pies, Apple Hollow, The Cheese People, Independent Color Stylist and Journey to Greendom. We have three produce vendors: Goblin Gardens, Melton Farms, and Suburban Spouts Farm.  Pampered Chef, Tastefully Simple, Mavra's Greek Oils and Rollicking Buckaroo Pepper Jam will all be making appearances throughout the season.  Angela's Delights is providing Georgia Smoked Sausage, hot dogs, fries and empanadas for your eating desires. Tighthead Brewery will be providing free samples of their product on the first Wednesday of each month. We have added ice cream and meat vendors and will soon add bread and fish vendors to our line up. We have a free public parking lot next to the market.
We thank our sponsors for their support that make this market possible: TieMart, Elements Massage, Dawn Abernathy, McDonalds of Mundelein, Center for Wellness, Mundelein LGBT Alliance, Mundelein Automotive, The UPS Store #1319 Libertyville and The Family Stress Clinic.