Good Morning CSA Members,
  Today, Wednesday August 17th is a CSA pick up.  Your share will be available for pick up from 4-7pm at your chosen pick-up location. 
What a bounty that the harvest has brought in!
Put your napkin inside of the shirt and dig in.

Onions
Green Beans
Cauliflower
Head Lettuce
Eggplant
Munson's Sweet Corn
Peppers
Tomatoes
Basil
Cucumbers
Fruit share: Peaches
Egg Share: pick-up every week
Flower Share: Sunny Sunflower Mix Bouquet
Bread Share: this week
Coffee Share: this week
Wine & Cheese share: this week
Babette's: this week
Coming next week: tomatoes, sweet corn, potatoes, zucchini, and more.....
The days run away like wild horses over the hills.  August that vapor of a month where it ends before it begins with the rush of school and the dropping of the mercury.  It all is a blur but isn't that what CSA is for during these moments of mayhem. 
    It always helps when you receive the harvest and figure out what to do with these ingredients.  Most importantly, slow down and pause a moment to relish in the peak of the season.  Open the Cotes du Rhone, forget your name and dive into the flavors of an heirloom tomato.
    The interns have absolutely forgotten their names and now are in burly mode.  Arms as large as seqouia's and legs strong as metal gears, the interns are marching one by one Hurrah! Hurrah!
    And yet the piglets meander with momma Mathilda eating pasture grasses and wagging their curly tails. 
Oh la dolce vita.
Spiced Cauliflower Steaks
1 large head or two small heads of cauliflower
Extra virgin olive oil
Juice and zest of 1 lemon
2 tsp cumin seeds
2 tsp coriander seeds
2 tsp chili flakes
Coarse sea salt + fresh cracked black pepper
1/2 C blanched slivered almonds
1/4 C fresh grated Parmesan cheese
2 Tbsp flat leaf parsley, roughly chopped
Optional: Serve with a Tbsp of Chimichurri Sauce for each cauliflower steak
Directions
Pre-heat your oven to 450 degrees F.
In a mortar and pestle, bash the cumin seeds, coriander seeds, chili flakes and a generous helping of salt and pepper together until fragrant. Set aside.
Place the cauliflower on a cutting board so the head of the cauliflower faces up. Cut it in half from top to bottom. Then cut those two halves, the exact same way into 1" thick "steaks". Keeping the core is intact, you should end up with 2-4 cauliflower steaks (depending on the size of your cauliflower) and a bunch of florets. Break up the florets into 1" pieces.
Place the cauliflower on the baking sheet. Sprinkle the bashed seed mixture on top and drizzle generously with olive oil. Squeeze the lemon juice and sprinkle the zest all over the tops of the cauliflower. Mix well to combine and ensure even coating on all sides.
Place in the oven and roast for 20 minutes or until the cauliflower gets nice and browned on the bottom. Carefully flip and cook a further 10-15 minutes.
As the cauliflower cooks, place the slivered almonds in a non-stick pan over medium-low heat with a pinch of salt. Shaking often, toast the almonds until fragrant and golden, approx. 10 minutes. Watch them carefully so they don't burn. Remove from the heat and store in the fridge in a glass container for up to 2 weeks.
When ready to serve, plate the cauliflower individually or as part of a larger platter and sprinkle generously with the almonds, grated Parmesan cheese and flat leaf parsley. If using, brush each plate with a heaping Tbsp of Chimichurri Sauce before serving, or dish up family style by putting the whole bowl on the table. Enjoy!
Traditional Gazpacho

1 slice of country bread, crusts removed, soaked in water for 1/2 hour, squeeze out excess water
2 pounds of tomatoes (used a combination of yellow, red, and green zebras), chopped
2 small (i.e., Persian) or 1 large cucumber, seeded, roughly chopped
1/2 green bell pepper, seeded, roughly chopped
1 garlic clove
2 tablespoons sherry vinegar (more if needed)
sea salt
1/2 cup extra virgin olive oil
Directions
Place the bread, tomatoes, cucumber, green bell pepper, garlic, and sherry vinegar in a high speed blender. Season with salt. Blend until smooth.
Add the olive oil in a steady stream until completely smooth. Taste, adding a touch more sherry vinegar or salt to taste. Blend again (if it's too thick, add a little bit of water; I didn't end up adding any given that my tomatoes were super juicy).
Strain the soup through a fine mesh sieve. Refrigerate until chilled, at least 2 hours.
Eggplant Ricotta Pasta Salad
1 ½ cups dry pasta
1/3 cup sun-dried tomatoes, drained and sliced
6-8 cherry tomatoes, cut in half or 1 heirloom tomato, diced
handful of basil
arugula
1/3 cup toasted walnuts, crushed
ricotta
1 small eggplant (1-1,5 cups sliced)
a good drizzle of olive oil and balsamic
Directions
Place the sliced eggplant on a dry skillet and cook over medium heat 5 minutes, turning once. By this time the excessive liquids will have been released. At this point you can slightly season the eggplant with the salt and pepper - no oil is still required. Continue cooking over high heat for another 5-6 minutes, flipping over them occasionally, until slightly brown and soft*
In a meanwhile, cook the pasta in salted boiling water until al dente. Rinse under running water (to stop cooking process) and drain.
Place the pasta, eggplant, sun-dried and dresh tomatoes, basil, arugula in a bowl. Drizzle with olive oil and balsamic and mix. You can serve the salad immediately or keep in the fridge until ready to serve.
Sprinkle with the walnuts and ricotta and serve. Enjoy!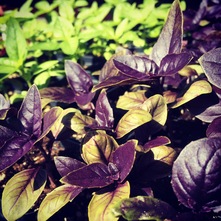 This week CSA members will be receiving purple basil in their share. But wait - purple basil? You've probably seen this offered at the farmer's market, either in bunches, or as nursery stock, usually next to the Sweet Italian that you know and have grown to love. But fear not! These purple, bronzed-brushed leaves are not only beautiful, they still pack the punch of flavor that you're looking for in your pesto. They are also delicious in any other dish you where you would normally use green basil too. The variety we grow here at the farm that we offer in our bunches and nursery stock early in the season is "Purple Ruffle". The plants are great producers and we enjoy the contrast of colors in the field too! So tonight, when you pick up your purple basil, go home and test it out. Make your favorite pesto recipe, or better yet, try to make purple basil flavored vinegar, or purple basil lemonade. We promise you won't be disappointed.
Burrata
- 
The Liuzzi family hails from Puglia, Italy, the home of Burrata. The family began making this amazing burrata for their retail shop back in the 1980's. 
This special burrata is a truly hand-made delight. Made from delicious Vermont milk, the outer shell is hand stretched to form a thin pocket for the mozzarella and cultured cream that sits inside, the form is hand-tied and packed in brine. 
Burrata is the perfect cheese for the seasonal produce we enjoy this time of year; from next level caprese salads to grilled peaches and eggplant parmesan— Burrata will be a welcome companion. 
Chateau de Montaucon's Cotes du Rhone Blanc-
The Comtesse Madeleine is one of our favorite southern rhone whites, exhibiting the generosity that the blend of grapes is known for, but retaining bright, fresh acid, and a restrained aromatic profile, in contrast to so many from this region. Ripe apricot, peach, and musk melon notes dominate what you taste, with a touch of honeysuckle on the nose.  While the bottle contains a blend of Marsanne, Viognier, Grenache Blanc, Clairette and Picpoul, the Viognier is the star in this bunch and we love the expression that this offers.  Rudi makes his family's wines with food friendliness in mind and with the bounty of summer produce in your bag and burrata cheese to boot, we couldn't be more excited about this pairing.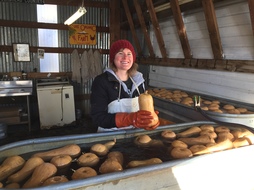 We are busy planting with the fall season and winter share on our minds.  Carrots, beets, turnips, radishes, fall lettuce, spinach and more are all starting to germinate in the late summer's warm soil, bound for your tables throughout the fall.
Winter share is on our mind! More details to follow in next week's newsletter, with registration for winter share beginning on September 7th.
"Live in each season as it passes; breathe the air, drink the drink, taste the fruit, and resign yourself to the influence of the earth."
- Henry David Thoreau
Purple Basil Lemonade
¾ cup granulated white sugar
1 cup water
1 cup fresh squeezed lemon juice
¼ purple ruffles basil or purple basil, cut into chiffonade.
3-4 cups cold water
additional lemon slices and basil for garnish
Directions
In a small saucepan over medium heat, stir 1 cup of water and the sugar together to make a simple syrup. Bring to a boil and cook until the sugar is completely dissolved. Let cool.
In a large pitcher, muddle the lemon juice and basil together until basil is fragrant and juice stars to turn slightly pink.
Mix in the simple syrup and remaining cups of water until desired sweetness/tartness is achieved.
Serve right away with plenty of ice or refrigerate until cold



Cure Organic Farm

7416 Valmont Rd.
Boulder, CO 80301
cureorganicfarm@yahoo.com
www.cureorganicfarm.com