Shackleton's Antarctic Nightmare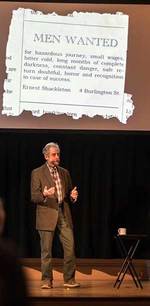 Shackleton's Antarctic Nightmare debuted in January this year as an amazing collaboration between storyteller Lawrence Howard and cellist Laurent Nickel, with visuals by experience design developer Michael Hill.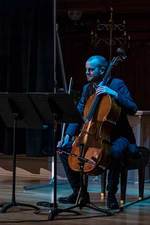 Together, they've created an immersive audio/visual experience that absolutely delighted audiences in January. And n
ow there are 3 more chances to hear this story in Portland, Dallas, and Crooked River.
This is the story of how Ernest Shackleton and the 27 men of the Trans-Antarctic Expedition of 1914 survived on the ice and eventually came to safety. It is a heroic tale of hardship and suffering, of courage, determination and fortitude.
Friday, March 15 (Story | Cello | Images)
Nordic NW: $15 NNW Members | $20 Non-Members | $5 Arts for All
Show starts at 7 pm and runs until 10 pm with intermission
Saturday, March 16 (Story | Cello | Images)
The Majestic: FREE! Thanks to the generous sponsorship of the Friends of The Dallas Library and The Dallas Rotary Club.
Show starts at 6 pm and runs until 9 pm with intermission
Saturday, April 27 (Story | Images | NO Cello)
Crooked River Ranch: FANs (Friends and Neighbors of the Deschutes Canyon Area) $15 | Nonmembers $18 | If the show is not sold out, tickets can be purchased at the door for $20 (No cello this time)
This show will most likely sell out! Seating is limited to 75 in the Juniper Room, so registration is required and now open.
Show starts at 4 pm and runs until 7 pm with intermission