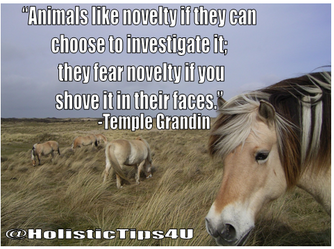 "Animals like novelty if they can CHOOSE
to investigate it; they fear novelty if you
shove it in the faces." --Temple Grandin
==========================

============
TO EACH OF YOU PRECIOUS
SOULS BORN THIS MONTH!
==============

========================
==============

========================
During my yearly physical check-up, my doctor
commented he was glad to see a patient with
normal blood pressure and lab test results.
He said he'd noticed MANY of his patients are
totally freaked out over the presidential election
this year. Several of them, no matter what age
they were or which candidate they supported,
went ballistic right there in the exam room!
Their blood pressure tests were dangerously high.
He said he'd never seen such anxiety about an
election in his many years of practice.
Being an animal-lover, I wondered how this
tension was affecting people's pe
ts.
The animals in your life always sense your energy
levels, and adjust their energy accordingly. They
instinctively know that the WELL BEING of the
family unit depends on well-balanced energy.
If you're anxious about the election, finances,
relationships, work, or school, your animal may
try to absorb your stress in an attempt to keep
YOU and the family environment healthy.
Sadly, all that human stress can trigger unwanted
physical conditions in the animal's body, especially
the immune system, skin, nerves, legs, hips, and
PLEASE spare FIVE minutes to watch this brief
Do the clearing on your animal friends, one at

a time. They give you so much comfort
and love, they deserve an emotional rescue
from YOUR stress, fear and anxiety.
THANK YOU for SHARING this info with other
folks into holistic well being methods!