Good Morning CSA Members,
  Today, Wednesday July 6th is a CSA pick up.  Your share will be available for pick up from 4-7pm at your chosen pick-up location. 
    We have added many new items to the newsletter so we will keep it short.  Enjoy this harvest as it is a festival of flavors that will keep your eyes trained to the clock to see when the next meal is!
Carrots
Rainbow Chard (market pick-up)
Kale (farm pick-up)
Snow Peas
Fennel
Garlic
Zucchini
Fruit share: cherries & peaches
Egg Share: pick-up every week
Flower Share: sunflower mix bouquet
Bread Share: this week
Coffee Share: this week
Wine & Cheese share: this week
Coming next week: beets, salad mix, zucchini, garlic,  and more.....
   Oh the fields are alive with the tastes of summer.  The tractors are holding up traffic, the first cutting of hay has passed and the golden flowers of pastures are arriving. 
    The interns are beginning to realize that farming is extremely difficult and the willingness of lower backs is beginning to fade.  Alas, July!
    The peaches are here, the peaches are here is the call of the Kid's Camp and so it is the peaches are here.
    Cherries are gone, cherries are gone and so it is the cherries have come and gone.
    We endure though and find that next gear that you thought you did not have.  Full speed ahead.
Enjoy!
Zucchini and Fennel Salad
A great way to use tender zucchini, crunchy fennel, and sweet cherries! Combined with a mustard maple vinaigarette, this salad will hit every note on your palate.

Kale and Zucchini Cakes Similiar to latkes, these cakes are crispy on the outside and tender on the inside. Eat them for a light dinner or have them as a side with some of our heritage pork chops!

Pickled Snow Peas Extend the snow pea season just a little longer with these crunchy, tart, good-for-you pickled snow peas!

Peach season has arrived! Sweet, juicy, beautiful peaches and sour cream custard pair together to make this heavenly pie. After one bite you'll know why "peaches and cream" is one of the best combinations in the food world!
Zucchini and Fennel Salad
1 zucchini
1 ½ cups cherries
1 cup cooked lentils
2 baby fennel bulbs
1 green apple
1 red onion
Handful of basil leaves
1 ½ TBS mustard
1 ½ TBS apple cider vinegar
1 ½ TBS maple syrup
Salt & pepper to taste
Directions
Spiralize zucchini or slice thinly into ribbons using a vegetable peeler if spiralizer is not available.
Pit and halve cherries, slice fennel, green apple, and onion very thin. Add all ingredients including basil to large bowl.
Combine mustard, vinegar, and maple syrup and add to bowl. Toss salad to coat and serve!
Kale Zucchini Cakes

For the cakes:
1 pound zucchini
2 cups chopped kale
½ tsp garlic olive oil
1 egg, lightly beaten
¼ cup all-purpose flour
½ tsp sea salt
½ tsp ground black pepper
1 tsp baking powder
2 tbsp finely diced red onion
1 clove garlic, finely minced
½ tsp lemon zest
2 tbsp Parmigiano-reggiano
For the goat cheese mousse:
¼ cup soft goat cheese
2 tbsp soft cream cheese
1 clove garlic, minced
¼ tsp sambal
2 tbsp cilantro leaves, chopped
Directions
Attach a grater blade to your food processor and grate zucchini. Transfer to a cutting board covered with 2 layers of paper towel; cover with another paper towel and press to remove water. Let sit for 2-3 minutes and repeat.
While the zucchini is draining, mix all the mousse ingredients in a small bowl. Refrigerate until ready to use.
Transfer zucchini to a medium bowl and add all remaining ingredients except for olive oil; mix well. Heat oil in a 12" non-stick skillet over medium-high heat. Use a small scoop to drop batter into skillet. Flatten with a spatula and cook for 2 minutes. Turn cakes and cook for 2-3 minutes until golden brown. Remove from pan and keep warm. Repeat with any remaining batter.
Top with goat cheese mousse or Tzatziki sauce. Serve immediately.
Pickled Snow Peas
One to two handful of snow peas, trimmed
½ cup water
½ cup (125ml) apple cider vinegar (or white wine vinegar, or rice vinegar)
1 TBS honey
½ tsp salt
1-2 garlic cloves, halved
½ tsp black and white peppercorns
Directions
Rinse and pack the pea pods into a sterile canning jar and top with garlic and peppercorns.
In a saucepan, combine water, vinegar, salt and honey. Heat the mixture without boiling, until honey is dissolved. Pour the mixture over the snow peas. Use a chopstick to remove any air bubbles and add more brine if necessary, wipe the rims and seal.
Let the jar sit for 15 minutes in a hot water bath. Let cool and check the seals. Allow the jar cool to room temperature. You can serve the pickles immediately or keep in the refrigerator for up to 10 days.
     This week in your CSA you are recieving fresh garlic bulbs. So what is the difference between the fresh stuff in your share and the dried heads that come later in the season? Well first, the taste. Fresh garlic has yet to mature, so the flavor is very vibrant, similiar to other early crops. Second you will notice the size. Fresh garlic still contains large amounts of moisture, compared to dried garlic heads, which, of course, have been dried to remove moisture. In the drying process the cloves shrink and are preserved in their papery shells, waiting until use. With fresh garlic you can use the cloves as you would normally, but you can also use part of the stalk just as you would a leek!
     So how do you store this type of garlic? You can store it in the refrigerator or in a cool place with some humidity in order to keep the moisture in the cloves. If you plan on not using the garlic and would like to dry it for future use, hang it in place with ample air circulation, and make sure it is cool and dry.
Here at the farm we had more than one reason to celebrate this weekend - actually eight to be exact! Matilda the Berkshire sow successfully delivered eight healthy piglets on Sunday and we couldn't be more thrilled! Way to go Momma Matilda!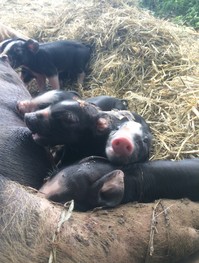 Hello! In this weeks wine & cheese:
   

Sattlerhof Sauvignon Blanc

, an Austrian wine produced by the Sattlerhof Family who are located in in the town of Gamlitz.  The wine is a great pairing for the Fennel and Zucchini salad with it's aromatic and fruity notes, you will find that it is an incredibly easy wine to drink.
Montealva,

a goat cheese from Andalucia, Spain.
The cheese is made from Payoya goatmilk that the Aguilar family has been producing for over 50 years.

It is a mild flavor that pairs perfectly with the Zucchini and Kale cakes or if you are of the inclination try a slice on top of the peach pie!
Babette's bread share will begin next week as there was an unforeseen extended break for the holiday.  Rest up Steve and Catherine we are ready for ya! 

    If once the share begins and envy consumes you, then of course you may begin the following week at a prorated price.

Cheers!

Act the way you'd like to be and soon you'll be the way you act.
-Leonard Cohen
Sour Cream Peach Pie

1 recipe of your favorite pie crust
For the filling:
4 Cups Peaches, peeled and sliced, then divided
3 Large Egg Yolks
2 Tablespoons Flour
¼ Teaspoon Salt
1 Cup Sugar
¼ Teaspoon Nutmeg
¼ Teaspoon Cinnamon
1 Cup Sour Cream (not fat free)
1 Teaspoon Vanilla
For the peach topping:
2 Teaspoons Sugar
¼ Teaspoon of Cinnamon
1 Tablespoon Flour
For the Topping
½ Cup Brown Sugar
½ Cup Flour
½ Teaspoon Cinnamon
4 Tablespoons Butter, Cold, cubed
Directions
Heat the oven to 400 degrees. Lay the pie crust in your pie pan and crimp the edges.
In a large bowl, whisk together the yolks until light in color. Add the flour, salt, sugar, nutmeg and cinnamon. Whisk until smooth then add the sour cream and vanilla and stir until evenly combined.
Fold in 3 cups of the peaches and dump into the pie.
Place the last cup of peaches in a bowl and toss with the flour, sugar and cinnamon and set aside.
For the topping place the brown sugar, flour, butter, and cinnamon in a bowl and using a pastry cutter, cut in the butter then switch to your hands and squeeze together to form clumps of topping.
Bake at 400 for 15 minutes, remove from the oven and add the remaining peaches on top. Bake an additional 10-12 minutes, remove from the oven again and add the topping in little clumps all over the pie, returning the pie to the oven for another 20 minutes, covering the crust with foil if needed.
Allow to cool on the counter then put in the fridge for 3 hours to set.



Cure Organic Farm

7416 Valmont Rd.
Boulder, CO 80301
cureorganicfarm@yahoo.com
www.cureorganicfarm.com