---
| | |
| --- | --- |
| | November 2019 |
Reduced stress. Increased productivity. Improved well-being.
Forte Organizers helps individuals and families stay organized at home, as well as teaching business people organization skills at work.
We need to remember to be grateful for those special people in our lives. Lori's most recent article in the Dayton Daily News reminds us to place more of an emphasis on our relationships, not on our possessions.
One of the things Forte Organizers' clients are thankful for is that we always show up on time. Of course, every once in a while there are extenuating circumstances, but overall punctuality is a priority for us.
According to Inc.com, 15 to 20 percent of U.S. workers are late to the job on a regular basis, which costs companies billions of dollars annually.
Being punctual improves your employability, your productivity and your relationships with supervisors and coworkers. It shows you are responsible, respect your coworkers and take your work seriously. This applies to not only arriving to work on time, but getting your projects done on time too.
If you have trouble being on time, try some of these helpful tips:
Reflect on what is making you late

Come up with simple, attainable solutions to correct the problems you identified.

If you have trouble getting out of the house on time, get everything ready the night before. Have your clothes laid out, pack your briefcase and lunch, and have easy, grab-and-go breakfasts available.

Have your essentials near the door and ready to go; like your keys, wallet/purse, briefcase and coat. If everything is together, you avoid lengthy searches throughout the house.

Develop good habits; such as, getting plenty of sleep, arriving to work or appointments 15 minutes early, and preparing for possible delays, like weather, traffic, etc.
When you make punctuality a priority, everyone will be thankful, including you.
The Happiness of Giving...
Many of us have cluttered closets full of clothes we don't wear anymore, or perhaps your basement is stuffed with things you no longer need. Sorting through everything can be something we all dread.
Keep this in mind as you are dragging your feet about organizing. Giving to others makes us happier people. Studies have shown that the act of giving to others activates the pleasure centers in our brains. Giving not only makes us happier, but it can also have a positive effect on your health. According to Time Magazine, "

Studies have shown that older people who are generous tend to have better health." It can lower blood pressure and reduce stress.
So, round up those items you no longer want and give them to your favorite charity. Not only will your home be more organized, but you will be a much happier person giving to those in need. Who couldn't use a little more happiness in their lives?
FREE! Helpful Holiday Hints
Organizing for the Holidays
Friday, November 15, 11:00 am-12:30 pm
Morrisson-Reeves Library,
80 N 6th St, Richmond, IN 47374
Call the library for more information at (765) 966-8291.
Meijer Drug Take-Back Program
Meijer Superstores now have Secure In-store Kiosks where you can dispose of your expired or unused medications. The Kiosks are open during Pharmacy hours, Mon.-Fri. 9am-9pm,
Sat. 9am-7pm and Sun. 10am-6pm.
Accepted medications:
Unused or expired prescription medication (including Schedule II-V controlled substances)

Unused or expired over-the-counter medication

Pet medication
NOT Accepted:
Schedule I controlled substances

Illegal drugs

Thermometers

Aerosol cans

Inhalers

Needles

Lotions/liquids

Hydrogen peroxide
Lose Your Stuff, Find Yourself...
By surrounding ourselves with only those things that support our goals, we become more grateful for what we do have. Our possessions no longer become a burden, but a blessing. This quote from Lori's book, "Lose Your Stuff, Find Yourself" sums it up perfectly.
"Focus on what you'll gain by letting go and surround yourself with items that make you happy and support your future plans."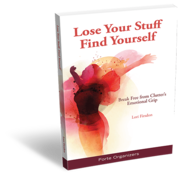 Pick up a copy of Lori's book by using this link:
Amazon.com
One More Thing...
"Today I choose to live with gratitude for the love that fills my heart, the peace that rests within my spirit, and the voice of hope that says all things are possible." ~Unknown
Happy Thanksgiving,