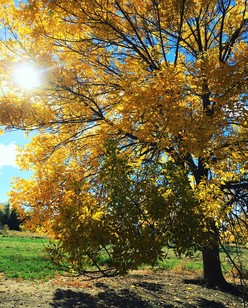 Hello CSA Members,
  Today, Wednesday October 26th a pick-up for the 2016 Winter Share.  Wine and Cheese shares as well as bread shares from Kim & Jake's Cakes begin today! Your share will be available for pick up from 3-6:30pm at the Cure Organic Farm Store
. Please remember that parking is available in the lower lot facing Valmont as well as at the farm store.
Looking forward to seeing you this evening,
Farmer Anne
Spaghetti Squash
Acorn Squash
Spinach
Salad Mix
Carrots
French Breakfast Radishes
Cauliflower
Kale
Apples, Pears, Grapes
Egg Share: pick-up every week
Bread Share: this week!
Wine & Cheese share: this week!
Coming next week: Winter Squash, kale, carrots, watermelon radish, apples and more!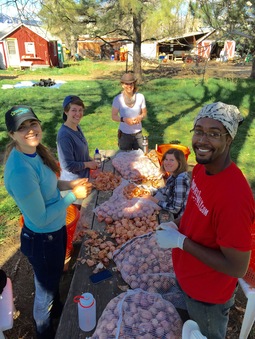 (Throwback picture to the beginning of the season with the interns breaking shallots for planting!)
     What a difference a day makes, or a week, or a month, or a couple of months, heck why not a year.  Interns are a crucial aspect of who we are here on the farm.  Each year you form a team, attempting to hire people from all walks of life and all levels of experience so that the season is productive not only in the food that is grown, but in the community which is formed.  
    During the season you observe how the work and play of each person evolves, suddenly you realize that the novice is a world class performer and the experienced is a novice performer!  The farm expects alot out of each intern, to be able to wake at dawn and work till dusk, have an incredibly positive attitude, endure animal antics, push your limits educationally, physically and especially emotionally.  All of them have done this, perhaps without thinking that they could, but they have.
    We couldn't be prouder of them as farmers, friends and people.  They have achieved what many others have not been able to and done it with gusto, bravo amici!
In other news - our cauliflower and romanesco are looking beautiful!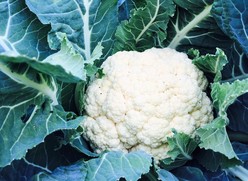 Kale, Spinach, and Spaghetti Squash Fritters
That recipe title is a mouthful - just like the fritters you'll make! Sweet spaghetti squash paired with earthy kale and spinach makes a crispy and dish that can be eaten alone or as a side!

Roasted Acorn Squash with Pomegranate and Pistachios Could this dish be any more seasonal? Sweet acorn squash is seasoned with cumin and sprinkled with tangy pomegranate seeds and crunchy pistachios - yum!

Roasted Whole Cauliflower Have you ever roasted an entire head of cauliflower? It's easy and makes prep time much faster! This recipe includes a feta cheese topping and an delcious herb sauce that won't disappoint!

Escabeche refers to a Spanish or Mediterranean dish prepared with high amounts of vinegar. This recipe is specifically for vegetables, including carrots, radishes, and cauliflower. It's a great side to an taco night and a great way to preserve the fresh crunch and taste to these fall veggies!
Kale, Spinach, and Spaghetti Squash Fritters
2-pounds spaghetti squash, cooked and shredded
1 tablespoon butter
1 tablespoon extra virgin olive oil
1 bell pepper, diced
pinch of salt
2 garlic cloves, minced
2 cups fresh baby spinach, packed
2 cups torn kale leaves, packed
salt and fresh ground pepper, to taste
1/4 cup grated parmesan cheese
1/4 cup all-purpose flour
1/4 cup panko bread crumbs
1 egg, lightly beaten
1/8 teaspoon seasoned salt
1/4 teaspoon dried oregano
2 tablespoons chopped fresh parsley
Olive Oil Cooking Spray
plain nonfat yogurt for serving, optional
Directions
Bake and prepare spaghetti squash. Preheat oven to 425F. Line 2 baking sheets with foil and grease with olive oil cooking spray. Set aside.
In the meantime, prepare the greens mixture. Heat butter and olive oil in a large nonstick skillet; add diced peppers and salt and continue to cook 3 to 4 minutes, or until peppers begin to soften.
Add garlic and cook for 1 minute or until fragrant. Stir in spinach and kale; season with salt and pepper, and cook for 2 to 3 minutes, or until wilted.Remove from heat and transfer to a mixing bowl; let stand a few minutes to cool.
Add spaghetti squash strands to the spinach mixture, as well as the parmesan cheese, flour, panko bread crumbs, egg, seasoned salt, oregano and parsley; mix until thoroughly combined.Place in the fridge for several minutes, or until slightly cooled.
Remove from fridge and spoon mixture into 2 to 3-inch rounds on previously prepared baking sheets.
Lightly spray tops of rounds with olive oil cooking spray.
Bake for 10 minutes; flip the fritters over and continue to cook for 8 to 10 more minutes, or until browned on top.
Continue to do the same with the second baking sheet. Remove from oven and transfer fritters to a serving plate. Serve.
Roasted Acorn Squash with Pomegranate and Pistachios
1 peeled and cored acorn squash, sliced into half rings
2 tablespoons grapeseed oil (or cooking oil of choice)
1 tablespoon cumin
salt and pepper to taste
½ cup pomegranate arils (arils from about ½ small pomegranate)
¼ cup shelled pistachios, roughly chopped
Directions
Preheat oven to 400º F and prepare a baking sheet. Combine squash, oil, cumin, and salt and pepper in a large mixing bowl and then spread mixture on baking sheet. Place on center rack of oven and bake until squash is tender and golden brown, about 30 minutes.
Remove baking sheet from oven, transfer squash to serving dish, and sprinkle with pomegranate arils and chopped pistachios before serving.
Whole Roasted Cauliflower
1 head of cauliflower (2 to 3 lbs)
1/2 cup olive oil
1 tsp salt
8 oz room temperature feta cheese
3 oz room temperature cream cheese
1/2 cup packed fresh parsley (can replace half with cilantro)
1/2 cup olive oil
2 cloves garlic
1 Jalapeno pepper, seeds removed
1 Tbsp lemon juice
1/4 tsp salt
Pine nuts
Directions
Trim the leaves and tough core from the cauliflower, being sure to leave the head intact. Rub olive oil all over the top and bottom of the cauliflower, using your hands to work it into the small grooves. Sprinkle top and bottom with salt then set in a large rimmed pan or cast iron skillet. Cover tightly with aluminum foil.
Bake cauliflower at 375 degrees F for 30 minutes, then remove aluminum foil. Increase temperature to 400 degrees and continue baking for 45 minutes to 1 hour, or until outside is lightly browned.
While cauliflower cooks, add feta and cream cheese to a food processor and blend until smooth and creamy. Transfer to a small serving bowl and set aside.
Rinse out food processor then add all of the "herb sauce" ingredients. Blend until smooth, and transfer to a small serving bowl.
Place cauliflower on a serving tray. You can either spread on the sauce now and sprinkle with a handful of pine nuts, or spread and garnish each individual serving as you slice it up.
 Escabeche
3, 16 ounce Mason jars (or any sealable glass jar)
1 cup carrots, sliced
2 1/2 cups cauliflower florets
1 bunch radishes, sliced
2 jalapenos, sliced & seeds removed
6 garlic cloves
3 bay leaves
1 tablespoon organic sugar
1 1/4 teaspoons sea salt
1 teaspoon peppercorns
1 cup distilled vinegar
2 cups water
Directions
Divide peppercorns and bay leaves between the three Mason jars. Peel garlic cloves but leave whole and divide between jars.* Layer carrots, cauliflower, radishes, and jalapenos in jars.
In a pot, combine vinegar, water, salt, and sugar. Bring to a boil on the stovetop then simmer until the sugar has dissolved, about 30 seconds. Pour vinegar mixture over vegetables and allow to cool for one hour before sealing and refrigerating.
Escabeche is ready to eat as soon as it's chilled but it's best to allow the flavors to develop for a full day.
Escabeche will keep in the refrigerator for up to 3 weeks.
Notes
* Sometimes the garlic cloves will turn blue in the vinegar solution. Not to worry, it's a completely normal enzymatic reaction and is not harmful.
 Cheese:


Fromagerie Le Cret is located near Gruyere's namesake village in the Canton of Fribourg, Switzerland. Cheesemaker Jean-Marie Dunand goes to great lengths to maintain high standards -- using only his most exceptional milk, making about half as much cheese as his quota would allow, and constantly refining his process. The result is a dairy that is a frequent recipient of the Gruyere Association's Medaille d'Or, an award presented to dairies with the highest evaluations every month for five years.



Aged by a local affineur that has been in business since 1915, Gruyere 1655 is marked by a fresh cream blast, a bright fruity flavor and a deep, structured nuttiness. The paste is light mocha in color and studded with pinpoint crystals.

 

Enjoy!!!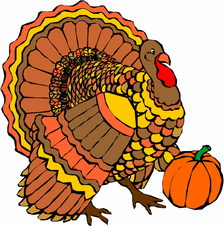 ORDER NOW!
Today is the last day we will be taking orders for Thanksgiving turkeys. Please sign-up via the registration link below or tonight at CSA as we will be placing our order tomorrow! In case you've missed it here are the details:
Eastern Plains co-op has been raising beautiful heritage turkeys for us again this fall.  The turkey's are raised with non-gmo feed, no antibiotics and are free range. Dallas estimates that there will be a nice size range again this year from 10 to 18 pounds.  Cost will be $7.50/pound.
Turkeys will come frozen and will need to be picked up the week before Thanksgiving, on Wednesday, November 16th at the farm store. Payment will be at the time of pick-up.
Reserve your turkey now!

     Don't forget to mark these dates on the calendar for the upcoming months!
Wednesday, October 26: First Wine and Cheese and Bread pick-up (and then will continue every other week.)
Saturday, November 19: Final Boulder County Farmer's Market
December 1st: Registration opens for renewing members for 2017 CSA season!
December 3-4: Winter Market at the Longmont Fair Grounds
Like they say, life is a bust
all you can do is do what you must
you do what you must do and you do it well
I'd do it for you honey baby can't you tell
-Bob Dylan



Cure Organic Farm

7416 Valmont Rd.
Boulder, CO 80301
cureorganicfarm@yahoo.com
www.cureorganicfarm.com