This Week at the Richmond Memorial Library                                              October 12, 2020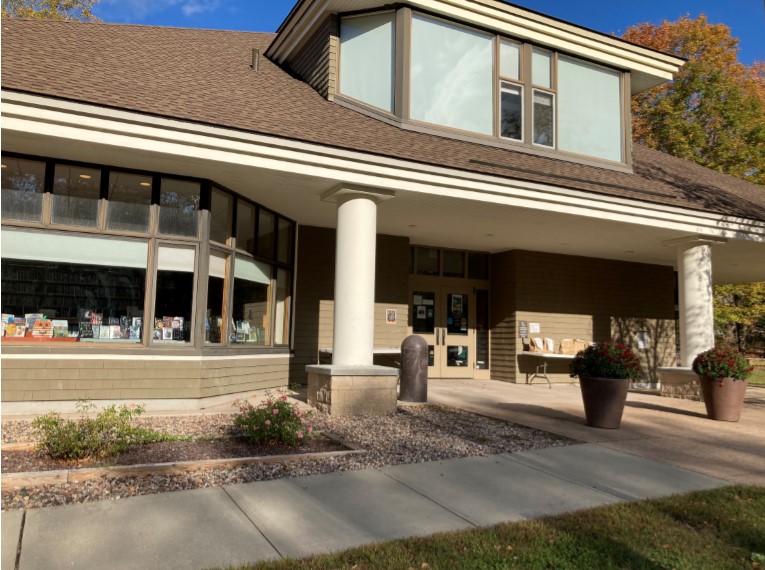 The Richmond Memorial Library is closed today (Monday, October 12) in observance of Columbus Day. Library2Go Curbside Pickup will resume tomorrow (Tuesday, October 13) at 10 am.
Noah's Ark Animal Workshop Fundraiser
The Richmond Memorial Library is pleased to announce a new fundraiser! Order forms can be printed from our website or picked up at the library during Library2Go Curbside Pickup hours.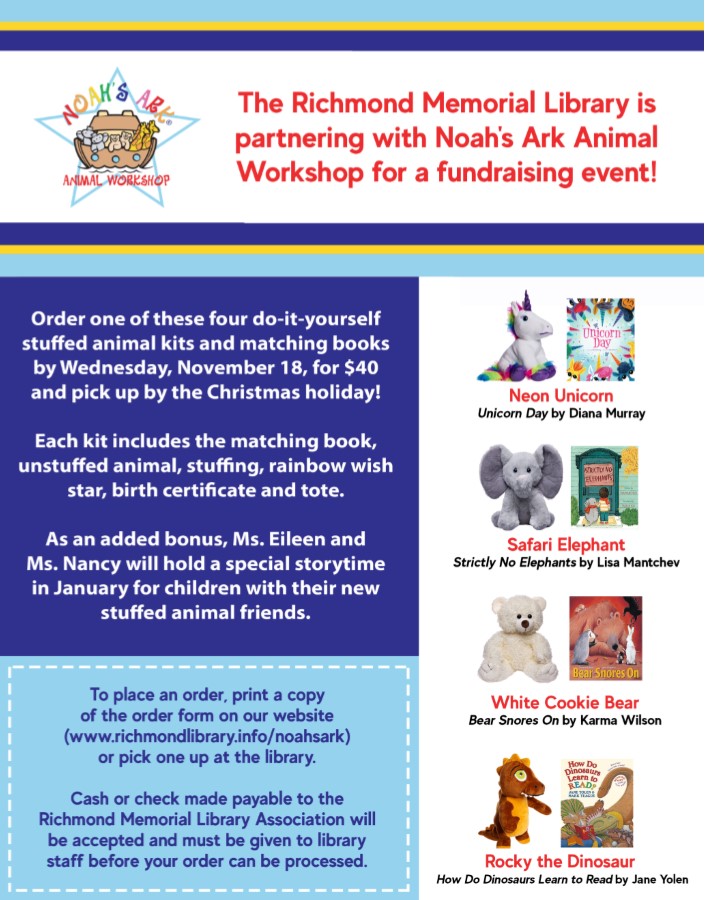 Miss the browsing experience? While the library building remains closed to the public, we are now offering window browsing for adults. Stop by the library and peek through the windows on the adult side of the building. We have three displays up, one featuring new materials, another featuring horror/scary books and movies for Halloween, and a third featuring autumnal favorites! If you see something you like, call the library during curbside hours and staff will check it out and run it outside for you. If you are visiting during hours when staff are not available, you can place a hold online through our Encore catalog and we will pull them when we come into work.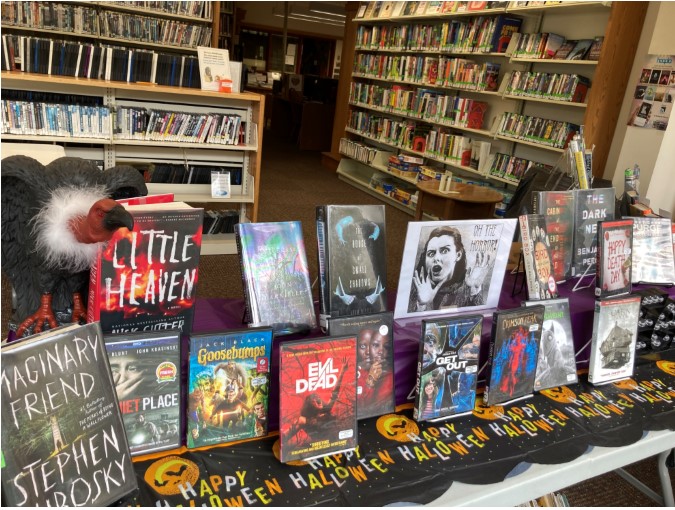 The Richmond Memorial Library is now offering a curated Library2Go Cozy Bundle to lift your spirits! Items in our adult Cozy Bundle may include: Cozy DVDs, cozy fiction books, a cozy music CD, magazines, a craft or cookbook, and some surprises. To request a Cozy Bundle, call the library or check out the Library2Go tab on our website.
Did you know that you can make a difference while you shop Amazon Prime Day deals on October 13 & 14? Shop at smile.amazon.com/ch/06-6056067 or with AmazonSmile ON in the Amazon Shopping app and AmazonSmile donates to the Richmond Memorial Library Association Inc., at no additional cost to you. We appreciate the support!

Our Second Young Chefs Program is Happening in October
Parents

, need a night off from cooking dinner? Children ages 8 and up can join us this fall for a fun (and delicious) new Kids Make Dinner monthly cooking series held over Zoom. Katie, a Registered Dietitian from Food Explorers, returns with a 4 part series where, together yet safely apart, we make a healthy dinner for our families!

Our second program is Crustless Quiche and will be held on Friday, October 23, from 5:30-6:30 pm.

Some parental guidance in the kitchen may be necessary. To register, call the library at 860-

295-6210.
Ms. Eileen and Ms. Nancy will host virtual storytimes for children ages 2-3 beginning at 10 am on Monday, October 19, and for children ages 3-5 on Fridays at 10 am on October 16 and 30. Each storytime will include a Library2Go craft kit that parents can pick up a few days prior to the scheduled program.
Carve, decorate, or bedazzle a pumpkin to share outside the library! Drop off your creation on Wednesday, October 28, and staff will arrange them outside for everyone to enjoy until Saturday, October 31, at 1pm. The library will supply LED lights for carved pumpkins.
Library2Go Family Fun Kit: Pumpkin Decorating
Everything you need to inspire your decorated pumpkin! Add your own supplies and drop off to share at our "The Pumpkins are Coming!" event. Call to reserve a kit. Available beginning Friday, October 9.
Virtual Stick Together Poster
Upcoming Adult and Teen Programs...
Richmond Memorial Library is available for Library2Go curbside pickup Mondays through Thursdays from 10 AM to 6 PM and Fridays and Saturdays, 10 AM to 4 PM.  The library building is not open to the public at this time.

We have started to and will continue to host virtual programs for all age groups. Additional information will be found on our website and social media pages, including video tutorials on how to access the virtual formats these programs will be offered in.
Tuesday, October 13 at 7 pm, College-Prep Series Bonus Program: Navigating the College Application:

The college application season is open and there are quite a few things to know about it: the different types of applications, the application cycles, the dos and don'ts of completing an application, and how to link Naviance to Common App. While the process is not difficult, there are common missteps you will want to avoid. Teens should create a Common App account before the program and make sure they have their Naviance information handy. Email richmondprograms@gmail.com to register. 



Thursday, October 15 from 3-5:30 pm, Outdoor Flu Clinic: Chatham Health returns to RML for its annual flu vaccination clinic! This year the clinic will be conducted outdoors. Bring your insurance card and fee (if applicable). Face masks and social distancing are required. Vaccines are given on a first come, first served basis.

Friday, October 16 at 3 pm, Standing Up for Change: African American Women and the Civil Rights Movement: We are beyond excited to be working with the National Women's History Museum in Alexandria, Virginia, for a very special combined adult and teen virtual program on Zoom. In the 20th century, African American women formed the backbone of the modern Civil Rights Movement. They were the critical mass, the grassroots leaders challenging America to embrace justice and equality for all. This program discusses women's critical roles in the Montgomery Bus Boycott, Little Rock's Central High School integration, and the little-known women behind the scenes of the 1963 March on Washington for Jobs and Freedom. Join us to explore the Civil Rights Movement through the perspectives of its women leaders. Email richmondprograms@gmail.com to register.

Monday, October 19 at 7 pm, 1692 Salem Witchcraft Virtual Walking Tour:

Take an interactive, virtual walk around Historic Salem, Massachusetts, with two tour guides from Salem Historical Tours! Our guides will actually walk around Historic Salem and bring you to many of the locations that were important to the 1692 Salem witch trials. Whether you're interested in the history behind the infamous witchcraft hysteria or are looking for a scare, there is something in this program for everyone! Program is limited to 25 participants. Email richmondprograms@gmail.com to register.




***Accessibility at RML: The library does not have an elevator. If you need full accomodation, please contact Library Director Aubrey Muscaro at 860-295-6210 or amuscaro@richmondlibrary.info prior to the event (one week preferred) so we can find an alernate space. The meeting room is located on the second floor.

+++Denotes registration required. Please call the library at 860-295-6210 or email us at richmondprograms@gmail.com