IN THIS ISSUE:
Don Armes, get ready for some payback
Ada meeting set for Sunday June 12th
---

---
Sponsors this week:
R A Graphix
(405) 703-3599
214 Ne 12th St, #C, Moore, OK 73160

R.A. Graphix is a full line printer and sign shop capable of screen printing, vinyl signs, banners, offset printing, and all of your printing needs. Randy and his family have supported the conservative movment for many years
The Tea Party is Going To Lawton and Political Hell is Riding Along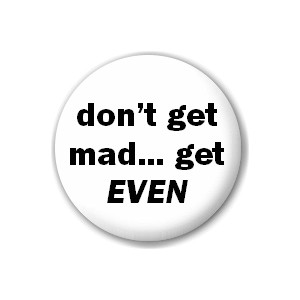 .
It has been quite a week since the break in. I replaced the business laptop that was stolen, replaced the air conditioner, had the shop re keyed and the truck re keyed since spare keys were stolen. Seems like every time something needs done the infrastructure was disrupted, all the business records gone so there is no check register or accounting program to write invoices or even see who owes what. The final bill is around $15,000 in losses and damages, mostly to my business.
To complicate matters, the laptop that I kept the Tea Party info on just had to go down with a power supply problem and the replacement laptop is a different operating system, Windows 7, so all the vinyl cutter and printers don't want to talk to it…
And just when I thought it was all over, I took the company truck on an trip, stopped for gas coming back, and watched the gas pour out on the ground when I tried to fill the tanks. Both tanks had the filler hose cut under the bed of the truck.
But enough with the whining, what matters is what are we going to do about it?
We did learn late last week that a "conversation" took place inside the House Chamber on Wednesday May 18thin which both the Tea Party and I were soundly cursed for exposing the Transvestite Republican votes. Of the five legislators named as being close enough to hear some or part of the conversation, three have stepped forward and confirmed some or all of the conversation that one source said included an alleged threat of " sending a couple of local boys to deal with Al Gerhart".
When an OKC police detective called following up on the break in, I recounted the story but was told that without a recording of the legislator actually making the threat to send "local boys" to deal with me, there was nothing the police could do.
What we do know is quite simple; threats were allegedly made to retaliate for exposing the voting records, and then a break in occurred. We can't prove that the person doing the cussing and making the alleged threats actually followed through, indeed another legislator very well could have heard the outburst or heard about the outburst and took advantage of the opportunity.
As the Tea Party has always been a fan of allowing legislators to self select for our voter education efforts, and as the break in requires a response, we are going to go down to Lawton on Saturday to put out the word to the Lawton area voters. We aren't outright accusing, we are asking a question: Did Representative Don Armes have anything to do with the break in?
So, we are going to meet at the Gore exit in Lawton, at or near the Comanche Nation Casino at:
402 Southeast I 44, Lawton, OK.
The casino is on the East side of I 44, on the South side of Gore street.
Meet there at 8 am on Saturday June 11thwearing comfortable walking shoes and dress for the heat.
We have 4,000 flyers printed up that ask a simple question: Did Don Armes have anything to do with the break in? We have a website under construction
where the facts will be showcased, starting with the transvestite agenda vote, facts of the break in, and more info on the alleged threats. We should have hundreds of small signs ready too, ArmesControl.com, to plaster throughout his district.
My cell number is 405-412-6233. Call Saturday morning on your way to Lawton so we know you are on the way. We will leave OKC around 6:30 am and carpool to Lawton. Besides the flyers, we have some banners being printed about the break in controversy and about Armes's screaming at the two activist ladies on Wednesday May 18th. If you aren't up to walking, help hold one of the banners. The plan is to hit many of the small towns in Armes's district, putting out flyers on door steps and giving them to local businesses.
Get there late if you have to, but get to Lawton this coming Saturday and help us make an example out of Rep Don Armes. Don Armes voted for the Obama Care/Fallin Care Health Insurance Exchanges, refused to sign the discharge petition on HR 1004, voted for the transvestite birth certificate change bill, and has generaly voted against the citizen's best interests to support the State Chamber of Commerce's agenda.
Will this work? Well, as two of my legislative sources told me last week, the Sooner Tea Party is one of the handful of groups that have ever had a caucus meeting called for the sole purpose of discussing how to deal with them. They fear us, they fear us enough that one or more of them committed criminal acts, they fear us even more now that public opinion is solidly behind us due to the break in.
Ada meeting set for Ada at noon
On Sunday, there is a meeting in Ada to attempt to bring some of the rural groups into a coalition with the Tea Party to extend our reach into the far corners of the state. We share the same enemies, we should work together. If you would like to attend, email us at soonerteaparty@gmail.com
Money is always needed for printing costs, postage, sign materials, and robo call costs. We are tightfisted, we will spend your hard earned money wisely and frugally as we do our very best to clean up Oklahoma politicians so we can begin to clean up our country.
To donate, send checks to Sooner Tea Party, 358 North Rockwell Ave, OKC, OK 73127
Or visit
soonerteaparty.org
and use our PayPal link to donate using a credit card, a debit card, or a bank transfer

.