Resister Ryan Jackson trial date set
Army sets June 3 court martial for Iraq War resister PFC Ryan Jackson. Actions requested: 1. Write to Ryan. 2. Donate to his defense. 3. Attend trial—Free Ryan Jackson!
Winter Soldiers to testify before congress
Iraq Veterans Against the War (IVAW) members will testify under oath about the realities of the Iraq occupation before the Congressional Progressive Caucus on May 15.
Thank you Lori
On April 30 we gathered to appreciate our staff organizer Lori Hurlebaus who recently resigned. She is in Philadelphia for the Summer working as an interim Organizer with IVAW.
Also: Deployed anti-war soldier Casey J Porter is taking flak from the Army for his videos from Iraq—"First Day", "Staging Game", "The Mechanic". Check out these videos, and prepare to defend his right to continue.
---
Resister PFC Ryan Jackson to stand trial June 3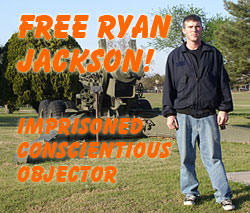 Courage to Resist. May 10, 2008
War objector Army PFC Ryan Jackson was temporarily moved from his brig cell yesterday and arranged at Fort Gordon, Georgia. Ryan was formally changed with multiple counts of AWOL stemming from his attempt to be released from the Army prior to Iraq deployment. He is scheduled to face a special court martial—with a maximum one year prison sentence—on Tuesday, June 3. Since voluntarily returning to Fort Gordon on April 14 and formally applying for a conscientious objector discharge, Ryan has been held in pre-trial confinement at the Charleston Navel Brig.
Following his arrangement yesterday, Ryan was able to make and receive a few phone calls. Primarily, he wanted to express his gratitude for everyone's support, and for making him feel that his stand against war, and his time already spent in the brig, means something. In addition to Courage to Resist members, he was also able to talk to Iraq Veterans Against the War and Veterans for Peace representatives prior to returning to the brig.
Write to Ryan
Courage to Resist has collected over a 100 messages of support for Ryan that we are now forwarding. At this time we are asking that you send messages directly to Ryan at the Charleston Naval Brig. Address letters to:
Ryan Jackson
1050 Remount Rd, Bldg 3107
Charleston SC 29406-3515
If he is sentenced to additional brig time beyond that which he has already served in pre-trial confinement, he will be returned to the Charleston Naval Brig for the remaining sentence.
Donate to Ryan's defense
Ryan asks that donations to his legal and political defense be made to Courage to Resist.
Donate online here. Or, to donate by check, note "Ryan Jackson" on the memo line, and send payable to Courage to Resist/IHC, 484 Lake Park Ave #41, Oakland CA 94610. All donations are tax-deductible.
Courage to Resist is committed to covering Ryan's legal defense, and helping him launch his upcoming career of peace activism when he is finally released from the Army. He is currently being represented by civilian attorney James Branum, co-chair of the National Lawyer's Guild Military Law Task Force, and Fort Gordon JAG officer Captain Kenny.
Attend Ryan's court martial
Tuesday, June 3 on Fort Gordon—10 miles west of Augusta, Georgia. (map)
All military court martial proceedings are open to the general public—but that doesn't mean the military always makes it easy. If you plan on attending, contact the Fort Gordon Public Affairs office for information at 706-791-7003. The trial is likely to last from one to three days.
Listen to Ryan Jackson's interview with Courage to Resist here
"I feel ashamed every day," Jackson wrote in his recent conscientious objector (CO) application. "I feel ashamed for taking part in the killing of others, and for allowing my comrades to be killed themselves. By putting on a uniform, I am showing my support. … I can no longer be a part of the Armed Forces or any organization of a violent nature."
After two and a half years of honorable service, Ryan says he could no longer ignore his conscience. "Once my beliefs started to evolve and change, I became a different person," he explains. "It starts to take a hold of you, giving you hope that you can make a difference, that you can change what you are doing, and that it is not too late!"
---
Winter Soldiers to testify before congress
On May 15, members of Iraq Veterans Against the War will testify under oath about the realities of the illegal occupations in Iraq & providing the Congressional Progressive Caucus with an important and critical tool to make their long-standing promise to bring U.S. troops home from Iraq a reality now.
Congress will have the opportunity to hear the testimony first offered publicly in March of this year at Winter Soldier: Iraq & Afghanistan, when over 45 members of IVAW shared eyewitness accounts of the occupations before their peers, their families and the American public just outside our nation's capitol at the National Labor College. Over 30 hours of testimony was made available live online, over the radio and via cable television that weekend, and remains available in broadcast quality footage at the IVAW website.
By bringing Winter Soldier finally inside the Capitol, IVAW hopes to further encourage veterans to tell their stories to Congress and the public at large. Congress has heard from their fellow politicians, from the pundits and the generals, but not until now have they heard from the average boots on ground soldier who has been asked to fight this occupation largely alone. Bringing Winter Soldier to The Hill will bring the voices of constituents too long silenced before their elected representatives, while Congress debates (more than likely for the last time) the funding for the Iraq occupation.
How you can help (ivaw.org)
---
On April 30, 2008 Courage to Resist and SF Bay Area allies gathered to appreciate our staff organizer Lori Hurlebaus who recently resigned. She is in Philadelphia for the Summer working as an interim Organizer in the national office of Iraq Veterans Against the War while their Organizing Director is out on paternity leave.
Sara Rich,
Courage to Resist
May 8, 2008
It is with mixed emotions that Courage to Resist says goodbye to Lori Hurlebaus. Lori's passion and expertise around supporting war resisters has been invaluable. From a collective point of view she was a leader and an amazing organizer. She has a vision for what we all have to do to end this war.
From the point of a mother of a resister, she was a life line for me and other families when we had no idea where to turn or what to do. It is a very scary thing for a soldier to resist and Lori was always one of those calm voices guiding me through the fear and chaos of going up against the US military. Through this Lori has become a dear friend to me and my daughter, Suzanne.
I am happy to know Lori is out there and I know she will continue to create energy for a peaceful world where ever she goes.
Blessings to YOU Lori! Courage to Resist will miss your energy!
—Sara Rich, mother of Army Spc Suzanne Swift