We suggest that you read this issue on the Pure Water Gazette website. Just click

here.
The Pure Water Occasional for December 9, 2013
In this issue you'll hear a new report about unregulated contaminants that are in the water of US cities, learn how to prevent plumbing cross connections in your home, and read about the amazing Dead Sea. You'll also hear about the Texas (and universal) dispute over how deep into the earth property rights extend. And as always, you'll find the best in of the week's world water news.
New report: Unregulated contaminants common in drinking water
By Brian Bienkowski
Traces of 18 unregulated chemicals were found in drinking water from more than one-third of U.S. water utilities in a nationwide sampling, according to new, unpublished research by federal scientists. Included are 11 perfluorinated chemicals, an herbicide, two solvents, caffeine, an antibacterial compound, a metal and an antidepressant.
Traces of 18 unregulated chemicals were found in drinking water from more than one-third of U.S. water utilities in a nationwide sampling, according to new, unpublished research by federal scientists.
Included are 11 perfluorinated compounds, an herbicide, two solvents, caffeine, an antibacterial compound, a metal and an antidepressant.
Researchers from the U.S. Geological Survey and the Environmental Protection Agency analyzed single samples of untreated and treated water from 25 U.S. utilities that voluntarily participated in the project.
Twenty-one contaminants were detected – mostly in low concentrations of parts per trillion – in treated drinking water from at least nine of the utilities. Eighteen of the chemicals are not regulated under the federal Safe Drinking Water Act so utilities do not have to meet any limit or even monitor for them.
"The good news is the concentrations are generally pretty low," said Dana Kolpin, a research hydrologist with the USGS who participated in the study.
"But," he added, "there's still the unknown. Are there long-term consequences of low-level exposure to these chemicals?"
For many of the contaminants, little is known about any potential human health effects of low doses. But one of the perfluorinated compounds, known as PFOA, has been linked to a variety of health problems, including cancer, among people in communities where water is contaminated by a chemical plant in West Virginia.
Of 251 chemicals, bacteria, viruses and microbes the scientists measured, 117 were not detected in any of the treated drinking water. Twenty-one were found in water from more than one-third of the 25 utilities (nine or more) and 113 were found in less than one-third (eight or fewer).
EPA research chemist Susan Glassmeyer, who led the project, said the utilities, which remain anonymous, represented a mix of large and small, and used different water treatment technologies.
Preliminary findings of the study, which is expected to be published next year, were presented by the scientists at a toxicology conference in Nashville last month.
While studies increasingly report newly emerging contaminants in wastewater, there has been little data on which ones are in drinking water.
Four of the chemicals found in the samples – the metal strontium, the herbicide metolachlor, PFOS and PFOA – are on the EPA's list of chemicals under consideration for drinking water standards. The EPA plans to make decisions regarding at least five of the contaminants on its list next year.
"We're hoping through this work the EPA will do a much more intensive contaminant candidate list and develop new methods and requirements for drinking water plants," said Edward Furlong, a scientist with the USGS who participated in the study.
Perfluorinated chemicals, which were found most frequently, are widely used in a variety of industrial processes, including manufacture of some nonstick and stain-resistant food packaging, fabrics and cookware.
The two most common perfluorinated compounds, PFOS and PFOA, in the utilities' water have been detected in the blood of nearly all people in the United States.
A panel of scientists has concluded that there is a "probable link" between PFOA in drinking water and high cholesterol, ulcerative colitis, thyroid disease, testicular cancer, kidney cancer and pregnancy-induced hypertension. The findings were based on people in Mid-Ohio Valley communities whose water was polluted with PFOA from a DuPont plant.
PFOS, used in Scotchgard until 3M phased it out in 2002, has been linked to attention disorders in children and thyroid disease in men.
The EPA has classified metolachlor as a possible human carcinogen based on studies of highly exposed rats. Strontium can affect bone growth, according to some animal studies that used doses much higher than those found in drinking water.
The perfluorinated compounds were at similar concentrations in the untreated and treated drinking water, suggesting that treatment techniques are largely unsuccessful. Only one plant was successful at removing them, and it used activated carbon treatment.
Activated carbon, ozone and UV treatments are generally better at removal than traditional chlorine treatment, but such techniques are often prohibitively expensive, Glassmeyer said.
"People resent having to pay anything for water," she said. "There's the thought that there's a God-given right to have as much as we want but, if you want the cleanest water, these techniques take money."
Treatment also can sometimes transform compounds into new ones, said Laurel Schaider, a research associate at the Harvard School of Public Health.
"Chlorination and other treatments technologies will remove some contaminants, but will react with others," Schaider said. "Some compounds may appear to be removed but may be transformed to a chemical we know even less about."
Source: Environmental Health News.
Pure Water Gazette Fair Use Statement
How to control cross connections in your home
Editor's Note: The following is sidebar information from a longer article that appeared in coloradoan.com detailing the dangers of plumbing cross connections.
According to the article:
. . .30 percent of water providers inspected by the state since 2009 were found to be in violation for something related to cross connections or backflow — most often issues related to documenting or managing risks. And 9 percent of the water systems were found to have potentially hazardous cross connections.
Among schools operating their own small water systems, inspectors found cross connection issues to be even more prevalent. Roughly 47 percent were found to be in some kind of violation of cross connection or backflow rules, while risky cross connections were found in 19 percent of the schools, according to a recent analysis by the Colorado Department of Public Health and Environment.
If left unchecked, these routine plumbing problems can make people sick. Last fall, 26 people at a medical facility in Colorado Springs fell ill after drinking water that tasted and smelled odd. –Hardly Waite.
A few simple steps can help protect your drinking water from contamination via backflow in your home. Hiring a backflow prevention technician or a licensed plumber is the best way to make sure your plumbing is safe.
Faucets
• Make sure the lower end of each faucet is at least an inch above the top edge of the sink or tub.
Toilets
• Lift the top of your toilet tank and look inside. Make sure the fill valve is at least an inch above the water. • The bowl refill tube also should be above the water line.
Boilers
• Install a backflow preventer on your boiler. Otherwise, pressure from the boiler water — which is often treated with hazardous anti-corrosion chemicals — may be pushed into the potable water line.
Garden hoses
• Install a vacuum breaker on each outside spigot. • Never leave a hose submerged in a bucket, hot tub or swimming pool. Contaminants from the yard can be sucked back into your drinking water. • If you're using a Miracle-Gro nozzle or other add-on to your hose, unscrew it when you're done using it. Without a backflow preventer in place, fertilizer or other chemicals can contaminate your water.
Sprinklers
• Install a vacuum breaker well above the ground and above the level of all sprinkler heads in your yard to ensure that chemicals, fertilizer or pet waste aren't pulled into your drinking water.
Source: Coloradoan.com.
The Dead Sea
The Dead Sea is the lowest place on earth -- about 1400 feet below sea level. What's more, it is continuing to drop a meter every century because the Jordan River, which feeds it, is drying up.
All the while this is happening, it continues to be a popular tourist spot, and its minerals have spawned a large cosmetics industry
The governments of Israel, Jordan, and the Palestinian Authority have joined forces to promote the Dead Sea in an Internet competition. They want to see the Dead Sea voted one of the seven natural wonders of the world. They have also agreed to a World Bank feasibility study of a conduit, in hopes of transferring water from the Red Sea to the Dead Sea.
Here's a good video about one of the most interesting spots on our planet.
World Water News of the Week
Minneapolis residents sue General Mills over pollutant in soil. Two class-action lawsuits were filed against General Mills this week by residents in the Como neighborhood of southeast Minneapolis, where state-ordered testing has shown troubling concentrations of the pollutant TCE in soil below their homes.
Since no country will host the destruction of Syria's massive stockpile of chemical weapons, the sea seems to have inherited the job.
A Texas lawsuit raises the questions of ownership and trespassing thousands of feet below the surface of the earth.
Shaking in Texas makes officials worry about injection from drilling. According to the U.S. Geological Survey, there have been 19 small earthquakes in the vicinity of Azle, Texas, since Nov. 6. People there are beginning to get alarmed and are asking for answers, said Alan Brundrett, mayor of this bedroom community about 20 miles northwest of Fort Worth.
Dow Chemical plots course away from chlorine. Setting up an exit from chemicals it has made for decades so it can focus on higher-growth sectors, Dow Chemical is carving out chlorine-related businesses with annual sales of $5 billion and moving them to a separate division. Dow Chemical picture.
Ecological shifts spell challenges for Texas' Pecos River. Isolation has allowed the Pecos to avoid some of the challenges that increased development has brought to many of the state's other waterways. But it has not been spared from another threat — the gradual ecological changes wrought by the man-made lakes bookending its passage through the state.
Wisconsin manure spills in 2013 the highest in seven years statewide. Wisconsin farms this year generated the largest volume of manure spills since 2007, including an accident by the University of Wisconsin-Madison's flagship research farm in Columbia County that produced a mile-long trail of animal waste,
2016 Olympics: Sailors say Guanabara Bay rife with pollution. Olympic sailors gathered at Guanabara Bay to compete in a local event on Saturday, but primarily they came to check out the venue for the 2016 Games in Rio de Janeiro. Many didn't like what they saw. "I've been sailing all over the world for 20 years now, and this is the most polluted place I've ever been," said Allan Norregaard.
Fracking waste fills West Virginia landfills under new rule. A memo released quietly by regulators earlier this year has carved a major loophole in West Virginia's rules restricting the amount of waste that can be accepted by the state's landfills, all with the intent to ease a burgeoning problem caused by the boom in gas drilling, environmentalists say.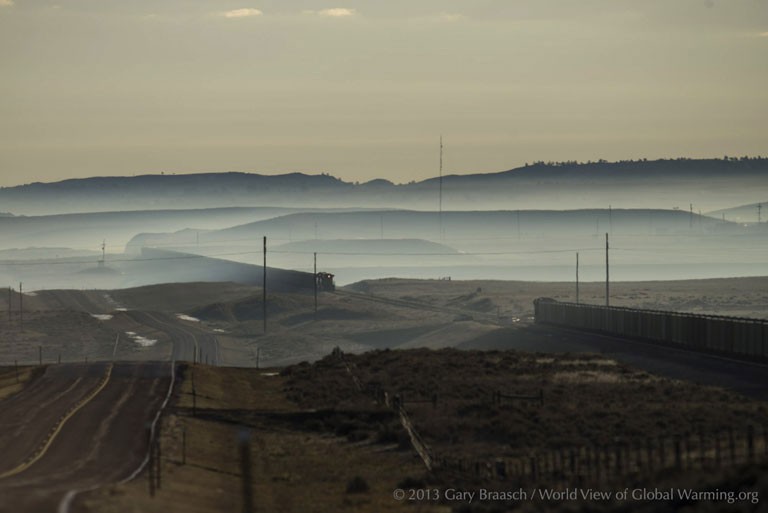 Coal trains roll near the North Antelope Rochelle Mine, owned by Peabody Energy Corporation. This is the most active coal mine in the United States, producing 107.7 million tons of coal in 2012 – more than 10 percent of all U.S.
production.
This, clearly, is "Mr, Peabody's Coal Train" that hauled away Paradise in the John Prine song.
Powder River Basin: Coal on the move. No other coal deposit on the planet is so big, so close to the surface, and so cheap to mine as the rich seams in eastern Wyoming and Southern Montana. And that's made the Powder River Basin the locus of a national debate on how we develop our fossil fuel reserves.
Tidal surge: Lives turned upside down, Owen Paterson says. A major clean-up operation is continuing on the east coast of England after 1,400 homes were flooded in the worst storm surge for 60 years.
Fishery closure puts New England's shrimp season on ice. This week, regulators shut down the New England fishery for Gulf of Maine shrimp for the first time in 35 years. The Atlantic States Marine Fisheries Commission judged the stocks of the popular shrimp, also known as northern shrimp, to be dangerously low.
National Guard cites progress in Wyoming groundwater cleanup. A project to clean up groundwater contamination in the residential area near the Wyoming Air National Guard Base is making progress. Officials told local residents Thursday that well samples show lower concentrations of potentially dangerous chemicals than were detected last year.
Study in 2009 first revealed septic contamination in Norton, Ohio, neighborhood.Fading newspaper clips dating back to the early 1970s reported on the lack of sewers in Norton, Ohio. But it was not until early 2009 that city officials learned the severity of septic contamination in the 270-household area known as Nash Heights.
Federal flood maps left New York unprepared for Sandy—and FEMA knew it. The flaws in the maps had significant impact. Developers relied on FEMA's assessment of risks when they built new homes near the water. And homeowners and businesses made crucial decisions about where to buy or lease property on the assurance that they were outside of the high-risk zones.
Beyond the headlines. Peter Dykstra, publisher of the DailyClimate.org and Environmental Health News, discusses Cronobacter sakazakii bacteria in powdered infant formula and the effects of microplastic marine debris on lugworms.
Marysville to spend $250,000 to monitor flow through storm sewers. The Marysville City Council recently approved a $250,000 project to monitor stormwater flows through the city's storm sewers. The goal of the study is to make sure the city can handle a heavy storm and not be forced to dump under-treated sewage into the St. Clair River.
Resolve the fracking-earthquake debate. The Eagle Mountain Lake area, northwest of Fort Worth, Texas, has been rattled to its foundations by a recent swarm of earthquakes, 23 in the past month alone. The area has a high concentration of natural-gas drilling operations. We need to focus on identifying the quakes' cause.
Climate change: Beyond polar bears. A polar bear stranded on an island of ice has been an iconic image of the effects of climate change. But Penn State University scientist Michael Mann said he's been criticized for including polar bears in his presentation because they don't seem relevant to people's everyday lives.
How heat from trains and sewers can warm our homes. Europe wastes more heat than it uses to keep buildings warm. Now projects across the continent will tap everything from subways to sewers to keep homes cozy.
Japan proposes more steps to store Fukushima water. A government panel proposed additional measures to lessen the radioactive water crisis at Japan's crippled nuclear power plant, saying on Dec. 3 that current plans are not enough to prevent the risk of a disaster.
Waste-water groups join forces against 'flushable' wipes. The pleas of Canadian waste-water officials to federal and provincial politicians for a crackdown on so-called flushable wipes are falling on deaf ears. It's a municipal problem, so the refrain goes.
Scientists-turned-detectives look to crack the case of the missing DDT. A mystery in the ocean off the Palos Verdes Peninsula is drawing out the detective instincts of scientists. Call it the case of the missing DDT.
Chesapeake Bay is hurting but there is hope. The greatest mistake states like Maryland could make right now would be to get discouraged and retreat - to give up on fighting pollution from storm water runoff, for instance, because the means to finance the needed remedies has been ridiculed as a "rain tax."
Argentina grapples with its most polluted river. The picturesque La Boca district in Argentina draws hordes of tourists to stroll its narrow streets lined with colorful buildings and eat at outdoor restaurants. Now it has a new, unwanted claim to fame: The Riachuelo river that flows through the neighborhood has been named one of the planet's 10 dirtiest places.
Wastewater Case Raises the Concept of Underground Trespassing
By Jim Malewitz
A case involving the disposal of industrial wastewater pits two interests that are dear to many Texans against each other: oil and gas resources versus private property rights.
A decision by the state's highest civil court could have major implications for both. The Texas Supreme Court is scheduled to hear arguments on Jan. 7 in a dispute between a company that operates injection wells in Liberty County and a nearby rice farm that says wastewater from those wells has migrated into a saltwater aquifer below its land. It calls the migration trespassing, for which it should be compensated. Among several smaller questions, the court will weigh a broad one: Just how far below the earth's surface do property lines extend?
"This is the classic battle between the two quintessential values that are in direct conflict with each other," said Matthew J. Festa, a professor at the South Texas College of Law. "On a lot of different levels, this case could make some new law."
This is not the first time oil and gas interests have clashed with landowners in Texas. State courts have weighed in on several such showdowns in recent years, including eminent domain cases involving land seized to build pipelines. But the court has yet to consider the idea of underground trespassing.
The dispute, which has reached the high court once before, has drawn the oil and gas industry's attention.
The well in question is classified as Class I and used for nonhazardous industrial waste. It is not one of the 50,000 Class II waste wells that drillers typically use. But lower courts' opinions have drawn no distinction between the wells, stirring concerns that a ruling in F.P.L. Farming's favor would harm production.
"Because the ability to produce oil and gas is inextricably tied to the availability of injection wells," the Texas Oil and Gas Association says in a brief, "a new common law cause of action that threatens operation of injection wells likely threatens oil and gas production."
In 1997, Environmental Processing Services finished drilling an injection well about 400 feet from F.P.L. Farming's land, which the farm contested early on. Since then, the company has injected more than 100 million gallons of wastewater.
Bob Kent, a former Texas environmental regulator and F.P.L. Farming's expert witness, testified that the waste plume had probably traveled across the property lines, basing those conclusions on a formula widely used by state and federal regulators.
Representatives of the farm say they worry that the waste, which includes the flammable liquid acetone, will contaminate its groundwater and erode the value of its property. Though the water is too salty to drink, those on the farm's side contend that it is valuable because desalination technology could make it drinkable.
The well operator and its supporters, meanwhile, say the waste will make the groundwater no more polluted than it is naturally. And they say it is a moot point because recognizing a subsurface trespassing argument is nearly unprecedented. The appellate court in Beaumont is the only court to have done so.
The suit is flying under the radar of property rights advocates. No group has filed a brief in support of the rice farm, but the Texas Farm Bureau, which typically supports landowners in such disputes, said it was looking at the case after recently learning of its return to court. (The Texas Farm Bureau is a corporate sponsor of The Texas Tribune.)
The group supported F.P.L. Farming the last time the case reached the Supreme Court. That was in 2011, when the justices remanded the case to the lower courts after considering various arguments.
"We think they own the property down to the center of the earth," said Regan Beck, assistant general counsel for the Farm Bureau, adding, "You have a taking without compensation."
Source: The Texas Tribune (New York Times).
Pure Water Gazette Fair Use Statement
Places to Visit on our Websites
Model 77 Countertop Filters. Our classy countertop with dozens of cartridge choices and a lifetime guarantee. Truly, "the world's greatest $77 water filter."
Basic Black and White Undersink Filters. Exceptional value in drinking water treatment with many cartridges to choose from. We think that the Black and White double or triple undersink is the best drinking water value available anywhere.
Black and White Reverse Osmosis. The best conventional RO unit we can build. You have to order this product by phone because we customize it to your situation. We've been building and perfecting the Black and White since the early 1990s. It isn't the cheapest or the most expensive, but we're convinced it's the best.
Sprite Shower Filters. The Sprite High Output, available in plastic or brass, is a superb chlorine remover. We have Vitashower for chloramines, but you'll to call for information or to order.
Plus . . .
And, as always, much, much more.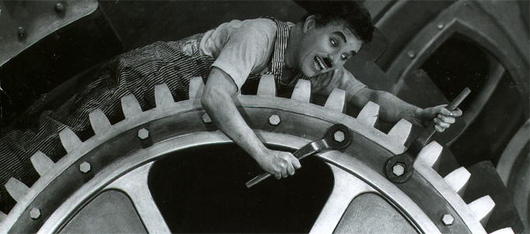 Please visit our RO Parts Page for tanks and accessories.
Thank you for reading. Please come back next week.
Places to Visit on Our Websites in the meantime
Model 77: "The World's Greatest $77 Water Filter"
"Sprite Shower Filters: You'll Sing Better!"
An Alphabetical Index to Water Treatment Products
Our famous whole house Chloramine Catcher
Pure Water Occasional Archive: Sept. 2009-April 2013.
Write to the Gazette or the Occasional: pwp@purewaterproducts.com
Please Visit
The Pure Water Gazette – now in an easier to navigate format.