Happy Spring CSA members!
We have officially begun the countdown to CSA season here at the farm. This week begins the CSA season. On Wednesday, June 7th your first CSA share will be available for pick-up at your chosen pick-up location.  Please continue reading for details around CSA pick-up this week and what is happening on the farm.
We look forward to seeing you on the farm,
Cure Organic Farm

The cycle of the seasons on the farm is the true time keeper.  With the greenhouses full of starts and the hoop houses holding their own, vibrant with the first crops of spring we know that summer's bounty will soon be here.  It makes the days rush past with little regard for what is happening outside the farm.  We are in planting time here putting the seedlings in the ground and watching the soil work it's magic.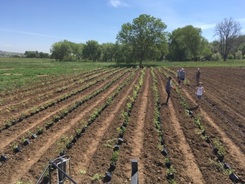 All of our spring greens and root crops are loving this cool, wet spring. This past week we just finished planting 11 varieties of potatoes, a grand total of 2600 pounds of potato seed in the ground.  This week with the help of volunteers we planted out the first 2700 of our totmato plants. Snap peas are in full flower and the fava beans have never stood taller this early in the season. Early season turnips from the field and the first spring carrots from the hoop  promise to deliver a sweetness you haven't tasted since last fall.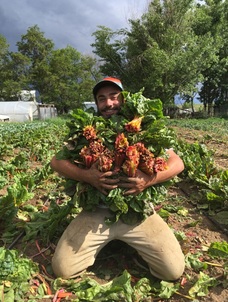 Perhaps more exciting than the crops in the field this season is the group of young farmers that have come together to learn, work, laugh and share their experiences while tending the fields.  We will introduce our interns in this week's newsletter on Wednesday so you can get a chance to know who is behind producing your CSA share each week.
We are excited to greet you all and as the interns become aware of the size of the community that they will be feeding our fingers dig that much deeper into the ground.  Until Wednesday....
We are excited to report that the Western slope fruit crop is forecast to be fantastic this season. Both in Palisade and Paonia the fruit tree blossoms are abundant and have made it through the most sensitive stages of development thus far.  The fruit share season will begin with strawberries from California in early June followed by  Colorado cherries which should be available by mid to late June. Colorado apricots, peaches, plums, apples and pears will follow. We work with First Fruits Organic orchards and Rancho Durazno to provide your the fruit for your fruit share.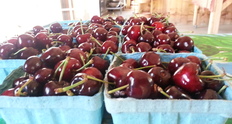 Just about all of our warm weather flowers have been transplanted into the field for the flower share.  This season we are growing many favorites including agrostemma (photo below), cosmos, zinnias, snap dragons, sweet peas, sun flowers, stock, straw flowers and more. The first flowers will be coming out of the hoop houses in ealry June for the flower share.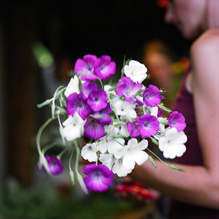 Conscious Coffees provides our coffee share members with one pound of just roasted coffee every other week (10 weeks total). The first coffee share will begin on June 14th. There is a lot that makes Conscious Coffees so special to work with, we love that they work directly with the communities growing these precious beans.
If you haven't been into Cured's downtown shop location on Pearl, you should really treat yourself! Cured supplies our wine and cheese share everyother week.  The wine and cheese share will begin on your second pick up on June 14th and continue through the csa season with an everyother week pick up.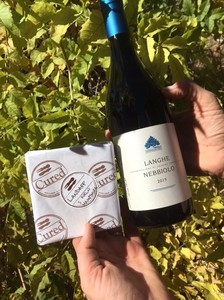 Each Wednesday from June 7st through October 18th your share will be ready for pick-up at your chosen pick-up location between 4-7pm. Pick-up locations are the following:
Farm Store: 7450 Valmont Rd
Boulder Farmers Market: 13th st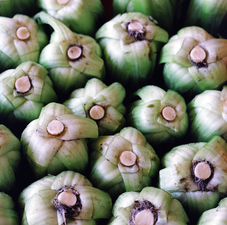 We finishing harvesting for your CSA share on Wednesday mornings, so unfortunately we cannot accomodate early CSA pick-up.
  We will have your share ready for you between 4-7pm at the pick-up location that you indicated on your registration form for the duration for the 20 week CSA season. 
  Can't make it to pick up your share one week? You are welcome to send someone else to pick it up, or send us an email and we will pack your share for you to pick up at the farm store on Thursday. We can only accommodate the Thursday pick up if you let us know ahead of time.
  While we will have plastic bags for you to use at your CSA pick-up, we encourage you to bring your own bags as well.  Members picking up at the Wednesday evening Boulder Farmers Market, please return your empty CSA boxes each week so we can re-use them.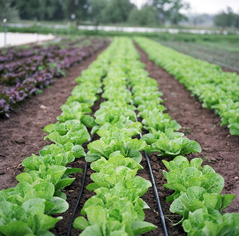 Last fall we added another 150 hens to the farm.  They have all started to lay recently, so you may notice that some of our eggs are still small pullet eggs.  As the hens continue to grow to maturity their eggs will get bigger.  Egg share will be available for pick up every week. If you have extra egg cartons, please bring them with you to pick up and we will re-use them.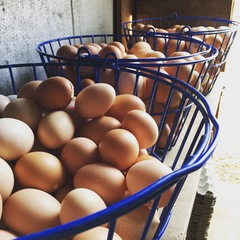 Our egg shares are currently sold out, but if the hens lay more than what we need for our weekly commitment we will have them available on Wednesday for sale at the Farm Store.
  We are grateful to be partnering again this season with Kim & Jake's cakes to offer the Bread Share.  Every other week (10 weeks) Bread Share members will receive Kim & Jake's peasant loaf.  Their bread is vegan, gluten free and delicious! The first bread share pick-up will be June 14th.
CSA pick-up begins-  Wednesday, June 7th, 4-7pm.
Farm Store Open- Wednesday-Friday from 11am-6pm;               Saturday-Sunday 10am-4pm.
Boulder Farmers Markets- Wednesday evenings from 4-8pm; Saturday 8am-2pm. April-Nov.
Denver Union Station Farmers Market- Saturdays June 3th-Nov 4; 9am-2pm.
"Like wildflowers
you must alow yourself
to grow
in all the places
people thought
you never would."
-Harvest Moon Flower Farm



Cure Organic Farm

7416 Valmont Rd.
Boulder, CO 80301
cureorganicfarm@yahoo.com
www.cureorganicfarm.com