McKay Coalition Conference
October 10, 2014
Call for Papers
The Annual  Conference will highlight a variety of sessions including curriculum, advocacy, legal updates, legisla-tion, research, business development, school leadership, and much more.
Share Your Expertise  
Attached is information on the Call for Papers.  Submission deadline is May 15.  Let us hear from you.
Time
To Renew
or
Join
The Coalition
If you have not joined The Coalition this year, it is time to add your voice to the only organization whose sole purpose is to maintain the viability of the McKay Scholarship Program.
Annual Membership
Jan 1 - Dec 31
$50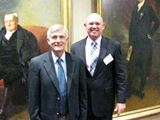 Florida Virtual School Issue
To Be Resolved This Session
   During last year's legislative session the process for funding FLVS was changed.  At the time The Coalition and other stakeholders asked if this would affect McKay Scholarships and we were told no.  However, these changes in fact did affect the parents of McKay Scholarship students who enrolled in FLVS courses this year.  This spring parents are seeing a deduction in their scholarship amounts ranging from $340 to over $1100. 
   In November The Coalition of McKay Scholarship Schools led a charge of parents and schools to contacting their legislators asking why the parents of children with disabilities were the only ones being directly charged for FLVS courses.  Board members of The Coalition have been engaged in meetings with legislators and have made several trips to The Capitol to discuss how to change this statute.
   While the charges will still be assessed this year, The Coalition has been told that this was an unintended consequence and will be changed during this legislative session.  The office of Rep. Fresen, who is the chair of the Education Appropriations Subcommittee, has assured us that next year this charge will not be applied to individual McKay Scholarships. 
   We will continue monitoring the legislation concerning this issue.
NATIONAL LEADERSHIP SUMMIT ON FAITH-BASED SCHOOLS
   Steve Hicks,  President of the Coalition of McKay Scholarship Schools and Robert Futrell, a board member of  the Coalition who also serves as a commissioner for the American Center for School Choice, attended the Summit to share their expertise concerning choice programs for students with disabilities.
   The Summit was organized by the American Center for School Choice's Commission on Faith-based Schools and held in New York City this past November. Faith-based school leaders from across the country met to consider how to mobilize their voices to pass more parental choice legislation and expand existing laws in 2014. They also developed strategies to broaden the understanding of the value and role faith-based schools have for American education.
   "It's time that these schools are valued as the national assets that they are and we stop allowing them to disappear from urban centers where families desperately need good schools," declared Robert Aguirre, the Commission's chair.
   The Commission released its first report to the nation, "Religious Schools in America: A Proud History and Perilous Future."  This documents the value of faith-based schools and the need to act before further decline takes place. It also unveils a web site with state-by-state data on the schools and a library of more than 4000 documents.
National Leadership Summit Participants