FURTHER FALLOUT AS 101 CONFIRMS POSITION…
IT'S LIKE A JUNGLE OUT THERE…
GUESS WHO'S COMING TO MARKET?
…AND KILLING MAKES AN IMPACT
SCREENBOUND GETS SHAMELESS
FUTURESOURCE UNVEILS NEW STATS
QUOTE
OF THE WEEK
---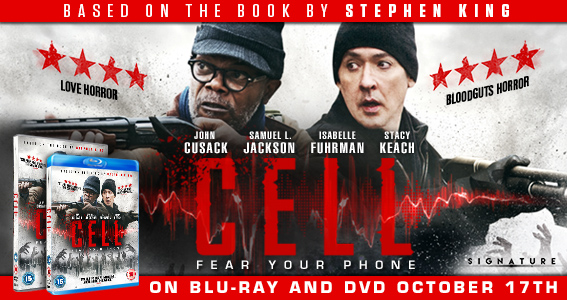 ---
If you can't read this newsletter or see the ads, please click
here
It Was A Good Week For... The Jungle Book follows its big theatrical numbers with a strong start…
It Was A Bad Week For… Talk of why Metrodome encountered problems continues to dominate…
A week since Metrodome collapsed into administration and we've got more on the fallout from the company's demise and how 101 Films has picked up the rights to the rights to much of the independent's catalogue. 101 Films had pledged to give out more details on its plans for this and Lace Digital Media Sales after that company too had gone into liquidation. So, what have we ascertained? Well, let's start with Lace Digital Media Sales. The company's liquidation comes almost five years to the day since the rioting around London and arson attack at Sony DADC – the fallout from that incident, as well as the subsequent legal action, which dragged on and on before the authorities' refusal to pay compensation. (The same incident has claimed other victims, such as Clear Vision, and regular readers will know if its ongoing impact and the legal ramifications, as we have been the only trade publication covering the litigation.) Here's Adam Lacey on the company's problems: "Lace Digital Media Sales Ltd
entered administration last week. Unfortunately, the business has for some time been crippled by debts caused by the destruction of the Sony DADC warehouse and further impacted by HMV collapsing leaving LDMS with significant debts from events outside of its control. We have tried very hard to continue to support the business and repair the damage caused by these events. [I have] personally supported the business with huge sums of money into hundreds of thousands of pounds which [I] will now lose.
We were hopeful that our legal case against the Met police using the Riot act would bear fruit and after winning this case for compensation on multiple occasions it has now been confirmed on the last hour that at the supreme court, no damages will be paid. This loss in the courts is the reason we have had to assess the viability of LDMS moving forwards. It isn't a viable business and would be trading insolvently if we continued, so unfortunately we had to call in the administrators who will liquidate the business." Those involved added it had returned some £30 million to its labels in the last five years, and the total debt position at the time LDMS became insolvent was "very small".
So, what now then? Well, a relatively new company, Trinity Creative Partnerships, 100 per cent owned by Adam Lacey, which was originally used as a design and authoring facility for LDMS-distributed labels and other companies. It's now being upped to a sales only function. And 101 Films, which is half owned by Lacey and long-time business partner Andy Lyons, as well as another company, Trinity Pictures Distribution Ltd (the two Trinitys have possible inadvertently confused matters), is now aiming to up its content and is striving to work out its exact plans for the raft of Metrodome titles it has acquired. Lacey and Lyons are keen to point out that 101 has always stood on its own two feet as a separate entity from other companies and has been entirely independent. As Lacey said: "101 is a fully independent business with different shareholders and different funding. Lace merely serviced 101 sales. Lace was a service business and 101 Film was one of its clients."
And there's now the small matter of more than 300 titles in its expanded catalogue after the acquisition of some of the assets from the administrators. Adam Lacey said: "It's still too early to say [how the release schedule will work] but we do intend to rebuild this company and the forward pipeline would be an important consideration." The deal covers over 300 titles, and 101 is optimistic that the many of the rights holders and producers will allow them to continue their work. As Adam Lacey said: "Producers do have the right [to get the rights back], so we will do all we can to ensure that they don't, so we can take the brand forward. Some will terminate, but we hope the rest will se the value of being part of 101 Films, which continues to trade well in a difficult environment." More, again, in the days and weeks to come…
And, as we noted last week, the shellshocked former staffers at Metrodome have this week begun the slog of working out what they're going to do next. As ever, our thoughts are with those first and foremost… Anyone with any vacancies, let us know, as we can put you in touch with the right people…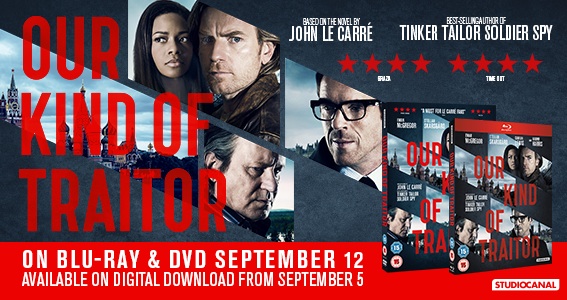 ---
This week's releases now and the winner at the halfway stage, according to the Official Charts Company's midweek bulletin, was the latest from Disney, the all-new live action take on The Jungle Book, continuing the studio's strong 2016. It had shifted some 105,100 copies in its first few days on sale. In fact, according to the midweeks, the title, an acclaimed update of the Kipling tale, was outselling the rest of the top 20 combined. Other new entries included two titles which have both received their fair share of scorn from some and deserve their moment in the sun – Jane Got A Gun and The Colony, at numbers seven and 13 respectively. Beyond those, other new entries include a pairing of Disney's animated take on Mowgli and co and the new Jungle Book (at number 15), The Dam (37) and Miles Ahead at number 38.
Back to some of those titles we mentioned previously and Lionsgate has helped give the Natalie Portman starring Western Jane Got A Gun the kind of chance it arguably deserved but never really got, right from its troubled pre-production days and beyond… The film's opening performance, at number seven in the Official Charts Company's midweeks, marks a good opening for the film. As the company's Marie-Claire Benson said: "After all the controversy of the past two years, it's great to finally see this title on shelves and on digital platforms. The Olympics and the hot weather conspired to impact the market in early August so we are very pleased to see overall sales pick up this week and Jane Got A Gun is off to a fantastic start."
Some interesting news arrives from someone who shouldn't mind us calling him an industry veteran, as John Morrissey, formerly at Columbia TriStar and most recently at Sony DADC, with plenty of other companies in between, fires up Powerhouse Films and its boutique imprint Indicator. It has unveiled a slate through to Christmas 2016 that includes a raft of classic films being released in Dual Format editions with some great extras and booklets packed with additional material. First up, on October 24 comes a brace from two of the greatest directors of the modern era, namely John Carpenter (Christine, appearing just ahead of the director's UK tour this autumn) and Brian De Palma's Body Double. On November 14 there's a Sidney Poitier double bill in Guess Who's Coming To Dinner and To Sir With Love, alongside 10 Rillington Place, the original homegrown serial killer title. And on December 5 there's VHS era classic Happy Birthday To Me and Jack Nicholson in The Last Detail. More on this in the coming weeks…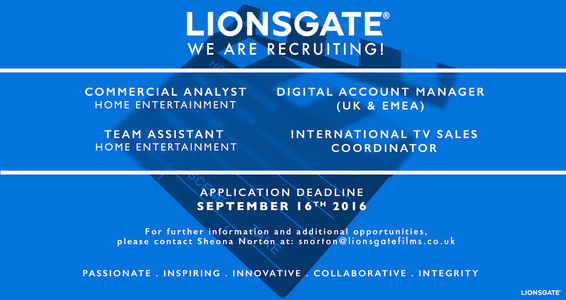 ---
To a barely visible basement down near the river in Chelsea – a basement jazz club, no less – for a launch event for the home entertainment bow of Miles Ahead, Icon's excellent Miles Davis biopic.. As well as viewing the film in a dark, club environment which suited it perfectly, those attending (assorted magazines, newspapers, websites, us at The Raygun) were treated to not one but two live sets from a jazz quintet performing some of Davis' best known outings. The resultant publicity helped the film in its first few days on sale, with it appearing in the top 40 in the aforementioned midweeks and certain, we reckon, to have legs at retail. Commenting on the release, Icon's Katie Sexton said: "Miles Ahead enjoyed considerable critical acclaim following its theatrical release and this goodwill has carried through into its home entertainment release, with a host of media gathering at Fulham's legendary 606 Club for a night of Miles Davis Magic. As well as that, one brave GQ writer undertook a challenge to learn the trumpet in a month, learning that there's more to Miles than his legendary bravura. Jazz FM also reignited a lot of the interest they had in the film, alerting listeners to its imminent home entertainment release, whilst specialist, film and lifestyle press were all expertly mobilised to maximise awareness for what is a truly special film and one that Icon is proud to have been involved with."
Icon was busy this week too as Horror Channel FrightFest, to give it its full name, kicked off in earnest at its new home of Shepherd's Bush Vue. Opening night saw the company's film My Father Die kicking off the whole event to a strong reception and the weekend will see it further unveiling its wares which will later arrive on the FrightFest Presents imprint it hosts in collaboration with the genre festival. Commenting on the label so far and its FrightFest weekend, the company's Zak Brilliant said: "The FrightFest Presents label is going from strength to strength. We have three titles playing this year's festival with more to be announced.
The reaction to the opening night film My Father Die was terrific and we expect the same from Population Zero and Road Games, which releases today on digital and DVD on Monday [August 29]."
Also airing at FrightFest this weekend is the hugely controversial early 1980s documentary The Killing Of America, which takes a look at the US and the devastating impact of the constitutional right to bear arms. It's as relevant as ever and after its airing there, indie imprint Severin Films will be giving it further theatrical screenings and its first ever UK Blu-ray bow. Commenting on the release plans, the company's Carl Daft said: "We are very excited to bring what is quite possibly the most controversial documentary of them all to a new audience. The Killing of America has lost none of its impact over the years and with the rampant out of control gun culture in the US it is just as relevant now as it was when it was made 35 years ago. The FrightFest screening this weekend will be used as a launching pad for a limited theatrical release followed by home video and vod in late October." We'll have more on FrightFest and the winners from the weekend on next week's newsletter.
More news from within the horror world too, and Screenbound, whose Attack Of The Lederhosen Zombies is making its debut at FrightFest this weekend ahead of its wider bow, continues to expand its assorted operations, this week announcing that it is now handling the sales and distribution for another imprint which will be familiar to FrightFest fans, Shameless Films. Shameless had been looked after by Metrodome and the announcement follows in the wake of it falling into administration. As Screenbound boss Alan Byron noted, it marks something of a coup for its burgeoning operation, with Shameless' catalogue of more than 50 horror and sleaze titles now coming under its wing, with new releases to follow. He said: "All Shameless and Nouveaux titles are now active within our portfolio and we are very excited that such a quality label has chosen Screenbound to represent them." Thanking Rob King and all at Sony DADC for effecting a smooth transition, Shameless' Garwin Garwin Spencer-Davison said: "Although it's been a traumatic time for everyone involved with Metrodome, it's now time to make up lost ground for Shameless, and we are happy to have Screenbound promoting all our releases."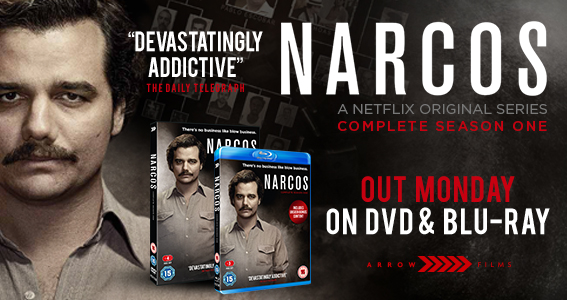 ---
Talk of film festivals of course brings us on to the London Film Festival and September 1 will see the BFI unveiling the full line-up for the event (we'll be there, so expect more next week), but, in the meantime, the organisation has been teasing some of the forthcoming goodies due, this week announcing its restoration event for the LFF. The Informer will be screening as this year's Archive Gala, with the story of revolutionaries in Dublin being aired with a new live score. And, as ever, the high profile event will be followed by a Blu-ray and DVD release of the film, following in the footsteps of such previous restored classics such as The Epic Of Everest and The Great White Silence. It's due early in 2017 (yes, we are talking about next year already). Commenting on the event, head curator at the BFI National Archive Robin Baker said: "
The BFI National Archive is delighted to have restored another major British feature film from the silent period and to be premiering it at the BFI London Film Festival. The quality of the restoration is extraordinary, despite some huge challenges that we had to overcome. The noirish cinematography looks spectacular once again, especially the lustrous quality of the inky, velvety shadows achieved by the restoration team."
Before that, there's loads more due from the BFI, not least the September 26 release of the excellent Psychomania, a homegrown horror classic about a devil worshipping biker gang. It's currently getting a lot of interest from those in the know – it was a late night TV classic in the 1970s and 80s and boasts a killer score – and marks another step forward for the BFI's rejuvenated Flipside imprint. It's being launched with a special screening on September 14 at the BFI Southbank, and also airing as part of the Scalarama season (more on that below). Commenting on the film, the BFI's James Blackford, working as a producer on the title, said: "We are excited to be presenting bona fide British cult classic on DVD and Blu-ray for the first time here in the UK, remastered from the original negative and with a wealth of newly produced extra features."
And mention of Scalarama brings us on neatly to this year's event, the month-long celebration of all things cinema-related is taking place again throughout September, with more than 250 events almost taking place at venues around the UK, including screenings of Psychomania before release, and a tie-in with Fopp which will see the Scalarama newspaper available in its stores. Oh, and there's a celebration of all things VHS-related to mark the format's 40th anniversary. And, as ever, the event will conclude with Home Cinema Day, it's the fourth anniversary of the event that looks to encourage people to watch films at home. Commenting on the event, Mike McConnell, who looks after HCD, said: "Home Cinema Day sets aside one day to celebrate watching films at home. We offer up ideas and suggestions to make the day special and even provide links to free features so that every budget is catered for. For one day a year every home can be a cinema and every movie given the glamour it deserves." More here at

www.scalarama.com
Congratulations to our old mate Sylvia Wan, who has been promoted at the Industry Trust for IP Awareness, with the new job title of head of audience engagement. Commenting on he new role, she said: "
"I've been at the Industry Trust for over six years and in that time I've had the pleasure of working with the members to develop the successful Moments Worth Paying For campaign as well as the unique film search engine, FindAnyFilm. I'm now thrilled to be given the opportunity to drive the strategy for both of these flagship projects in my new role, exploring new channels and innovative activity to target infringers in an ever fragmented market. I look forward to leveraging the expertise from across the membership to ensure our messaging continues to engage audiences, reduce the impact of infringement and encourage legal purchase."
Some interesting figures from Futuresource Consulting
which has published its latest Living With Digital survey, looking at digital video in the US, UK, Germany, France and other territories. It suggests that more and more people are using both Netflix and other svod services, with more than half of Netflix subscribers in the UK and US also using Amazon Prime Video. If anything, it notes, the momentum is behind Prime services and subscribers. Also notable is Sky Buy & Keep, with a further five per cent of Sky subscribers now using the service, meaning that one in five of its customers buy the film to watch as a digital offering and get sent the DVD too. Futuresource has further noted 25 per cent of UK respondents now buy some form of transactional video on demand, with EST driving that, with existing physical buyers driving the growth (only four per cent of video buyers just use digital). "Netflix uptake continues to grow in all countries and although satisfaction levels for Netflix are high, they do vary considerably by country" commented David Sidebottom, principal analyst at Futuresource Consulting. "Over half of US respondents say they are extremely satisfied with Netflix, 83 per cent are satisfied or very satisfied; this falls to around two-thirds in France and Germany."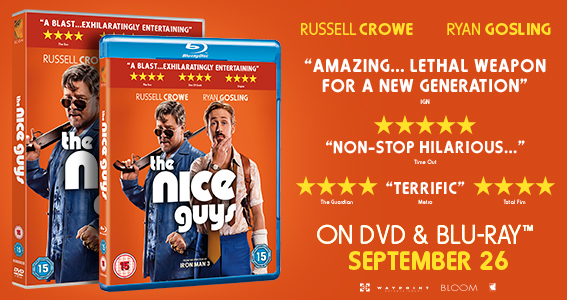 ---
QUOTE OF THE WEEK
"Our research clearly shows that most 'digital-nevers' have histories renting or buying TV shows and movies in physical form. But the desire to seek out and purchase content so purposefully seems to have given way to a subscription mindset."
GFK svp of media and entertainment David Tice on figures that show in the US some 86 per cent of consumers had bought discs to watch, but only 46 per cent have bought or rented a digital film, preferring subscription services.
AT THE MOVIES
David Brent: Life On The Road took just under £1.5 million in its first weekend, not quite enough to send it to the top of the charts, where Finding Dory and Suicide Squad were holding it off. Other new entries in the top 10 included Lights Out, with £1.1 million, and, fork the families, Swallows And Amazons (£676,175) and Nine Lives (£636,804).
It's film to TV series week, judging by some of the headlines over the past seven days, as news emerges that The Departed, itself adapted from another source (a SE Asian actioner) is being prepped as a potential series, while also set to turn into a small screen outing is Get Shorty. Chris O'Dowd and Ray Romano are being lined up for the latter…
And on the same tip, there's a new version of Snatch on its way, with the Cockney capers turned into a series with Rupert Grint set to lor luvaduck it up as both star and producer…
SITE OF THE WEEK
See our website,

www.theraygun.co.uk

, for some lovely tributes to former Columbia and Warner Vision marketing executive Frank Brunger…
TRAILERS OF THE WEEK
New Blair Witch trailer alert…
More horror from another revived franchise…
Awards-friendly fare here…
And another much talked about forthcoming title too…
And here's Narcos season 2, as S1 comes from Arrow…
To subscribe to The Raygun newsletter, please email info@theraygun.co.uk
with subscribe in the subject matter
To unsubscribe, email info@theraygun.co.uk with unsubscribe in the subject