In the current political climate, where intolerance and "othering" are becoming more and more normalized, we want to do what we can to promote tolerance, acceptance and community, and what better way to do that than by sharing our personal stories? Once you've heard someone's story, you are not strangers any more; in our stories we see and hear and recognize our shared humanity.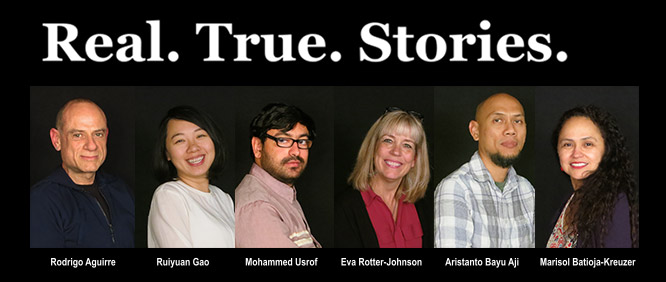 Portland Story Theater's November Urban Tellers
®
show will be a very special Immigrant and Refugee edition, featuring the real, true stories of six resilient people who started out in every corner of the globe but now call Portland their home: Rodrigo Aguirre of Chile, Ruiyuan Gao of China, Mohammed Usrof of Palestine, Eva Rotter-Johnson of Venezuela, Aristanto Bayu Aji of Indonesia, and Marisol Batioja-Kreuzer of Ecuador.
Sponsored by a generous grant from the Collins Foundation, this is a project that is near and dear to our hearts. Come have a listen! Due to the great popularity of this show, we are going to have two performances: Thursday, November 2nd and Friday, November 3rd. Tickets are going fast! Get yours here. Both shows are at the beautiful Fremont Theater, 2393 NE Fremont Street, Portland Oregon. Help us celebrate the diversity that truly makes America great.
Fremont Theater Closing
PST moving to a new home at The Old Church!
It is with great sadness, Friend of PST, that we have to tell you that the Fremont Theater is closing its doors. We have been extremely happy there for the last year, but, as the saying goes, all good things must come to an end. Our November shows will be our last at the Fremont Theater.
We are happy to announce that, beginning with the December Urban Tellers
®
show, Portland Story Theater will be moving to the beautiful and historic Old Church, located at 1422 SW 11th Avenue in Portland. To our delight, The Old Church has welcomed us with open arms!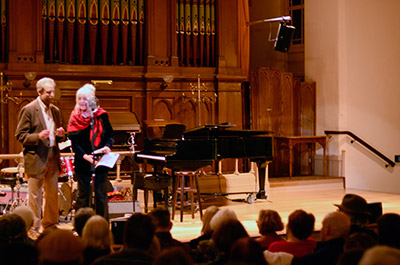 We sincerely hope that all of our loyal east-side fans will follow us to The Old Church; we look forward to making lots of new friends and fans on the west side as well. The Old Church has comfortable, padded seating for more than 200. If you came to our show there last spring,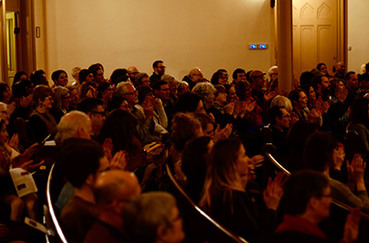 you know it has a warm and welcoming atmosphere, a beautiful bar, and fantastic acoustics. We feel lucky to have this opportunity and we look forward to seeing you there!
C'mon over and help us fill the house!
Friday, December 1, 2017 -- Urban Tellers
®
Saturday, January 6, 2018 -- Armchair Adventurer
Saturday, February 10, 2018 -- Valentine's
Friday, March 2, 2018 -- Urban Tellers
®
Saturday, March 10, 2018 -- St. Paddy's Celebration
Friday, April 6, 2018 -- Urban Tellers
®
, Immigrant Refugee Edition
Saturday, May 5, 2018 - Urban Tellers
®
Friday, June 1, 2018 -- Season Finale.
Tickets for all these shows are on sale now!
Thank you!
Portland Story Theater's 2016-2017 Season is generously supported by The McIvor Family Charitable Fund; Tonkon Torp; Diane Ponti and Ward Greene; Polk Family Charitable Fund; Dana and Steve Dennis; members of the Portland Story Theater Board, Founding Circle, and Narrative Network, and many other individual supporters, as well as by the Oregon Community Foundation; The Collins Foundation; James F. and Marion L. Miller Foundation; Meyer Memorial Trust; The Kinsman Foundation; The Autzen Foundation;
NW Natural Gas; and
The Oregon Cultural Trust. Thank you!
Photo Credits: O'Dubhda and Talen Nikolai Moe