For the last several months I have heard from many concerning the field behind 1500 Garden known as Harborside Park. The field is currently an open field that does not allow dogs. It is mainly used by children in the neighborhood, programming for tiny kids soccer, and by students attending the neighboring Elysian Charter and Hoboken Montessori schools. And… it is also used by dogs anyway. Unfortunately, as a result, the field has become a hot mess of mud and dog poo.
The city is undertaking a study to get your feedback on creating a temporary dog area on the west side of Harborside Park (closest to Park Avenue).
Please click
HERE
for the survey. AND PLEASE TAKE THE TIME TO RESPOND! IT WILL TAKE LESS THAN ONE MINUTE – 4 QUESTIONS AND ONE SPACE FOR COMMENTS.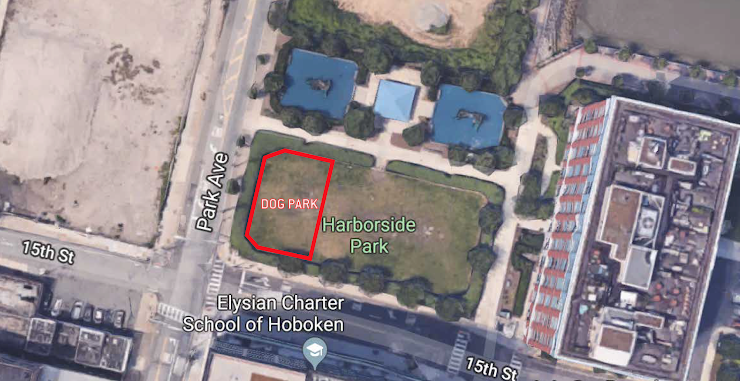 The dog area would be temporary because as part of the Rebuild-By-Design anti- flooding project, the entire area will be rebuilt into a new resilient park with construction to begin as soon as two years from now.
I have spoken to many of you about the possibility of doing this. Unofficially, 95% of those with whom I have spoken have thought it was a good idea. These include local parents, parents of school children, and dog parents. Dogs being led into the current area could be seen as rogue, law breaking pets… or could also be seen as a reflection of a real need for official dog areas around the Hudson Tea complex's five existing buildings (soon to be a 6th) and Park & Garden. There are currently none.
Although supportive, limited concerns were raised and primarily included:
-
Not significantly reducing the field space available for children
-
Not creating more noise adjacent to the residents who live at Harborside (1500 Garden)
I have been working with Director Leo Pellegrini on moving this forward to create a design that incorporates these concerns. The rendering that the City provided gives you a good idea of where it would be located. In terms of the size, Leo and I have debated this. What he is showing is on the larger end at about 30% - I am of the view that dog area should be closer to 20% of the field.
So one request – if you are supportive of the idea, but think that the size is too big, then please say "YES" to the first question, and put in the comments that you would like to see it limited to 20% of the total field. If you say "NO", with the comment, then the results will show that you are not supportive which may lead to this not happening at all.
As your representative, a resident of this area, and one who does not have a dog or children – but love both (my "children" are two rabbits who are litter trained…), I think doing this is a good idea for our neighborhood and I hope you do as well. The investment will be low, but the quality of life impact will be significant. And hopefully this will also translate to a similar facility to be installed in the new RBD Park!
Process wise, this is the first step. We will then schedule a public hearing for a final design which would be presented to the City Council for approval at the August meeting. Our goal, if the community supports the idea, is to have a dog area in place before schools are back in session in September.
Until then… for those dog parents who bring their dogs to this park… a reminder that it is illegal to do so and you are subject to a fine if you do. If you still want to be rogue… then at the very least please make sure to clean up any mess your dog leaves.
Thank you for participating in this important neighborhood issue! More voices clearly matter!