Welcome to CMCA(UK)
Hello and welcome to the Summer 2018 CMCA(UK) newsletter. This newsletter provides a selection of the latest company news and achievements which we hope you will find of interest. If you would like to stay up to date with all CMCA(UK) related activities go to www.cmcauk.co.uk. You can also find us on Twitter and LinkedIn.
You can change your preferences or unsubscribe from this newsletter at any time by clicking UNSUBSCRIBE at the bottom of this email.
CMCA(UK) host VIP visit from Defence Secretary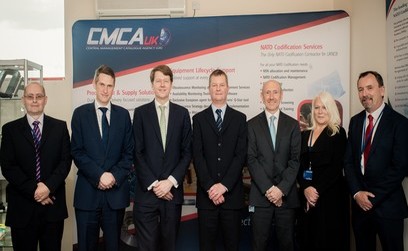 CMCA(UK) recently hosted a VIP site visit from the Secretary of State for Defence, the Right Honourable Gavin Williamson CBE and the Undersecretary of State for the Department for Exiting the European Union, Robin Walker. The government delegation was hosted at the company's headquarters in Gresley Road, Worcester, where CMCA(UK)'s Managing Director Darren Topley and members of the Board provided the VIP visitors with an overview of the company's capabilities together with a number of case studies highlighting CMCA(UK)'s participation in various Ministry of Defence programmes. The CMCA(UK) management team also had an opportunity to present ideas for further cost-saving initiatives across the Ministry of Defence and to discuss the current challenges that SME companies operating in the defence sector are facing.
Speaking shortly after the visit Darren Topley commented:
"We were delighted to welcome the Defence Secretary to CMCA(UK) and to have the opportunity to brief him on the specific activities we perform on behalf of the Armed Forces."
"It's very unusual to have a two hour private audience with such a senior figure and we feel extremely privileged that he has chosen to take time out of his busy schedule to meet with CMCA(UK). Our discussions were invaluable in helping us to shape our own thinking around emerging government initiatives and policies."
Local press reported on the visit and quoted the Defence Secretary as having said: "It's really great to be able to join Robin Walker here and actually see what a difference businesses in Worcestershire are making in terms of supporting our armed forces.
"What you have here today is a business that is making sure that the army, navy and air force are able to continue to deliver, get their equipment out and properly supported."
"And without those types of businesses, without helping and supporting our armed forces we would be much more worse off and a lot less safe."
View more photos from the day here.
Farnborough International Airshow 2018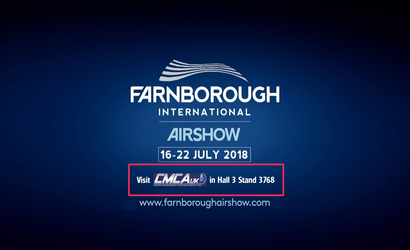 CMCA(UK) will be exhibiting at Farnborough International Airshow in July, the largest industry event on the aerospace calendar featuring over 1500 exhibitors from 52 countries.
We're excited to be amongst key global influencers providing thought leadership and a knowledge transfer hub for the global aerospace industry. Tens of thousands of visitors are expected to attend the event which offers the chance to watch the legendary flying display and get up close to a huge variety of aircraft, from fast jets to jumbos.
CMCA(UK) will be positioned on stand 3768 in Hall 3, next to the highly regarded

Innovation Zone which is

one of the show's key features

.
Get in touch ahead of the event to guarantee an appointment with one of our subject matter experts, whether you wish to discuss codification, procurement, long term storage or equipment lifecycle support issues.
The event will run from 16th to 22nd July and tickets are available to purchase
here
.
CMCA(UK) become REACH Ready Approved Supplier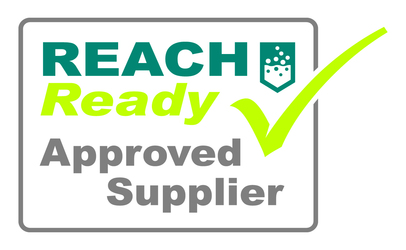 By now you will have heard about REACH in our previous newsletters but to jog your memory REACH is a European Regulation concerning chemicals and their safe use. It is not a "REACH directive" but a regulation which means it applies directly in all 28 member countries of the European Economic Area. Unlike RoHS, REACH does not require transposition into national law.
It is clear that the REACH Regulation is a complex piece of legislation and it's easy to feel overwhelmed when you're new to it. CMCA(UK) is now a REACH Ready Approved Supplier and we've already helped numerous blue chip companies get to grips with what they need to do to ensure their compliance. Being a REACH Ready Approved Supplier means that we know what the essentials are and the pitfalls to beware of and the best approach to take to make sure that your business tackles REACH in a cost-effective way.
For more information on REACH, to read a case study or to find out how we can help you contact CMCA(UK)'s subject-matter expert on REACH, Glenn Hill on +44(0)1905 458307.
May we take this opportunity to thank you for taking the time to read our newsletter. Please don't hesitate to contact us regarding any of our services or to see how we can help you. Contact either our Business Development Manager Antony Elliott on; +44 (0)1905 458 307 or email

Antony.Elliott@cmcauk.co.uk

.
CMCA(UK) Business Development Manager, Antony Elliott is a weekly visitor to

MoD

Abbey Wood in Filton near Bristol and can usually be found in (but is not restricted to) Neighbourhood 3 Atrium.

If you're based at Abbey Wood and you'd like to discuss any issues or questions you may have relating to Procurement Services, NATO Codification or Obsolescence Management Solutions, Antony is available for meetings in any of the Five Neighborhoods' Atrium's or will visit you directly on your floor-plate.

CMCA(UK) appoint Radiation Protection Supervisor

Here at CMCA(UK) our team of lab technicians work with X-ray devices on a daily basis to ensure that the items we process on behalf of our customers are genuine.

In order to comply with the latest Ionising Radiation Regulations from the Health and Safety Executive, CMCA(UK) has appointed Matt Kornel as in-house Radiation Protection Supervisor.

Matt is our most Senior Lab technician having served over 7 years working on a wide range of projects ranging from long term storage through to analytical solutions such as XRF , electron microscopy and metallography.

Matt was selected for the training and ultimately the position partly because of his background but also his great enthusiasm for the job. Congratulations Matt!

CMCA(UK) will deliver the next Codification training course alongside ESG Elektoniksystem- und Logistik-GmbH next month. The training is conducted at ESG's head office in Furstenfeldbruck, near Munich Germany. Entitled 'The Practicalities of Codification', the course is designed to equip would-be Codifiers from across the globe with the knowledge and skills required to perform the skilled role.

The 5 day training concentrates on developing the core codification skills that are required for a Codifier to operate effectively within the NATO Codification System (NCS), delivered by CMCA(UK)'s Codification Director Gary Harman and ESG's Herbert Klein, who between them have nearly 50 years of codification experience.

If you or your business has a need for Codification training

contact us

for further information.

Privacy Policy

In line with the changes that came into force last month relating to the General Data Protection Regulation CMCA(UK) has reissued our privacy policy to demonstrate to our customer and suppliers alike that we are committed to protecting and respecting your privacy. The policy explains when and why we collect your information and how we use it. You can view the full policy here.

Remember you are at liberty to unsubscribe or change your preferences in relation to your CMCA(UK) newsletter subscription at any time.