Merry Christmas and Happy Holidays!                                  December 21, 2013
Here's what's in this issue:
  Top 5 holiday pet emergencies...
  Cats domesticated in China first?
  Holiday gift page still open, but not for long...
  How to take pet photos...

Cat food news...  
  Click to feed shelter pets

Shopping for Cat lovers...
  Book list
Web sites to explore...
  Comforting a dying cat...
A smile for you...
  Latest video...
Take action....
  Things you can do to help animals.
NEWS FOR CAT LOVERS
Would you know what to do if your cat got sick or
hurt during the holiday festivities at your house?
This article has good suggestions to help prevent a
tragedy, such as what not to decorate your Christmas
tree with and what to tell guests about things like
strange foods or candy that are deadly for cats.
http://shine.yahoo.com/pets/top-5-holiday-pet-emergencies-144100209.html
-------------------------------------------------
Recent findings seem to point to the possibility
that the Chinese may have been the first to domesticate
cats more than 5,000 years ago, a lot longer in our past than
believed.
Cat domestication traced to Chinese farmers 5,300 years ago:
http://www.sciencedaily.com/releases/2013/12/131216154858.htm
http://news.yahoo.com/china-cat-ancient-chinese-may-domesticated-felines-200820707.html
-----------------------------------
My holiday gift page is still open but will be taken down
by the end of the year. If you haven't gotten the free gifts
there yet, hop on over and get the download link!
http://www.theproblemcat.com/giftpage/giftpage2013/
-------------------------------------------------
If you plan to take holiday pictures of your family and
pets, this article about dog photography is just as useful
for cats, with a few tiny modifications, such as no need to
take a long walk first.
http://csrswy.com/ab1DJ0g
The article is written by Juliana Weiss-Roessler and
appears on Cesar Millan's website, cesarsway.com.
CAT FOOD NEWS
Help Feed Shelter Animals
Don't forget to visit these sites as often as you can and
click on the shelter-feed links. There is no cost to you
to do this.
http://www.theanimalrescuesite.com/clickToGive/home.faces?siteId=3
http://www.givelitter.com/vote/
  (This one gives litter, not food. They have reached their goal this year so are not taking votes right now, but keep this site in mind for later campaigns.)
http://www.freekibblekat.com/
    (Answer a trivia question. Even a wrong answer wins!)
* * * * * * * * *
Be sure to scroll down the FreeKibbleKat page a little more
and look at the December Slide Show. Wonderful cat photos!
You can sign up for their daily reminders, too, if you need
a little nudge, like I do.
SHOPPING FOR CAT LOVERS
http://ouramazingcats.com/book-list/
WEB SITES to explore 
6 Ways To Comfort a Dying Cat
http://www.care2.com/greenliving/6-ways-to-comfort-a-dying-cat.html
A SMILE FOR YOU  
Cats Vs. Christmas Trees: 5 Videos of the Annual Holiday Battle: 
http://shine.yahoo.com/pets/cats-vs-christmas-trees-5-videos-annual-holiday-142100282.html
-------- LATEST VIDEO -----------
Check out the video on my website, at the top of the page.
http://www.theproblemcat.com
This one features one of my favorite cats:  Simon the Cat!
TAKE ACTION TO HELP ANIMALS IN NEED
How to help the animals:
1. Why UGG boots are NOT cute -
http://www.thepetitionsite.com/996/478/042/tell-ugg-to-stop-the-abuse-of-sheep-for-their-boots/
2. Always remember to check with your local shelter
to see what they need. Your donation will go directly
to the animals, in sharp contrast to some of the large
national groups, whose donation income goes toward
large administrative salaries and other expenses, not
necessarily for animals.
3. Take action against a fake sanctuary in Forks, Washington.
http://www.dogsdeservebetter.org/sonny.html
  (Story)
http://www.dogsdeservebetter.org/letter.html
  (Send a letter)
(I don't know if they have cats there or not. They are not
cooperating with people who inquire. Rumor has it there
are more than 125 dogs inside a warehouse in despicable
conditions.)
------------------------
Watch for your next issue of The Kitty Times in 2 weeks!
Happy Holidays and lots of purrs and meows,
Roberta, the Cat Lady
mskitty @ theproblemcat.com
===================================
We will NOT rent or sell your info. You are
subscribed to a free email newsletter from
R.J.Peters, "the Cat Lady." You can unsubscribe
anytime.
If you know someone who would like to read
this newsletter, please feel free to forward
this one to them. If they want to sign up to get
their own, refer them to my web site, here:
http://www.theproblemcat.com/  (use the signup form)
     or go directly to:
http://www.theproblemcat.com/optinpage.html
===================================
To see past issues of the Kitty Times:
https://ymlp.com/xgbuhmbugmgj
Thought for today:
One of the oldest human needs is having someone
wonder where you are when you don't come home
at night.
~ Margaret Meade ~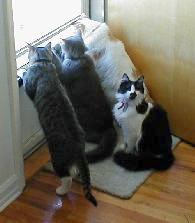 Part of my crew at the front door.