BIRDS CAUSE A FLUTTER IN STORE
SHUDDER LAUNCHES IN THE UK…
…AS HORRORSHOW.TV PREPARES FOR RELAUNCH
STUDIOCANAL MAKES A MILLION
SIGNATURE'S DOG MAKES A NOISE
NETWORK'S LARRAIN SCORES BIG…
…AS SALES ARM LOOKS FOR MORE…
…AND COMPANY PREPARES FOR WAR
UNIVERSAL'S BOSS GETS READY
AS NEW PROTECTION ARM LAUNCHES
QUOTE OF THE WEEK
---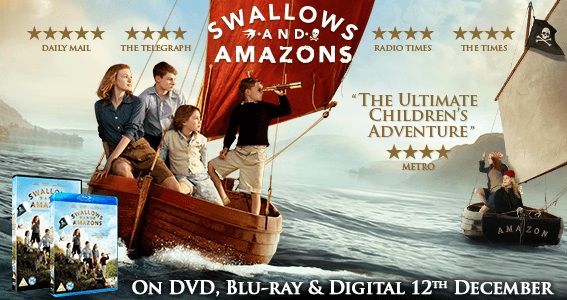 ---
If you can't read this newsletter or see the ads, please click here
It Was A Good Week For... The Angry Birds are flapping around…
It Was A Bad Week For… The two pirates who tried to have their jail sentences cut short, after a judge refused their appeal…
There's a distinctly horror-themed flavour to this week's newsletter with the launch of a new subscription video on demand service for gore fans, news that another is on the verge of being bought by another big US horror player, a raft of horror-friendly releases on the way, more screening at LFF, all in the run-up to the big day, on October 31. And even at number two in the midweeks', according to the Official Charts Company's midweek bulletin, there's one of the bigger theatrical horror releases of the year, The Conjuring 2, subtitled The Enfield Case, performing well on its retail release, sitting at number two at the halfway mark. But, for all its success (as a horror sequel it's an impressive showing), it was bested by The Angry Birds Movie, which sat some 4,000 units ahead of its closest rival at the end of play on Wednesday. The Sony family film goes into the half term week looking good, with SPHE putting plenty of child-friendly activity behind it, including assorted mummy-blogger initiatives and an appearance due at the Kidtropolis event at London's Excel centre. Elsewhere, The Take, sensitively and sensibly renamed from its original Bastille Day title after the horrific terror attacks in France, is in at number six, while Grimm Season Five is in at number nine and, outside the top 10, there are significant new entries in the shape of phone zombie thriller The Cell, the first series of Preacher at 25, The Originals at 26, the first season of Lucifer at 28 and the latest from BBC drama Our Girl at number 32.
A big winner this week has been the event cinema releasee of the 25th anniversary stage show version of classic musical Miss Saigon, with the specially presented version of the musical being beamed to cinemas around the UK for one night only, earning more than £2 million at the box office. It bodes well for Universal's release this week of the home entertainment version of the same anniversary staging. Commenting on its success, theatre impresario Sir Cameron Mackintosh said: "I'm thrilled so many people came to see Miss Saigon in cinemas and gave it such an overwhelming response. With fans embracing the live film as a uniquely cinematic, theatrical and absorbing experience, it is a wonderful gift in my 70th birthday week. The record breaking box office results for the film prove appetite for this story is as strong as ever with many people experiencing Miss Saigon for the first time on the big screen. It certainly has created excitement for the forthcoming UK tour which starts in the summer of next year as the sales to see the live show have been tremendous since the screenings on Sunday."
---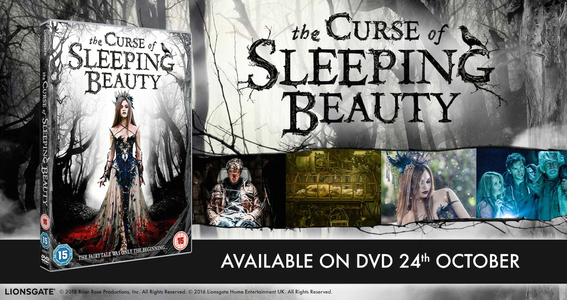 ---
To the Picturehouse Central for one of the final London Film Festival screenings – and one of our highlights from the LFF – as Arrow Video unveiled its gorgeous restoration of horror classic Phantasm under the banner of Phantasm Remastered. The procedure of cleaning up the original print was overseen by JJ Abrams' and his Bad Robot production arm, with the man credited with reviving the Star Wars franchise getting involved because of his love of the classic film from the VHS era. Director Don Coscarelli was on hand to introduce the film and take part in a lively and fascinating Q&A session afterwards ("they'd put Star Wars away at the end of every day and then work on Phantasm," he laughed, before adding of the film's notorious liver ball "every piece of fish in line has now been erased". It can't be stressed just how good the film looks and it will become a worthy addition to the Arrow Video catalogue on its eventual release in 2017, which should also see the arrival of an all-new sequel to the film. Commenting on the event, Arrow's Mike Hewitt said: ""One of the all-time horror cult classics, it was thrilling to see the new remastered Phantasm on the big screen, and we'd like to say a huge thanks to the London Film Festival for programming and arranging the UK screening. It was also truly Phantastic to have Don Coscarelli present, he was thoroughly engaging in his Q&A and he made sure to devote a lot of time post-screening meeting and signing memorabilia with fans. A legendary film from a legendary filmmaker".
Meanwhile, Monday sees Arrow getting into the Halloween spirit, with the release of Tales Of Halloween, which is shaping up to be the horror connoisseur's new title of choice in the run up to October 31. As the company's Jon Sadler said: "Tales of Halloween is looking like being a really strong title for us, what with its wide retail distribution, healthy pre-orders, overall pedigree – having previously premiered at Frightfest, and its archetypal, Carpenter-esque, setting in a typical American suburb. Add to that a really striking 'O-ring' pack, with burnt-orange foiling, and a 'does-what-it-says-on-the-tin' title and strong sales should follow."
More from the Arrow Video imprint and, after another success with The Burning (see last week's newsletter) the label is lining up another biggie which is currently picking up a head of steam, as Jon Sadler outlined: "From one suburban setting to another, our gorgeous and newly restored Donnie Darko limited edition box set, due for release on December 12, looks likely to be another sell-out by release for Arrow Video, and hot on its heels will be our 15th anniversary 4k theatrical re-release, with previews at BFI Southbank from Friday December 16. We have been working closely with Richard Kelly, whom we hope to bring over to the UK for some unmissable Q&A's and high profile press and media appearances. We are currently working on an exciting new trailer and poster – both to be unveiled in time for Halloween. Standard editions of the film on DVD and Blu-ray will follow on January 9."
---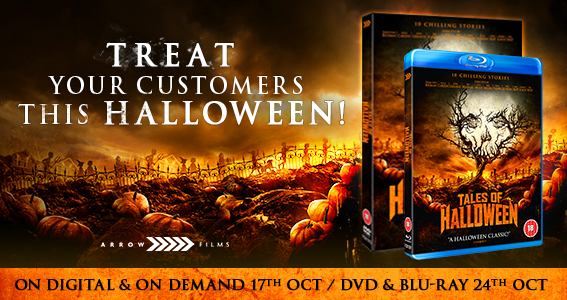 ---
It's been the best kept secret among horror fanatics for a few weeks now, as the gore cognoscenti have been dipping into its Beta offering and this week new svod channel Shudder officially opened its doors for business in the UK and Ireland (as well as Canada). The service, which boasts a raft of horror titles across the board, taking in all different examples of the form, from Hammer horror through to original, new, exclusive offerings, costs £4.99 a month (after an initial free week's trial) and is available to view as an app through various platforms and the Shudder website. Shudder, owned by AMC Networks in the US, claims some 80 per cent of its initial offering is exclusive to its svod service and not on any rivals. Forthcoming exclusives include recent LFF offering Dearest Sister, from Laos and French series Beyond The Walls, with titles due to arrive including eagerly awaited Japanese horror team-up Sadak Vs Kayako and Rob Zombie's 31. Classic titles available include Hellraiser, old VHS favourites such as Maniac Cop, controversial German outing Nekromantik, once banned by the BBFC, and more. We'll have more on the service in the coming weeks, but word of mouth among those in the know looks good for Shudder…
Of course, Shudder isn't the first specialist vod horror service on these shores, as it joins TheHorrorShow.TV now in its third year, with nearly 300 films on its streaming service, and itself in the final stages of a sale to a major US horror brand. Founder David Hughes said: "With the major new investment coming our way as part of our takeover, we're gearing up for a major relaunch early in 2017 with streaming remaining our core business, but also expanding our physical releases and e-publishing arm, following the success of our massive e-book Modern Horrors, which boasted an introduction by James Wan and did extremely well." Is the U big enough for two horror platforms in the shape of Shudder and TheHorrorShow.TV to co-exist? "Absolutely," Hughes said. "There are few fans as hungry as horror fans, and while places like Netflix and Amazon Prime Video
The grandaddy of all horror is, of course, Hammer, but the next release from Studiocanal under the studio's banner is not your average Hammer horror film. For due for a release for the first time ever n Blu-ray is the classic prehistoric adventure One Million Years BC, due on Monday October 24. Commenting on the iconic film, Studiocanal's Alison Arber said: "We are very excited to be releasing a brand new restoration of Hammer Classic, One Million Years B.C. in celebration of the 50th anniversary. The spectacular prehistoric adventure will be available on Blu-ray for the first time, including brand new bonus features. Featuring stop motion dinosaurs by legendary special effects animator Ray Harryhausen and of course, the iconic image of star Raquel Welch in a fur line bikini, this is a must for all Hammer fans."
---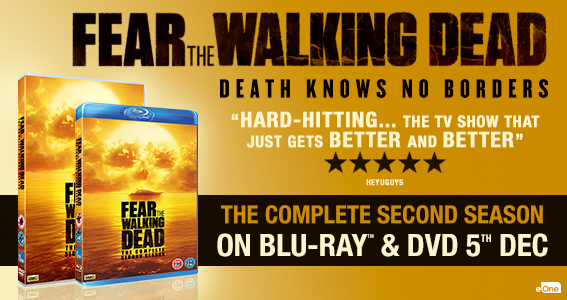 ---
Returning to LFF and we're putting the finishing touches to our round up of this year's event, where we saw some cracking films, and we\re also soliciting responses from some of those distributors and suppliers who had films on show at the LFF. Among the highlights from our perspective, was the rather wonderful Dog Eat Dog, the latest from Paul Schrader featuring particularly bonkers contributions from the likes of Willem Dafoe and Nic Cage. Signature has the UK rights to release the film, and was one of a brace from the company, with The Void also airing. Commenting on its titles, Signature's Claire Loewenthal said: "It was a pleasure working with the BFI team for this years London Film Festival. Dog Eat Dog and The Void are both quality pieces of film that we were proud to bring to the movie-going audiences of the prestigious festival. With added support from the talented and charismatic filmmakers, including the legendary Paul Schrader and ridiculously brilliant directors Jeremy Gillespie and Steven Kostanski, we were able to create plenty of buzz and excitement which was truly felt during the electrifying screening for both films. Dog Eat Dog will be coming to cinemas and digital platforms in just a couple of weeks – Nov 18th – with a physical release set for January 9th next year. The Void will be coming to screens in 2017. Watch this space!"
We've got more contributions from the likes of Studiocanal – arguably one of the best represented distributors at the LFF, both in terms of the amount of films and the quality on show too – as well as others. If you'd like to contribute, drop a note to us at the usual address.
Talking of LFF, one title that was deemed to be among the best the festival had to offer this year was Neruda, the latest from Pablo Larrain. The film is due in early 2017 at cinemas after its rapturous reception and Network is continuing its long association with the director by announcing that it will be handling the UK release of the acclaimed film. Commenting on the latest from Larrain, Network's Tim Beddows said: "Network is once again thrilled to be distributing Pablo Larraín's next cinematic masterpiece Neruda. This is his most spectacular outing yet and we are looking forward to presenting it to UK audiences following two sell out shows at LFF's huge temporary cinema."
Meanwhile, sticking with Network, we've been chatting to the ever-expanding company, which now comprises its own label, which has ongoing deals with Fremantle, BBC, ITV,, Studiocanal and others to release product from their vast libraries, its own authoring and design operation, and now its own sales operation looking after its product and distributed labels. And it's still keen to expand further. Its catalogue is now around the 2,000+ mark in terms of active titles, with more to come. As md Tim Beddows said: "The increased catalogue brings increased opportunity, and while we have to work harder to earn our money, the demand for back catalogue, particularly usual or rare content is still very, very healthy." It's also looking to expand its sales operation too after its deal with Fremantle saw it looking after the TV giant's catalogue, as well as taking on its distributed labels too as it launched its own sales arm. Beddows said: "Its working very well with the sales team. It was very hard and demanding work incorporating them, a huge influx of titles and the labels all at the same time. But within a couple of weeks it was like the sales team had always been part of the Network family. That's hugely gratifying. It was a bit of a risk and it couldn't have succeeded without all the elements coming together at precisely the right time but the results have been outstanding and I'm very proud of everyone for pulling it off. We're still looking for more labels and there are companies we'd like to work with so I'm hopeful we'll get an opportunity to show them what we can do in these testing times."
And lastly from Network, the company is now readying itself for an all-new Blu-ray restoration of one of the undoubted highlights of the Fremantle catalogue, The World At War, due on October 31. Tim Beddows, again, said: "It's the jewel of Thames archive and we felt there was room for further improvement on previous versions so we've again gone back to the original elements, regraded and restored it in HD but this time in the correct aspect ratio. Unbelievably it's never been available in that format before and it's wholly appropriate for what is regarded as the best documentary series ever made."
---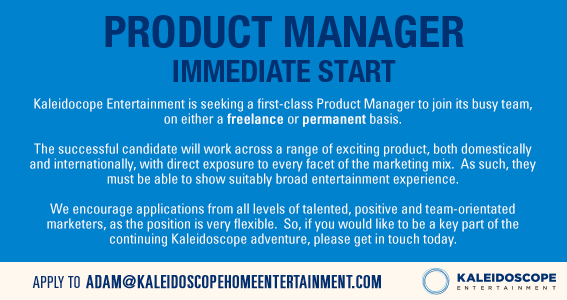 ---
It's half term week and visitors to Kidzania in Westfield will get the chance to see a skateboarding masterclass inspired by Teenage Mutant Ninja Turtle Michaelangelo as part of the PR activity for the Universal release of Paramount's latest Turtle outing, Out Of The Shadows, released in a plethora of assorted SKUs on Monday October 24. Much of the PR activity is centred on the kids' holidays, with further marketing including TV, the main focus for the campaign, with further social media elements backing that up. Lisa Penna, senior product manager atUniversal said: "This follow up to the 2014 film is TURTES-AMAZE and guaranteed to put a smile on your family's faces."
Also from Universal, comes The Boss, the latest from Melissa McCarthy, who's already proved her worth as a bona fide video star. As is the norm these days, the film comes in both theatrical and extended versions, with a raft of extras and, in a further boon for DVD consumers, an added copy of Identity Thief is up for grabs while stocks last. Marketing includes social advertising and PR activity, which will target various media 'bosses' with brownies on day of release. Junior product manager Emily Evans said: "This has been such a fun campaign to work on, I've been laughing from start to finish!"
Monday October 24 sees the arrival of the first batch of titles from new imprint Indicator, through Powerhouse, arriving in stores, with John Carpenter's Christine, complete with a raft of extras, leading the charge. Commenting on the reception thus far and its plans going forward, Powerhouse's John Morrissey said: "Powerhouse's John Morrissey said: "The Indicator label has been a long time in the making, but the sales results and feedback we've had on our launch titles have made it all worthwhile. Early print and online reviews have all been really positive, and the feedback via social media has been overwhelming too. We've left no stone unturned in terms of extras, technical quality and packaging, and we're aiming to continue delivering with this level of product going forward. We have a full roster of great product for 2017, and we are aiming to release three or four titles per month. In November we have one of our strongest titles, 10 Rillington Place, which the BBC have just re made, starring Tim Roth, which will screen on BBC1 in the run up to Christmas. So we have very exciting times ahead."
And, of course, if it's half term, then you'd expect the Film Distributors' Association to be busy and the short school break sees the FDA getting busy again in the West End of London, hosting two days' worth of activities at the Cavendish Centre, with Halloween themed activities and more centred on film fun…
The FDA activity comes hot on the heels of the formation of a new anti-piracy organisation under the umbrella of the FDA. The Film Content Protection Agency will focus on "safeguarding films throughout their UK theatrical life cycle", with a focus on prevention of, and training about, copyright theft in cinemas, stopping pirates from filming and camcordering in cinemas. Staff have transferred over from FACT and will be based on the FDA's offices, but working around the country. It will liaise with cinema owners and exhibitors as well as local authorities. Commenting on the new initiative FDA President, Lord Puttnam of Queensgate CBE, said: "The cinema offers a uniquely immersive digital entertainment experience. But there's perpetual vulnerability when files can be uploaded to websites that, very rapidly, can share and monetise stolen content. I'm delighted this new unit is up and running, it's an important addition to the distributors' armoury in safeguarding theatrical releases and enabling UK audiences to enjoy films to their maximum effect in legitimate formats." Stan McCoy, President and Managing Director, Motion Picture Association EMEA (MPA), said: "Cinema security is a key priority for the industry and the MPA welcomes this important step by FDA. We will work closely with the new unit to analyse threats and offer practical support as it fulfils its UK-wide remit on behalf of film distributors and other partners. The MPA is committed to promoting a diverse creative economy, sharing our passion for innovation, creativity and production standards with our consumers, and defending the rights of creators and their business partners to be compensated for their work." Meanwhile, over at FACT, the company is shortly due to unveil its strategy going forward following US film studios pulling the plug on funding…
---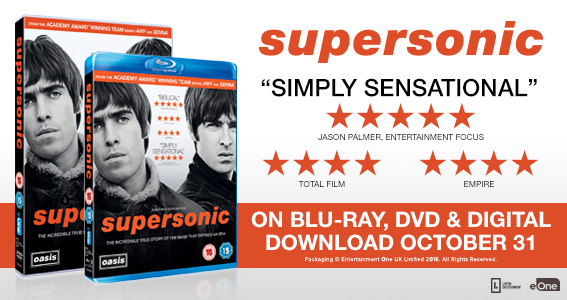 ---
"Whilst we accept that the sentences passed on these two young men were stiff, we are unpersuaded that they were manifestly excessive."
Justice Hickinbottom, turning down sentence appeals from Sahil Rafiq and Reece Baker, who had both been given four year plus sentences for illegally uploading films…
Inferno was the biggest new entry of the week at UK cinemas, taking just shy of £3 million in its opening weekend, ahead of Storks, with almost £3.25 million, and the aforementioned Miss Saigon event cinema title. American Honey landed with a touch over £175,000.
Big news from Studiocanal this week as the company revealed that principal photography had commenced on Paddington 2, the sequel to its huge family adventure. What's more, as well as revealing plot details, it has also announced that Hugh Grant and Brendan Gleeson are joining the returning cast and characters… Ron Halpern, evp of international productions and acquisitions for Studiocanal said: "Paddington is such a beloved film for all of us at Studiocanal. There really is nothing which could make us all happier than to be back with Paul King, David Heyman and this wonderful cast to begin a new Paddington adventure."
It had a long and circuitous route to cinemas, but after it finally arrived, Deadpool wowed audiences and seemed to be a guaranteed banker for Fox. But the sequel to the hit starring Ryan Reynolds has hit a stumbling block as this week director Tim Miller exited the project, with the old chestnut of "creative differences" between the star and the helmer being cited. It is believed Reynolds has more creative control and his wish for more of the raunchy comedy that marked the first film out clashed with the director's vision for a stylised sequel. There's no release date set yet, but watch this space…
The week's big casting news has seen the Star Wars factory and the directors of the Han Solo standalone outing, focusing on the hero's early adventures as a young man, unveiling their Lando Calrissian. Phil Lord and Chris Miller have welcomed Donald Glover, of The Martian and, soon, the next Spider-man film, who will play Solo's sometime friend…
And a Ramones cover soundtracks this goo looking trailer…
A big week for Fox trailers…
And another one for the trailer breakdown writer…
To subscribe to

The Raygun newsletter, please email
info@theraygun.co.uk
with subscribe in the subject matter
To unsubscribe, email
info@theraygun.co.uk
with unsubscribe in the subject
For editorial or advertising queries, contact
tim@theraygun.co.uk