TRACES OF MEMORY

Exhibition Karin Borghouts photography

 

- Mieke Teirlinck paintings
Karin Borghouts shows a new series of photos: 'A painter's house'.
 After his death, the house of the painter Marten Melsen (1870-1947) was inhabited by his daughters. The sisters continued to live there until they were well into their eighties. They kept the house intact, as their father left it behind.The photos of these authentic interiors offer a view to a time that is not too far behind us, but yet has ended. Through her art painters education, and also due to a beautiful light, Karin Borghouts knows how to unveil this photogenic environment with a special and empathic sensitivity.
Karin Borghouts is an artist photographer best known for her series The house, photos of her burned parental house.
The recent paintings by Mieke Teirlinck depict a great sensitivity to traumatic memories.
2 - 6 pm
Karin is present on Sunday January 6.

Belgium
Series 'A painter's house', archival piment print, limited edition 100 x 125 cm en 60 x 75 cm

© Karin Borghouts
Groupexhibition
The title of the exhibition refers to the book 'L'œuvre au noir' (Het hermetisch zwart), a historical novel by Marguerite Yourcenar (the first female member of the Académie Française) in which she describes the tragic fate of the Flemish sixteenth-century physician, alchemist and philosopher Zeno.
The inspiration for the exhibition refers to the moment in alchemy in which everything becomes charred.


With Karin Borghouts, Stijn Cole, Warner Berkmans, Eduardo Chilida, Bert De Leeuw, Frederik De Wilde, Trees De Mits, Dave Donne, Eugene Dodeigne, Nick Ervinck, Frits Jeurinck, Bart Lens, Lore Langendries, Jeroen Maes, Jorge Manilla, Joke Raes, Mireille Robbe, Thomas Ruff, Engelbert van Anderlecht, Ann Van Hoey, Filip Vervaet, Karen Wuytens a.o.
Until January, 27, 2019
Open Friday, Saturday and Sunday 2-6 pm

Brugstraat 45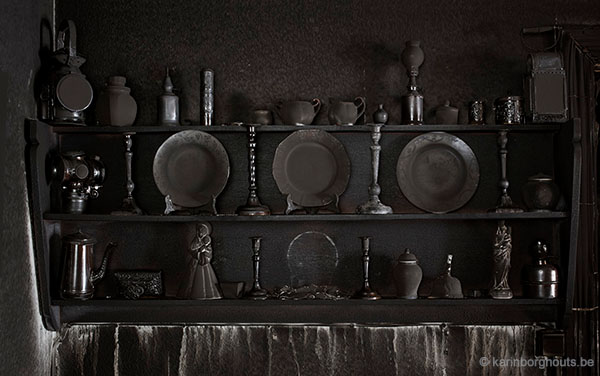 Series 'The house', archival piment print,

limited edition

100 x 160 cm 

© Karin Borghouts
ART ASSIGNMENT MUSEUM DE LAKENHAL LEIDEN
Museum De Lakenhal in Leiden (NL) asked the artist Karin Borghouts to photograph the restoration and expansion of the museum. The assignment shall result in a series which will artistically portray the process of emptying and cleaning up and the remodeling of the museum parts. The construction of the new museum part will be realized by HappelCornelisseVerhoeven Architecten. The museum has closed its doors in May 2016 and reopens in June 2019.
Karin Borghouts will get a solo exhibition in the exhibition hall in the new museum and her photographs will be published in a new museumbook.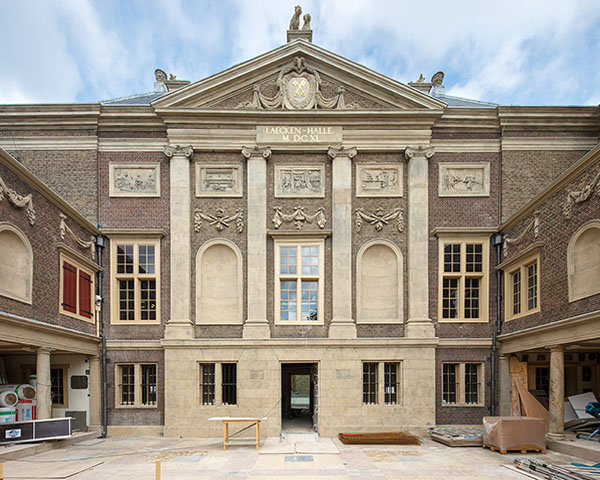 Museum De Lakenhal in Leiden  (NL) © Karin Borghouts 2018

ZICHT
is a monthly newsletter of Belgian artist photographer Karin Borghouts.
She is working on her own projects and on commissioned assignments by museums, art
and heritage institutions, architects, publishers and city councils.
Karin Borghouts, Bareelstraat 32, 2920 Kalmthout, Belgium

We respect your privacy and do not share or sell our mailinglist. We do not track you or record information about you.

We do enjoy keeping you informed of our exhibitions and our artist's news via email; however, if you do not want to receive these emails anymore, you can unsubscribe below at the bottom of the page.  
Subscribe to ZICHT on the homepage, scroll down.


2018 Copyright Karin Borghouts/SOFAM