FUNDRAISING 
The Aspergillosis Trust are ramping up their fundraising activities.
They now have several promotional items available for a donation.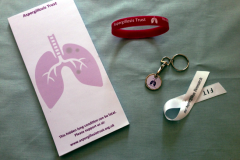 login

 to the Aspergillus Website and check the 'Notifications' tab 
Login to your own account and click on 'Bookmark this' on any page. Bookmarks are saved to your account under 'Bookmarks' tab.
Highlights of this month...
The burden of Invasive Aspergillosis in patients with haematological malignancy: A meta-analysis and systematic review.
The incidence of invasive aspergillosis (IA) in patients receiving treatment for haematological malignancies remains relatively high at 10% of patients.  How successful subsequent treatment for both the malignancy and the fungal infection is reviewed in this paper in a large patient population.
49 publications met the inclusion criteria for the meta-analysis and a total of 16, 815 patients were involved of which 1056 (6.3%) developed IA. The risk of IA was found to range from 4% (with antifungal prophylaxis) up to 11% (without antifungal prophylaxis).

Prophylaxis was found to be associated with a lower rate of IA. 

Case fatality rate was 29% overall (range 20-38%).
The authors discuss that despite antifungal prophylaxis invasive aspergillosis remains a relevant threat to patients with haematological cancer. The authors reflect that this study emphasises the need for initiation and management of antifungal stewardship programs in order to maximise the effectiveness of current and future antifungal prophylaxis.
Conference abstracts, posters & presentations
We have renamed the conference abstracts section of the Aspergillus Website as some conferences are now presenting far more than simple abstracts. This month we have uploaded 170 ISHAM2018 abstracts and 15 EAACI 2018 presentations, many of which are available as complete 30min talks with audio and slides.
Medical Mycology Worldwide is an attempt to provide all medical mycology groups/societies with a website, a discussion forum, a blog and the means to communicate with their members as well as the members of other societies. The Nigerian, Ugandan, Moldovian and Chilean Medical Mycology Societies are already using Medical Mycology WorldWide - it is free of charge to join and use and is run by the same team who run the Aspergillus Website, supported by the Fungal Infection Trust.
The fungal disease advocate charity GAFFI (Global Action Fund for Fungal Infections www.gaffi.org) have published a report about their recent meeting that agreed on consensus recommendations for the World Health Organisation (WHO) on which fungal diagnostics should be considered essential for counties that have low- and middle-incomes. 
The authors assess the potential for neurotoxicity caused by the antineoplastic agent vincristine when used in combination with antifungal drugs fluconazole and voriconazole. It is relatively common for patients undergoing treatment for leukaemia and lymphoma with vincristine to be at risk of fungal infection so safe use of antifungal drugs in combination with vincristine is important to assess.
The study found that the antifungal drugs had no impact on the levels of neurotoxicity with a similar frequency of occurrence and level of severity with or without antifungals. Limited usage of the two together was deemed reasonable and safe.
Aspergillus fumigatus is commonly found all over the world in soils and rotting matter but there is evidence that suggests that different strains of A. fumigatus exist in different geographic areas. This suggests that the forces of natural selection have changed A. fumigatus in different ways depending on the selective pressures in the locality.
This is of clinical interest as it is important to understand how gene flow - in particular the genes that confer resistance to azole antifungal drugs - might occur locally, nationally and internationally. The presence of different strains of A.

fumigatu

s in different geographical areas may well also tell us something about the spread of antifungal resistance.
The Cameroonian strains of A fumigatus had some unique features suggesting that the strains were novel and very different from European and Asian strains. There was no antifungal resistant detected when strains were exposed to levels of itraconazole or voriconazole that are normally used to treat patients, though some variability in minimal inhibitory concentration was found.
Primary cutaneous aspergillosis is a rare but potentially life-threatening disease. We present the case of a premature infant who developed primary cutaneous aspergillosis with Aspergillus niger at the site of a skin abrasion that had been treated with a purple-colored cyanoacrylate product. The infection was treated successfully with gentle debridement of the cyanoacrylate product, followed by intravenous voriconazole and topical fluconazole. To our knowledge, this is the first reported case of primary cutaneous aspergillosis occurring at the site of cyanoacrylate-based skin adhesive.
Very rarely, invasive fungal rhinosinusitis (aspergillosis or mucormycosis) can spread via blood vessels from the mucosa lining the sinuses to the brain and eye socket, with mortality rates of around 50-80%.
Dr Ignacio Javier Fernandez and colleagues in Bologna (Italy) reviewed the charts of 1832 at-risk (immunocompromised) patients, and found 19 that had been affected by invasive fungal rhinosinusitis. Before 2007, the average time delay before treatment was just over 12 days and the survival rate was 57%. In 2007, the centre introduced an early diagnosis protocol that reduced the average delay to around 5 days and increased the survival rate to 83%. The degree of disease progression was strikingly lower after introduction of the early diagnosis protocol: 42% of cases did not progress beyond the nose, and no cases progressed to the intracranial form.
EORTC guidelines require a diagnosis of IFRS to be confirmed by histological and microbiological testing, but these authors suggest that a combination of clinical, radiological, serological and endoscopic data can give a diagnosis that is reliable enough to proceed with surgery.
This extensive review describes the enormous range of uses that have been found for antifungal azole chemicals. Unfortunately, the remarkable success of these compounds is also starting to become a reason for their downfall. Azoles are used to treat animals, plants and are even added to paints in an attempt to control fungal growth, but their ubiquity also means that environmental fungi are being exposed to the antifungal impact of these chemicals and resistance to azoles is appearing ever more rapidly in fungi.

We know that resistance originating from environmental exposure to azole antifungals is making it more difficult to treat serious fungal infections in our clinics where azole drugs are a mainstay of treatment.  The authors discuss how we must have greater control over the use of azole antifungals in order to minimise the growth of azole resistance in fungi. As a consequence of the overuse of azoles, we must also prioritise the development of new (non-azole) antifungal drugs to replace them. 
The diagnosis of invasive aspergillosis remains challenging in solid organ transplants in general, and in lung transplant recipients, in particular, because of the lack of diagnostic tools that can differentiate between colonization and pathogenic infection. Lung transplant recipients may be over treated with antifungal drugs because of the lack of appropriate diagnostic tools.

This paper presents a review of new developments of diagnostic tools and whether they may help with distinguishing colonization from invasive disease.

 

A helpful review of the anti-fungal immune response IL-12 pathway, focussing on IL-27 and IL-35 during immune responses to Aspergillus and Candida.

 



There are a few recorded examples of an Aspergillus species that is pathogenic towards an insect or has a symbiotic relationship - a case in point being a strain of A. terreus isolated from dragonfly gut that expresses novel antifungal chemicals to suppress competing plant-pathogenic fungi. This extensive review contains several more examples.
The Aspergillosis Trust are a patient-led group that have two aims. The first is to raise awareness of aspergillosis throughout the world so that both doctors and patients are more likely to understand what it is and when it happens. A more general understanding of the severe impact of aspergillosis on peoples lives could also help persuade those in charge of prioritisation of public funding for better diagnosis, treatment and other research aims. This is to be started off by getting the support of people well-known to the general public, and by publishing patients stories.

The Aspergillus community/patient group meeting has moved forward in the day. It now meets on the first Friday of each month at the Altounyan Suite, North West Lung Centre, Manchester at 12.30pm BST/GMT (not 1pm). If you can't make it in person, you are welcome to listen in to our Facebook Broadcast. 

If you want a text reminder when each meeting is approaching (UK only) then send us an email at admin@aspergillus.org.uk with your mobile phone number.
If you would like to listen or chat with fellow patients and a NAC staff member we are running a successful online meeting every week! We are a chatty group of 8 - 12 most weeks. If you have a computer or smartphone you will be able to join in using Zoom - download of this software is free and easy. Just click on https://zoom.us/j/243782379. This meeting is at 11am GMT every Thursday (UHT+1 in the summer). 
We also have a Facebook group for carers, friends and family of someone who is affected by the disease - join here. 
To find our regional and international groups, search the following terms within Facebook: 'aspergillosis'; 'aspergillus'; 'ABPA'