SHOP HOURS
Monday: CLOSED
Tuesday: 12 - 6
Wednesday: 12 - 6
Thursday: 12 - 6
Friday: 12 - 6
Saturday: 10 - 6
Sunday: 12 - 4

 

As the end of summer approaches, so does our favorite week of the year - the I-75 Yarn Crawl! This year it is August 2nd - August 11th. The shop is busting at the seams with new merchandise and we have THREE trunk shows planned for the Crawl so whether you are hitting the road or just staying local, don't forget to stop by! To make it easier, we have extended hours just for the days of the yarn crawl!

 

 

 
First up is Just Sock by Shirsty Cat Designs. Did you visit the Shirsty Cat booth at the Kentucky Sheep and Fiber Festival this year? We did and we fell completely in love with her colors and her Just Sock base is unbelievebly soft, so we added it to our F
all offerings. As the name implies, this yarn is perfect for socks as well as mittens, cowls and shawls.
New Malabrigo!! We added two new Malabrigo lines to our offerings last month. The first is Susurro, a DK weight silk/wool/linen blend that is a dream to work with. Currently Robyn is finishing her
Vine Street Vest
for the July KAL out of this yarn and none of us can stop touching it. If that isn't your style, we also have a free shop pattern for the
Macophylla shawl
that uses just two skiens of this lovely yarn.
The second new yarn from Malabrigo is Verano a 100% Pima Cotton in worsted weight. This yarn is soft, so soft that we couldn't resist adding it to our already full cotton section! We also added
Malabrigo book 16
 which is full of patterns for this summery yarn, everything from sweaters to shells to shawls to blankets.  
You know we are suckers for beautiful colors, so we had to add a couple of yarns from Manos del Uruguay including Alegria, a fingering-weight merino/nylon blend in a palette of beautiful bright colors perfect for your next favorite pair of socks.
You might remember Perennial by Kelbourne Woolens from the LYS kits we had back in April. We loved the feel of this fingering weight Superwash merino/suri alpaca/nylon blend so much we decided to add it to the shop on a more permanent basis. While an excelent choice for scarves and cowls, it is also perfect for light garments such as the Roxborough Dolman or the Yangtze Cardigan. We know you are going to love this yarn as much as we do. 
Lastly, we have August's Sassy Holiday colorway from Knitted Wit- Watermelon in honor of National Watermelon Day on August 3. Here at ReBelle, we love summers and watermelon so we are pretty excited about this one. In addition to a fabulous colorway, the Knitted Wit love letter to watermelons also includes some watermelon recipes to get you in the mood for the holiday, I know I will be trying the Watermelon Lime Chiller after work. Read this month's loveletter
here
. 
Our Yarn of the Month for August will be Viento by Plymouth Yarns. This Chainette-ply chunky weight alpaca/bamboo blend manages to be light as a feather while keeping you cozy warm. There is a terrific
free cabled hat/cowl pattern
for this yarn, but our current favorite use for the yarn is the
Behind the Scenes Cowl
by Michelle Hunter. For those interested, we will be knitting the Behind the Scenes cowl as our free shop knit along for the month of October so get some now while the yarn is on sale!!
Friday, August 2- Sunday, August 11

 

This will be our fourth year participating in the I-75 Yarn Crawl and we couldn't be more excited. For those of you who are new to the I-75 Yarn Crawl, it is an event that spans I-75 from Tennesse to Michigan and includes more than 50 yarn shops. This year the I-75 Yarn Crawl spans two weekends so you have extra time to explore shops near and far. A passport is only $6 and gets you access to Crawl exclusive sales, deals, and prizes.

 

At ReBelle, we have been planning some really great events for both Yarn Crawlers and regular customers. Helena from Oink Pigments will have a pop-up shop at ReBelle on August 2-4, come by and browse her stunning selection of yarns including a custom colorway created just for us. August 5-8, we will have a Knitted Wit trunk show featuring their National Parks colorways, and finally, August 9 & 10 we will be joined by Erin of Rock and String Creations who will bring along her full selection of beautiful hand dyed yarns.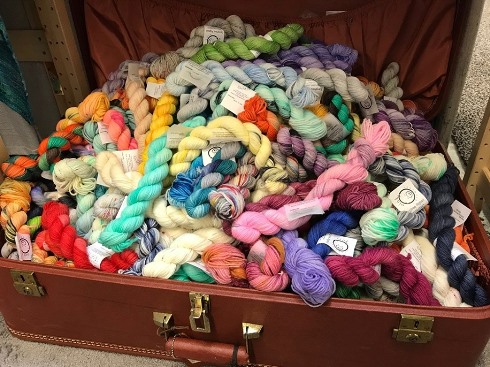 Oink Pigments Pop Up Shop
Friday, August 2- Sunday, August 4

We are so excited to have Helena and Roy G. Pig joining us for the I-75 Yarn Crawl this year. Helena will bring over a dozen trunks FULL of Oink Pigments' fabulous yarny goodness to ReBelle to celebrate the start of the I75 Yarn Crawl. If that wasn't enough, she will also be dyeing an exclusive colorway for the event. We can't wait!! Come early to get the best selection!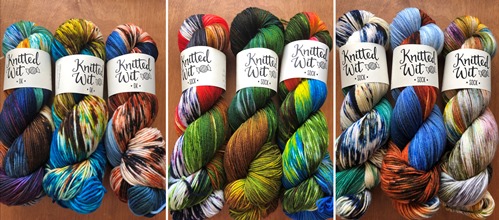 Knitted Wit National Parks Trunk Show
Monday, August 5- Thursday, August 8
As part of the I-75 Yarn Crawl, we will have a National Parks themed trunk show by Knitted Wit. Due to the crazy popularity of the National Parks Club colorways this summer, we are bringing in two lines for this trunk show- the Sock you know and love and the DK for even more project possibilities!
You might know Knitted Wit from the Flotus Shawl KAL or the Herstory Sock Club, the Sassy Holidays Sock Club, or this summer's National Parks Club. We love their yarns and have knitted everything from socks to shawls to sweaters with them. From the vibrant colorways to the thoughtful interpretations, Knitted Wit has something for everyone. 
The trunk show will be happening during all shop hours between 8/5-8. See you there!!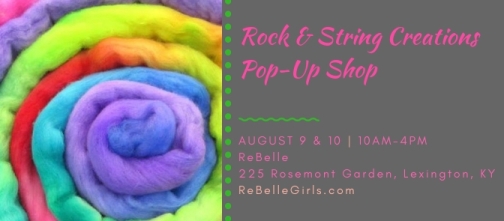 Rock & String Pop Up Shop
Friday, August 9- Saturday, August 10
We are excited to welcome back Erin of Rock and String Creations for a third pop-up shop with her beautiful locally handdyed creations. We know that many of you are already big fans of Erin's beautiful handdyed yarns, but if you haven't had the chance to experience them, this is the perfect time. 
This event will be happening during the I-75 Yarn Crawl so all participants coming through the shop during the pop-up shop will be entered to win a bonus prize!!
Featured Upcoming Classes
 

Ready to knit your first sweater or found a great sweater pattern but feel a little unsure about going at it alone? Then this class is for you. This class will be a workshop -- you pick the pattern and yarn you want (with our help if you need it) and bring it to class.  While we knit, we'll learn from each other's patterns by discussing techniques found in your individual patterns.

 

This is an intermediate class, students will need to be comfortable with knitting fundamentals- knitting, purling, increasing, decreasing, and knitting in the round.

 

Five sessions, $60

Wednesdays 7/31, 8/7, 8/21, 9/4, and 9/18.

6-8:30pm

 




 
 

 

Come learn the basics of Tunisian Crochet while making this quick, easy cowl!

 

 

 
Crochet Spiral Dream Catcher

 

Come learn to crochet a spiral dream/sun catcher, a perfect summer accessory for your outdoor living area. These bright little catchers look great inside and out and they use a very unique construction style. They are so fun, you won't be able to make just one. Teacher: Susan Winkler 
For this class you will need basic crochet skills, 10 yds each of 7 different fingering wt yarns, 7 locking stitch markers and a 7" hoop.

 

Saturday, 8/24. 10:30am-1pm