Silver Spring & Takoma Park Neighbors:
Maryland's 2020 legislative session is in full swing, and I have some early updates for you. Below you can read about a few bills I'm working on and early actions we've taken in the House of Delegates.
I've also just been appointed Chair of the House Criminal Law & Procedure Subcommittee, so I'm transitioning into a new role this year. Please feel free to share your thoughts on any bills we are debating.
Lastly, I have a limited number of college & grad school scholarships available for residents of District 20: Applications are due May 15.
Thanks for staying engaged!

EARLY ACTION ON MARYLAND POLICY
Background Checks for Private Long-Gun Sales Passes House - After years of delay on gun safety, The Capital Gazette reports on progress in the Maryland House: "A bill that would require background checks for private sales of long guns passed in the Maryland House of Delegates on Tuesday, 87-47, after much debate.... Advocates say it would close a dangerous loophole in Maryland's universal background check law that allows individuals to obtain long guns through private transfers without a background check." We are now awaiting Senate action on this bill.
House & Senate Override Vetos of "Ban the Box," In-State Tuition for Immigrants, Tighter Handgun Permit Appeals & Oyster Sanctuaries - After the 2019 legislative session, Governor Larry Hogan vetoed a few of our legislative proposals. I was proud to join my House & Senate colleagues in voting to override vetoes on a few key bills including: 1) Prohibiting employers from immediately asking job applicants about criminal records, 2) Providing in-state tuition rates for all of our students, regardless of their immigration status, 3) Approving a plan to protect our oyster population, and 4) Reducing the politics in handgun permit approvals.
Maryland House Begins Livestreaming Floor Debates - Maryland Matters reported on a small step toward greater transparency in Annapolis: "It happened without warning, when Speaker Adrienne A. Jones decided to activate the half-dozen small, robotic cameras that were installed around the chamber late last year.... For decades, legislative leaders opted to keep the drapes in Annapolis drawn, even as cameras became commonplace elsewhere.... But when two lawmakers — Dels. Kathy Szeliga (R-Baltimore and Harford) and David Moon (D-Montgomery) — introduced legislation requiring that cameras be installed in the House chamber, [the late Speaker] Busch adopted their push for openness."
KEY BILLS I INTRODUCED FOR 2020
I whipped up a large batch of bills for Maryland's 2020 legislative session, and I wanted to highlight a few of them below:
Erase LGBTQ Discrimination from Our Books (HB 81) - The Baltimore Sun endorsed legislation I introduced to repeal laws used to target LQBTQ Marylanders in the past: "Anti-sodomy laws across the country originally targeted heterosexual sex that wasn't part of procreation. But in the '70s, they were aimed specifically at gay people as justification for denying their parental rights, firing them and discrediting LGBT voices, according to an ACLU explainer....there is no reason for the state to criminalize sexual acts between consenting adults. It's shameful this law is still on the books and in use." HB 81 has passed the House Judiciary Committee and will be on the floor this week. Crossfiled by Senator Clarence Lam (SB 735)
Warn Homebuyers About Possible School Boundary Changes (MC 20-20) - With a debate raging about possible school boundary changes in our county, I introduced legislation to warn homebuyers. Bethesda Magazine reported on the effort: "Montgomery County's House delegation instead inserted an amendment that requires agents to add a sentence to home sale contracts disclosing that school boundaries can change at any time.... The school board has undertaken a comprehensive countywide review of school boundaries, examining ways in which possible changes could reduce crowding or increase racial and socioeconomic diversity." MC 20-20 passed unanimously in the Montgomery County House Delegation & awaits action in our county's Senate Delegation.
Enact Special Elections for State Senate & House Vacancies (HB 103) - When state legislative seats are vacant in Maryland, the positions are currently filled by political party appointees. For years I've introduced legislation to let voters choose their replacements, and Maryland Matter reports that we're finally making progress: "The Senate's Education, Health and Environmental Affairs Committee last week unanimously approved Senate Bill 10, sending it to the chamber floor.... The proposed constitutional amendment would require legislative vacancies that occur at least 21 days before a presidential election filing deadline to be filled by a special election. An appointed person would still serve in the position until the election, but a special primary and special general election for the legislative vacancy would happen at the same time as the presidential election." This bill passed unanimously in the Senate and awaits action in the House. Crossfiled by Senator Clarence Lam (SB 10).
Automatic Expungement of Marijuana Possession (HB 83) - Maryland has thousands upon thousands of residents with criminal records solely because of marijuana possession. The Baltimore Sun notes: "Both the civil citations and criminal convictions for possession are eligible for expungement under Maryland law, but individuals must file paperwork and pay a filing fee to initiate the process. This bill would eliminate the paperwork and fee, and is in keeping with current thinking regarding marijuana. If the state no longer considers this behavior a crime, the state should seek to remove it from a person's record." Crossfiled by Senator Jeff Waldstreicher (SB 699).
Require Search Warrants When Police Use Stingrays (HB 499) - After years of controversy, I've introduced legislation to codify a requirement that police get search warrants when using devices known as "stingrays." Wired Magazine explained the problem: "When a Maryland appeal's court recently ruled that police were wrong to use a secretive cell-phone tracking device known as a stingray without a warrant, civil liberties groups cheered over the clear privacy message the three-judge panel sent to law enforcement. The judges concluded that authorities could not turn the cell phones people carry into real-time tracking devices without a warrant, shooting down the state's assertion that merely turning on a cell phone equaled consent to be tracked." Crossfiled by Senator Charles Sydnor (SB 246).
Stop Prosecuting Children Over "Sexting" Offenses - Maryland's Court of Appeals recently upheld a child porn criminal conviction against a 16-year-old girl who sent sexual videos of herself to two friends. One of the friends later shared the video around, and when the girl asked the school for help, she was instead prosecuted. I have introduced legislation to overturn this abhorrent use of our criminal laws, as I believe this criminalization victimizes those the law is intended to protect. Crossfiled by Senator Susan Lee (SB 365).
Immigration, Marijuana Legalization, Decriminalization of Poverty & More - This is just a quick snapshot of some bills I'm working on for 2020, but there are many more in the mix. Stay tuned for updates on additional legislation including bills to:
Protect Immigrants from Unjust ICE Deportation
Stop Jailing Residents Over Fines & Debts - HB 884 & SB 709
Legalize Marijuana for Adult-Use - HB 1400 & HB 1506
Ban Overnight Construction Noise Near Houses - HB 84 & SB 905
Regulate Bodycams for Police Working Off-Duty - HB 239 & SB 899
Decriminalize Syringes to Promote Public Health - HB 720 & SB 704
Rein in Numerous Corporate Tax Breaks & Subsidies - HB 1240
End Cash Payments to Release Defendants Before Trial - HB 82 & SB 679
---
District 20 Night in Annapolis
This Monday, February 17 from 6-8 pm
Maryland House Office Building
6 Bladen Street, Room 170 - Annapolis, MD
Please join your District 20 legislative team in Annapolis for the annual District 20 night. Senator Will Smith & Delegates David Moon, Jheanelle Wilkins & Lorig Charkoudian invite you for a night to celebrate the work of our and to learn about what your elected officials are working on during the 90-day legislative session. Drinks and food are included!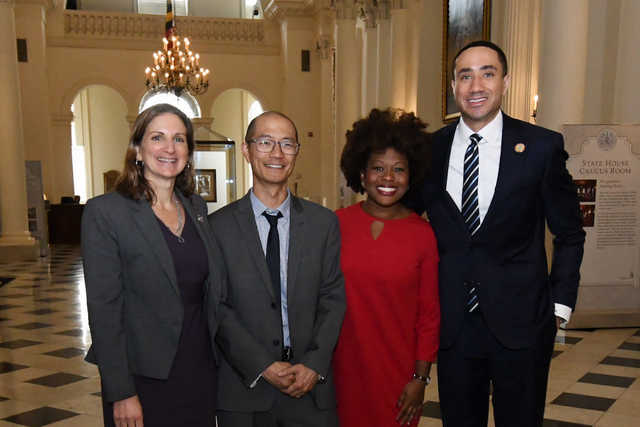 By Authority: Friends of David Moon. Chair: Marlana Valdez. Treasurer: Usman Ahmed.