Friends & Neighbors,
Maryland's legislative session begins tomorrow, so I wanted to give you a quick preview of major issues we'll be tackling and some bills I'll be introducing. Details below.
Let's stay in touch as the policy battles begin!

Delegate David Moon
P.S. Once the legislative session begins, I will be prohibited from fundraising. If you support my agenda, I could use your help before midnight tonight (Tuesday). You can make a donation at: https://davidmoon.us/donate
I'VE BEEN ENDORSED BY NATIONAL NURSES UNITED - I'm proud to announce that the health care professionals at National Nurses United have endorsed me for re-election to the Maryland House of Delegates. They join the environmentalists at the League of Conservation Voters & Sierra Club in providing early support for my campaign: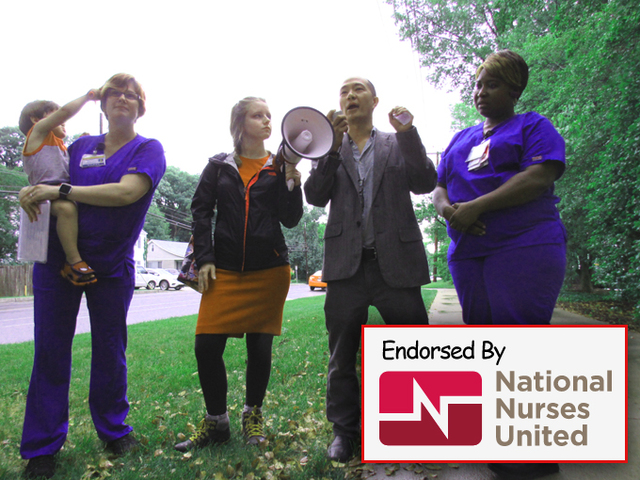 MAJOR ISSUES IN MARYLAND'S 2018 LEGISLATIVE SESSION

- There will be thousands of bills debated during Maryland's 90 day legislative session, but it's already clear that there are a few major topics we'll take up:
Overriding Governor Hogan's Veto of Paid Sick Days for Workers

Terminating Parental Rights of Rapists

Revising Maryland's Tax Code to Deal with Federal Millionaires' Tax Cuts

Weighing Options to Deal with Congress Undermining Health Coverage
Please consider a donation to get me re-elected:
---
BILLS I'M INTRODUCING THIS YEAR - During my first three years representing you in Annapolis, I've passed a dozen bills (you can read about them here). But I'm hoping to build on these successes with another batch of timely legislation. Here are a few issues I'm taking on this year:
Expand Maryland's Assault Weapons Ban to Include "Bump Stocks" Used By the Las Vegas Mass Shooter

Restore Obama's Ban on Police Acquiring Military Equipment in Maryland

Replace Jail Time for Some Minor Nonviolent Offenses with Fines

Require Police to Get Search Warrants to Access Your Cellphone Data

Make It Harder for Animal Abusers to Keep Animals

Monitor Kids Whose Parents Have Been Convicted of Child Abuse Against Other Children

Eliminate Special Property Tax Discounts for Wealthy Country Clubs

Prohibit Tax Dollars from Financing a New NFL Stadium

Allow Voters to Decide Marijuana Legalization in Maryland

Ban Direct Corporate Contributions to State Candidates
Please consider a donation to support my work:
---
REQUEST A FREE "DAVID MOON" LAWNSIGN OR BUMPER STICKER

- As I gear up for re-election in the 2018 election cycle, I'd be thrilled if you'd show your support with a lawnsign or bumper sticker. Request one [ HERE ].

Talking to Silver Spring immigrant students about wealth & income inequality
DISCLAIMER: I do not accept corporate contributions. In addition, by making a donation above, you are certifying that each of the following statements is true: (1) I am not a foreign national who lacks permanent residence in the United States; and (2) This contribution is made from my own funds, and not those of another. Note that a person can contribute no more than $6,000 to one Maryland state campaign account during a 4-year campaign cycle, including in-kind contributions. The current cycle began on January 1, 2015 and will end December 31, 2018. Contributions to political campaigns are not tax deductible.