Mundelein Community Connection (MCC) is a not for profit organization dedicated to the economic development, historic preservation and healthy community spirit of Mundelein's central business district. Working together we provide an atmosphere where new and established businesses can grow and where families find the hometown they always wanted.
Santa's Cottage 2020-STYLE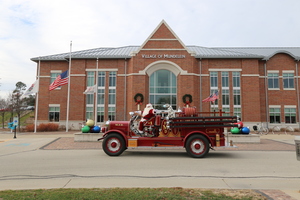 "YES VIRGINIA, SANTA WILL BE AT HIS MUNDELEIN COTTAGE IN FRONT OF THE VILLAGE HALL AGAIN THIS SEASON", but it will be a little different than in past years.  Due to COVID restrictions, this year a visit to see Santa and Mrs. Claus will be a DRIVE-THRU EVENT.   Santa and Mrs. Claus along with two of his elves will be at Santa's Cottage on December 12 and the 19 from noon until 3 pm.  Visitors will have to stay in the car, but they can greet Santa, waive to him and wish him Happy Holidays. 
Santa's Elves will distribute GOODIE BAGS & CANDY CANES (while supplies last) to each child in the vehicle.  One Goodie Bag each day will contain a GOLDEN TICKET.  The lucky winner can redeem the Golden Ticket for extra prizes.  The Elves will also be accepting letters to Santa, which they will place in the new SANTA'S MAILBOX.   Santa will read all the letters before Christmas day and respond with a PERSONALIZED POSTCARD to each child that provides a return address on their letter.  The return address is essential to receive a response from Santa.  
The Village has transformed the Plaza Circle into a wonderland of lights with Mundelein's holiday tree as the focal point.  Letters to Santa can be dropped off at any time, after December 4th.  Come see the lights, and mail your letters any time it is convenient for you.  But, if you come when Santa is at his Cottage you will have the added pleasure of listening to Holiday Music provided by the Mundelein Arts Commission on your car radio.
Santa, Mrs. Claus and the Elves are looking forward to giving everyone a HO-HO-HOLIDAY greeting in a safe and festive manner.  Experience the sense of magic and wonder that only Santa can deliver.  Santa's Cottage is a cooperative event provided by Mundelein Community Connection, the Village of Mundelein and the Mundelein Arts Commission.
Shop in Mundelein This Season for a Chance to Win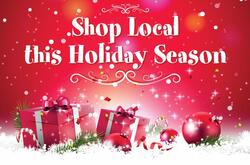 This holiday season the Mundelein Economic Development Commission is sponsoring "Give and Receive" a new shop local promotion.   Shopping local  this year can give you  the chance to receive a gift card valued at $25, $50 or $100 to a Mundelein business of your choice! Here's how it works:
Make a purchase of at least $25.00 at any Mundelein business between November 20, 2020 and January 1, 2021 and submit a copy of your receipt as shown below.
Each Friday at 3 pm from November 27th through January 1st, three winners will be selected at random from those receipts received during the week (all purchases must be dated November 20th or later).
To enter: email a photo or scan of your receipt(s) to BuyLocal@mundelein.org or place your receipt in an envelope marked "Buy Local" with your name and email address clearly written on the back. Drop off envelopes at Village Hall in the payment drop-off box located on the street at Plaza Circle.
Multiple entries will be accepted, so be sure to shop local and shop often!
Holiday Decorating Contest-Begins December 1, 2020
In the spirit of the holiday season, Mundelein Community Connection and the Village of Mundelein are thrilled to announce the 2020 Winter Holiday Home Decorating Contest.   
This is a chance to receive recognition for your holiday decorating skills in a friendly, fun and festive fashion.  Send 2020 out with a large dose of Community Spirit by decorating your home for the Holidays!  The nominating period to submit photos of your favorite festively decorated homes will begin December 1st.  Voting will take place on line.  Three winners will be announced in mid-December.  First, Second and Third Place Winners will be selected according to their total number of votes.
Virtual Tree Lighting Ceremony-December 4th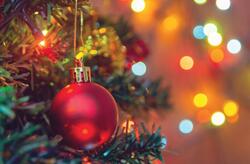 Gather your family around the computer, phone, or I Pad to hear great holiday music, listen to a Holiday message from Mayor Lentz, enjoy the annual reading of 'Twas the Night Before Christmas, watch Santa's exciting arrival to Mundelein, and then join in to help Santa and Mayor Lentz with the countdown to the lighting of Mundelein's holiday tree.  This year, we hope everyone views the tree as a "tree of light" reminding all of us to "Share the Light" with each other.  Even though this event is a "virtual" one, it will be fun and exciting for the whole family--both young and old alike.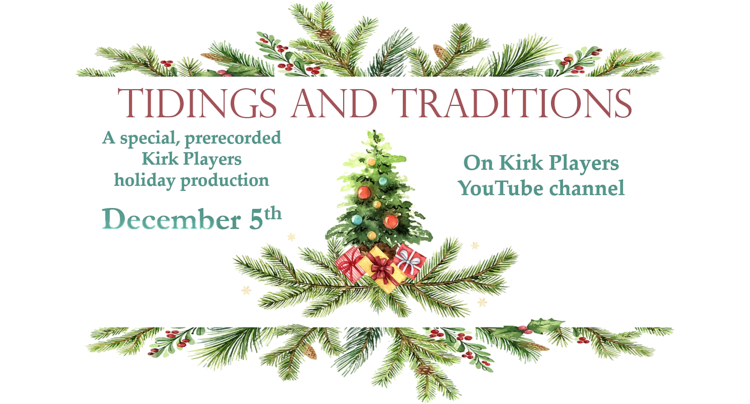 The Kirk Players will present "The Gift of the Magi", a short theatrical program celebrating the love and joys of the holiday season, on the Kirk Players YouTube channel Saturday, December 5, 2020 at 7:30pm CST.
Directed by Gretchen Grassi, "The Gift of the Magi" was originally a short story written by O. Henry in 1905.  It is the story of a young couple's quest to give one another a truly special gift for Christmas, despite having very little money.  It is a heart-warming tale of love and the true holiday spirit.  It is great entertainment for the whole family.  Please make it a part of your holiday celebration. To watch this Free presentation on the Kirk Players YouTube channel click on the following link on Saturday, December 5, 2020 at 7:30pm CST:
https://www.youtube.com/channel/UCRCumToQ7cawRBwQpKtFi2g
.
For over 55 years the Kirk Players has enriched, educated and entertained the greater Mundelein community by providing a superior theatre experience.  The Kirk Player is a 501C(3) charitable organization.