This Week at the Richmond Memorial Library                                  May 10, 2021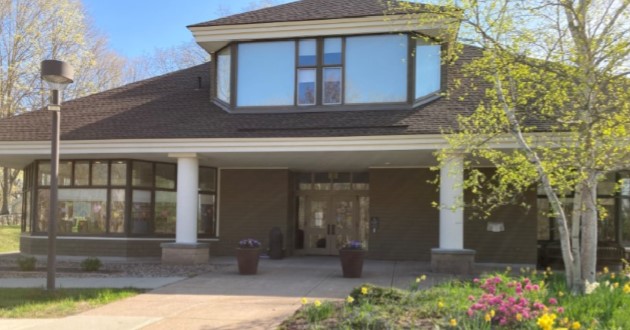 Richmond Memorial Library Building Reopening in June
Sunflower String Art: A Hands-On Virtual Fundraiser
Release your creative side and support the library from the comfort of your own home! Join instructor Lindsey Hottin for a one-hour do-it-yourself string art craft fundraiser on Thursday, June 24, at 6:30 pm. This is a virtual fundraiser and the program will be held on Zoom.
Participants will receive a 10'' x 10'' unfinished wood board (not painted white like in the example above) with a sunflower design already nailed into the board along with enough string to create your craft. Lindsey will help us get started and provide participants with all the tips and tricks needed to make a beautiful sunflower design!

The virtual fundraiser is $45. All proceeds directly benefit the Richmond Memorial Library. The registration deadline is June 9, as the instructor needs a final head count so that she can drop off supplies.

Supplies will be ready the week of the program and participants must be able to pick them up at the library.

Designs may vary slightly. For additional information, email richmondprograms@gmail.com. An order form can be found on our website or picked up at the library.

The next meeting for our Morning Book Club will be Thursday, May 13, from 10-11 am. The group has chosen Lady Clementine by Marie Benedict for their book discussion. Copies are now available at the library (call to arrange curbside pickup). If the weather is good, the Morning Book Club will meet outside the library. Please bring a lawn chair. Masks must be worn and social distancing must be adhered to. If it's raining or the weather is not suitable for an outdoor meeting, the book club will meet on Zoom.

May Take and Make Kits for Kids
Beginning this Friday, May 7 (while supplies last), kids (ages 3-12) can make arrangements to pick up a Take & Make Kit that includes a nature notebook, collection container, nature print, and twig weaving craft project.
Young Chefs Bread Making Workshop
We've teamed up with Food Explorers for a special 2 hour bread making workshop, held on Friday, May 21, from 4-6 pm. This program is designed as a family program and we encourage kids (ages 8 and up) to work with an adult. Learn how to make a fancy and decorative focaccia bread! Email richmondprograms@gmail.com or call the library to register.
Join Ms. Nancy and Ms. Eileen on Wednesday, May 12, at 11:30 am in the Blish Park Pavilion for stories, songs, and socially-distanced fun! Since this is a library-sponsored program, masks must be worn. Email richmondprograms@gmail.com or call the library to register. 
Join Ms. Nancy and Ms. Eileen on Tuesday, May 25, at 7 pm for a virtual bedtime story program on Zoom. Best suited for ages 2-8. Registration is required. Call the library or email richmondprograms@gmail.com.

Upcoming Adult and Teen Programs...
Richmond Memorial Library is available for Library2Go curbside pickup Mondays through Thursdays from 10 AM to 6 PM and Fridays and Saturdays, 10 AM to 4 PM.  The library building is not open to the public at this time.

We have started to and will continue to host virtual programs for all age groups. Additional information will be found on our website and social media pages, including video tutorials on how to access the virtual formats these programs will be offered in. To register for one of these programs, email the library at richmondprograms@gmail.com.
Tuesday, May 18 at 6:30 pm, The Bobcat: Connecticut's Secretive Wild Cat:

Certified Master Wildlife Conservationist (a program through the Department of Energy and Environmental Protection, or DEEP) Paul Colburn will give a virtual presentation, held on Zoom, about bobcats in Connecticut. Learn about the natural history of bobcats in our state, including an overview of bobcat habitat, diet, behavior, reproduction, and current research efforts. Mountain lions will also be discussed.
Monday, May 24 at 7 pm, Through Their Eyes: Virtual Museum of the American Revolution Tour:

Join the Museum of the American Revolution (located in Philadelphia, Pennsylvania) for a virtual museum tour. Using stories and experiences of real people from the Revolutionary War era, those in attendance will make personal connections to major events and smaller moments of the American Revolution while seeing some of the museum's exhibits and artifacts up close.
***Accessibility at RML: The library does not have an elevator. If you need full accomodation, please contact Library Director Aubrey Muscaro at 860-295-6210 or amuscaro@richmondlibrary.info prior to the event (one week preferred) so we can find an alernate space. The meeting room is located on the second floor.

+++Denotes registration required. Please call the library at 860-295-6210 or email us at richmondprograms@gmail.com