Hi Cat Lover!
I hope you had a wonderful Christmas this year and got
everything you asked Santa to bring! Let's hope that 2014
will bring us all good cheer, good luck and good things!
Here's what's in this issue:
Cat news...
  St. Louis police to confiscate pets left out...
  Winter cat care...
  Cat cafe in Paris!
  Photographing your cat...
  New Year's resolutions for you and your cat...
  Cat nurses puppy to health...wins $25,000!  
Cat food news...  
  Feline nutrition...
  Click to give...    
Websites to explore...
  Vaccinating....  
A smile for you...  
  Latest videos...
Take action...
  Donate to worthy causes, sign petitions, etc.
NEWS FOR CAT LOVERS
Pets left out in the cold will be confiscated by
St. Louis police. This time of year, many thousands
of pets will die, and many already have, from the
severe cold we're having this year. All but 9 U.S. states
have cruelty laws to regulate this problem, but few
do anything anyway. Hooray to St. Louis for doing
the right thing!
http://www.kmov.com/news/mobile/Pets-left-out-in-the-cold-will-be-confiscated-by-St-Louis-Police-238671571.html
-----------------------------------
Good advice to help your pets get through this terrible
winter we're having here in the U.S.:
http://www.tricities.com/news/local/article_a978eb82-767d-11e3-b84e-0019bb30f31a.html
1. Best: bring them inside.
2. Good: provide a heated place for them if they
cannot come inside.
3. Minimum: Insulate a space for them so they
stay dry and maybe can share body heat with
a companion. Dry blankets and straw can provide
pretty good insulation.
In all situations, be sure they have food and fresh
water. Dehydration is just as difficult when it's cold
as it is in the summer heat.
And, just to be sure no one forgets this: Never ever
use antifreeze to keep water from icing up.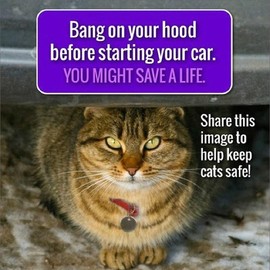 Good advice!
Cat Cafes:
This dog saved a two-day-old kitten!
back in!
http://www.theproblemcat.com
TAKE ACTION TO HELP ANIMALS IN NEED
How to help the animals:
1. List of FREE or low cost Spay/Neuter by state -
http://www.animalliberationfront.com/Practical/Pets/FreeNeuterByState.htm
2. Always remember to check with your local shelter
to see what they need. Your donation will go directly
to the animals, in sharp contrast to some of the large
national groups, whose donation income goes toward
large administrative salaries and other expenses, not
necessarily for animals.
3. Buy my books if you haven't yet. Sales are used to
help support all the cats here, and you can enjoy some
heartwarming stories, too! Thank you.
http://ouramazingcats.com/book-list/
==========================
Watch for your next issue of The Kitty Times in 2 weeks!
Pawhugs and nosetaps,
Roberta, the Cat Lady
mskitty @ theproblemcat.com
Thought for the day:
"Being unwanted, unloved, uncared for, forgotten by everybody...
that is a much greater hunger, a greater poverty than the person
who has nothing to eat."
~ Mother Teresa
===================================
We will NOT rent or sell your info. You are
subscribed to a free email newsletter from
R.J.Peters, "the Cat Lady." You can unsubscribe
anytime.
If you know someone who would like to read
this newsletter, please feel free to forward
this one to them. If they want to sign up to get
their own, refer them to my web site, here:
http://www.theproblemcat.com/catalog.html.
If you would like to also receive my dog newsletter,
you can find the signup form here:
https://ymlp.com/xgbuhmbugmgj
To see past issues of the Kitty Times:
https://ymlp.com/archive_gqbyjegjgu.php
Required by the FTC as of Dec. 1, 2009:
Disclaimer:  This email newsletter may contain
affiliate links that provide compensation to our
shelter if a purchase is made. Yes, we need the help.