SHOP HOURS
Monday: CLOSED
Tuesday: 12 - 6
Wednesday: 12 - 6
Thursday: 12 - 7
Friday: 12 - 6
Saturday: 10 - 6
Sunday: 12 - 4

 

 

 

 

 

 

We have a lot of exciting events coming up, a knit-a-long, a fiber festival, a yarn crawl and a contest!  We hope to see you at some or all of them! You should also check out or Summer

class schedule

, it's packed with great workshops and classes.




Stop by the ReBelle booth for a free surprise!




We're having a Knit-a-long for the Fine and Dandy socks on Thursday evenings in May.  The KAL is free and open to all levels of knitters so grab some yarn and join us. This is an excellent opportunity to try out toe-up socks and knitting socks on a Magic loop. You can knit with us in the shop or on your own. All projects finished by June 1 will be entered to win a skein of handyed sock yarn.  Event page here.  Pattern here.




This year we will be participating in the I-75 yarn crawl, one of the largest yarn crawls in the country,  

August 9-14

. There will be great prizes and events happening at the 35 participating shops. Passports for the event are $5 and if you register by July 1st, you will receive a limited edition tote bag for the event. You can register here.

 Set your pickup location as ReBelle for a chance to win one of five early entries to our 10th Anniversary Sale.




And speaking of out 10th Anniversary Sale, we've announced our 10th Anniversary Contest, magical faux taxidermied animals!  Voting will take place at our 10th Anniversary Sale on September 10th and first prize is a $100 gift certificate to ReBelle and there will be trophies for first, second and third place!  Full details and facebook event here.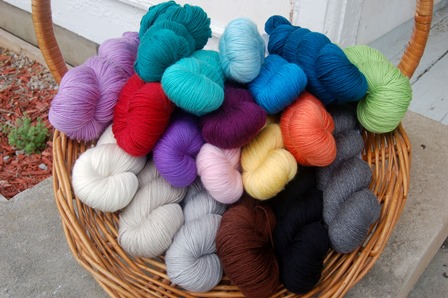 We have a fresh batch of springy colors in Heritage Silk.  Heritage Silk is a fingering weight blend of 85% superwash merino and 15% silk.  The silk adds strength, so it can be used for socks, but it also works well for shawls and tops!
We also have a new infusion of Mechita colors.  Mechita is a fingering weight single ply superwash merino, similar to Tosh Merino Light.  It's popular for shawls, but would work well for sweaters, hats or scarves too.
We've also got a fresh batch of shawl pins.  These natural wood shawl pins complement every yarn and we have many shapes to suit every taste.  Shawl pins are the perfect thing to top off the gift of a handmade shawl.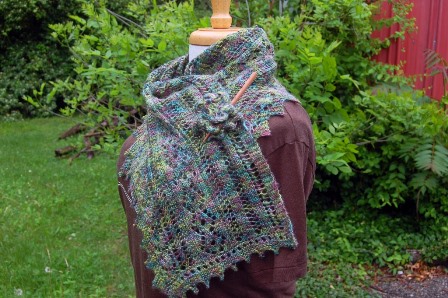 We have a free pattern in the shop for
Albertine
, a lovely lace scarf
knit with one ball of Pittura, a fingering weight blend of 75% wool and 25% viscose.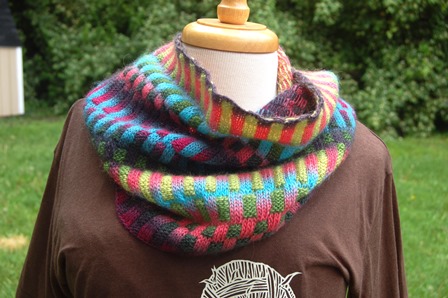 We also have a lovely sample of the Inspira Cowl knit with 3 skeins of Amitola,
a fingering weight blend of 75% superwash wool and 25% silk.  
Inspira Cowl is a free pattern on
Ravelry
.
Blue Sky Worsted Cotton is the yarn of the month for May and we're offering a whopping 20% off!!  Blue Sky cotton is like no other cotton you have ever felt, it's soft and lofty, aran weight, with 150 yards per 100g.  Knitters love this yarn for baby items, chemo caps, sweaters, and accessories for people allergic to wool.  Here are some patterns that look great for this yarn.  
Organic Heirloom Baby Blanket
,
Girl's Sundress
,
Knit Chickens
,
Bunny Blanket Buddy
,
Super Natural Stripes
(baby/toddler cardigan),
Soft Cotton Dish Towels
, and
Summer Open Cardigan
.
Featured Upcoming Classes
 

Intro to Fair Isle ($20)

 

Learn to knit with two colors doing the fair isle technique. In this class we will make a two color fair isle coffee cup sleeve with one solid and one variegate. For this class you will need a set of US7 dpns, 50g solid worsted weight wool, and 50g variegated worsted weight wool. This is an intermediate class, you will need to be comfortable knitting, purling and working on dpns before you take this class.




 

 
Socks from the Toe Up 

($25)




This is an intermediate class so you will need to be comfortable knitting, purling, increasing, decreasing and using dpns. We will be making a small sock in class so you will need about 50yds of worsted weight yarn and a set of US6 dpns. You can also use circular needles for this class if you are already familiar with the magic loop.




 
 

Hand Painting Sock Yarn ($30)

 

Come make a mess while creating your own custom colorway of sock yarn using acid dyes. The class price includes 100g of sock yarn as well as all the dyes and tools you will need. No previous experience needed.




Sunday, May 29th 1:30-4pm