Those of us that grew up in the early sixties most likely were read the 1963 children's book "Where the Wild Things Are" and in turn read the cherished favorite to our own children. The book's plot concerns Max, a young boy who is sent to bed without dinner after rampaging through his home in his wolf pajamas. The toddler's room transforms into a tropical island filled with terrible beasts which Max intimidates, earning himself the title of King of the Wild Things. After rumors started flying earlier this week about a serious scandal rocking the Oklahoma Democratic Party leadership, replete with titillating rumors of loose morals and, well, let's just say behavior unfitting of Oklahoma values, the children's book came to mind.
The now 30 year old Oklahoman woman was offered health coverage to manage her illness from the Democratic Party according to the news stories, coverage that she declined as she thought it would constitute insurance fraud. Dang, that was mighty white of the Democratic Party to offer her medical benefits, that they didn't pay for of course.
What makes the Parmley scandal relevant to the festering situation at the Oklahoma Democratic H.Q. is the amazing similarities between the two cases as well as some startling revelations about Executive DirectorTrav Robertson's actions or lack of same during the two years that he has been living in Oklahoma and running the Democratic Party here.
First off, as Executive Director of the Democratic Party, one would think that as a key responsibility of that job would be registering people to vote as Democrats and getting them to the polls to vote. Yet not only has Executive Director Trav Robertson not taken the time to retag his vehicle with Oklahoma tags, a violation of state law, but he apparently has refused to register to vote!
Executive Director Trav Robertson lives on the South side of Oklahoma City, where Cleveland County overlaps the city boundaries, cohabiting in a duplex at 9712 S. Shartel Ave (in the same unit we are told) with a woman named Donna Russell.
Well, nothing wrong with that, right? This is the 21st Century, right? Well… it seems that Executive Director Trav Robertson also has a steady girlfriend as well, and this Donna Russell is also the Oklahoma Democratic Party Treasurer, a link that will become very important to remember as this story is told.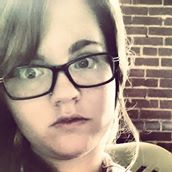 Anna Langthorn
This other woman, the alleged girl friend, Annastacia Langthorn of Edmond, is the president of the Young Democrats of Oklahoma. Refer back to the story of the woman allegedly infected with HIV by Jay Parmley, who recruited the young woman from… the Young Democrats of Oklahoma organization which Parmley led at the time. It would seem that both men tended to prey upon young subordinates from the youth groups. The scandal deepens when we learn that Young Democrats President Anna Langthorn isn't coming into the story with clean hands after allegations of a Texas hotel stay being paid for with a rubber check. The allegations are that President Langthorn attended the 2012 Young Democrats National Convention along with a large delegation from Oklahoma and paid for the rooms with a bounced check for several thousand dollars. The word is that the hotel is preparing litigation.
And yes, one would wonder why the parent organization, the Oklahoma Democratic Party won't step up and bail out Young Democrats President Anna Langthorn by covering the bounced check. And of course the answer would be…. that the Oklahoma Democratic Party is dead broke. So broke it seems that Executive Director Trav Robertson's salary source has become quite the mystery. And why is the Democratic Party of Oklahoma suffering from financial problems? Because their monthly stipend from the National Democratic Party had been cut from $10,000 per month to only $5,000 per month, barely enough to cover the other paid staffer, Wallace Collins.
It seems that the National Democratic leadership is quite miffed at the Oklahoma Democratic Party for failing to perform and allegedly for hiring Executive Director Trav Robertson so they slashed the budget to apply pressure in 2012, leaving the Democratic Party unable to meet their payroll. Into the story steps another player in the scandal, one Kayln Free, a former candidate for U.S. Congress for the Eastern part of Oklahoma and allegedly an openly avowed bisexual according to our sources, not that there is anything wrong with that according to Jerry Sienfeld. Kayln was given Brad Carson's old job at the Cherokee Nation Businesses, a job where her training as a lawyer and a former county prosecutor would come in handy. Kayln allegedly lines up a ghost job for Executive Director Trav Robertson, allowing him to continue acting as the Oklahoma Democratic Party Executive Director while being paid by the Cherokee Nation Businesses, an enormous conglomerate operated by the Cherokee Nation.
Sound interesting? It should because it would be a serious campaign finance violation. The cozy arrangement allegedly lasted only six months from late last year till May of this year when the issue came up in the Cherokee Tribe Executive Committee meeting which informed the Cherokee Chief Bill John Bakers who recognized the potential illegal political contribution and put a halt to the payments.
And who is Chief Bill John Baker's attorney? None other than Kayln Free…. Ouch! That one is going to leave a mark.
But we are far from done with this story. Just like the Watergate Scandal of the early seventies the crimes committed would pale in comparison to the cover up that ensued. The story continues with allegations of the Cherokee Tribe covering their tracks in an attempt to evade responsibility by "hiring" Executive Director Trav Robertson to do some "political training seminars" with their employees, with the alleged "seminars" being held long after the payments to Executive Director Trav Robertson had been made. The sources are claiming that the months of ghost worker paychecks were called "advances" for the much later scheduled political seminars. The sources also state that the payments have ended, leaving many to wonder "Just where does Executive Director Trav Robertson's paychecks come from?"
And Ms. Kayln Free? It appears that she along with other non Cherokee citizens were swept from their jobs after a bill was passed that allowed only Cherokee citizens to work for the tribe. Free continues to be employed by the tribe as Chief Bill John Baker's attorney but as an outside contractor.
Some of those wondering where the money is coming from got a rude surprise when the Central Committee of the Oklahoma Democratic Party recently passed a resolution that changed the governing documents (the bylaws) of the Oklahoma Democratic Party. No longer must the leadership of the Oklahoma Democratic Party submit annual audited financial statements to the Democratic Finance Committee, instead the period was lengthened to two years! And the reason given for the change? That the audited financials were too costly and time consuming.
And who exactly sits on the Central Committee of the Oklahoma Democratic Party? Jim Frasier, DNC National Committee Member, Betty McElderry, DNC National Committee Member, Senator John Sparks, State Senate Delegation Member, and Representative Emily Virgin, State House Delegation Member. Now no doubt this Central Committee would usually follow the lead of the state officers whom are Wallace Collins, Chair, Dana Orwig, Vice Chair, Dave Ratcliff, Secretary, and Donna Russell, Treasurer. Yes the same Donna Russell who shares a home with Executive Director Trav Robertson. It doesn't take much imagination to understand the importance of having the group's Treasurer lobbying the Central Committee to reduce the financial oversight in an effort to "save money" for the Party.
Is the goal to save money for the Party or is it to hide the source of Executive Director Trav Robertson's hefty paycheck?
But you know, the ending of the tale of "Where the Wild Things Are" is a happy ending. Little Max awakens in his room to find a hot dinner sitting there waiting for him after being sent to bed hungry for sowing his oats. Will the same thing happen to Executive Director Trav Robertson? Will the finance committee for the Oklahoma Democratic Party finally learn where Robertson's salary comes from? Or will the major media seize upon this story and drag the details along with the principles involved, while kicking and screaming, into the light?
In the end this story isn't about someone allegedly being bisexual or gossip about a three way relationship with curious living arrangements, we could care less. What this story will be remembered for is the potential cover up and the underlying potential illegal political contributions and Trav Robertson may well be remembered in connection with a story book figure, dressed up in wolf pajamas complete with buttoned rear flap. But the million dollar question that needs to be answered is:
Exactly where does Executive Director Trav Robertson's paycheck come from?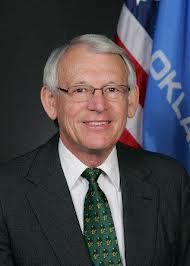 On a Mission to Change or Misled by Senate Leadership?
By the Watchman
Let's evaluate the first legislative year of a Senator from this Great State. Senator Wayne Shaw just completed his first session in the Senate after running for office in 2012, and has managed to barely hang on to a conservative ranking based on OCPAC's ranking system. But does he deserve that ranking? Let us find out.
We first went to his brag sheet here
Oklahoma State Senate - Senators
. Unlike most Senators, there is a wealth of information. We also looked at a map of his district. Talk about a gerrymandered district, this one takes the cake. You can see a map of his district
here
.
We next went to the Ratings and Endorsements page at Votesmart.com. As this was the end of his first Session as a newly elected Senator, we didn't expect to find much, and we didn't. Here is all that we found.
2012 NRA Candidate Position on Gun Rights 92%
We next went
www.followthemoney.org
to look at his campaign finances. There we learned that he loaned his campaign a total of ($30,000.00) thirty thousand dollars. This is not unusual for a candidate to do.
We next went to
www.ok.gov/ethicscommission
for more information on his campaign finances. Senator Shaw is an exception to the rule. In the well over a hundred personal donations he received for his campaign, we only found one from out of state, and that was from a missionary.
Then we took a look at the Corporate, PAC and Union donations to the Senators campaign. We weren't surprised to see the special interest groups lining up to buy more influence in the Senate. Here is some of what we found.
Jul. 16, 2012 We Mean Business PAC $ 500.00
Sep.07, 2012 Renew Oklahoma PAC $5,000.00
Sep.25, 2012 Center for Legislative Excellence $5,000.00
Oct. 09, 2012 Devon Energy PAC $2,000.00
Oct. 18, 2012 Greater Okc Chamber of Commerce $2,000.00
Nov. 10, 2012 Oklahoma Public Employees Assoc. PAC $1,000.00
The We Mean Business PAC is a wholly operated political action committee of the Oklahoma State Chamber of Commerce. The Center for Legislative Excellence is fine with legislation as long as that legislation benefits the Tulsa metropolitan area. There is no need to tell you what the Greater OKC Chamber of Commerce is after. The Oklahoma Public Employees Association is a union. You can guess what they want.
We next took a look at the Senators voting record over his first session in office. Here is some of what we found.
Driver's License Fee Increase Voted Yea-Liberal
Film Enhancement Rebates Voted Nea-Liberal
Morning After Pill Voted Yea-Liberal
Health Insurance Mandate Voted Yea-Liberal
What this tells us is this man had the opportunity to change things in Oklahoma to a more conservative side, and he failed. He scored a 60% on a RINO scale. It takes a minimum of 70% to be able to call yourself a conservative. Senator Shaw, it's time to reflect on what's good for the people of Oklahoma not just what's good for the people of Grove Oklahoma and your check book.
We next did a simple google search of Senator Shaw to see what information was available there. The first item of interest was this.
Wayne Shaw - Oklahoma Legislature - Open States
This shows a list of some of the other legislation that the Senator voted on and how he voted. Throughout this process, we were unable to find a bill that he wrote, only a few bills that he co-sponsored.
We also find it inexcusable that a sitting Oklahoma State Senator would ever be caught like this.
Oklahoma GOP senate candidate Wayne Shaw dont know what 10th amendment is? For real? | ArleneArmy's Blog
, For a Senate Candidate not to know what the amendment covering States Rights is, is absolutely shameful. And the woman being interviewed in the video is none other than Quedosha Fish who runs a religious cult along with her father near Tahlequah that attacks other faiths and other churches for "Not being the real church". Ms. Fish apparently does know what the 10
th
Amendment is about but is more than a little fuzzy on the meaning of the 1
st
Amendment based upon her cult's attack on mainline churches.
The one thing we are not sure of is Senator Shaw's future intentions. There are no indications in his financial statements that he has kept his campaign coffers open, so we have no indications as to whether or not he plans to run for a second term. We also realize that he has finished only his first session as a Senator, and may have been testing the waters you might say. He shows promise as long as he listens to his constituents and not the hornets' nest of backstabbers and moneymen, and then there is hope that he could still be the agent of change he so eloquently desired to be in his video.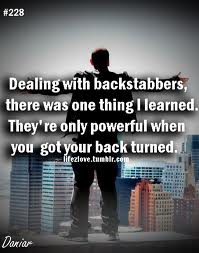 Coburn Betrays Oklahoma Voters
A few weeks back we received the following email:
Choosing adversarial confrontation towards one of the only voices of reason in the Senate is unwise. Please meet and work in a constructive manner with Tom Coburn, nothing will be accomplished functioning out of a spirit of anger. Please read James Madison's papers regarding working with factions within our republic. You will find the solution to solve our country's current problems.
Thank you.
Richard Smith
Now Richard Smith probably means well but he simply doesn't understand the real nature of politics. Reason and compromise doesn't work with arrogant politicians nor does it work with politicians that have already sold their soul to special interests.
We didn't have to wait long before we had the
perfect answer to Mr. Smith's admonishment
to play nice with Dr. Coburn. Just this last week Coburn joined 24 other Republican Senators in stabbing the American people in the back.
In making the 2013 Oklahoma RINO Index one is forced to confront the fact that sometimes a vote is hard to call if there are nuances, reasonable points where reasonable people might decide to vote one way rather than another. Coburn's vote last week doesn't fit that criteria; it was a vote that completely ignored the vast majority of public opinion in the state of Oklahoma. It was a defiant act, spitting in the face of everyone that supported him or voted for him.
Mr. Smith, this is what you receive when you play nice with politicians. They show you that they do not respect you. What Coburn needs is a political kick to the balls and another kick after he is laying on the ground moaning. But as long as there are useful idiots that prefer to spend their time defending the likes of Tom Coburn then we can forget about seeing him actually representing the majority opinion of his voters.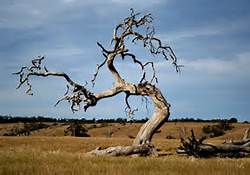 The Tree of Incompetence Is Planted And Doing Well
By Ms PM
Dig a hole, stuff in a tree and call it good. That's all there is to it as far as giving a plant what is needed to grow tall and strong…right? There is no need to prepare the soil or provide the necessary requirements to give the root system a strong foundation in which to grow. You can compare this to a house as well. Scratch out a pad, backfill some dirt to make it as level as your eye can tell, dump concrete on it and build a home. When the house begins to crack and fall apart, the idea of a fix is to get rid of it and go on to a better place to call home leaving the mess for some other sucker to deal with. This is the same incompetence being implemented with lack of thought and of how to do something because it is beyond their realm of knowledge. Welcome to the world of Obama Care.
This article spells it out
and leaves little room for wondering when it comes to those we elect that know nothing of how to better a country, state or its citizens.
The main objective is to play the role of "I am king of the jungle" and not give thought to the inept consequences that follow.
Oklahoma powers at large finished their special session but failed to anticipate, as usual, the reality of the deadly impact of those hired to collect and process personal information regarding medical records, or did they and we haven't heard about it? There is little difference between TSA screeners and these "navigators- which are the people whose job it will be to make certain that Americans are eligible to enroll in the Affordable Care Act," which in our view isn't affordable, nor cares about anyone that wasn't lucky enough to be exempted, which most didn't want to begin with. Add the fact that the opportunity to vote out the sociopath in chief wasn't done which leaves these consequences for all to live by.
The standards set up by HHS can only be incompetent; they have no clear requirements for such a sensitive position. There are no mandatory criminal backgrounds or fingerprint checks prior to employment, and added to the mix, there is nothing disqualifying employment because of prior criminal acts
which include identity theft
. Are ya feelin' the burn yet? The states are allowed to set their own standards, as it should be, and while addressing this issue that falls under state sovereignty and the Constitution, any state should be allowed to opt out of Obama Care. Exactly how is Oklahoma going to deal with this? Halloween is coming up, any pumpkins at the Capitol want to tackle this question, and we want an answer.