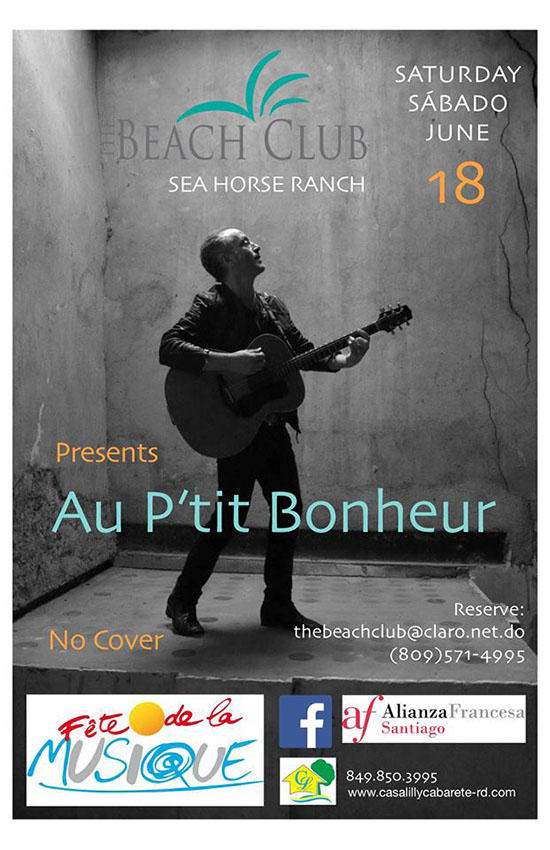 The acclaimed musical group Au p'tit Bonheur, from France, will perform at The Beach Club at Sea Horse Ranch on Saturday, June 18, 2016, at 8pm.
Led by guitarist/singer-songwriter Jamel Laroussi, Au p'tit Bonheur has released five albums and toured extensively, having a strong presence in the European music scene since the early 1990's.
Join us for this very special performance at The Beach Club, hosted by the Alianza Francesa de Santiago. For reservations call The Beach Club at (809) 571-4995.
---
Celebrate World Yoga Day at Sea Horse Ranch – June 21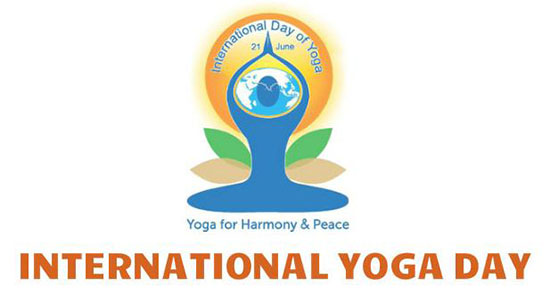 Yoga is a 5,000-year-old physical, mental and spiritual practice, with origins in India, which aims to transform both body and mind. In 2014, the United Nations General Assembly declared June 21st as the International Day of Yoga.
Join us to celebrate this special occasion at Sea Horse Ranch with an observance at The Beach Club, with a free sunset Yoga session on the lawn, followed by a vegetarian buffet at the restaurant. Time: 6:00 - 7:00pm, Buffet RD$650 includes iced tea & taxes. Please bring your own yoga mat or towel. Contact The Beach Club at (809) 571-4995 for more details.
---
Featured Villa: Villa Ataraxia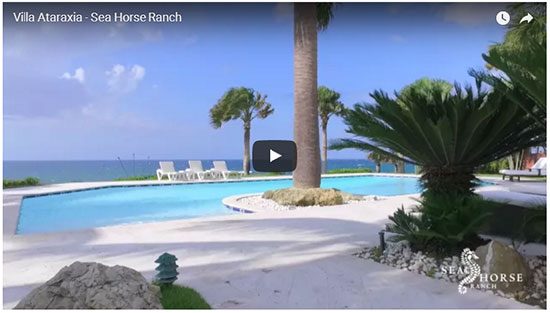 Situated in the prestigious ocean front section of Sea Horse Ranch, this magnificent five bedroom, six bath, oceanfront villa presides on nearly a half-acre of grounds with gorgeous sea views. Designed to exemplify gracious Mediterranean style and an atmosphere of old world elegance and charm, Villa Ataraxia displays exquisite craftsmanship with lavish appointments such as mahogany woodwork, granite counter tops, stainless kitchen and marble bathrooms.
The oceanfront manicured lawn is extremely private and framed by mature tropical plantings, with a generously sized swimming pool.
The luxurious master suite is fit for a king and queen with king size bed, ocean views and space to rejuvenate your body and spirit. Two of the guest suites include mezzanines to accommodate up to 12 more people, for a total of 2 king beds and 9 queen beds perfect for a family reunion.
This magnificent estate combines timeless old world design with the appeal of laid back Caribbean living. Villa Ataraxia is supremely located in one of the most idyllic spots to enjoy the ocean in total luxury.
Villa Ataraxia is available for vacation rental, and has recently been listed on the market for sale. An open house will be held on June 28, please contact Director of Sales and Marketing, Jennifer Kirkman for more details.
---
Memoriam: William Kirkman – Founder of Sea Horse Ranch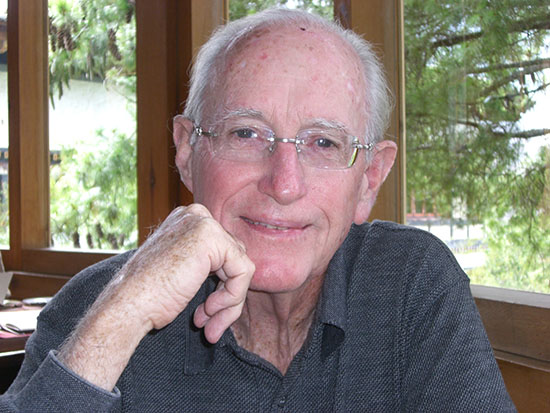 William G. Kirkman passed away at his home on March 19, 2016, in Cabarete, Dominican Republic. He would have been 79 on April 9.
A graduate of Whitman College (1959), Bill and his first wife, Carol White Kirkman, moved to Phoenix, Ariz., to attend the American Institute for Foreign Trade where they spent a year learning foreign languages and culture.
Mr. Kirkman accepted an offer from Citibank and his first foreign assignment was in Buenos Aires, Argentina, in 1963, which led to stops in Uruguay, Paraguay, Bolivia and Ecuador. In 1965, Bill was transferred to Santo Domingo in the Dominican Republic where he would spend the next 50 years. Bill and Carol raised three children in this international setting.
During his years in the Dominican Republic, Bill became interested in tourism, and purchased property that would become Sea Horse Ranch. In time, Sea Horse Ranch became a true destination with 110 luxury residences and amenities. Bill also served as the American Consul for the North coast of the Dominican Republic.
Mr. Kirkman was preceded in death by his parents, William and Elizabeth Kirkman. He is survived by his sister Ruth Tyler Kirkman, three children Guillermo Kirkman, Jennifer Kirkman and Ashley Kirkman, their mother Carol, and six grandchildren.
Mr. Kirkman was buried in his home town of Walla Walla, Washington in a small family ceremony. A reception was held in his honor at the Kirkman House Museum.
Mr. Kirkman was a strong supporter of art and culture, including the Dominican Republic Jazz Festival. His daughter Jennifer Kirkman continues to honor her father's legacy in her work with Fedujazz, a non-profit supporting music education for local children that she co- founded. It is one small way in which his gift of helping others will live on in a country where he lived more than 50 years of his life and helped many people along the way.